Why the middle classes love Jezza
Radical? Please. Corbyn is the heir to Blair.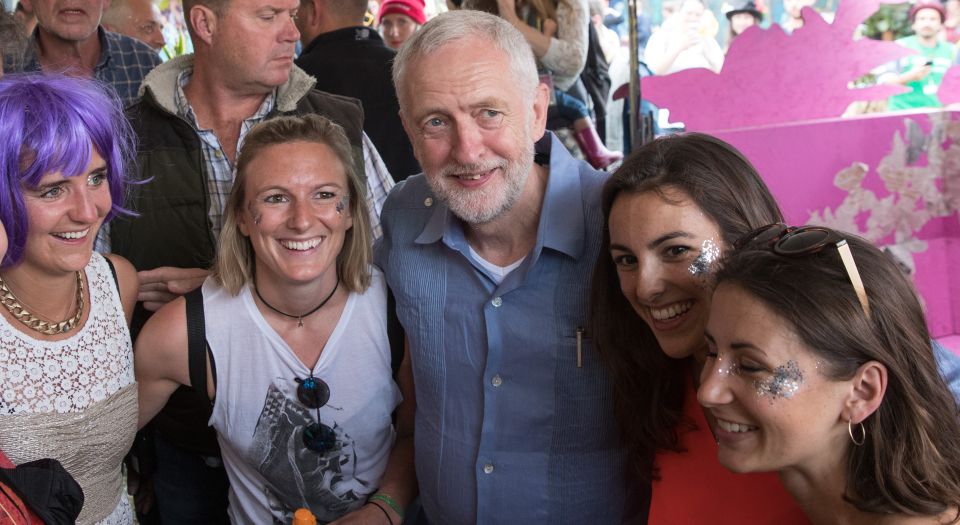 After Jeremy Corbyn's Labour Party increased its share of the popular vote and its number of MPs at the 2017 General Election, some have argued that radical state socialism has finally found a wide audience in Britain. There is a belief that Labour has returned to its pre-Tony Blair, pre-New Labour days as a socialist rather than centrist party, as demonstrated by its commitment to (minor) re-nationalisation and the scrapping of tuition fees for undergraduates.
Yet alongside this apparent shift back to Old Labour policies, it has also recently been revealed that 77 per cent of Labour's membership come from the professional middle classes — and 11 per cent are in the top four per cent of earners in Britain. It is on this solidly respectable social base that Corbynmania has arisen and Labour now stands. So forget all the excited blather about 'for the many, not the few', or policies on re-nationalising the electricity board. Labour is not returning to its past, for the simple reason that it now represents a new social constituency.
Historically, Labour formed in order to further the material interests of trade unions in parliament. The party was an expression, if a politically limited one, of organised labour — the clue was in the name. But to be accepted into the Westminster establishment, Labour had to ensure that radical working-class demands were contained within a parliamentary form.
The last time Labour helped to constrain working-class militancy was in the early to mid-1980s, a period when the middle-class vote was solidly for the Conservative Party. The sight of rough working-class blokes battling it out with employers and the police tended to repulse the middle classes, with even some radicals denouncing picket-line violence for being 'too macho'. Indeed, on the 25th anniversary of the Miners' Strike, the Guardian said it still believed it was 'right that the government won' against the National Union of Mineworkers.
It is precisely the demise of such open class struggle that has helped to make Labour appealing to the more respectable sections of society. Tony Blair benefited from this when he took New Labour to power in 1997, and now Jeremy Corbyn is benefiting from it, too.
It doesn't matter that Corbyn has appeared at countless anti-war rallies, shared platforms with Sinn Fein, or promises to renationalise a few railway lines — the important point is that the Labour Party he leads exists free from the demands of the working class. As a consequence, Labour can now express, not the interests of organised labour, but the concerns and prejudices of the middle class. These concerns usually take the form of environmentalism and identity politics, rather than demands for higher wages.
Not that petit-bourgeois radicalism is especially new. Since the counterculture of the 1960s, a strain of leftist radicalism has eschewed working-class politics in favour of woolly green thinking, animal-rights concerns, and a celebration of identity over economic matters. Central to this outlook was a jaundiced view of the mass of ordinary people. With their tabloids, consumerist desires and traditional norms, they were considered as much of a problem as the ruling class. Where once this anti-masses sentiment was confined to fringe anarchist and green movements, it has in recent years become dominant among radicals more broadly, the Labour Party and the wider British establishment.
Far from Corbyn being a radical threat to Middle England, he represents Middle England. He hates McDonald's and smoking in pubs, but loves Glastonbury, vegetarianism and pedal power. He is also a big champion of the poor and needy, a key hallmark of the middle class's self-righteous identity. Blair may have embraced some ethical middle-class beliefs, but Corbyn goes much further and is all the more popular for it. No doubt he also appeals to fiftysomething leftists nostalgic for a return to 'real' Labour values, but his main constituency is well-to-do public professionals with the DAB set permanently to Radio 4. In other words, he appeals to a social strata that does well from the way society is currently organised and which is quietly keen to preserve existing class structures.
Far from Labour being a vehicle to advance working-class demands, it is now an organisation that flatters the 'caring' middle classes. Corbyn's Labour has become the means through which the middle class can attempt to civilise vulgar capitalist society, while Labour's old supporters are tolerated only as recipients of welfarism or nannying advice on lifestyle choices or racial etiquette. Corbyn's popularity does not derive from a demand for full-blooded state socialism, but from his ability to express the middle-class consensus. For decades now, the British establishment has flattered and amplified sandal-wearing fringe politics to the extent that it has become the dominant outlook in political circles. Corbyn has been a consistent and authentic exponent of such ethical concerns and, with the working classes dormant as a political force, his time has come.
Neil Davenport is a writer based in London.
Picture by Getty Images.
To enquire about republishing spiked's content, a right to reply or to request a correction, please contact the managing editor, Viv Regan.