The problem with 'taking the knee'
Trump vs NFL players sums up the shallowness of 21st-century politics.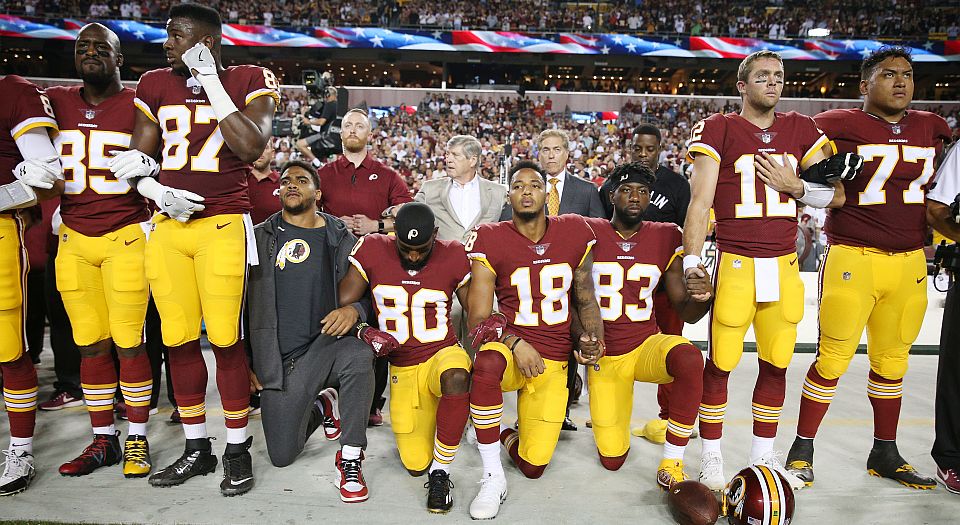 There's a well-worn theory that Trump's theatrics, his 4am Twitter beefs, his forays into stream-of-consciousness braggadocio, are all calculated. The theory goes that whenever healthcare looks like it's about to hit the skids again, the feds come after another one of his campaign managers, or he reckons he might have overdone it on the North Korean war talk, he decides to gunge up the news cycle with outrageous soundbites, talk of bad face jobs and tirades against comedians – ridiculous outbursts that invite his critics' righteous condemnation. In short, he shrouds his incompetence with hot air.
The obvious flaw here is that Trump can't be both Machiavelli and the village idiot at the same time. The pantomime that unfurled at the weekend – the Trump vs NFL-NBA cage match over the 'take the knee' protests – suggests that something even more depressing is going on. It seems Trump's fog-horning isn't a convenient ploy, or even a glaring flaw — rather, it is becoming the substance of his politics, the very point of him. And railing against his jabber has become the sole role of his critics.
Even by Trump's standards, his attack on sports stars was petty. At a campaign event for Luther Strange, Trump's favoured candidate for a Republican Senate run-off in Alabama, he went into one of his signature, go-nowhere rants. Dredging up the issue of the now year-old NFL national-anthem protests, in which former San Francisco 49ers quarterback Colin Kaepernick knelt during the national anthem at each game to protest against racial injustice, he called on NFL bosses to punish players who 'disrespect our flag'. 'Get that son of a bitch off the field right now, he's fired. He's fired!', he frothed.
A day later, Trump took to Twitter to slag down Steph Curry, the star point guard of this year's NBA champions, the Golden State Warriors, who, on Friday, said he planned not to attend the traditional winners' reception at the White House. 'Going to the White House is considered a great honor for a championship team. Stephen Curry is hesitating, therefore invitation is withdrawn!', Trump thundered. LeBron James, of the Cleveland Cavaliers, shortly got involved: 'U bum @StephenCurry30 already said he ain't going! So therefore ain't no invite. Going to White House was a great honor until you showed up!'
Then came Sunday football, and the response from NFL teams was staggering. Three teams skipped the national anthem altogether, and dozens more either locked arms or knelt in protest. It was presumably intended as an act of solidarity, both with Kaepernick – the real target of Trump's Alabama tirade – and Curry. Some team statements highlighted racial issues, others Trump's attacks on athletes' right to protest. And it wasn't just the usual suspects, either. New England Patriots' owner Robert Kraft, a Trump friend and donor, voiced his disappointment with the president. In a statement, the NFL called Trump's rhetoric 'divisive'.
Trump's broadsides against protesting athletes are not just unpresidential – they're indefensible. He's the leader of the land of the free, he shouldn't be going around demanding that football players be fired because of their political views. Worse still, this comes barely a week after Trump's press secretary, Sarah Huckabee Sanders, suggested that ESPN anchor Jemele Hill should be fired for calling Trump a 'white supremacist' on Twitter. This is a White House as unhinged and censorious as it is vain. But though Sunday's show of solidarity was unprecedented, we can't let the strangeness of it all escape us.
Why on Earth has sports, and culture more broadly, become the locus for American political debate? The bizarre deification of Kaepernick last year is a case in point. He was hailed by the liberal commentariat for using his platform to 'speak out' against injustice. But bar one post-game interview, he never really said anything. That he became a kind of mascot of Black Lives Matter only reminds us how similarly insubstantial that whole movement has become. The most it demands of its followers is to tweet, to speak out, to demonstrate one's awareness, and Kaepernick did that on an international scale.
Some have gone so far as to compare him to Tommie Smith and John Carlos, the black American athletes who did the Black Power salute while on the podium at the 1968 Olympics. But that was a startling, historic moment only because of the upheaval it represented. America was on fire. Violence had broken out across the country following the assassination of Martin Luther King. The promise of the civil-rights struggle seemed to be unravelling and communities were organising against the kind of oppression that's unimaginable today. Smith and Carlos' raised fists reminded the world of this.
That podium protest came with a context. It was an expression of real political upheaval, and real grit-in-teeth mobilisation. Today is very different. Where the police killings Kaepernick was protesting against have undoubtedly shaken American society, they have been shoved into an old narrative of white supremacy – one that sheds little light on the very different inequalities black Americans face today compared with the 1960s. And in the absence of a proper understanding of contemporary problems, there is an absence of any kind of proper response. Where once there was politics, argument, agitation, now there is only the demonstration of one's wokeness, by means of a hashtag or bended knee.
It is this thought-lite, identity-politics-driven dynamic that has both inflamed American debate and made it so superficial and catty on both sides: a battle of the outraged and self-righteous. Kaepernick can't just be wrong, he must be unpatriotic. Meanwhile, anyone who doesn't think he's the next Rosa Parks is smeared as a racist. Indeed, though Trump didn't mention or even hint at race once in his Alabama tirade, it has been roundly condemned as a 'racist' attack. David Remnick, editor of the New Yorker, called it 'racial demagoguery broadcast at the volume of a klaxon'.
The problem isn't so much that sport has been politicised: it's that politics has become a spectacle, in which heat has forced out all light, and tweets and photo opportunities have taken the place of real political positions.
Tom Slater is deputy editor at spiked and convenor of the Unsafe Space Tour, our all-star free-speech tour of US college campuses.
Tom is chairing the panel discussion 'Identity politics: the new racialism on campus?' at Rutgers University, New Jersey, on Monday 2 October, as part of spiked US's Unsafe Space Tour. Get tickets here.
To enquire about republishing spiked's content, a right to reply or to request a correction, please contact the managing editor, Viv Regan.