Why Germans support the AfD
It owes far more to existential fears than anti-immigrant sentiment.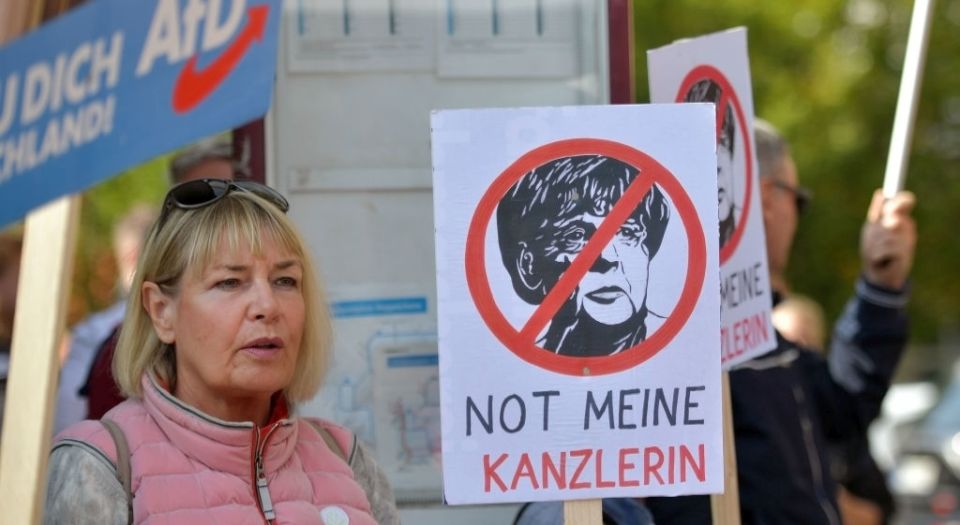 We are often told that the fall of the Berlin Wall in 1989 was the dawn of a new era, bringing former Communist states into the light of modernity, opportunity and choice. The people of the Eastern Bloc were liberated from oppression by Western democracy and wealth. The understanding is that we are all better off because of it.
Yet, for many people, things are not like that.
The German Democratic Republic (GDR) was a complicated, corrupt and often dysfunctional state, but to many of its citizens it offered a degree of stability, security and structure. It offered a job for life, healthcare, a livable income, a home, education and training. People grew up with the understanding that if they worked hard and contributed to society, the state would provide a relatively stable and secure life.
And then the wall came down, and everything changed.
The rise of the AfD in the east has been 27 years in the making, not a sudden reaction to Chancellor Angela Merkel's immigration policy of the past two years. From 1990 onwards, eastern Germany suffered a chronic brain drain to the west, leaving behind rural industries (agriculture, mining, chemicals) that were suddenly under huge pressure, before international competition and aggressive acquisitions led to widespread closures of many key, regional companies.
States like Mecklenburg-Vorpommern are not historically wealthy (and even now the annual income of Mecklenburg-Vorpommern's residents is only 67 per cent of the national average). The German government has tried to generate growth and attract investment, but companies like Samsung and First Solar have come and gone. The brain drain continues unabated, as young people leave rural areas en masse for big cities, seeking escape and employment. What is left behind is an ageing, shrinking and largely poor population.
In the recent election, AfD billboards contrasted traditional German imagery (girls in Bavarian 'dirndl' dresses, for example) with the perception of the 'new' Germany (including Burkas) to highlight what it says is at stake – the German identity. This resonates particularly deeply in the former GDR, where many have already lost their identity once and are not prepared to lose what's left. The AfD message is clear – modern multiculturalism is bad, the old ways are good. This is something that is heard a lot in the east, particularly from older people: the belief that the old GDR days were the best days – it's called Ostalgie.
However, the old days in the East German city of Frankfurt-an-der-Oder were very different from the old days in the West German city of Frankfurt-am-Main, which goes some way to explaining the disparity in AfD votes between the east, where it picked up 20 per cent of the vote, and the west, where it picked up just 10 per cent.
To understand where these voters are today, we must understand where they came from – and people from the former GDR come from a very different place to people who grew up in the west. Younger voters in the east grew up in a unified Germany. Indeed, many first-time voters this year were born almost a decade after the fall of the wall, but they still feel its poor economic legacy.
In eastern states, the cliche of immigrants coming to take people's jobs is replaced with a narrative focused on immigrants coming to take people's culture. There aren't many jobs, especially for new arrivals who don't speak German, and a threat to identity is even more fearsome. It is experienced as a strike at the very essence of an east German's existence. For many, after losing (or never having) careers and stability, a sense of cultural self-identification is more sacrosanct than ever.
It's easy to look at the anti-immigrant and Islamophobic nature of the AfD's campaigning and assume that these are the decisive factors for voters. For a start, former GDR states are overwhelmingly white. You see very few people of colour in these parts of Germany, and fewer still in traditionally white-collar or management roles. There have been consistent neo-Nazi attacks on immigrants throughout eastern Germany over the past two decades, and it remains a stronghold of fringe far-right groups. Until now voters had remained loyal to establishment parties like the CDU, the SPD and Die Linke at the ballot box, instead of backing previous far-right challengers like the NPD, which only ever achieved modest regional representation and nothing on a national scale.
It is easy to conclude that a right-wing party will do well in deprived states with a history of right-wing violence, but that viewpoint is one dimensional, overlooks the AfD's success across Germany and doesn't fully explain its rapid ascent.
Many people in eastern Germany feel left behind by establishment parties and bear a sense of resentment that they never anticipated when growing up in the GDR, or in its aftermath. This resentment far predates the AfD, which was only founded in 2013. Crucially, however, the AfD is not the establishment. That, perhaps, is what has attracted voters, more than overt racism or Islamophobia. The AfD garnered votes from young and old, male and female, eastern and western, rural and urban. These people are not all bound by a common hatred of Islam; rather, they are bound by common economic struggle, loss of trust in the system, loss of hope.
Older voters grew up with stability in the GDR, before the rug was pulled from under them. Younger voters have never had the rug. To both groups, the seemingly endless struggle to find work and to climb out of poverty feels harsh and unfair. Some may blame immigrants for their hardships, but most blame politicians like Chancellor Merkel.
Reports suggest as much as 60 per cent of the AfD vote was a protest, hinting perhaps that this is the peak of its popularity and the status quo will be restored in future. But the AfD achieved this unprecedented result without a decisive, standout policy. It was not calling for Germany to leave the EU, or campaigning for a wall to be built along the Polish border.
And it also achieved this unprecedented result without a flamboyant leader, a Le Pen, a Farage, a Wilders or a Trump at the helm. But what if they had one? Would it be possible for a demagogue to lead the AfD to greater electoral success? Or will the AfD implode through infighting, or be usurped by former co-chair, Frauke Petry, with a new populist movement?
Once she navigates the difficult business of forming a ruling coalition, perhaps the greatest challenge facing Merkel in the next four years is how best to stop the AfD from gaining more momentum.
James Lacey lived for almost six years in Berlin and until recently worked extensively at industrial and manufacturing companies in eastern German cities, including Frankfurt-an-der-Oder, Schwedt and Demmin.
To enquire about republishing spiked's content, a right to reply or to request a correction, please contact the managing editor, Viv Regan.