Feminists and the police: an illiberal alliance
Criminalising street harassment will harm women's freedom.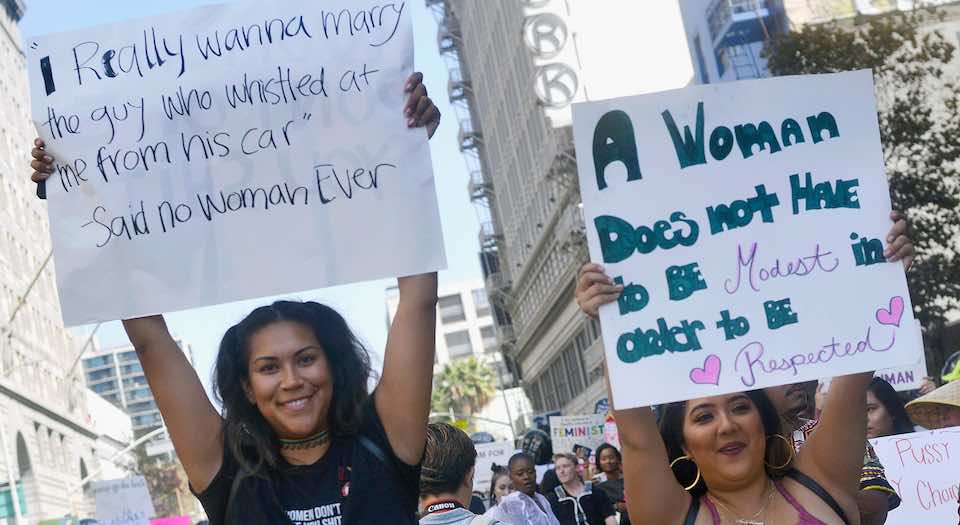 Following the Harvey Weinstein scandal, there have been countless articles, news stories, social-media campaigns and public statements aimed at raising awareness about sexual harassment.
Similar campaigns have been around for a while. New York's Hollaback! organisation, set up in 2010, aimed to raise awareness about street harassment. EverydaySexism, the UK-based feminist website, was set up in 2012 to raise awareness about instances of 'everyday sexism'. Sexual harassment preoccupies contemporary feminists, and their solution is often to call on government to Do Something.
Now, after the hysteria over Weinstein, the authorities are starting to heed feminists' calls for greater intervention into women's lives, and are creating new, illiberal laws as a result.
The French version of the #MeeToo hashtag, #BalanceTonPorc ('expose your pig'), has encouraged the French government to propose fines for cat-calling. 'At the moment street harassment is not defined in the law', France's gender-equality minister Marlene Schiappa said – and 'it's completely necessary'. Along with the proposed fines, Schiappa is calling for the statute of limitations in cases of alleged rapes against minors to be extended, and the raising of the age of consent. In Amsterdam, street harassment will be punishable with a €190 fine from January 2018.
This isn't the first time this has happened. In 2016, Nottinghamshire Police announced that they would record harassment against women as a hate crime. 'What women face, often on a daily basis, is absolutely unacceptable and can be extremely distressing', chief constable Sue Fish said. A representative from the campaign group End Violence Against Women said: 'What we are talking about is not trivial behaviour – some harassment that women and girls receive in public is upsetting and should have the attention of the authorities.'
As part of the BBC's 100 Women campaign, reporters went undercover with British Transport Police officers charged with catching 'offenders' on the London Underground. This entailed undercover officers following people on the Tube who they thought looked 'suspicious'. Rather than waiting for women to decide whether they want to report an incident, police officers literally jumped women to ask if they were okay. One clip showed an officer ambushing a woman in a tunnel, flashing his badge, to ask about a man who stood too close to her.
A man can now be criminalised for standing too close to, or shouting at, a woman. This is insane – but it's also unsurprising. Feminists are actively encouraging police surveillance of women. Aren't feminists creeped out by the idea that police officers (some in plain clothing) could be watching their every move?
This is what is so dangerous about contemporary feminism's obsession with harassment. The over-hyping of levels of harassment (as previously reported on spiked) and social-media frenzies about the danger faced by women are having illiberal consequences. If governments are not seen to be proactive when it comes to protecting women, they're 'called out' as misogynistic. So, the state reacts to such hysteria with illiberal policies. It satisfies the feminists on Twitter, but what will it mean for women at large, who are now considered to be in need of protection by the law?
Women don't want, or need, to be watched over by the state. In fact, liberation movements of the past explicitly argued that viewing women as in need of protection against the ups and downs of public life was exactly what prevented them from being treated as equal to men. Jane Austen was hardly a feminist, but even she knew that the treatment of women as delicate ladies was a barrier to their freedom. In her 1817 novel Persuasion, Captain Frederick Wentworth's sister chides him when he says taking women on board his ship is too dangerous. 'I hate to hear you talking so like a fine gentleman, and as if women were all fine ladies, instead of rational creatures', she says. 'We none of us expect to be in smooth water all our days.'
Today's patronising and illiberal approach to women's safety risks treating us like 19th-century ladies, too delicate and sensitive to deal with the odd brute on the street. I've got more faith in women's capability than that, and most women have enough guts to stand up for themselves. It's time to tell feminists, and their police bodyguards, to back off and leave women alone.
Ella Whelan is assistant editor at spiked. Her new book, What Women Want: Fun, Freedom and an End to Feminism, is published by Connor Court. Buy it on Amazon UK and Amazon US.
Ella is speaking at the Battle of Ideas on Saturday 28 and Sunday 29 October.
To enquire about republishing spiked's content, a right to reply or to request a correction, please contact the managing editor, Viv Regan.