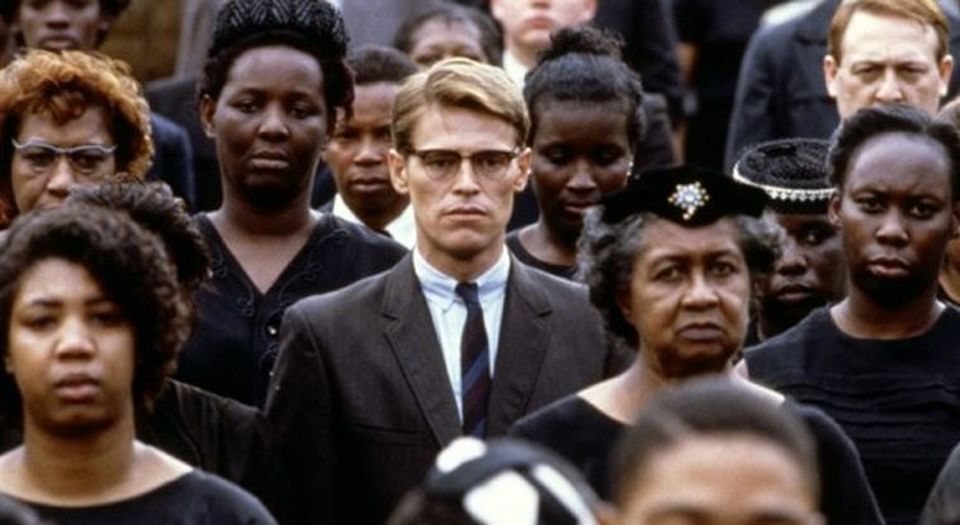 Long-read
Hollywood's race war
Why is the American movie industry more obsessed with race than ever?
For the past two decades, there have been more and more films coming out of Hollywood that deal with race. Usually straight-up anti-racist in message, these films give the impression that America continues to be deeply scarred by racial division. But why the appetite for such films?
Race films in the US are a genre of films that rely on race as a concept rather than films produced and starring black Americans, although these definitely fall within the category of race films as discussed here. Hollywood big-hitter Kathryn Bigelow's Detroit has recently gripped cinema audiences with the story of the (white) state police seizing and terrorising the people caught in the Algiers Motel in the midst of the 1967 riots. The Tupac Shakur biopic All Eyez on Me opened earlier in the summer in the US and grossed $54million, while last year's witty sci-fi horror Get Out! (in which elderly white people steal the bodies of young blacks to carry their brains) grossed $252million. The most anticipated movie of 2018 is Black Panther, which features the first main black character of the Marvel superhero franchise to have his own movie.
Films with a race theme are controversial and politically charged, which in recent times has meant that they are likely to have a headline-grabbing impact that can generate a decent box-office return for even a costly film. Films like Steve McQueen's 12 Years a Slave gained publicity for its unflinching, lingering violence. Schlock auteur Quentin Tarantino's 2012 film Django Unchained's sadistic portrayal of black degradation and revenge had an even greater visceral impact on its audience.
Hollywood films have always built on established stereotypes and moral judgements to help the viewer through the film, giving filmmakers a shortcut to their audience via their assumptions. Genre films especially have a built-in, coded system of audience expectations that the director exploits. The growth of race films as a genre shows there are enough shared, implicit assumptions to allow them to work. Analysing them can reveal the kind of social understanding of race that is expected from the audience of race films.
The redneck racist police officer in Bigelow's Detroit presents a number of traits that audiences readily recognise and judge, because they have already seen that character-type established in scores of films, going back to Alan Parker's Mississippi Burning (1988), and even further, to Rod Steiger's racist police chief in In Heat of the Night (1967) (although he was redeemed).
Or take the stoic negotiation of unbridled white racism that Chiwetel Ejiofor's Solomon Northrup manages in 12 Years A Slave, which prepares us for John Boyega's management of the white police patrolman in Bigelow's Detroit, which in turn builds on Forest Whitaker's performance in The Butler (2013).
Above all, we audiences are well prepared for the emotional charge of civil-rights protests, as in Ava DuVernay's Selma (2014), which focused on Martin Luther King's march to Montgomery. It works even with the more intransigent challenge of Malcolm X in Spike Lee's 1992 film of the same name. We know who the villains are – the racist cops, the pusillanimous establishment – and who the good guys are – black people, suffering indignity, and standing up against oppression.
There is a paradox, though, about Hollywood's race films. The single-mindedness with which Hollywood convicts racist America must tell us something about what America is like. These films would not work if they were wholly fictional, without a real basis in society. Yet a truly racist America would hardly present itself to domestic and global audiences as a racist oppressor. Nazi Germany did not make films about the suffering of Jews, nor Apartheid South Africa about the suffering of its black victims. In some sense, then, Hollywood's race films are themselves evidence either of a desire to atone for past crimes, or to elevate those who are aware (flimmakers, audience) over those who are thought not to be, namely the supposedly unreconstructed racists in the south, or in the flyover country between the coasts.
There is a question, too, about what is happening between filmmakers and audiences, in particular white audiences, when they watch films about race. Many of the most powerful race films feature strong elements of racial revenge, as in Nate Parker's remarkable Birth of a Nation, or the top-grossing Django Unchained. What is the emotional appeal for white audiences when they see black protagonists, pushed beyond endurance, slaughter their white persecutors? We should ask, too, about the appeal of those scenes that establish the wickedness of southern plantation overseers and racist policemen. Filmmakers subject their black characters to vicious and degrading abuse, on the screen, for the entertainment of audiences. That is storytelling. But it must tell us something about our own needs that we pay good money to see this violence reenacted again and again.
That Americans choose to attack racial oppression in film must tell us that the society hopes to rid itself of racism. Yet, the persistent and growing appeal of race films tells us that Americans are still very much in the grip of racial thinking. They rehearse its core features with a neurotic compulsion. American film-goers' enjoyment of filmic racial oppression, and its redemption, whether in resolution or through violence, shows that America still thinks in pointedly racial terms. Where in the past, though, racial thinking was principally about white superiority, today it is more likely to be about exploring white guilt.
One useful way to consider the question is to look at the way that the treatment of race in film has changed over the years, and with it the assumptions made about the American cinema-going public. The early years of Hollywood barely featured black people at all. Its principal antagonists were white. The one uniquely American genre, the Western, did have a pointedly racial meaning. Westerns dwelt on the lives of settlers, the conflicts between outlaws and lawmen on the new frontier. In Westerns non-whites were native Americans, who featured first as savages on the border between civilisation and untamed nature.
Beyond Westerns, Hollywood served its urban audiences with musicals, led by weirdly Anglified stars like Gene Kelly and Bing Crosby (both Irish-Americans), and also with the urban equivalent of the Western, namely, the gangster films that took off in the 1930s. Gangster films were about race, but the villain-protagonists were Italians, Irishmen and even Jews, though that was rarely stated. Paul Muni, Edward G Robinson and James Cagney played sadistic hoodlums, in keeping with the authorities' fears of eastern and southern European migration to the inner cities.
The early race films
Hollywood's early treatment of black America is episodic, and, by today's standards, extraordinary. One film that stands out is DW Griffith's 1915 film The Birth of a Nation (from which Nate Parker cheekily took the title for his own recent film), which has done most to cement view that America and Hollywood have been implicated in white supremacism from the outset. Based on a novel called The Clansman, in which 'the former enemies of north and south are united again in defence of their Aryan birthright', it features oafish and lustful blacks (many of whom were blacked-up white actors) put down by the heroic Ku Klux Klan. As deranged as The Birth of a Nation is, it is not as fundamentally characteristic of America's self-image as is taught in film schools and history departments.
There are other versions of the tragedy of the south that flirt with the old 'lost cause' ideology, such as David O Selznick's 1939 civil-war melodrama Gone With the Wind, which tells of a southern planter's daughter Scarlett O'Hara who grows up amidst defeat at the hands of the Union. Hattie McDaniel, who played the slave Mammy, won the Oscar, though later many thought that it was a demeaning role. And then there's the 1940 John Wayne film Dark Command, which tells the story of a northern lawman's conflict with the Confederate hold-outs, Quantrill's Raiders, in the South, though any progressive intent is lost in the racist caricature of black legislators acting like buffoons in the Reconstruction legislature (scenes that draw on Griffiths' The Birth of a Nation).
In time, black performers were showcased in films such as Whitey's Lindy Hoppers in the Marx Brothers' film A Day at the Races (1937) and Slim Gaillard in Hellzapoppin' (1941). As black performers were marketed in 'race records', there were 'race films', too, many made by Josh Binney, like Hi De Ho (1947, with Cab Calloway) and The Joint is Jumpin (1949). Still, black performers were often in minstrel make-up, and giving stereotypical, eye-rolling performances, like McDaniel in Gone with the Wind, or James Baskett's as Uncle Remus in the mixed-animation, live-action Song of the South (1946), which is best known for the cringeworthy song, 'Zippidy Doo Dah'.
Liberal Hollywood
In the 1950s, Hollywood's films about race were more sympathetic, and liberally inspired. America was going through a revolution in its race relations. The US was under pressure from critics abroad over its colour bar, which featured in much Soviet propaganda in the developing world. At the same time, America itself was challenging British and French Empires over their race relations (1). Black Americans like A Philip Randolph and Bayard Rustin pushed civil-rights claims in the war, while the activist and historian WEB Dubois attacked America's race record in the United Nations. To meet their demands, liberalisation was coming from the top down, too, with Eleanor Roosevelt's wartime lobbying, and President Harry S Truman's executive order 9981, which desegregated the US Army.
Hollywood's films about race in the 1950s reflected that new mood, though they expressed for the most part white Americans' ideas about black America. Otto Preminger filmed the 1935 Gershwin stage hit Porgy and Bess in 1959, with Harry Belafonte and Dorothy Dandridge in the lead roles, which followed on from the success they had in the 1954 film Carmen Jones – a black version of the opera Carmen. By that time Hollywood was already making films about race discrimination, where reactionary prejudices were challenged by liberal heroes, like Gregory Peck's Atticus Finch in the 1962 version of the book To Kill a Mockingbird, or Sidney Lumet's 1957 courtroom drama Twelve Angry Men. In 1961 the Stephen Sondheim/Leonard Bernstein musical West Side Story was made into a film, retelling Shakespeare's Romeo and Juliet as a gang war between Puerto Rican 'Sharks' and white 'Jets': its message, if clunky, was against prejudice.
Race films in the civil-rights era
Top down liberalisation in the 1950s was met by the grassroots civil-rights movement of the 1960s. It drew on many sources, from the Southern Christian Leadership Conference, featuring Martin Luther King, to the Congress of Racial Equality and the Student Nonviolent Coordinating Committee. Their protests for civil rights and desegregation put pressure on the Kennedy and Johnson administrations to act. There was opposition, but, broadly-speaking, Hollywood was with the reformers.
In 1967 Norman Jewison made In the Heat of the Night – where black detective Sidney Poitier challenges a racist police department in small town Mississippi – and Stanley Kramer put Poitier opposite Katharine Hepburn and Spencer Tracey, who played his girlfriend's challenged white liberal parents, in Guess Who's Coming to Dinner. Poitier got work in London that year, too, playing the lead in To Sir With Love, based on Eric Braithwaite's novel about a West Indian teacher in a white working-class school. Follow-ups to the successful In the Heat of the Night included a 1970 sequel They Call Me Mr Tibbs!, and the Hal Ashby comedy The Landlord, about a wealthy landlord's encounter with his black tenants.
The film studios' determination not to miss out on the latest trends meant that they took chances with black directors and stars. The self-invented writer and filmmaker Melvin van Peebles was brought in to make the comedy Watermelon Man in 1970, in which an inveterate racist is turned black overnight (inspired by Kafka's Metamorphosis and John Howard Griffin's book Black Like Me).
Directors from outside America were moved by the story of race, too. Marcel Camus made Black Orpheus in Brazil in 1959, and 10 years later Italian Marxist Gillo Pontecorvo made Burn!, a sprawling tale of Caribbean political and social revolution, starring Marlon Brando as a cynical white planter. In Jamaica, in 1972, Perry Henzell and Jimmy Cliff made The Harder They Come, a tale of a black reggae star's struggle against his exploitative white producer which was carried more by Cliff's songs than the filming.
Van Peebles and other black artists were encouraged to make a number of modestly budgeted 'blaxploitation' films, to capture a growing black audience, of which the most successful were Gordon Parks' Shaft, and his son's Superfly (with its Curtis Mayfield soundtrack). Peebles' chaotic Sweet Sweetback's Badass Song (1971) was lauded by the new Black Panther Party as an inspiration. Other 'blaxploitation' films were made by white directors like Larry Cohen's Black Caesar (1973) and Jack Starett's Cleopatra Jones (1973). Soon after, Alex Haley's book Roots was made into a television hit in 1977, with Levar Burton in the lead. In 1978, Sidney Lumet made The Wiz, a black version of the 1930s hit, The Wizard of Oz, with Diana Ross in the lead. The genre was well established enough to bear a parody in Keenen Ivory Wayans' 1988 film I'm Gonna Git You Sucka.
Even in the 1960s and 70s, however, films about racism, or blaxploitation films represented a tiny proportion of Hollywood's output. Mainstream Hollywood was making goofball romantic comedies, Cold War spy dramas, murder mysteries and Westerns. Race was in the background, but it was still an exceptional rather than a mainstream cinema topic.
The 1970s and 1980s backlash
By the late 1970s and 1980s a marked backlash against the civil-rights era was underway. First Richard Nixon in 1970, then Ronald Reagan in 1980, won presidential elections by appealing to the 'unyoung, unblack and unpoor' (2). Politicians criminalised black communities through a 'war on drugs' and campaigns against 'street crime', while welfare dependency was presented as a peculiarly black problem.
Films were made appealing to a more conservative audience beset by fears of social disintegration, like the Don Siegel films (Dirty Harry, 1971; Magnum Force, 1973; The Enforcer, 1976; Sudden Impact, 1983; and Dead Pool, 1988), where the hardened cop Harry Callahan (Clint Eastwood) trashes red tape to batter and abuse criminals, while decrying affirmative action. At the same time Charles Bronson was taking the law into his own hands to execute muggers and rapists as Paul Kersey in Michael Winner's Death Wish films (1974, 1982, 1985). The villains and hapless criminals terrorised by Harry Callahan and Paul Kersey were not all black, but then they did not have to be for the general fear of crime to fix itself to black America.
In keeping with the times more films were made about black criminality, often with an exploitative or paranoid edge. John Carpenter's Assault on Precinct 13 (1976) plays on the audience's fears of a coalescence of mostly faceless migrant street gangs, who proceed to attack a police station. Later, films like South Central (1992) would portray a slide into criminality as a danger that black communities faced. Other films, like Mario van Peebles' debut New Jack City ( 1992) and John Singleton's Boyz n the Hood (1991) walked a fine line between celebrating and warning against black criminality.
Still, in the 1980s films about black people were rare. At this time Hollywood was more likely to be telling the stories of European migrants struggling to make it in America, whether in the comedies of Woody Allen, or in Francis Ford Coppola's Godfather series.
The 1990s and the revival of the civil-rights film
Though the era of civil rights inspired filmmakers at the time, it wasn't until the 1990s that there was a marked revival of interest in films about race and racism. After three successive Republican presidencies, Americans recoiled from some of the aggressively racialised persecution of black America. In his nomination speech Bill Clinton warned that Americans had gone on too much about 'them', those others who were a threat to the American way of life. Americans were in danger of 'themming ourselves to death', he said. After the Cold War, some of the paranoid style of American politics relaxed. The appetite for a more moral treatment of the question of race grew.
Among the first films to chart the new territory were Stephen Spielberg's film of Alice Walker's novel, The Color Purple, in 1985. Though it was praised as black literature, Walker's book played on racial stereotypes about the brutality of black men. Edward Zwick's 1989 film Glory put a nervous Matthew Broderick in charge of a troop of black Union troops, sacrificed in the 1861 Civil War. In both of these the note was tragic, but hopeful all the same. In the 1987 film Cry Freedom, Richard Attenborough had American actors Denzel Washington and Kevin Kline play heroes of the anti-Apartheid struggle, Steve Biko and the journalist Donald Woods.
In 1989, English director Alan Parker made the breakthrough historical civil-rights film, Mississippi Burning, the story of the killing of three black voter-registration activists by racists, and the subsequent FBI investigation. Mississippi Burning stood out because of the outright celebration of its cause, and the unalloyed vilification of racism. The struggle for civil rights was no longer the beginning of America's downfall, as it had been in the Death Wish and Dirty Harry films; it was heroic once again.
More films on the civil-rights era followed, like Driving Miss Daisy and the Long Walk Home (both 1990). Both featured white women coming to terms with the moral claims of civil rights, and learning something about themselves. It was a feature of many of those 1990s films about civil rights that they were told from the perspective of white people, awakening to the injustice of racism, and even acting as interlocutors – white saviours – who might tip the balance in favour of the good, as Selma Director Ava DuVernay pointed out.
It was on TV that black lives would be shown in a more progressive light. The Cosby Show (making star Bill Cosby the highest paid actor in TV history by the early 1990s), and The Fresh Prince of Bel Air, which would launch the career of Will Smith, were aspirational and attracted large black audiences.
The real-life segregation of black and white Americans over the years has also created a quasi-segregated market of race films. So there are films made that are directly marketed at a black audience, rather than a mainstream Hollywood audience. They are mainly comedies fronted by stars like Tyler Perry, Queen Latifah or Gabrielle Union.
A more assertive black cinema in the Hollywood mainstream
An altogether different note was struck in Spike Lee's first mainstream film (after the 1986 arthouse hit, She's Gotta Have It), Do the Right Thing (1989). This time, the key protagonists were all black, and the looming riot an understandable response to racial animosity. Three years later Lee's Malcolm X took black film to the next level, unapologetically making the case for the revolutionary leader. Lee's style was smart and sassy, and his white audience also appreciated the emotional charge that the black Muslim Malcolm's story created on screen. There was still an audience for the more mollifying civil-rights message. In the Whoopie Goldberg vehicle Corrina, Corrina (1994), the childminder finds love with a widower and scandalises the town. But a more confident and strident filmmaking was putting the injustices of white society on view.
Mario van Peebles next film, Panther (1995), put the Black Panther Party on centre stage, telling the story of the FBI's attempt to silence the radical black group. There were films on black subjects like Muhammed Ali (with Will Smith in the title role in Ali (2001)), and wrongly convicted boxer Rubin 'Hurricane' Carter (played by Denzel Washington in The Hurricane 1999); and there were biopics of black stars like Dorothy Dandridge (Face of an Angel, 1999) Ray Charles, (Ray, 2004) and, more recently, Nina Simone (Nina, 2016), all often telling a familiar tale of talent ruined by drugs.
Historical events were reinterpreted, in a more radical frame, too. Steven Spielberg's tale of the ship-borne slave rebellion in Amistad, and the trial that followed, grabbed audiences in 1997, while TV dealt with discrimination in the armed forces in The Tuskegee Airmen (1995) and even the shocking story of the Tuskegee syphilis experiments in Mrs Evers' Boys two years later. Where Edward Zwick's Glory led, films like The State of Jones (2016) followed, filling in more of the story of the Civil War and reconstruction.
One filmmaker who worked hard to keep the dream of racial consolidation alive was Clint Eastwood, who had spent the eighties blowing the bad guys away as Dirty Harry. Eastwood's films Invictus (2009), about Nelson Mandela's support for the white South African rugby team, and Gran Torino (2008), about an older white storekeeper's attempt to work with the Asian storeholders moving into his neighbourhood, carried a message of reconciliation.
Intriguingly racial conflict remained high on Hollywood's agenda throughout the 'post-racial' presidency of Barack Obama. Indeed, race conflict in modern Hollywood has taken on something of a permanent character. Filmmakers have hit a rich seam of moral meaning. The wickedness of race oppression clearly moves audiences in a way that commands their attention – something that Hollywood needs. Films like Dear White People (2014) (a film about a group of black college students who have to deal with well-meaning white students and their microagressions on campus) seem to address today's race-genre audience directly.
In the old Western films it was often said that the baddies had black hats and the goodies white ones, so that you knew who to cheer. Modern race films are subtler, but they still rely on an investment of expected meaning that allows audiences to read the moral cues easily. Rather like America itself, Hollywood is too invested in race conflict to let it go. The easily accessible moral script for white American audiences as assumed by race-film producers seems to continue traditional Hollywood narratives of good versus bad, which entrenches racial conflicts further rather than tries to transcend them.
The paradox of contemporary race films – the obsession with a racialised culture codes alongside a condemnation of racism – leaves many black artists and audiences in a double bind. On the one hand black narratives are now 'recognised', with the stories given a realist treatment, writ large in Bigelow's verisimilitudinous Detroit. On the other, however, they are trapped in the cultural idea of 'blackness'. This double bind often leads to contradictions and dead ends. Talented artists such as Steve McQueen only broke through in Hollywood by doing 'black' stories. Actors like Riz Ahmed and Daniel Kaluuya have complained about being racially typecast while at the same time promoting their ethnicity in order to increase the representation of black artists. Often, the demand for 'colour-blind casting', undoubtedly a progressive idea, is shut down as soon as the wrong colour is actually cast. As long as race is still a cultural determinant for black as well as white people, Hollywood will continue making films about race.
Maren Thom is a writer based in London.
James Heartfield is the author of several books. His most recent, a history of The British and Foreign Anti-Slavery Society, is published by Hurst Books.
(1) See Cold War Civil Rights, by Mary Dudziak, Princeton University Press, 2001.
(2) These were the words of Nixon advisor Kevin Phillips. See Another America, by Kofi Buenor Hadjor, South End Press, 1995, for a full account.
To enquire about republishing spiked's content, a right to reply or to request a correction, please contact the managing editor, Viv Regan.