In defence of Apu
Don't let offence-takers kill off The Simpsons' shopkeeper.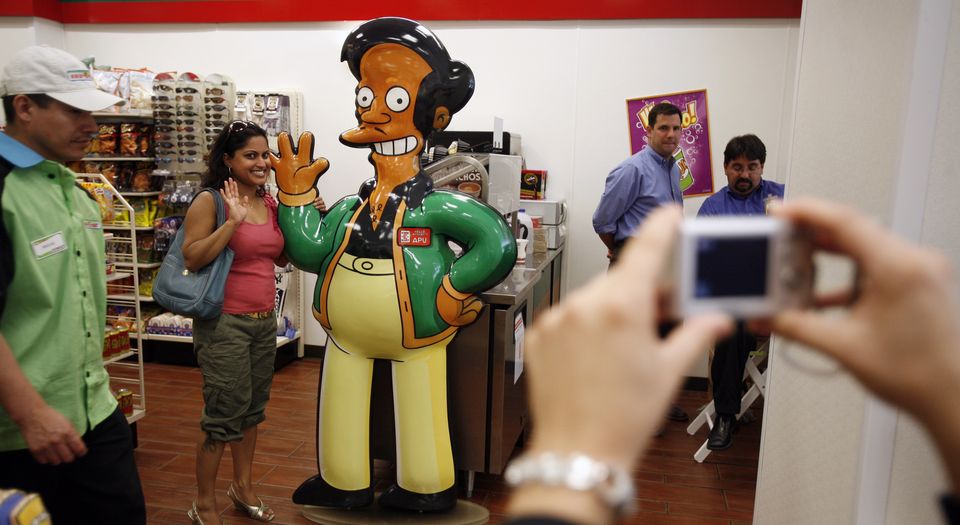 'All done. If you survive, please come again.' So warned Springfield's favourite shopkeeper as he served Bart Simpson and his pal Milhouse a deliriously unhealthy, all-syrup super-squishy. This could also serve as a warning to all future fiction writers if they decide to include or cast characters who happen to be of a particular ethnic origin.
A paean to the modern trend for joyless offence-taking, Hari Kondabolu's The Problem with Apu has got audiences worldwide talking about television's most loved shopkeeper. Such has been the impact of Kondabolu's film that the crew behind The Simpsons might even alter the character to address feelings of upset. They shouldn't. Behind the veil of such sensitive adjustments to 'problematic' characters lies an insidious form of censorship that risks neutering writers' creative vision.
Kondabolu's film is the latest in a long line of commentaries that seek a collective victim status for certain groups, often against media portrayals of that group that are apparently offensive. Among Kondabolu's main complaints are that Apu 'stole his parents' voice' and that Apu is never used to satirise aspects of American ignorance towards other cultures.
But the idea of Apu stealing the voice of first-generation Indian immigrants is as crude and patronising as the idea of Marge Simpson, an unemployed homemaker, who for years has put up with Homer's shenanigans, stealing the voices of millions of wives.
What's more, Kondabolu is wrong to describe Apu as one-dimensional. Episodes such as 'Much Apu About Nothing' indicate that Apu, despite being an illegal immigrant, knows more about his host country's history than the boorish and educationally challenged Homer Simpson does. That episode also promotes the idea of maintaining pride in one's cultural heritage while working towards American citizenship. So much for Kondabolu's argument that Apu is not used to satirise the ignorance of some Caucasian (here, yellow) Americans.
The worst thing about Kondabolu's film is his use of social media to try to coerce the voice actor behind Apu – Hank Azaria – into participating. Granted, the film might have had more weight if Azaria had agreed to participate, but he's under no obligation to address Kondabolu's hurt feelings. When Azaria fairly suggested that they have a public discussion about Apu on neutral ground, Kondabolu accused him of using 'his power' to adjust the debate – a little like an increasingly influential comedian, with an online army of PC warriors behind him, using the power of Twitter to harass another comedian into participating in his documentary.
It's not just Kondabolu who is engaging in this joyless war on entertainment. Anita Sarkeesian, founder of Feminist Frequency, has said that Far Cry 3 is a racist game simply because the hero is a WASP male and his enemies are dark-skinned pirates. She recently argued that Blade Runner is an exclusionary film on the basis that its protagonists are straight, white men. As a third-generation black Briton, I was astonished that Sarkeesian had taken the liberty of tapping into my alleged pain about the lack of ethnic diversity in a classic piece of sci-fi cinema. Also, I doubt that a dystopian future LA would be a bastion of diversity.
The beauty of creative fiction is that it allows people to explore different cultures and experiences. The Simpsons has always lampooned culture, society and politics with style, grace and intelligence. It would be a great shame if one of its characters was axed, or watered down, on the basis of some people's concerns with issues of representation and power. Without The Simpsons, we may never have had classic sitcoms such as South Park and King of The Hill, which use ethnic characters to lampoon stereotypes of tokenism and perceptions of ethnic minorities. Losing such characters to shrill complaints about 'power dynamics' would be a loss to comedy, insight and inspiration.
James Gill is a writer based in London. Follow him on Twitter: @JamesGill13
To enquire about republishing spiked's content, a right to reply or to request a correction, please contact the managing editor, Viv Regan.