The Golden Globes: a wake for feminism
The #MeToo movement is just a vehicle for celeb virtue-signalling.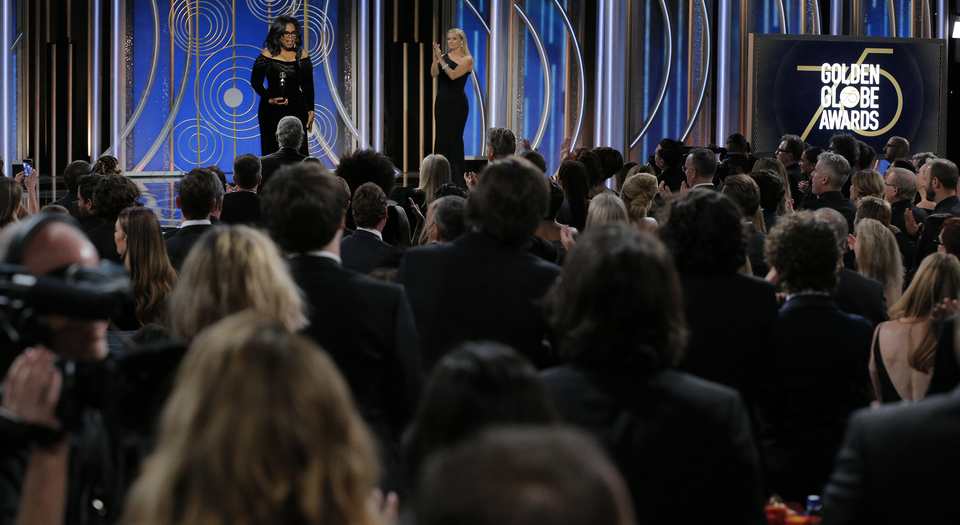 Last night, Hollywood held a wake. The Golden Globes, with its attendees all dressed in black, supposedly to show solidarity with the #MeToo movement, celebrated the death of feminism. Seth Myers, the host of the awards, set the tone for the maudlin event, referring to Woody Allen as a 'monster' and Harvey Weinstein as 'the elephant not in the room'. He was met with fidgets and silence after quipping that Weinstein would be booed at his own memorial service – so serious was this event that even jokes were frowned upon.
And, as with every celebrity event today, most of the speeches had nothing to do with the work being celebrated. Reese Witherspoon, Laura Dern and others condemned the 'culture of silence' around sexual harassment in Hollywood. Natalie Portman won praise on social media for introducing the 'all male' nominees for best director. When accepting her award, Michelle Williams gave the stage to #MeToo campaigner Tarana Burke, gushing: 'I'm so much more interested in what you have to say than what I have to say.'
But the speech that stole the show was made by Oprah Winfrey, who won the Cecil B DeMille award for lifetime achievement. 'For too long, women have not been heard or believed if they dare speak the truth to the power of those men', Winfrey said, 'but their time is up. Their time is up.' Finishing with an obligatory nod to future generations, Winfrey said: 'I want all the girls watching here, now, to know that a new day is on the horizon!' Any little girls allowed to stay up to watch the Golden Globes would probably have a hard time understanding why this formerly glitzy affair was so drab.
For an event that had so much build-up, this year's Golden Globes was dull. This was no doubt exacerbated by the all-black attire. Designers and stylists were reportedly panicking in the week before the show. And while celebrities all decided to wear black in support of the #MeToo movement, they were still concerned about being the best dressed. 'While the message is all about sisterhood and unity, that doesn't mean there isn't still competition to look the best', said the New York Post.
This is what feminism has become – celebrities making fashion sacrifices by dressing in designer black. Columnists and commentators have been praising the bravery of Hollywood's women for speaking out about injustice. But there is nothing brave, or daring, or politically worthwhile about Hollywood stars preaching to each other over champagne and canapés. Time's Up, the campaign at the centre of last night's spectacle, is supposed to raise awareness (and cash) for poor women who have been sexually abused. At last night's Golden Globes, celebrities wore these poor women as accessories on the red carpet, in the form of a 'Time's Up' pin.
So this is how feminism ends – in a room full of half-pissed, half-pissed-off celebrities vying to be the most serious about sexual harassment. This says a lot about how low this once interesting political movement has sunk. These bejewelled movie stars don't speak on behalf of women, and their words of solidarity ring hollow. Last night wasn't about making women free – it was about virtue-signalling elites clapping each other on the back. If this is what feminism has become, just another red carpet accessory, then good riddance to it. Now, maybe, we can have a serious conversation about what kind of political movement women and men need.
Ella Whelan is assistant editor at spiked. Her new book, What Women Want: Fun, Freedom and an End to Feminism, is published by Connor Court. Buy it on Amazon UK and Amazon US.
Picture by: Getty Images.
To enquire about republishing spiked's content, a right to reply or to request a correction, please contact the managing editor, Viv Regan.