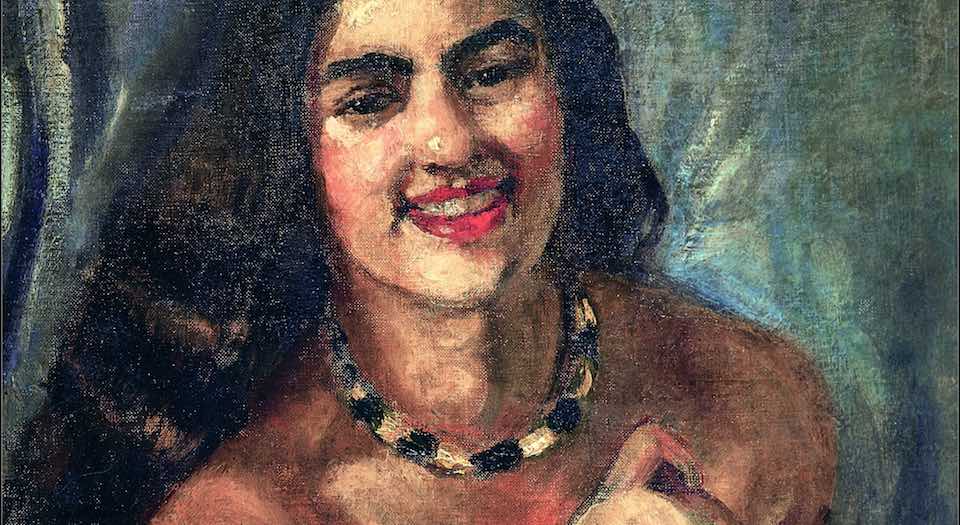 Long-read
Amrita Sher-Gil: unseen brilliance
The Hungarian-Indian painter is rightly hailed, yet few outside India have seen her work.
Some grand claims have been made for the art of Amrita Sher-Gil (1913-1941). Christie's described her as 'one of the greatest avant-garde women artists of the early 20th century', yet few art-history students in Europe and America know her name. The reissue of Amrita Sher-Gil: A Self-Portrait in Letters & Writings, which collects all of the artist's writings and reproduces her 172 surviving paintings, allows us to judge the acclaim. In the foreword, Salman Rushdie explains how Sher-Gil became an inspiration for his character Aurora Zogoiby in The Moor's Last Sigh.
There is scarcely a day without a gallery press release announcing the rediscovery of a female artist who has not just been neglected but 'excluded from the Western fine-art canon'. The claim that any artist can be excluded from the canon is nonsensical. The Western canon is a list of the most important good art that a person should know in order to understand the Western art tradition. The canon is not a set text, but a composite of opinions and has no central authority and changes over time. Therefore no art or artist can ever be excluded from the Western canon, whatever you may be told. (For an explanation, read my essay here.)
Amrita Sher-Gil was born in 1913 in Budapest. Her family was middle class. Her father was Amrao Singh Sher-Gil, a Sikh writer and religious ascetic. He was a skilled photographer and his favourite subject was his family. Amrita's mother was of French and Hungarian Jewish descent. The couple were mismatched in some respects and the conflict between an ascetic detached father and neurotic socialite mother would prove a source of instability in Amrita's life. The family (including Amrita's younger sister Indira) spent Amrita's early years in Hungary before the family moved to Simla, India in 1924.
This two-volume book publishes all of Amrita's writings, translated from the original French and Hungarian. She spoke English to her family and Indian colleagues, so much of the text is in her own words. The volumes open in collage style, with early diary entries reproduced next to adolescent drawings. The earliest subjects of the diaries are romantic fairy tales; later entries record family gatherings and parties. She drew film stars and fashion plates from the journals of the day. There are numerous photographs of Amrita and her family. She and Indira appear in the latest fashions for her father's camera. In bobbed haircuts and 1920s flappers' dresses, they strike superior poses or they perform in fancy dress. From the first, Amrita's engagement with the sensuality of art and her love of colour come to the fore in her colourful drawings.
Nearly 260 letters from Amrita are transcribed in full, giving us an inside view of her life. Extensive illustrations bring added life and footnotes explain references and individuals mentioned. Extracts of the letters and memoirs of others fill in some gaps. The editor of the volumes is Vivan Sundaram, son of Indira Sher-Gil and nephew of Amrita. Sundaram is well placed to understand the dynamics of the family and is an artist himself.
When Amrita displayed skill in art and expressed the intention to become an artist, the obvious course was for her to study in Europe. The whole family relocated to Europe to allow Amrita to study art in Paris. In 1929, Amrita entered art school and became acquainted with the treasures of the Louvre and more recent painting, and expressed admiration for Gauguin, Van Gogh and Modigliani. She made rapid progress.
So, how good an artist is Amrita Sher-Gil? The answer is exceptionally good. Her paintings balance fluent drawing with brushwork that is descriptive and paint that is intelligently applied. The colour schemes are satisfying and rich, especially in her Paris phase. What distinguishes the art of her Paris period is the warmth and richness of her palette, firm yet sensitive drawing and her approach to modelling of volume, which is concise and well observed. Though some of the smaller pieces are slight, the best of her early portraits and nudes are among the best produced in Europe in that period.
Amrita was hungry for success but ambivalent towards praise. She wrote excited letters to her parents about winning prizes and earning critical praise for her exhibitions. She was contemptuous of a prize awarded to her as a 'woman artist'. 'It rather smacks of concession due to the feebler sex', she said. She felt her art was good enough to be judged on equal terms with art produced by men.
Amrita's letters are gossipy, feisty and funny. They are also informative, telling us which artists she admired, which books she read and giving us details of other interests. Through Amrita's letters we become immersed in her affectionate but troubled relationship with her mother. Amrita's dependence on financial support from her parents and her mother's controlling and critical nature led the pair into conflict over money.
In 1934 Amrita and her family returned to India. One of the impetuses was for Amrita to explore Indian art more deeply and connect with her roots. She started painting subjects from Indian life and her style changed, incorporating elements of different Indian schools of painting. Pictorial depth in her art narrows dramatically and realism is decreasingly important. She attempted to depict Indian life in ways that were not clichéd or touristic.
Correspondence with Indian critics illuminates her views on art, both her own and that of other artists. She was scathing about her Indian contemporaries. It was an area she could not always keep diplomatically silent on. In return, Indian artists resented a half-Western, Paris-trained artist casting aspersions on them. Indian critics were largely positive about her art (some extracts are included). The newspaper articles she wrote on the state of Indian art are reprinted in full.
She formed strong aversions and her barbed tongue got her into trouble occasionally. While visiting one of the wealthiest men in India, she was asked her opinion on his collection of academic Victorian painting and she could not help savaging it. Unsurprisingly, her host did not buy any pictures by her. She exhibited paintings at an open exhibition and when she was awarded a medal for what she considered was her weakest painting, she rejected the medal and upbraided the jury in a haughty letter. A few Indians commented that she would never have acted that way towards the jury of the Paris salon.
Her first engagement was disastrous and the wedding was called off. She started a series of romantic and sexual attachments with men and women, all intense, exciting but ultimately short-lived. Her reputation as a seducer made her a figure of fascination. Amrita was rebellious as a person and an artist, but she was also shrewd. She used her attractiveness to catch the eye of critics and it is notable how many articles by and about her art prominently feature photographs of her. During her lifetime, her photograph made the front covers of journals and newspapers in France and India.
One of the most tantalising gaps in Amrita's correspondence is with Jawaharlal Nehru, the future first Prime Minister of India. They met a number of times and exchanged letters while he was a prominent nationalist campaigner against British rule. Her parents wanted the pair to marry. Amrita admitted, 'He is extraordinarily handsome and absolutely charming'. The question of how intimate they were is now virtually unknowable, since almost all of their letters were burned. Upon learning of Sher-Gil's death, Nehru sent a touching letter of condolence to her parents.
In the summer of 1938, Amrita returned to Hungary and in August 1938 she married her cousin Victor Egan, with whom she had had a youthful affair. Amrita's mother disapproved; she thought Amrita could do better. Victor had not established himself in the medical profession yet, and could not support Amrita, let alone any children they might have. Still, it was to be an open marriage and Amrita continued pursuing extra-marital affairs.
Amrita enjoyed being surrounded by the art of Europe's greatest museums and began to adapt ideas from older European art into her own art. However, things were difficult. In Nazi-aligned Hungary, money transfers (which the young couple depended on) were becoming increasingly restricted. Moreover, under German race laws she would have been classed as mixed race (part Jewish). In June 1939, concerned about the deteriorating situation in Europe, they relocated to India.
In Simla, Amrita continued to make progress in the Indian art world. Catalogues were produced, her articles were published and reviews lauded her art. She studied ancient Indian art, visiting sites and museums. She attempted to fuse two distinct and clashing traditions. In 1941, the couple moved to Lahore and Amrita prepared for a large display of her art there. Bu just before the exhibition, Amrita became ill and died. The cause of her death is uncertain. A friend found her at home, very ill. Amrita told him that she had caught dysentery. When the friend returned a few days later, Victor informed him that Amrita was on the verge of death. Inexplicably, no other doctor had been called. When another doctor did arrive, he declared Amrita was past saving. She died shortly afterwards, aged 28.
There has been speculation about the cause of death. It could have been dysentery, but her mother believed she had died due to a botched abortion, perhaps performed by Victor. Whatever the cause, the inadequacy of care contributed to her death. Amrita's mother claimed Victor had indirectly caused her daughter's death and continued to believe that until her suicide in 1948.
There is no question of Sher-Gil's art being neglected during her lifetime. From her student years onwards, her art was often reviewed positively and her achievements celebrated by journalists and critics. She was a minor celebrity in India. After her death, her art slipped from view largely because it remained with her family. The trauma of Partition quickly occluded cultural matters for a period. One reason for Westerners to plead honest ignorance about Sher-Gil's art is that most of her art is in India and Pakistan. There is a barely a picture to be seen in a European public collection. In 80 years, only three major exhibitions featuring her art have been held in Europe.
In recent years, Sher-Gil's life and work has been popularised by books and documentaries. Younger Indian creators see Sher-Gil in her own terms rather than through the lens of Western critics seeking to fit her into the European tradition. For filmmaker Anamika Bandopadhyay, Sher-Gil's forthright independence is an inspiration: 'She is unique in her own way – unique in her colour palette, which is far different than being Western and is international in every sense. It's the epitome of Indian sensuality and passion. She's a master artist above all. That's our Amrita.'
Greatness is a high bar and if Sher-Gil fails to reach it, she gets close. The canon is the top level of art, judged on quality. It accepts the best art, no matter who produces it and it is already accepting the art of Amrita Sher-Gil.
Alexander Adams is an artist and writer. His website is alexanderadamsart.wordpress.com.
Amrita Sher-Gil: A Self-Portrait in Letters & Writings, by Amrita Sher-Gil, is published by Tulika Books. (Buy this book from Amazon(UK).)
Picture by: Wikimedia Commons.
To enquire about republishing spiked's content, a right to reply or to request a correction, please contact the managing editor, Viv Regan.