It isn't transphobic to question transgenderism
We must be free to debate the dangers of the Gender Recognition Act.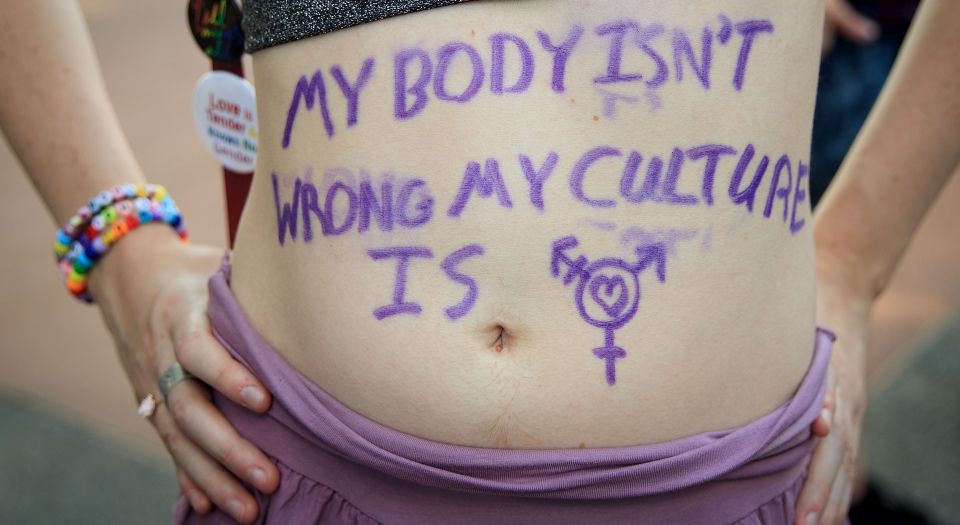 Last week the UK government finally launched its public consultation on the Gender Recognition Act. The proposed changes to the 2004 legislation, backed by the leaders of both main political parties, will enable people to change their gender solely on the basis of self-identification. A simple declaration will be all that is needed for a man to be legally recognised as a woman. Biology will become irrelevant. There will be no need for psychologists to confirm gender dysphoria; no need for doctors to prescribe hormones or arrange surgery; no need for changes in appearance or lifestyle; and no need to have lived as a member of the opposite sex for a certain period of time. Changing gender will be easier than filing a tax return.
The consequences of this disregard for biology as well as centuries of social convention are considerable. There is fear that men might change gender in order to access women-only spaces such as prisons, changing rooms, public toilets and swimming ponds – potentially putting vulnerable women at risk of sexual harassment or violence. These fears may well be exaggerated by radical feminists who define men and women as perpetrators and victims. But some who are loudest in crying 'panic' are, at the same time, on board with legislation against upskirting and plans to make street harassment of women a misogynistic hate crime. Sexual harassment can't be both a panic and a serious problem. Violent attacks by transgender activists on women meeting to discuss the Gender Recognition Act expose the lie that men who become trans women are uniquely gentle.
There are all kinds of reasons why women and girls (or men and boys) might want to exclude the opposite sex, not just fear of violence. Privacy is important, as is freedom of association. I'm not a fan of either quotas for women or all-women parliamentary shortlists – but I'd sooner argue against them than see their existence made meaningless by the inclusion of men who declare themselves to be women.
Clearly, when it comes to changes to the Gender Recognition Act, there is much that needs to be discussed. But the government's consultation will ring hollow if any criticism of self-declaration is silenced either through physical intimidation or the tyranny of transgender activists. We need the freedom to say that being a woman, being female, is more than an instinct or a feeling. It's about biology and socialisation and the individual woman's negotiation between the two. We need to be able to say that a man who has never had to deal with the messiness of female hormones and periods (or the expectation of periods) can be a trans woman – but never simply a woman – without being silenced. Yet such discussions are increasingly censored.
In an article in this week's Economist, Kathleen Stock, reader in philosophy at the University of Sussex, questions whether 'self-declaration alone' should reasonably be the only criterion for changing gender. She argues that 'changing the concept of "woman" will cause unintended harms'. Elsewhere, Stock writes that, 'there needs to be some sort of platform where radical feminist philosophers and Gender Critical philosophers can properly discuss their views'.
Yet this questioning and call for further discussion has seen Stock branded a transphobe. The University of Sussex Students' Union – the university Stock herself works at – has condemned her 'transphobic statements'. 'We will not tolerate hate on our campus and we will do everything in our power to protect our students', it declares. 'Trans and non-binary lives are not a debate.' This final point is key. Any attempt at discussing gender, at questioning what it means to be a man or a woman, is considered transphobic because it is interpreted by activists as calling into question the trans person's right to exist. Differentiating trans women from 'cis' or 'born' women is seen as an act of violence, an invalidation of the trans women's womanhood.
But in order to validate the existence of transgender people, the identity of born women is being eroded. In particular, being a lesbian becomes meaningless if the category of lesbian must expand to encompass men who, without undergoing any physical changes, self-declare as women and are sexually attracted to women. At the weekend, a small group of lesbian protesters joined London's Pride march. In response they were accused of being 'a small divisive group of people whose main purpose is to exclude trans women' and their behaviour was labelled 'shocking and disgusting'.
The erosion of womanhood is about more than just identity-driven one-upmanship. Last month it was announced that Cancer Research UK planned to drop the word 'woman' from its smear-test awareness campaign and instead refer to 'everyone with a cervix'. The fact is men don't need smear tests – women do. Obfuscating helps no one. It seems that dropping references to men and women, erasing the biological reality of sex, is considered less risky, less offensive to the sensibilities of trans activists. Skirts have been banned at 40 secondary schools in the UK. With one small new school rule, any potential uniform issues arising from transgender pupils are dealt with. As an added bonus, upskirting is ruled out and Muslim girls no longer need distinct clothing. But what's lost in the bureaucratic simplicity is the feminine. Girls are told that to want to dress like a woman is a problem. Their sex needs to be neutralised.
The consultation to the Gender Recognition Act is important. But simply launching a consultation is not enough. We need to be able to discuss what makes someone male or female, a man or a woman, without fear of being labelled transphobic. We need to be able to discuss the potential impact gender self-declaration will have on women's lives without being accused of invalidating the existence of transgender people.
To enquire about republishing spiked's content, a right to reply or to request a correction, please contact the managing editor, Viv Regan.