Diversity: the new favouritism
Ben Cobley's The Tribe is a searing attack on the diversity industry.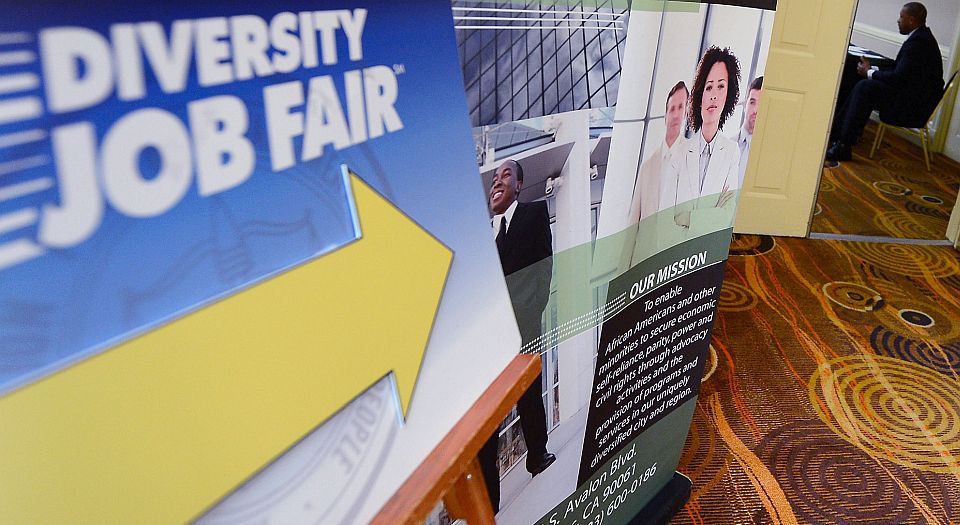 In Britain today, if you are non-white, female, Muslim or gay you are favoured. If you are white, male, Christian or straight you are unfavoured. Worse still, if you challenge the idea that society ought to favour certain identities and unfavour others, then you are likely to be shunned and driven from polite society. The essential argument of Ben Cobley's searing The Tribe: The Liberal-Left and the System of Diversity is that diversity now operates like a machine with rules that must be obeyed. Diversity is, Cobley argues, a system that dominates our state and society.
Cobley, a former Labour Party activist, cites many examples to establish his case that there are several identity-based groups treated favourably. Channel 4 has an extensive system in place, which it calls its 360 Degree Diversity Charter, that requires favouritism for black and minority-ethnic, female and disabled groups. This approach is now so institutionalised that Channel 4 calls it 'the new normal' and its interventions are 'established ways of doing business'. Within the Labour Party, all-women shortlists for parliamentary candidate selection have long been a flagship policy, but Labour's favouritism is not only directed at women. When the veteran Manchester MP Gerald Kaufman died in 2017, the Labour Party put together a black- and Asian-only shortlist of five that resulted in Afzal Khan becoming its MP in a safe Labour seat, while the previous favourite, the white-skinned Sam Wheeler, was excluded from the shortlist. The BBC has been particularly prominent in the institutionalisation of favouritism. It has introduced 50:50 gender quotas for experts on its shows and regularly sets diversity quotas for its managers to satisfy. And there is the British Academy of Film and Television Arts (BAFTA), which has brought in a rule that films must reach certain diversity thresholds in order to qualify for awards.
Although Cobley's focus is on institutions associated with the liberal-left, he also notes how favouritism has penetrated institutions more widely, such as the civil service and police. The civil service, he says, 'aligns wholly with the system and its favoured-unfavoured group demarcations'. It talks of 'barriers to underrepresented groups' and the virtues of discrimination in the form of 'positive action' favouring women, minority-ethnic groups and disabled people. Cobley notes how UK police forces seem to have 'gone from a situation of genuine "institutional racism" to an overtly political commitment to diversity as ideology and systemic practice'. He cites The Times journalist Andrew Norfolk, who noted how in recent years 'no press conference after a sex-grooming trial has been complete without a police officer's pronouncement that the perpetrators' ethnicity and religion was utterly irrelevant to their crimes'. This political commitment to diversity is just favouritism by another name.
The system of diversity that creates favoured and unfavoured groups is so prevalent today that Cobley concludes that its 'influence reaches into virtually every corner of our public life and increasingly our private lives'. The strength of The Tribe is Cobley's recognition of the prevalence of this system and of the harm it brings to the institutions that practise it. This is because those institutions are elevating identity over merit. Afzal Khan, for example, may have been the best Labour candidate to represent his constituents out of the people who were allowed on the shortlist. But we cannot know if he was the best from all those who wanted to stand, because all the white candidates were excluded, no matter how well qualified.
Aside from the specific issue of recruitment and promotion, diversity plays a more general and insidious role in undermining rational thought and decision-making. Cobley discusses 'the suppression of inconvenient truths' in Rotherham, where social services and the police refused to investigate child sexual exploitation committed by gangs of mostly Pakistani Muslim men for fear of being called racist. Rotherham, says Cobley, 'showed how favouritism and protection of a favoured group had been etched into the fabric of local government and police operations to the extent that it overwhelmed another sort of protection they were meant to be practising – of children'. At least 1,400 children in Rotherham were abused over a 12-year period, and, Cobley argues, this was partially enabled by the institutionalisation of diversity. The council outsourced responsibility, and authority, for the issue to community leaders of Pakistani heritage.
In turn, anyone who questions the system of diversity is accused of racism, sexism, homophobia or generally of being narrow-minded and backward. For example, the official investigations into Rotherham by Alexis Jay and Louise Casey noted that many of the perpetrators and Muslim community leaders used concerns about community cohesion and racism to deter investigations and action. One social worker told Casey's investigators that, 'If we mentioned Asian taxi drivers we were told we were racist'. Cobley notes how such accusations are used to ensure that the system of favouritism is not challenged. Diversity cannot brook any challenge. So even when the horror of Rotherham became clear, people tried to divert attention away from the fact that most of the perpetrators were Muslim men of Pakistani heritage. As one diversity guru contended, 'child sexual abuse is pervasive across the length and breadth of the country'.
Ben Cobley's book is brave for daring to challenge the machine-like system of diversity. Critics like him are so often dismissed as some sort of nasty '-ist'. The Tribe is also pioneering because despite diversity becoming a sacred orthodoxy, it has given rise to few book-length critiques. As Cobley notes, the tendency of those who oppose diversity is to rant about 'political correctness gone mad', without fully understanding what is wrong with it or why it has developed into such a powerful system. Here he is able to get under the skin of today's identitarians because he, as a former Labourite, has worked with and engaged with so many of them.
Where I part ways with Cobley is in his explanation of where the modern diversity movement came from. He tends to see it as the result of the old anti-racism, women's or gay liberation movements going too far. But, in truth, today's identitarians have nothing in common with the anti-racists, anti-sexists and so on of the past. Today's advocates of diversity see oppression and victimhood everywhere, but it is nothing but ideological camouflage for unjustified preferential treatment of certain identity groups.
Today's favouritisms, all practised in the name of diversity, are driven by a political class that can only connect with individuals by favouring them. It is a modern-day version of pork-barrel politics, insofar as it enables out-of-touch elites to buy some loyalty from certain identity groups. It is an approach driven by the absence of any ideas that can connect with individuals as equals, as citizens, that address society as a community with aspirations in common. The organisations that Cobley criticises cannot, as he points out, energise their staff or the wider public by promoting 'such things as truth, science, the arts and excellence in their respective fields'. So they seek moral purpose and legitimacy in the system of diversity.
Yet favouritism for some means unfavouritism for others. And favouritism practised by any institution will necessarily weaken that institution's essential purpose. Cobley's book keys into a growing awareness that diversity has had it too easy for too long. And he explains the corrosive impact that it has on the idea that individuals should be treated equally and that institutions should aspire for excellence. The Tribe is essential reading for those hoping to strike a blow against this divisive system.
Jon Holbrook is a barrister. Follow him on Twitter @JonHolb.
The Tribe: The Liberal-Left and the System of Diversity, by Ben Cobley, is published by Societas. (Buy this book from Amazon(UK).)
Picture by: Getty Images.
To enquire about republishing spiked's content, a right to reply or to request a correction, please contact the managing editor, Viv Regan.