Trump's wall and the imperial presidency
He isn't the first president to abuse national-emergency powers.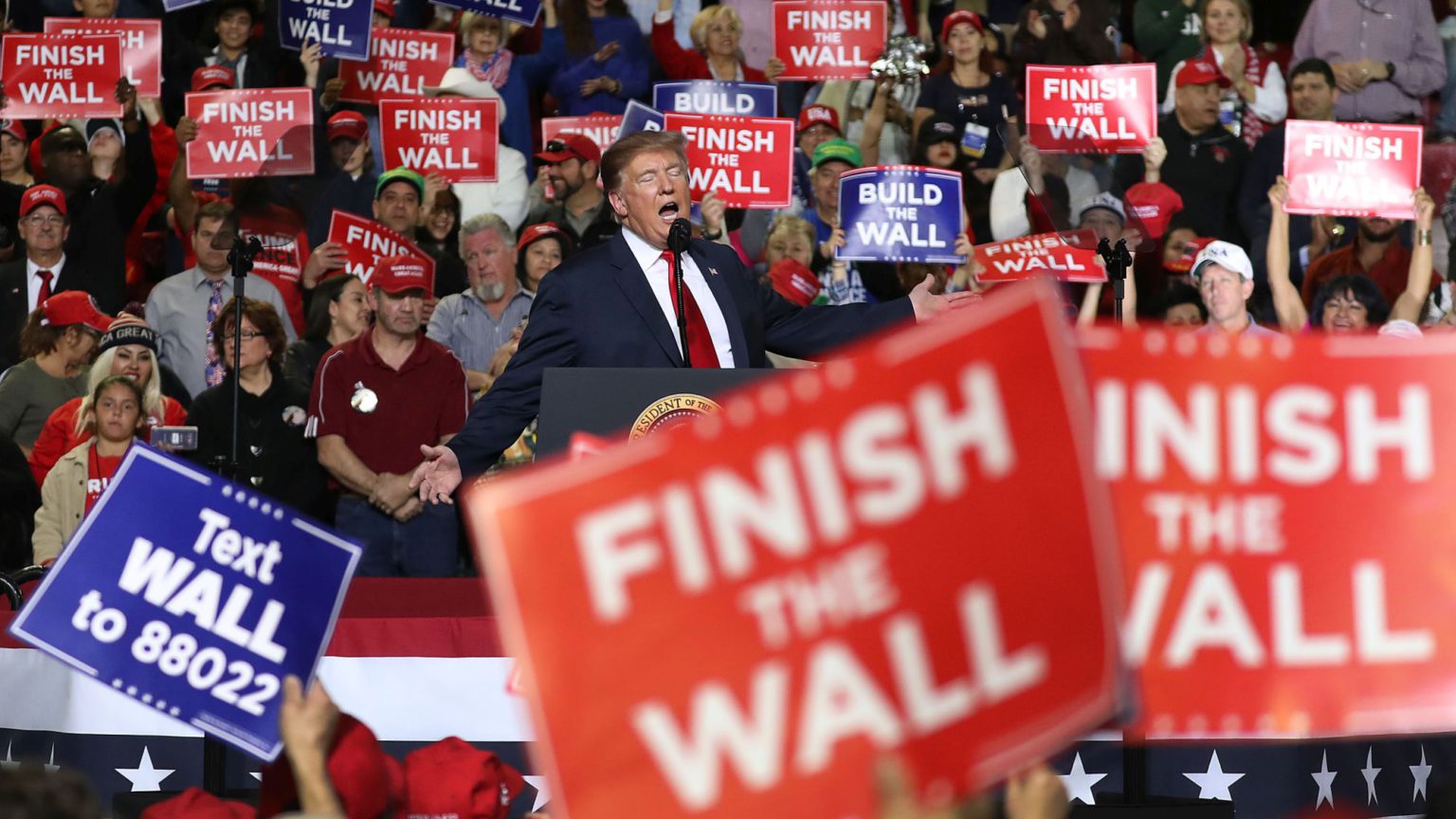 For weeks, Donald Trump has threatened to declare a national emergency over the issue of the Mexico border crossings, and use that as the basis to shift existing military funds towards the building of his wall. On Friday, Trump carried through on his threat.
He only took this extreme step because he suffered a bad defeat at the hands of Democrats in Congress over funding for his No1 campaign promise. The wall was always unpopular with the public, with a majority opposing it. Unfazed, Trump and Republicans in Congress shut down government operations starting in late December – which also proved deeply unpopular. Trump addressed a national audience from the Oval Office, making his case for the wall, and later used the State of the Union for the same purpose, but most Americans remained unconvinced.
Clearly losing the battle, Trump caved to pressure and suspended the shutdown. Congress then presented him last week with a spending deal that gave him $1.38 billion towards the wall – much less than the $5.7 billion he demanded, and even less than the $1.6 billion he was offered in December. He signed that deal on Friday, but, to try to save face, he declared a national emergency.
Of course, there is no 'emergency' requiring a wall, in the normal meaning of the word. Trump admitted this himself in his press conference to announce the move: 'I could do the wall over a longer period of time. I didn't need to do this. But I'd rather do it much faster.' That doesn't sound anything like an emergency. The situation on the border has not changed fundamentally in recent weeks, or years even — so why didn't Trump declare an emergency two years ago, when he entered the White House?
Trump's attempt to run around Congress is wrong and anti-democratic. It's an abuse of presidential power to appropriate funds that Congress has explicitly denied. Although both representatives in Congress and the president have democratic mandates, the US Constitution invests the Congress as a whole, rather than a single individual like the president, with the primary power to determine spending. Trump's power-play violates the spirit, if not the letter, of the Constitution. Trump is snubbing the citizens' representatives, who have clearly spoken, to build a wall that a majority of Americans don't want.
All that said, there is more to this story than 'Trump is a tyrant'. Trump is charging down a path that has already been paved by a Congress that has been too deferential to the 'imperial president' for too long. In ruling by diktat, Trump is exploiting precedents established under prior administrations. Other presidents have asserted their will over Congress; arguably the only unique thing about Trump compared with earlier US presidents is the brazen and unapologetic way he is going about it.
Most of all, Trump is following in Barack Obama's footsteps. Without much notice, Obama declared national emergencies with respect to Burundi and pirate activity near Somalia – not exactly what most would consider vital interests or 'emergencies'. He unilaterally engaged in some big initiatives – the Iran Deal, the Paris climate accord, the war in Libya – by reference to the need to overcome Congressional opposition. And Obama, before Trump, acted without Congressional approval with regard to immigration. For example, in 2014 he expanded the Deferred Action for Childhood Arrivals (DACA) policy to cover illegal immigrants. A policy that affected a huge number of people (some 700,000) was introduced only because Obama was frustrated that the Republicans in Congress wouldn't accede to his demands.
Democrats in Congress today denounce Trump's latest declaration. But when Obama proclaimed in a State of the Union address that he would bypass Congress and pursue his immigration policy, Democrats cheered. In 2014, Chuck Schumer, leader of the Democrats in the Senate, warned Republicans that 'if they don't pass immigration reform… the president will have no choice but to act on his own'. That same year, Nancy Pelosi, the Democratic speaker of the House of Representatives, justified Obama's executive order on immigration by likening him to Abraham Lincoln: 'Does the public know that the Emancipation Proclamation was an executive order?' Schumer and Pelosi also supported other unilateral actions taken by Obama, including him spending money on Obamacare that Congress hadn't approved. They really are hypocrites.
Trump's emergency declaration will face legal challenges, and many of his opponents are hanging their hopes on them. But it is by no means certain that the courts will block Trump. The National Emergencies Act of 1976, which Trump is heavily relying on, gives presidents wide authority. The Act basically lets presidents determine what constitutes an emergency.
Moreover, a better outcome for democracy would be if Congress, rather than the courts, asserted itself and prevented Trump's abuse of power. This should be a matter of protecting the institution of Congress, something both parties should uphold. Members of Congress should object to executive overreach, even if they agree with the particular policy at stake.
Specifically, it is up to Republicans in Congress to stop Trump. There will be votes taken in both the House and Senate to attempt to rescind Trump's emergency declaration, and Republicans should vote to restore democracy. In practical terms, Republicans should realise that acquiescing to presidential power today will be used against them in the future – it is easy to imagine a future Democrat president following Trump and declaring an emergency to deal with climate change, guns or healthcare.
Some Republicans get it. Trump is 'usurping Congressional authority', says Republican senator Susan Collins. 'If the president can reallocate for his purpose billions of dollars in federal funding that Congress has approved for specific purposes and have been signed into law, that has the potential to render the appropriations process meaningless.' But it appears that Collins is one of only a few willing to take a stand. The word is that there are not enough Republicans willing to vote against Trump and overcome his promised veto (they would need two-thirds of votes in both chambers to do that). It appears that many Republicans fear a backlash from the Trumpist base of their party if they defy the president.
As the shutdown illustrated, there is no consensus in American politics on the issue of immigration. There needs to be more democratic debate — debate about borders, about who is allowed in, about what to do with illegal immigrants in the country, about assimilation, and so on. Trump has clearly not won the argument, and it is wrong for him to short-circuit this debate by going around the people's representatives.
Let's hope a wider recognition of the anti-democratic nature of the imperial presidency arises from Trump's transparent power-grab. And if Congress is stirred enough to restore its rightful place in the democratic process, even better.
Sean Collins is a writer based in New York. Visit his blog, The American Situation.
To enquire about republishing spiked's content, a right to reply or to request a correction, please contact the managing editor, Viv Regan.