It's official: Question Time is a Remainer stronghold
The Leave majority barely get a look-in on the BBC's flagship debate show.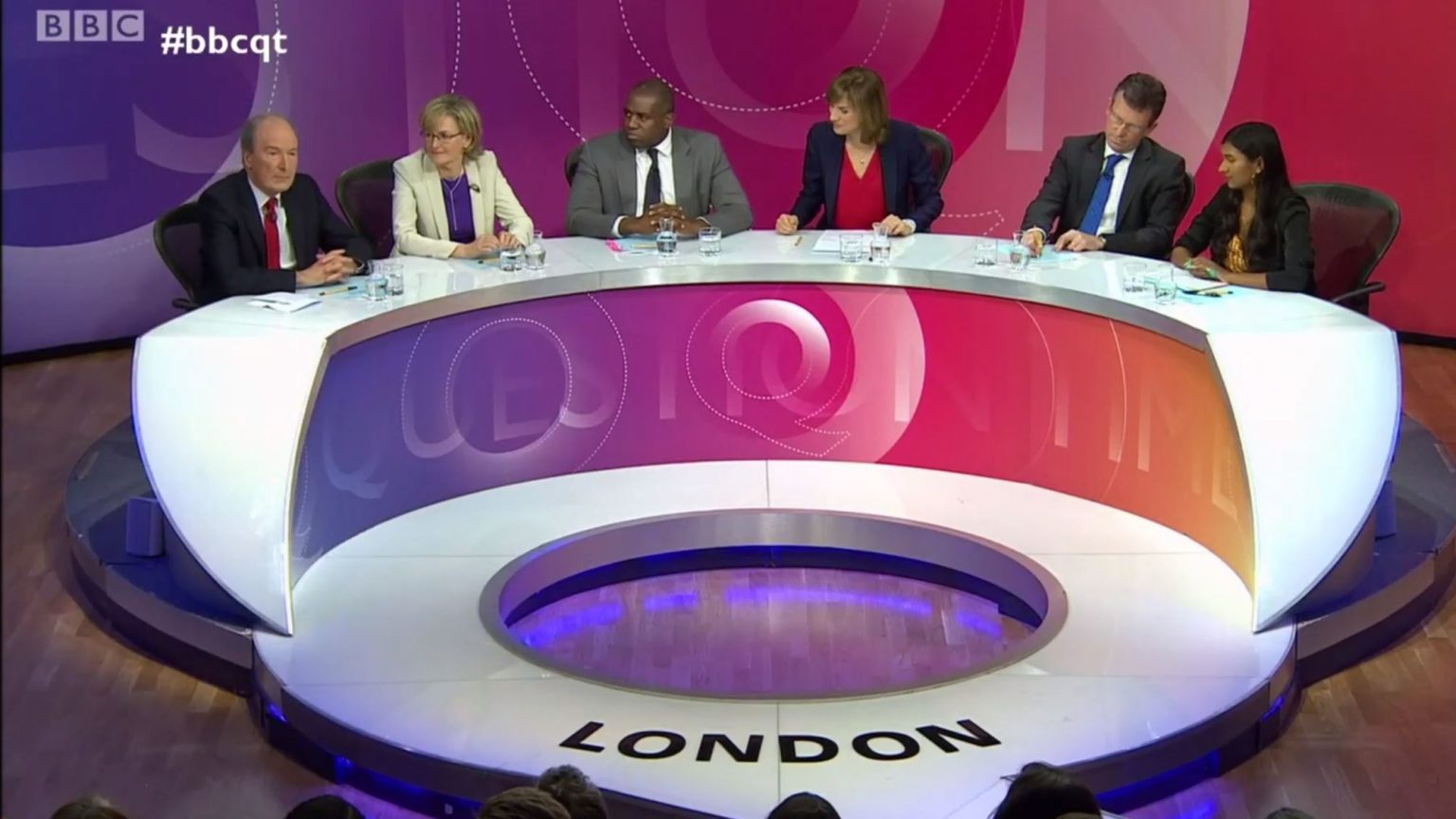 Last week, Telegraph columnist Charles Moore appeared on the BBC's flagship politics programme, Question Time. He interrupted the panel to accuse the show of being biased against Brexiteers. He was the only Leave supporter on a panel of six. He also quoted research from the Institute for Economic Affairs (IEA) that showed Remainers feature on Question Time and Radio 4's Any Questions almost twice as much as Leavers in 2016 and 2017.
Host Fiona Bruce rebuffed claims of bias and the Question Time Twitter account posted a statement saying that the show hosts a range of 'competing and different positions'. It is certainly true that Question Time features competing viewpoints. But have Remainers and Leavers been featured equally on the programme? I conducted my own up-to-date analysis to find out. (You can see a more detailed version of my methodology and results on my blog.)
First, it is necessary to define who is a 'Remainer' and a 'Leaver'. In my analysis, a Leaver is defined as anyone who voted Leave in 2016 and would likely vote Leave again in a future referendum. People who voted Remain in 2016, but have since said they would vote for Leave, are also considered Leavers. (Liz Truss is a notable example.)
'Remainers' are defined as anyone who voted Remain in 2016 and would likely vote Remain again in a future referendum. This includes many politicians, who although they have argued for a version of Brexit would still prefer the UK to remain in the EU. People like Ken Clarke (a hardline Remainer who has nonetheless voted for Theresa May's Withdrawal Agreement) and some government ministers fall into this category.
The results for 2017 are striking: the Question Time panel featured 128 Remainers and 67 Leavers. This is a big imbalance compared to the make-up of the nation, which voted 52 to 48 per cent in favour to Leave. Only two of that year's 39 episodes featured more Leavers than Remainers. Two episodes featured no Leavers at all.
In 2018, the imbalance was worse. There were 131 Remainers and just 64 Leavers. Only one episode in 2018 featured a majority of Leavers on the panel. One episode featured no Leavers at all. The number of episodes with only one Leaver also increased compared to 2017.
Between 2017 and 2019, Question Time has featured 303 Remainers and 152 Leavers, a bias of almost exactly two to one.
It is clear that although the country voted to Leave, genuine Leavers and their views have been chronically underrepresented on the UK's premier politics and debating programme. Numerous publications have questioned the show's pro-Remain bias but there has clearly little has been done to address the imbalance. Charles Moore was shouted down and dismissed when he raised this problem on air – but he was absolutely correct in his allegations of pro-Remain bias.
To enquire about republishing spiked's content, a right to reply or to request a correction, please contact the managing editor, Viv Regan.