Woke, Inc
The old left loathed big business – the new left uses it as a weapon.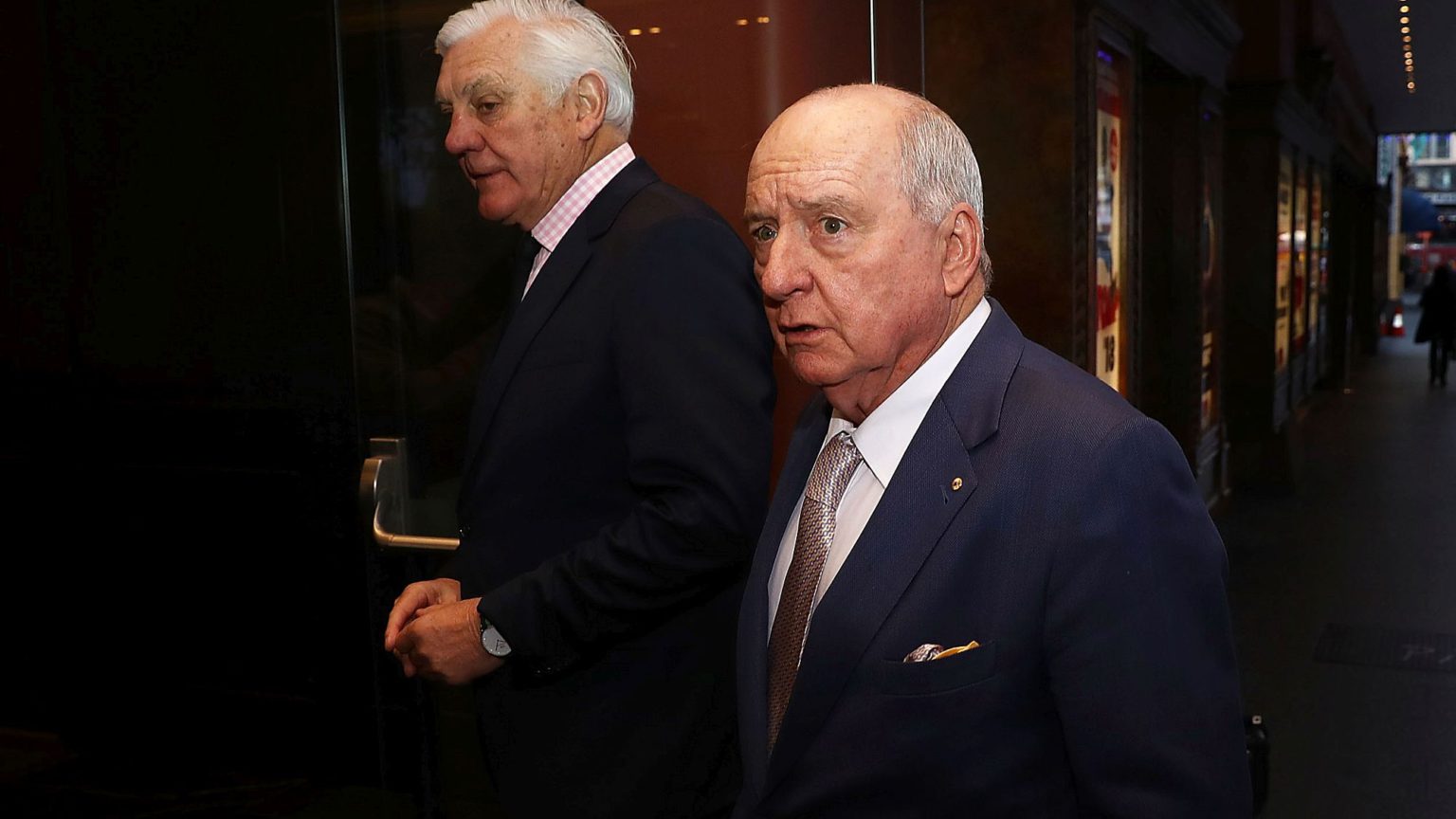 The Mad Witches have cast a curse upon Australia's most popular radio host to cleanse the airways of his presence.
They are offended, so they say, at Alan Jones' criticism of New Zealand's prime minister Jacinda Ardern, the Mother Theresa of woke on the international stage.
When Ardern accused Australia of not doing enough to fix climate change, Jones (pictured) told his listeners that the woman should put a sock in it.
At least that's what he meant to say. But when you get up at 3am in the morning and broadcast three-and-a-half hours of opinionated breakfast radio five days a week, occasionally your tongue runs away with you.
What Jones actually said was that someone should shove a sock down Ardern's throat. By the time he apologised, in the abasing manner now required in such circumstances, it was too late. The pile-on had begun.
The Mad Witches, an anonymous group of offence-seeking women with a Facebook group, spend their time trawling the internet for reasons to be offended. Jones, along with other prominent right-wing dissidents, is a favourite target.
Their particular form of attack is to manufacture a storm of outrage on social media to shame advertisers into withdrawing their commercials.
Mad Witches is an appropriate name for this freaky bunch of female supremacists who are convinced that everything that goes wrong in the world can be put down to gender.
'Most of the world is controlled by old white men and they're not doing a very good job of it', says Mad Witches founder Jennie Hill. 'That's the bottom line. The conversation for the witches is much broader than just Alan Jones.'
The extraordinary thing, however, is that at least a dozen or so major companies acquiesced to the Witches and took their advertising off air. Losses to the Macquarie Media which employs Jones are estimated to be at least $1million.
They included Coles, one of the big two Australian supermarkets, retailers Big W, Snooze and Bing Lee, and the local franchises of Mercedes Benz and Volkswagen. In a choice between Jones' large mainstream audience and a bunch of hectoring harridans on the internet, CEOs and their boards sided with the she-devils.
To the old left, big businesses were the epitome of evil. To the new left, they are useful idiots to be co-opted into the pursuit of their favourite causes.
They have found a receptive audience occupying the nation's executive suites. A generation of graduate entrants in the corporate world have had the same education that they have and absorbed the same conventional wisdom.
It is more than 75 years since the economist Joseph Schumpeter predicted that when corporations become bureaucracies run by executives rather than hungry entrepreneurs, capitalism has planted the seeds of its own destruction.
The overpaid functionaries who manage our largest enterprises seem determined to prove him right, with their studious indifference to the market economy and contrived addition of social wellbeing to the corporate bottom line.
The craze for corporate social responsibility has replaced entrepreneurialism as the driving force. At times, companies seem less interested in selling us better products than nudging us into being better people.
They begin by lecturing their own staff. From there they move on to the customer and the world in general throwing shareholders' money at the cause du jour.
Necessarily, they are symbolic causes fixing symbolic rather than actual wrongs. The reconciliation of Aboriginal people, whatever that might be taken to mean, is embraced with enthusiasm. Qantas even paints Aboriginal designs on the side of its planes. The cause of rescuing remote Aboriginal communities from the welfare trap into which the well-meant policies of the past 40 years have plunged them is ignored.
We might have thought, for example, that the main social responsibility of the national airline Qantas was to keep its passengers comfortable in the air and put them down safely at the correct destination. The second responsibility is to their shareholders, the people who have risked their money in their business in the hope a gaining a return.
Yet Qantas cabins have become laboratories for inclusiveness, jettisoning a tried and tested moral code and introducing a new one.
An instruction manual issued to staff last year in preparation for Spirit of Inclusion month provides a taste.
Staff are forbidden from using the words 'husband' and 'wife' along with 'mum' and 'dad' for fear of causing offence to non-heterosexuals and single parents. They have been told to adopt the terms 'partner', 'spouse' and 'parents' to avoid discriminating against LGBTI families. The words 'guys', 'love', 'honey' and 'darling' also should be avoided. Why? Because 'language can make groups of people invisible'.
The most audacious aspect of the Spirit of Inclusion document is not the faux etiquette on avoiding offence – we've become immune to that stuff – but its adoption of the guilt-laden, post-colonial narrative of Australian settlement.
Staff are advised to 'recognise the reality' that 'Australia was not settled peacefully'. 'Describing the arrival of Europeans as a "settlement" is a view of Australian history from the perspective of England rather than Australia', it says: 'Instead of settlement, try "colonisation", "occupation" or "invasion".'
So Qantas' 'people, culture and corporate affairs' department (yes, they really do have one) has taken it upon itself to define the terms of Australian settlement, a highly contentious subject on which scholars disagree.
This is curious, to say the least, since Qantas, like almost every other major corporation, has a strict policy of political non-partisanship. The practice of contributing money to the two main political parties was common a decade-and-a-half ago.
Companies like Coca-Cola or BHP would donate five- or six-figure sums, commonly to both parties, in the interests of promoting a healthy democracy.
Today BHP, one of Australia's two mining giants, claims piously that it makes no political donations. Yet last year it gave $1million to the campaign to enshrine an Aboriginal 'Voice' in parliament.
Such a move would involve changing the Constitution. The very notion of giving one group of Australians an extra democratic right to the rest of Australians is highly contentious. Yet we are asked to believe that is not a 'political' campaign. It is just BHP's contribution to achieve an uncontested good.
And so by degrees the corporate world finds itself disassociating itself with the mainstream and drifting towards fringe activism, often towards causes that undermine capitalism itself.
They find themselves hostage to social-justice crusaders incapable of being appeased. Each step of wokeness they take invites ever more exacting demands.
For the best part of a decade now the debate over the environment in Australia has been reduced to an argument over coal. For Australia, coal is a $58 billion export industry. Its demise would considerably harm the Australian economy.
Yet the activists want all coal production stopped and approval of a new coalmine in central Queensland reversed. The activists are cashed-up and sophisticated. Millions of dollars from US philanthropic trusts are funnelled through Australian activist charities and used, among other things, to wage lawfare to try to tie the approvals process up in the courts in the hope that Adani, the company building the new mine, will become so frustrated that it will eventually go away.
They run shareholder activist campaigns, staging campaigns at annual general meetings designed to shame other companies, particularly financiers, into shunning Adani.
A strong-minded board might be prepared to call their bluff. The anti-Adani campaign has been fought on lies and misinformation. Protesters have claimed, for example, that it is located in the heart of the Great Barrier Reef, when in fact it is 400km inland.
Yet company after company has meekly gone along with the activists' demands. No Australian bank has been prepared to finance the project; insurance companies are pulling out one by one.
A mine, lawfully approved and for which the government achieved a clear mandate to deliver at the last election, could conceivably fall through because of corporate Australia's pusillanimous response to climate-panic merchants.
Nick Cater is executive director of the Menzies Research Centre and a columnist for the Australian newspaper.
To enquire about republishing spiked's content, a right to reply or to request a correction, please contact the managing editor, Viv Regan.