Europe's smoking bans: a dangerous habit
A new report reveals the extent to which smoking bans are eliminating individual freedom.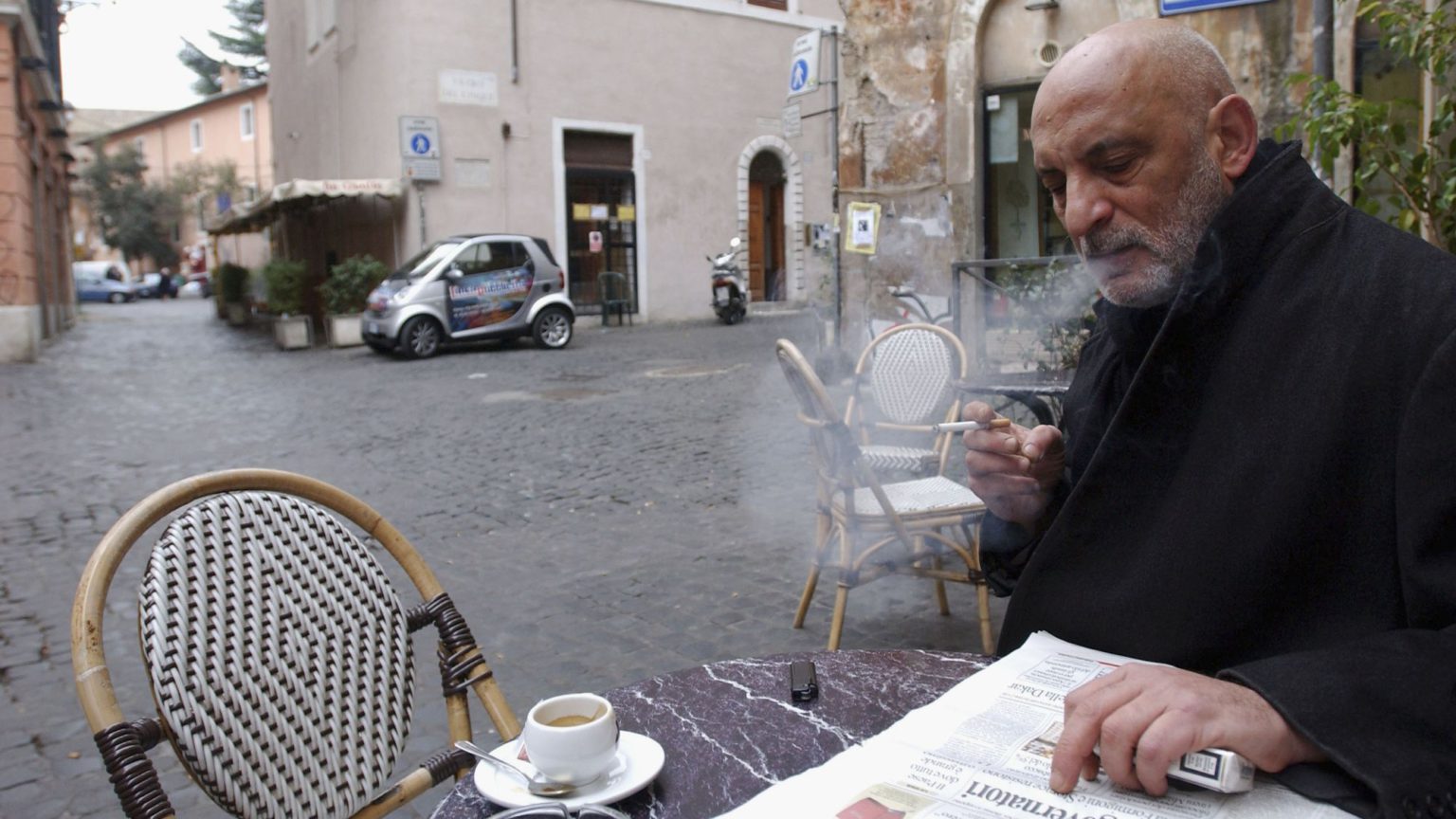 Close your eyes and picture the scene.
You are sitting at a small round table on a terrace sipping a coffee. Around you is the happy buzz created by others chatting, perhaps enjoying a beer or a glass of wine. A few are eating, too. Some are enjoying a cigarette with their drinks, and one man is even smoking a pipe. Waiters hurry back and forth, taking and delivering orders.
In fact, you might not need to close your eyes. You could be reading this in just such a café, somewhere in Europe. The mellowness, the relaxed combination of sociability, work (some of the clientele are wearing suits) and mild vices. It is an unmistakably European scene, familiar from Brussels to Brindisi.
Yet a very un-European shadow is starting to dim this happy picture: the shadow of prohibition.
Somehow, the perfectly sensible desire to allow people to visit cafes and restaurants without subjecting them to clouds of tobacco smoke has morphed into a relentless continent-wide campaign to persecute smokers, however discreetly they pursue their habit.
The smokers' campaign group Forest EU has just published a report on the state of anti-smoker regulations across Europe, and it makes for rather worrying reading.
In many countries, restrictions on smoking have spread from public bars and invaded all sorts of private and public spaces where they are clearly unwarranted. We now see 'no smoking' signs in parks, on terraces and on beaches, where the long-term health risks of outdoor passive smoking are virtually non-existent. As of this summer, it is forbidden to smoke on 50 French beaches and in 52 Parisian public parks.
Well-funded anti-smoking campaigners are now urging bans in the most private of spaces, too: peoples' cars and even their homes. In Lithuania, newly proposed legislation would prohibit the use of tobacco products on apartment balconies and terraces. In Finland, municipalities can already impose smoking bans on private balconies. In Latvia, private places are subject to a child-protection law stipulating that the exposure of a child to tobacco smoke represents a form of physical abuse.
Are we in Europe really facing the prospect of state officials knocking on doors late in the evening to check if we have been smoking at the kitchen table? This may sound alarmist, but it's not. Society is moving towards the prohibition of tobacco, and that means intrusive enforcement that threatens carefully nurtured European traditions of respect for the freedom and privacy of the individual.
You might think that the tobacco issue is trifling, but restrictions in this sphere will quickly spread (and are already spreading) into others. Just this month, citing smoking bans as a blueprint, the UK's former chief medical officer, Sally Davies, called for a ban on eating and drinking on public transport.
At the root of this trend is a shift in the motivation of anti-tobacco campaigners. Originally, the various regulations around the sale of tobacco were related to the clear dangers that smoking poses to the health of the smoker. Now, citing concern over those exposed to other people's smoke, the campaign has transformed itself into a kind of moral crusade against tobacco. Campaigners now want to prohibit people from smoking even if it poses no threat to anyone but smokers themselves.
The campaign has even targeted vaping, an alternative to smoking that is weaning millions off cigarettes. Two weeks ago, the Dutch government mooted plans to extend smoking bans in public places to vaping. And the Netherlands isn't an isolated case: 12 EU member states include both e-cigarettes and heat-not-burn products in their smoking ban legislation.
This act of regulatory vandalism surely proves the point: we now seem to be persecuting those who use nicotine, even if it actively damages efforts to turn people away from smoking. How have we reached this regrettable state of affairs?
Smoking is a legal habit in which one quarter of European adults legitimately indulge. Everybody knows the serious health implications, so clearly the role of the state must limit itself to sensible reminders of these risks, plus proportionate measures to restrict smoking in indoor public areas, so non-smokers are not inconvenienced.
Instead, we are witnessing an increasingly intrusive, hostile and illiberal campaign that demonises smokers, apparently on moral grounds.
An EU recommendation passed in 2009 set reasonable guidelines based on the health and convenience concerns around second-hand smoke in enclosed areas. But this balanced approach is now being gold-plated in several European countries, as well as at the EU level itself, with lobbies pushing for bans that go far beyond its core principles.
But not everywhere. Fortunately, there still exist more enlightened and liberal regulatory regimes here and there across the continent, which apply a reasoned and proportionate response to smoking. Our research at Forest EU draws on these examples in nine European countries to draw up a set of principles that can be applied to smoking and vaping, based on the sensible intentions of the original EU recommendations.
First, smoking bans should not be imposed in outside areas where there is no risk or inconvenience from secondhand smoke. Second, bans should not be attempted in private property such as houses. And, third, where possible, well-ventilated, separate smoking rooms should be allowed in indoor public areas where there is a demand for them and proprietors choose to install them. This could of course include pubs, cafes and restaurants, but could also include larger spaces where smokers need to spend long periods of time, such as airports and train stations.
These measures represent a proportionate response to the issue of smoking, and can form the basis of principles that can be applied to all sorts of other lifestyle choices. What is more, they are in line with public preferences. Opinion polling shows that 70 per cent of Europeans agree that cafés, pubs and restaurants should be allowed to provide a well-ventilated, designated smoking room to accommodate smokers.
It's time to take a stand, not just on behalf of smokers, but on behalf of a certain European spirit that believes in tolerance, open-mindedness and a reasonable approach to law-making.
Guillaume Périgois is the director of smokers' campaign Forest EU.
'Smoking in Society – The pitfalls of extreme smoking bans in Europe and an inclusive way forward' is published by Forest EU.
Picture by: Getty.
No paywall. No subscriptions.
spiked is free for all.
Donate today to keep us fighting.
Donate online
To enquire about republishing spiked's content, a right to reply or to request a correction, please contact the managing editor, Viv Regan.