Forget the NHS sell-off – what about the Brexit sell-out?
Labour is using fake news about the NHS to bash Brexit.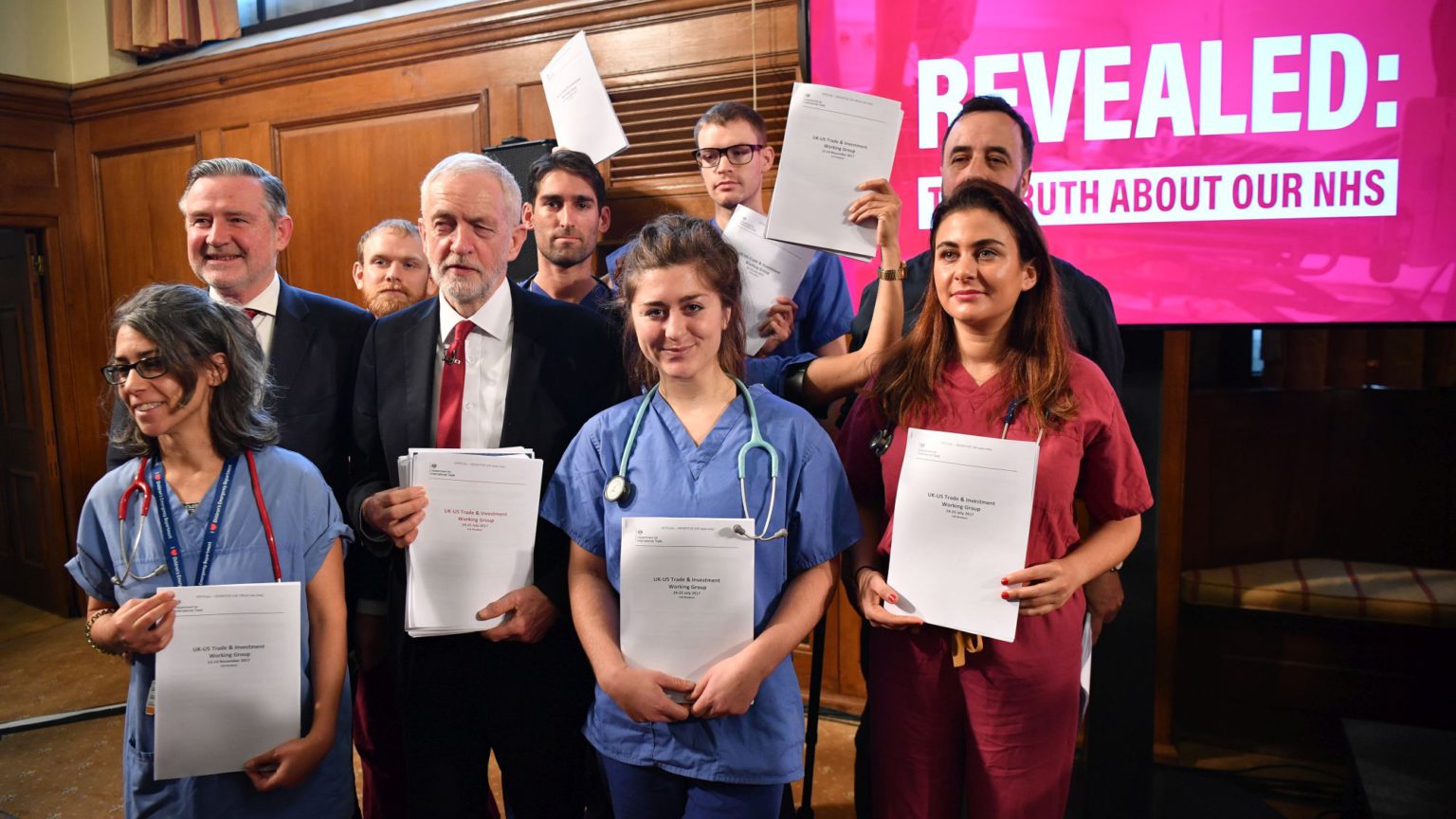 Jeremy Corbyn says he has found definitive 'proof' that Boris Johnson has put the NHS 'up for sale' in trade talks with the US. Corbyn held aloft 451 pages of unredacted documents, which he said contained evidence of advanced talks that could lead to the 'rampant privatisation' of Britain's health service. 'Megacorporations see Johnson's alliance with Trump as a chance to make billions from the illness and sickness of people in this country', fumed the Labour leader.
Following Corbyn's car-crash interview with Andrew Neil, and the chief rabbi's unprecedented indictment of anti-Semitism in the party, Labour has been in desperate need of some good coverage. Labour's stunt was an obvious attempt to drag the media narrative into more Labour-friendly territory: the NHS.
But the stunt quickly unravelled when journalists got their hands on the newly uncensored documents. Many pointed out that all six rounds of talks were preliminary to any official negotiation – not 'advanced', as Corbyn claimed. They also predated Johnson's time as leader. Others noted that the dossier made remarkably little reference to the NHS – the acronym is used just four times in 461 pages.
Though there are numerous references to drugs, in particular surrounding the lengths of patents, there is not much we didn't know already. In fact, the potential for drug-price rises under US pressure was the subject of a Labour attack-ad at the start of the election campaign. The gist of what we learn from the unredacted dossier is that the US wants to remove regulatory barriers to exporting its goods to the UK, which is literally the purpose of a free-trade negotiation.
What the document definitively does not show is any plans to privatise the NHS as part of a US-UK trade deal. But it should be news to nobody – especially left-wing Corbynistas – that privatisation is already a reality for the NHS. Private healthcare providers have been operating within the NHS for years, in a variety of sectors.
Virgin Care, Care UK, the Practice and United Health provide NHS community-care services, GP practices and more. Mental-health services are often run by private firms, such as Partnerships in Care and the Priory Group. Even entire 'NHS' hospitals are run by private providers like Circle, General Healthcare and Spire. And that's just clinical services: procurement, IT, estates and payroll services are often outsourced to private firms. Some 'NHS' providers are – brace yourself! – American.
New Labour laid the groundwork for health marketisation when elective procedures were opened up to private providers – around a third of 'NHS' hip-replacements and a quarter of knee-replacements are currently outsourced to the private sector, according to NHS for Sale. Privatisation has really taken off in the past decade, especially after the Coalition government's Health and Social Care Act of 2012. There is no need for what Labour breathlessly calls a 'Trump-deal Brexit' to open up the NHS to private companies.
All the scaremongering about the NHS 'sell-off' must not be allowed to distract from the most important issue in this election: the selling out of Brexit, particularly by Labour. At the last election, Labour promised it would enact the referendum result, but it has since become an unashamedly pro-Remain party (though Corbyn has laughably tried to present himself as neutral).
By abandoning Brexit, Labour has betrayed its working-class base and its democratic-socialist tradition. If it wins the election and we remain in the EU, it will also have to betray some of its signature policy pledges. Corbyn and Co are more than aware of all this, and so they have to muddy the waters on Brexit by talking up the dangers of a US-UK trade deal. The more Labour turns against the people and our vote for Brexit, the more it has to compensate by raging against phantom billionaires, 'megacorporations' and Donald Trump. Let's not fall for it.
To enquire about republishing spiked's content, a right to reply or to request a correction, please contact the managing editor, Viv Regan.