So you can't just buy elections
The Mike Bloomberg flop explodes the idea that voters are so easily swayed.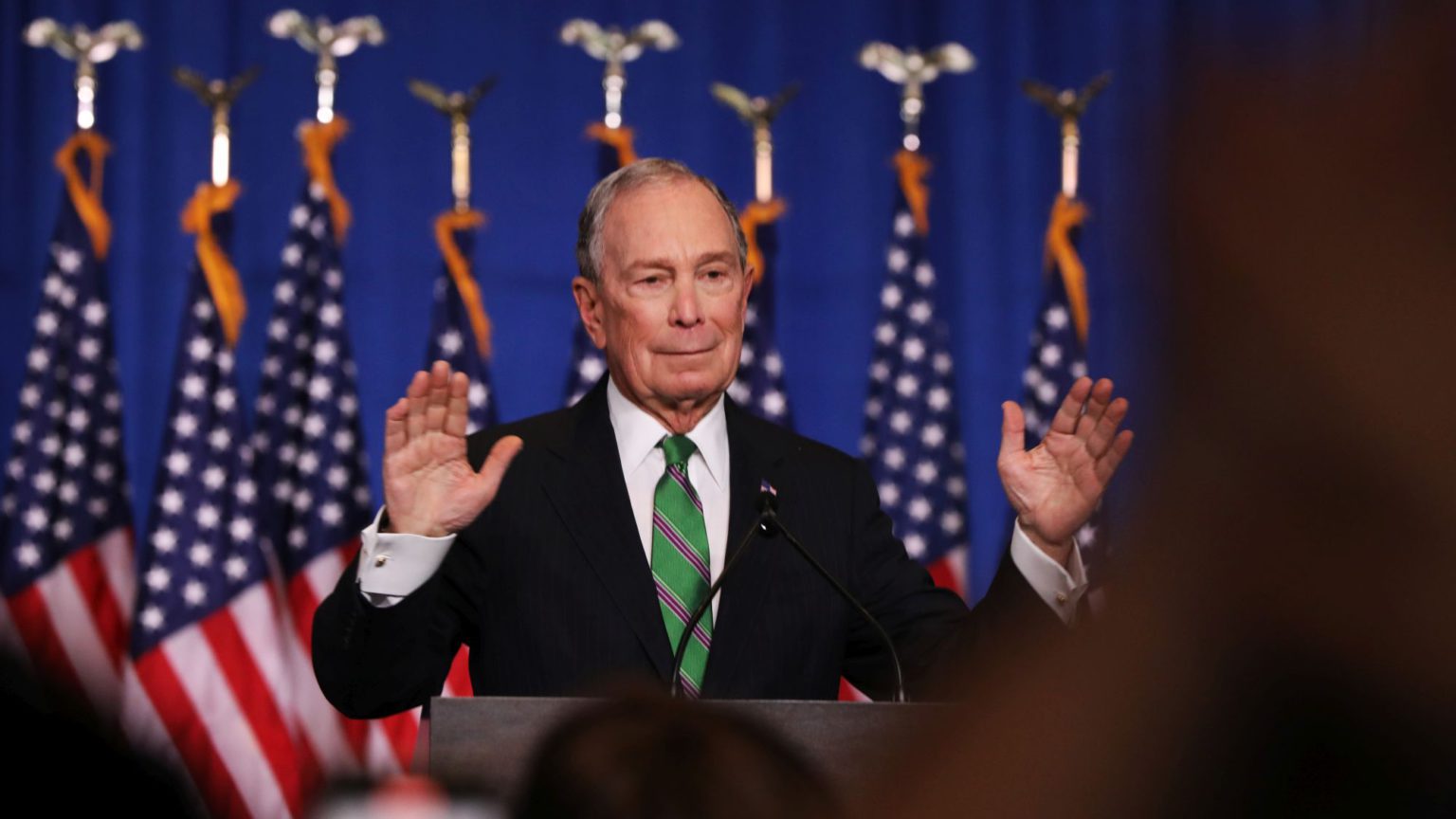 Money can't buy you love. Nor, it seems, can it buy you the Democratic nomination. This has been the lesson of Mike Bloomberg's short-lived candidacy, which he suspended yesterday in the wake of Super Tuesday.
The billionaire businessman and former mayor of New York City spent a cool $570million of his own money over the course of his three-month campaign, easily making it the most expensive presidential bid in history.
And what does he have to show for it? Democrats in 14 states voted in primaries on Tuesday, but Bloomberg only topped the polls in the tiny US territory of American Samoa, which doesn't even take part in the General Election.
It would take a heart of stone not to laugh, even if the schadenfreude is slightly dulled by the fact that, for all its record-busting heft, Bloomberg's spend amounted to about one per cent of his overall wealth.
Bloomberg hopped in the race at a time at which the 'moderate' vote was split, long-trailed establishment favourite Joe Biden was faltering, and the left-wing Bernie Sanders was surging.
He had pretty much threatened to do the same thing in 2016: Bloomberg began laying the groundwork for an independent presidential bid when it looked like Sanders might give Hillary Clinton a close run for the nomination.
Then, as now, he has bowed out so as not to obstruct a more viable 'centrist' candidate, now that more moderate voters are coalescing around Joe Biden and his campaign has finally picked up some steam.
Bloomberg, in this regard, is as much a paternalist as he is an egotist – only prepared to stay in the race so long as it is helpful to the end of bringing politics back to 'normal' and finding someone sensible to defeat Trump.
Plus, he's clearly not stupid. In his concession speech, where he endorsed Biden, he nodded to his love of data and admitted the delegate math was against him and that his path to the nomination had closed.
Still, his candidacy rested on an undoubtedly cynical and oligarchical premise: that it is both possible and morally good to spend vast amounts of money to the end of swinging voters towards a particular outcome.
And spend he did. In the space of a few months he built a campaign apparatus the likes of which had never been seen before, comprising more than two thousand staffers across 43 states and territories.
That Bloomberg was so roundly beaten to the mantle of centrist candidate by Biden, whose spending paled in comparison, and who hadn't even visited, let alone had offices in, many of the states he won on Tuesday, is remarkable.
Or at least it is if you ever bought the idea that a dump truck full of money was always going to overcome, say, the depth of support within key communities that Biden has, or, for that matter, the enthusiastic base that Sanders has.
The thing is, many did buy it. 'How Michael Bloomberg could win' (Washington Post) and 'Mike Bloomberg Could Pull It Off' (Wall Street Journal) are just two headlines that perma-wrong pundits will now be trying to forget.
Money matters in politics, far more than it should. How campaigns are financed and how politicians relate to donors is something that requires serious scrutiny and debate. But clearly you can't just buy elections.
The idea that you can rests on the premise that voters are so easily swayed by ads and slick messages that if you can afford to bludgeon people with them, then you're bound to do well.
Indeed, this claim has underpinned the elite's attempts to undermine recent votes against the establishment, whether it was the election of Donald Trump or Brexit in the UK. In both cases, we were told shady cash tipped the scales.
This is despite the fact that Clinton far outspent Trump, Remain far outspent Leave, and the Russian Facebook activity we heard so much about during the US election is thought to have cost about $100,000 dollars (a blip compared to Bloomberg's spend).
Embarrassed pundits and digital advertising gurus are now saying that Bloomberg was just a flawed candidate, and that his ability to go from nowhere to serious contender in just a few months still vindicates his strategy.
He was indeed an awful candidate – a kind of corporate technocrat with a lot of baggage and negative charisma. But he did have national name-recognition, something fellow big-spending billionaire candidate Tom Steyer didn't.
Plus, the pundits surely should have known he was a terrible candidate when many of them were talking him up as a viable contender not just for the Democratic nomination, but also for the White House.
In the end, it seems that many are still failing to learn the key lesson of electoral revolts in recent years: voters actually think for themselves.
Tom Slater is deputy editor at spiked. Follow him on Twitter: @Tom_Slater_
Picture by: Getty.
To enquire about republishing spiked's content, a right to reply or to request a correction, please contact the managing editor, Viv Regan.