Reclaiming the rainbow
The rainbow flag had become a symbol of intolerance. It is great to see it have a new meaning.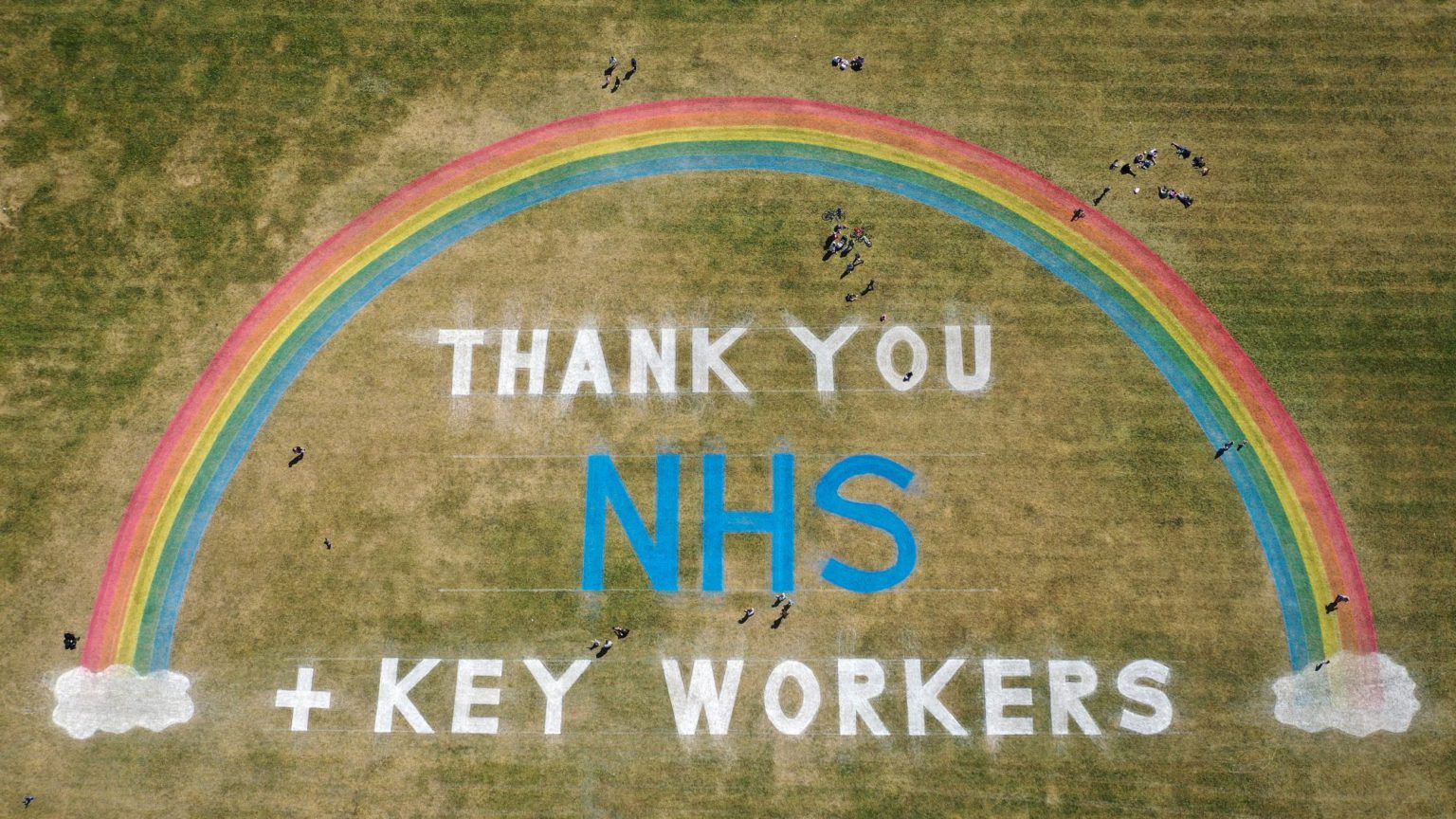 When the likes of 'non-binary' singer Sam Smith were a mere sparkle in a drag queen's eye, the rainbow was used by those fighting for lesbian and gay liberation as a symbol of resistance and acceptance. A little like the checked shirt or suspiciously well-manscaped facial hair, it was a sign for those of us in the know that we would be safe and welcome wherever we saw it displayed.
But in recent years, it has become a gaudy symbol of pernicious groupthink. It has been co-opted by a movement which is forcing same-sex attracted people with unpopular opinions back in the closet lest we offend our new transgender overlords.
Since the outbreak of Covid-19, the rainbow has been repurposed as a symbol of support for the NHS. With people desperate to signal their support for health workers, manufacturers of rainbow-themed tat have now rebranded their 'LGBTQ+ Pride' merchandise as 'Thank you NHS' products. This has caused consternation from professional self-declared media 'queers' who have frothed across the pages from Forbes to the Independent. Esteemed rag Pink News recently opined that the broader use of the rainbow was 'rattling queer folk who are already contending with the coronavirus pandemic's eradication of 2020's Pride season'.
But to those outside the LGBT corporate clique, the 'Thank you NHS' rainbow has depoliticised what had become a toxic symbol of bigotry. As Kate of the grassroots LGB Alliance explains:
'The rainbow has become a rather sad postscript of what was once a great LGB movement which has been co-opted. It has been used and abused by individuals, groups and corporations who have not the slightest understanding of what it means to be an oppressed minority. LGB Alliance abandoned the rainbow as it came to represent LGBTQI+ people – it was no longer clear what it actually meant. We are delighted that the symbol now stands for the NHS. Go rainbow – you now have a new purpose.'
The tantrums of rainbow warriors represent an infantile and intolerant mindset that has colonised the major government-funded LGBT organisations. This has been illustrated most powerfully by the UK's leading LGBT charity, Stonewall, which bears the somewhat ironic strapline 'acceptance without exception'. Stonewall has literally redefined 'homosexuality' on its website from meaning 'same-sex attraction' to a 'romantic and / or sexual orientation towards someone of the same gender'.
At a stroke 'gender' has replaced 'sex', effectively invalidating the sexual preference of millions of people so as not to upset those who identify as 'lesbians with penises' and 'gay men with vulvas'. But it seems not everyone got the memo. On 17 May, the person in charge of the Stonewall Twitter account forgot about the newspeak definition and tweeted: 'The word "Homo" comes from the Greek word "same", it includes anyone who is same-sex attracted.' Within less than 30 minutes the tweet was deleted lest it trigger offence.
Stonewall is not alone in trampling over the rights of homosexuals in order to mine the lucrative new funding stream of transgender rights. Indeed, during this April's 'Lesbian Visibility Week', the director of community engagement for Pride in London tweeted, 'Transwomen are women… however they identify is for them as individuals… and if it's #lesbian then so be it… they're included in #LesbianVisibilityWeek', before accusing a dissenting lesbian of hiding behind an online avatar and referring to her as a 'TERF'. The role models chosen for this year's lesbian visibility week (as sponsored by GlaxoSmithKline Plc and Tesco, among others) included Jane Fae – a man who identifies as a lesbian and campaigns for the right to access extreme pornography.
Since Stonewall opted to add the 'T' to the LGB in 2015, its income has grown by nearly 50 per cent, from £5.4million in 2014 to £8.7million in 2018. Some have suggested that the inclusion of transgender rights was an attempt to make Stonewall seem relevant in the wake of the vote to allow same-sex marriage.
But the rift between ordinary same-sex attracted people getting on with their lives and the well-funded charities that purport to represent them is growing. And it isn't just the concept of 'gender identity' which lesbian, gay and bisexual people are expected to fall behind.
When the director of Virtual Pride was found to have 'liked Brexit-related tweets' by Toby Young and Nigel Farage, 'queer activists' were quick to contact the event sponsors. Within 48 hours, organisers had cancelled, explaining: 'We were privately discussing this with an LGBT+ campaigner… and learned they wanted to drop out of our event because a member of our team has a political opinion about Brexit that is shared by a politician who has other views about sexuality.'
Linda Riley, publisher of the lesbian magazine, Diva, said: 'My brand will not be associated with anybody who RTs [retweets] Toby Young and Nigel Farage', before declaring herself '#proudtobeapoliticalbigot'. Riley is a former director of the Jack the Ripper museum, but her association with the grisly attraction is apparently less controversial than supporting Brexit.
Ideological intolerance within the corporate LGBT world has been fermenting for a few years. In 2015, UKIP was banned from marching at London Pride. It remains unclear how exactly one's sexual orientation relates to political affiliation or stance on membership of the European Union.
Secure in their funding, the major LGBT organisations have become bloated bigots, tyrannical in their demands and unparalleled in their reach across statutory bodies and private corporations.
But the anxiety about the repurposing of the rainbow reflects a wider concern for those keen to cash in on the LGBTQ+ glitter gravy-train. A number of institutions which have followed the guidance promoted by LGBT organisations are facing legal challenges. Schools, local councils and the National Theatre could potentially be in breach of the Equality Act (2010). The appointment of Liz Truss as minister for women and equalities also signals a turn against the trans movement.
Across the world, the ordinary people that LGBT organisations claim to represent are challenging what is being done in their name — from the 'Get the L Out' lesbian protesters at London Pride to the activists in Auckland protesting aginst cross-sex hormones being given to young girls. A genuine grassroots resistance is growing with new groups forming, seemingly on a monthly basis.
It is increasingly clear that corporate LGBT organisations have no more claim on LGBT people than they do the rainbow. To use a hackneyed cliché from that great camp classic, The Wizard of Oz, the curtain has been pulled back on the giants of the LGBT world and what has been revealed is an irrelevant fraud with an amplified voice.
Jo Bartosch is a journalist campaigning for the rights of women and girls.
Picture by: Getty.
To enquire about republishing spiked's content, a right to reply or to request a correction, please contact the managing editor, Viv Regan.