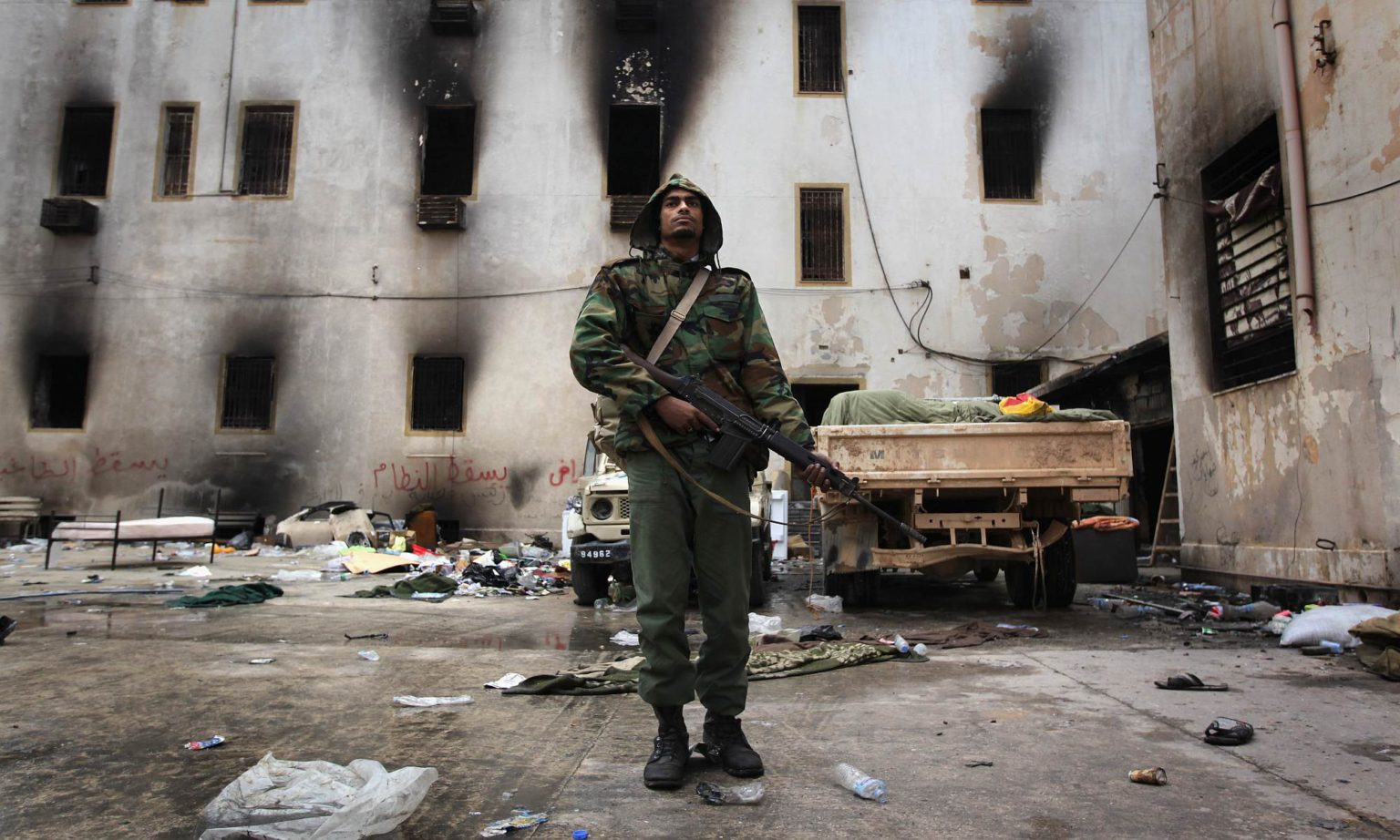 Long-read
Libya's lawless government
Criminal gangs, jihadists and human traffickers are propping up the UN-backed Government of National Accord.
Libya is a complicated mess. With so many foreign footprints further obscuring an already confounding landscape, it is understandably difficult to make sense of the turmoil that has engulfed it since 2011. It certainly isn't helpful that one side – the 'internationally recognised' Government of National Accord (GNA) – has hired several lobbying and PR firms (Mercury, Gotham, and Prime Policy Group) to help obscure shocking details about who is fighting on the ground, and why.
Recent headlines characterising the current war in Tripoli as between General Khalifa Haftar's Libyan National Army (LNA), an alleged dictator-in-waiting, backed by Egypt, Jordan, Russia and the UAE, and the 'internationally recognised' Government of National Accord (GNA), backed by Italy, Qatar, and Turkey, are misleading.That's because they omit any mention of the sides' respective support among the Libyan populace.
Endorsed by Libya's only elected body – the House of Representatives (HOR) – the LNA was established in 2014. Its objective was to eradicate the alliance of armed groups that had been terrorising Benghazi residents since 2011, and who were also responsible for the assassination of US ambassador Chris Stevens in September 2012. This so-called Operation Dignity proved so popular with enough segments of Libyan society that the LNA has received tens of thousands of volunteers from across the country over the past six years, transforming it into the largest and most cohesive armed force in Libya.
The composition and motivations of the LNA's primary targets at the current stage of the conflict in 2020 – the fractious alliance of militias backing the GNA, and who now hold Tripoli and several surrounding areas – are significantly more complex. It is telling that the GNA's own politicians and media pundits have voiced frustrations about why the vast majority of fighters 'defending' Tripoli, a city of over two million people, are from other smaller towns and cities, or since January, from entirely different countries altogether. To the naked Libyan eye, the reasons for this are obvious: the bulk of those fighting for the survival of the GNA are criminals.
The capture of the coastal towns of Sabratha and Surman in western Libya on 13 April by militias supporting the GNA provides a grim picture of just who stands to benefit from the survival of the internationally recognised government in Tripoli. Among those involved in the summary executions, abductions and looting that took place that day were elements of Libya's most notorious smuggling gangs, terrorist groups, kidnappers and other violent criminals – many of them condemned even by the very government they are fighting for.
Their decision to support the GNA is brutally rational. Faced with the prospect of a monopoly of force under Libya's National Army (LNA) or a weak GNA incapable of reining them in, the only rational choice for these criminal and terrorist groups is to ally with the latter.
The war crimes committed by these armed groups as they swept through the towns, between the city of Zawiya and the Tunisian border, were characteristic of the militia commanders leading them, each with résumés that should alarm decision-makers well beyond Libya's borders.
Among these was Mohamed Kashlaf (aka al-Qasseb), leader of the al-Nasr militia which controls Libya's largest refinery in the city of Zawiya. According to the UN Security Council, the al-Nasr militia is involved in both fuel smuggling and human trafficking. Kashlaf himself was photographed celebrating the capture of Sabratha among a group of other well-known belligerents, just weeks after appearing publicly alongside the president of the High Council of State (HCS), Khaled al-Mishri, in the city of Zawiya.
Another was Abdurahman Milad (aka al-Bidja), who gained international notoriety after news broke that he was among GNA figures meeting and cooperating with EU and Italian officials, while being simultaneously involved in systematic human-rights abuses and people smuggling. He was photographed alongside GNA spokesperson-cum-militia leader Abdulmalek al-Madani, as well as an incarcerated murderer and kidnapper, Fadhel Sweid, who was among 600 other indicted criminals (including members of the Islamic State (IS) who were freed that day).
Not to be outdone, the human smuggler Ahmed Dabbashi (aka Al-Ammu) – who the UN Security Council specifically sanctioned by name – also reappeared in his native Sabratha berating locals for not celebrating his return. In addition to Dabbashi's links to members of Ansar al-Sharia in Sabratha, he ran one of the largest people-smuggling operations in Libya until he was driven out in 2017 by locals aligned with the LNA.
With these criminal syndicates now controlling a 120-kilometre stretch of Mediterranean coastline on the border with Tunisia, it is not hard to imagine what perils await Libya's North African and European neighbours. The biggest victors of the Turkish-backed capture of these territories are the human-trafficking gangs, whose expulsion from these areas by the LNA in 2017 led to a drastic plunge in illegal migration to Europe, from 119,369 arrivals in 2017 to 23,370 in 2018, and just 11,471 in 2019.
Despite the fact that Kashlaf, Milad and Dabbashi have outstanding warrants for their arrest from the GNA's Ministry of Interior, there is nothing to suggest that anything or anyone will now stop them from resuming or even expanding their illicit operations. On the contrary, airstrikes carried out by Turkish unmanned aerial vehicles (UAVs) during this year's offensive demonstrate a high level of cooperation between these militias and the highest echelons of the GNA's military brass.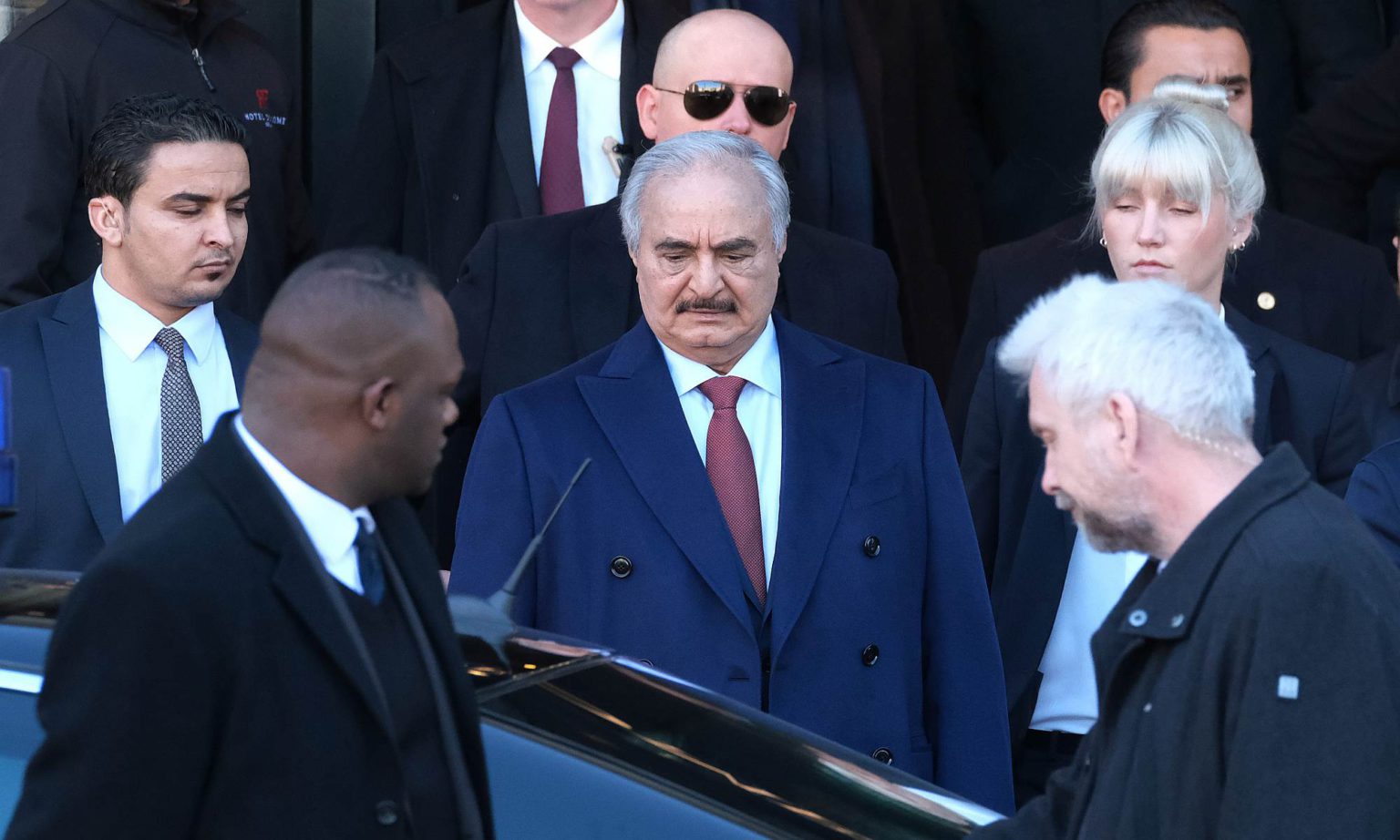 Libyan Field Marshall Khalifa Haftar attends the international summit on achieving peace in Libya, held in Berlin, on 21 January 2020.
If anything, the ill-gotten earnings of these smuggling gangs – collected from both desperate migrants and anti-migration EU programmes – have earned the likes of Kashlaf and Milad seats at the highest tables in Libya, and sometimes Europe, mingling with government officials at all levels. As such, the EU should brace itself for the imminent arrival of new waves of migrants from Libya's shores, while Libya, Tunisia, and possibly Algeria will have to tackle the more immediate problem posed by the release of hundreds of criminals, including – perhaps worst of all – IS operatives.
The possibility of the re-emergence of IS or other similar militant groups in Libya's north-west is another serious matter that should not be overlooked. Ansar al-Sharia, the terrorist group best-known for the attack on the US consulate in Benghazi on 11 September 2012, was the predecessor to IS in Sabratha, where in addition to Dabbashi, other more unsavoury figures have also reappeared.
Among these was Faraj Shako, a member of the Benghazi Revolutionaries Shura Council (BRSC) that not only included Ansar al-Sharia's Benghazi branch, but eventually pledged its allegiance to IS before it was defeated by the LNA in 2017. Shako and other elements of the BRSC were joined by the Zawiya-based Libyan Revolutionaries Operations Room (LROR), an extremist group based in Zawiya that is led by Shaban Hadiya (aka Abu Obaidah al-Zawi). LROR was responsible for kidnapping Libya's prime minister, Ali Zidan, in October 2013; the kidnapping of six Egyptians, including two diplomats, in January 2014; the kidnapping of two Serbian embassy staff members in Sabratha in November 2015; and the attack on the UN convoy passing through western Zawiya in June 2017.
Together with the return of Al-Taher Al-Gharabli, a leading member of the Sabratha military council under whose watch Ansar al-Sharia flourished after 2011, and the release of hundreds of IS prisoners who had once terrorised the residents of Sabratha, conditions are now in place to re-establish militant training camps in the region. The proximity of this region to Tunisia made it a training hub for would-be Tunisian militants after 2011, thousands of whom would later join IS. Among those who received training in Sabratha, according to Tunisian authorities, was Seifeddine Rezgui, the terrorist who killed 38 people – most of them British tourists – in the city of Sousse in June 2015.
If the re-emergence of terrorist groups along Tunisia's border isn't enough of a concern to neighbouring states and foreign diplomats, the arrival of over 7,000 militant jihadists and mercenaries from Northern Syria to defend the GNA in Tripoli should be. In addition to Syrian militants – many of whom enjoy links to terrorist groups, including IS – Tunisian and Palestinian fighters have also appeared among these groups, which include Hayat Tahrir al-Sham (HTS), formerly known as Jabhat al-Nusra, Syria's al-Qaeda affiliate, as well as the SNA's Ahrar al-Sharqiyah faction – a group that proudly posted a video of its members dragging Syrian Future Party leader Hervin Khalaf by her hair while beating her before shooting her dead. One of the more unsavoury characters among these foreign fighters, FSA (Free Syrian Army) Sham legion commander Abubakr Al-Buwaidani, was arrested by the LNA on 24 May. In addition to supporting IS on his social-media accounts, Al-Buwaidani stands accused of kidnapping, rape, torture and the looting of Kurdish homes.
There is no evidence that the Turkish military commanders in charge of these groups have kept them on their best behaviour since arriving in Libya, where in addition to harassing and bullying local residents they have also taken part in the looting of homes at the frontlines, with the full cooperation of the Libyan militias fighting alongside them. More recently, Syrian mercenaries were reportedly responsible for the kidnapping of a 27-year-old woman, Wesal Miyeneh, during a home invasion in a south Tripoli suburb. While there are conflicting reports on whether she had escaped or was rescued after a grueling two-week ordeal — the GNA's Ministry of Interior has vaguely tried to claim responsibility for her release — the abduction was only unique because of the video evidence that helped identify the dialects of the attackers.
Though the involvement of Libyan armed groups in organised crime is alarming, the greater concern is that these foreign fighters could bolster the presence of extremist groups already in the Libyan capital. The Libyan militias they have joined include elements of the Benghazi Revolutionaries Shura Council (BRSC) and Darna Mujahideen Shura Council (DMSC), both of which included Ansar al-Sharia and fought alongside IS. Even before the arrival of these groups from eastern Libya and Syria, Tripoli had been plagued by terrorism and high-profile kidnappings, at least one of which – the kidnapping of the Jordanian ambassador early in 2014 – directly involved BRSC leader Wisam bin Hamid, who negotiated the release of al-Qaeda operative Mohamed al-Dersi in exchange for the diplomat's freedom.
Irrespective of the constraints the current civil war might place on the GNA, there is nothing to suggest that it has the political will or ability to do anything to curb these threats. The GNA is no monolith, and even by the admission of its minister of the interior, Fathi Bashagha, who himself has been accused of gouging out a prisoner's eye with a spoon, the criminality of the militias supporting it has provided Haftar with the impetus to attack the capital. To the uninitiated, it might appear as though Bashagha is working to rectify this by issuing arrest warrants and condemnations of leading militia figures. His credibility, however, is undermined by the fact that he has directed no such attention to the militias of his native city of Misrata, some of which are at least as violent and criminal as any in the country.
In fact, one day after condemning Tripoli-based militias as operating outside of the law, Bashagha was seen touring the frontlines alongside Abdusalam Zubi (aka 'Serantiyat'), the commander of Misrata's 301 battalion, which has been running a racketeering operation in parts of Tripoli, charging businesses up to 5,000 Libyan dinars per month as a 'protection fee'. Despite Bashagha's public protestations that the GNA's fighting forces were legitimate (which he said on the same day that he toured the frontlines with Zubi), no militia has been more explicit in torpedoing attempts by the GNA to build a region-neutral, professional security force.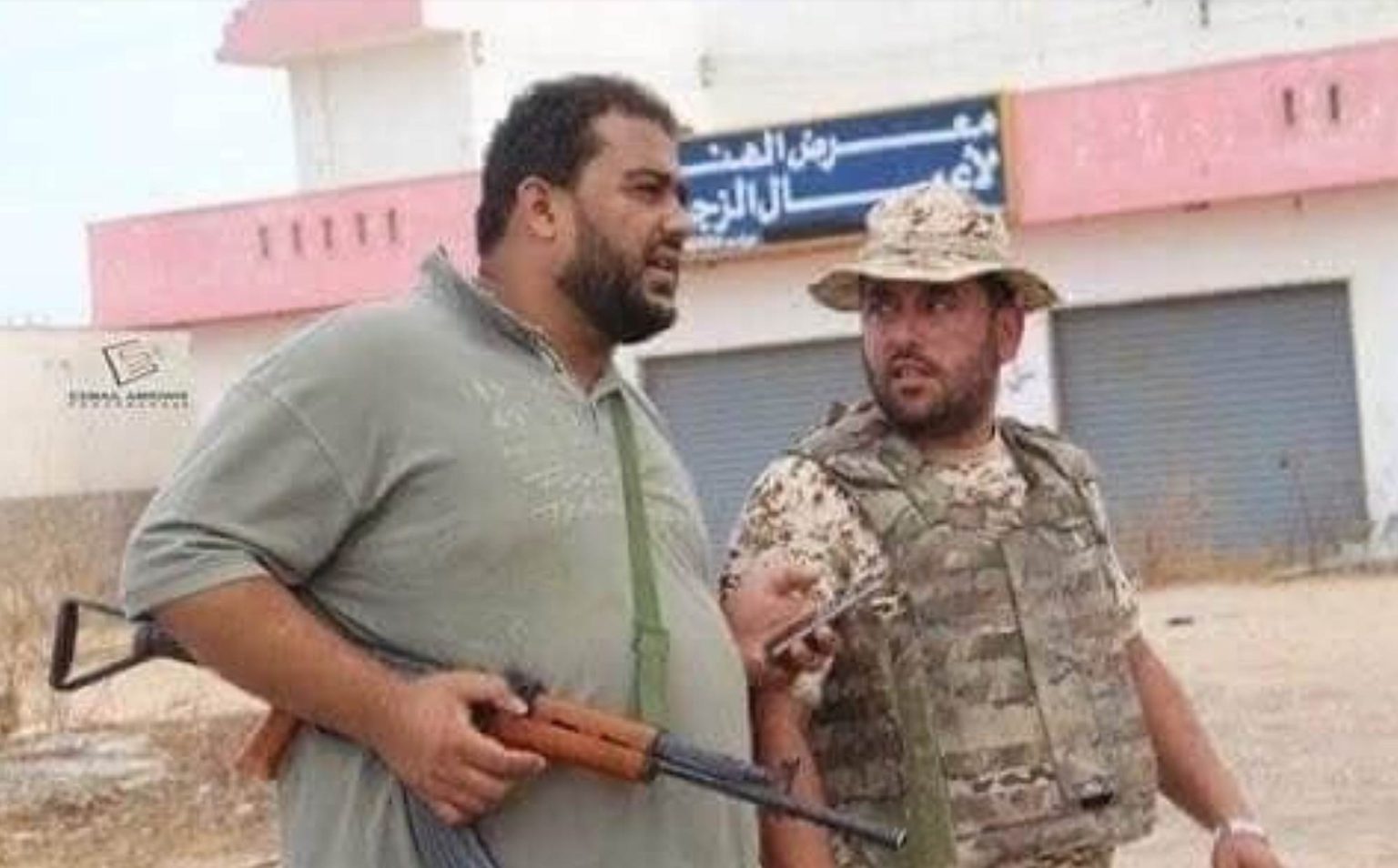 Abdusalam Zubi (aka 'Serantiyat'), left, with fellow Misratan militia leader, Mohamed al-Hassan, right
The Presidential Guard, a security force created by the GNA as part of the Tripoli Security measures stipulated by the Libyan Political Agreement, which received resources both from Libya and abroad, met its demise after being attacked and disarmed by the 301 battalion in May 2018. This abruptly ended the GNA's only ever attempt to create a professional security force to replace the militias.
It is worth remembering that Bashagha was a key architect of the Fajr Libya war, which overthrew the legitimate government in Tripoli in 2014. His plans to tackle corruption and criminal activity seriously have been made all the more unconvincing after it emerged on 5 May that he had ordered the kidnapping of an audit bureau official, Rida Gergab, who was in the midst of investigating the minister of interior's financial affairs. The irony of this abduction is that as recently as September 2019, Bashagha issued a warrant for the arrest of Tripoli-based militia leader Mohamed Abudra'a (aka al-Sandoug) over an incident where he threatened the GNA minister of finance Faraj Bumtari, and which has since led to tensions between militia factions from Tripoli and Misrata. The prospect of these militias dismantling the extremist groups in Tripoli with the same vigour as the Presidential Guard – even if they were not fighting for their lives against Haftar's LNA – is difficult to envisage.
Indeed, a similar scenario unfolded in the city of Sirte over the course of 2015-16. Instead of fighting against extremist elements from their hometown, Misrata's militias – led by Mohamed al-Hassan of the 166 battalion – left the city to the extremists, perhaps not expecting that they would later turn their guns on their former compatriots after having allied with IS in the city. This resulted in a costly, US-backed counterattack, which led to widespread destruction throughout Sirte in a war that lasted over seven months. That Mohamed al-Hassan has been seen around Tripoli's frontlines alongside Abdusalam Zubi is hardly reassuring for the GNA's future, even if it is able to survive the LNA's offensive.
Given that the unsavoury assortment of armed groups fighting for the survival of the GNA today have held successive governments at their mercy since 2011, it is difficult to believe they would ever allow a normal, functioning state to be established in Libya. Even as recently as 29 March, the office of the GNA's prime minister was surrounded and overrun by the very militias purporting to defend it.
This is hardly an image worthy of a government of national accord, especially not one that is internationally recognised. But then that is precisely the problem. The GNA lacks national support, and derives most of its authority from its international backers.
Assem Mihirig is a former revolutionary hip-hop artist, known in Libya as 'Ibn Thabit'.
Headline picture by: Getty.
To enquire about republishing spiked's content, a right to reply or to request a correction, please contact the managing editor, Viv Regan.