Rhodes Must Fall: turning history into a safe space
Nobody denies Rhodes was a racist, but erasing the past helps no one.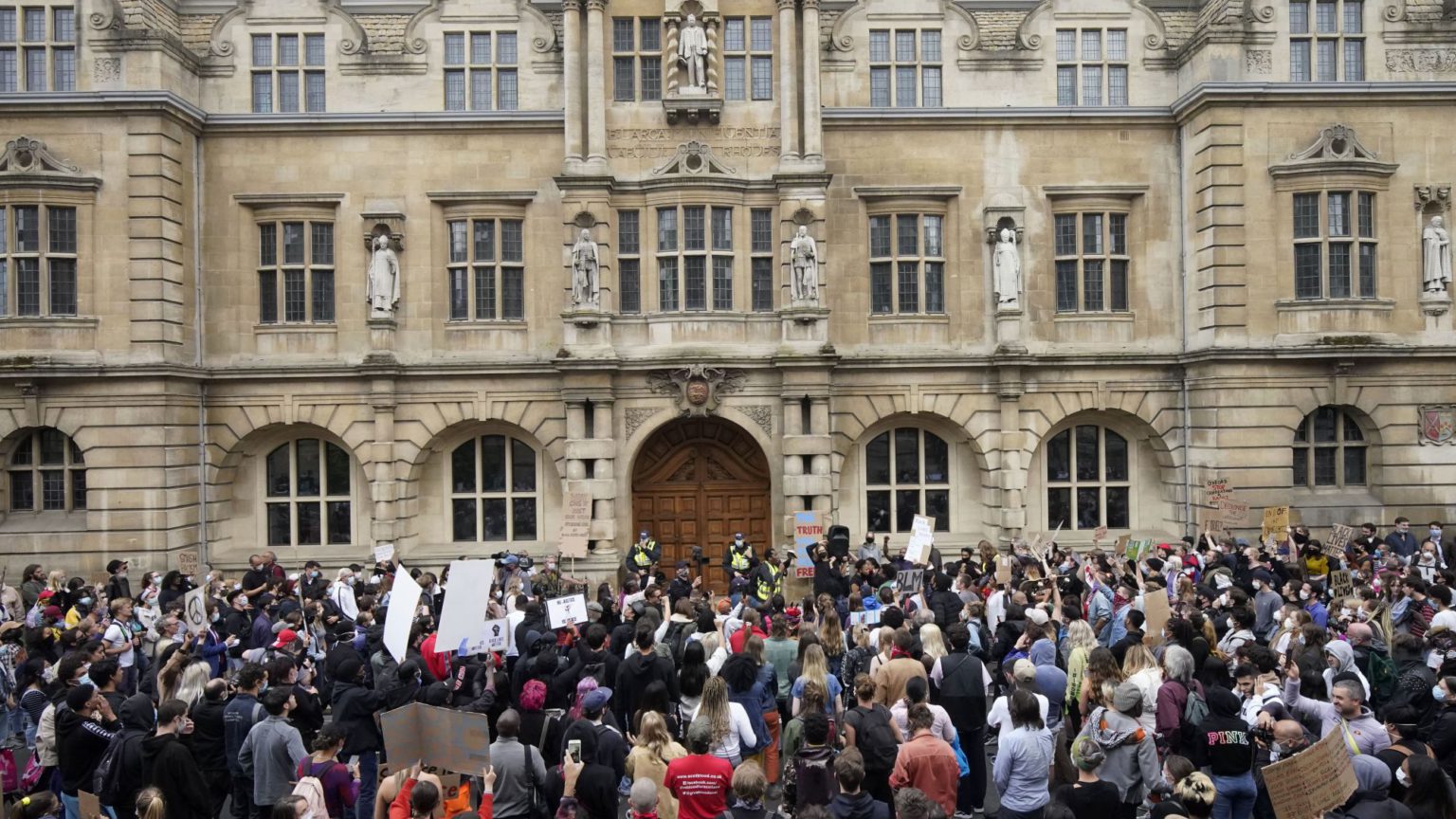 Apparently, Rhodes Must Fall. For those who have no idea what that means – probably most people – it is the name, slogan and goal of a campaign seeking to bring down a statue of the imperialist Cecil Rhodes, which currently resides on an outer wall of Oriel College, Oxford.
There is no denying that Cecil Rhodes said and did some horrendous things. He was clearly a racist – though so were most people at the time. His widespread exploitation of people and resources in southern Africa has been well-documented.
I attended a protest outside Oriel College yesterday which demanded Rhodes come down. Rhodes Must Fall has been submerged into the broader Black Lives Matter movement sweeping the Western world. The Oxford demo against Rhodes follows the toppling of slave trader Edward Colston in Bristol and the removal of Robert Milligan in London's Docklands.
There were hundreds of people present, listening to speeches, chanting 'Take it down' and 'Decolonise' and holding up banners. At one point, everybody knelt and then sat in silence with hands raised for eight minutes and forty-six seconds – an acknowledgement of the amount of time a police officer had his knee on George Floyd's neck.
I spent some time looking at the material protesters had brought with them. One banner read, 'Stop hurting black students'. A similar request is made by many of those calling for statues of racist men to be hauled down. According to this argument, the presence of these statues, representative of a troubled past, causes distress to people from ethnic-minority backgrounds.
It strikes me as quite patronising for mostly white 'radicals' to complain that inanimate, static objects can cause so much damage to black people. It seems especially odd when you realise that the Rhodes statue is at a raised level, part of an upper floor of the building, where it is only noticeable if you are looking straight at it. But this is what happens when we indulge in a politics of offence: people start projecting their own feelings on to others.
Another placard said, 'Listen to black voices, Rhodes Must Fall'. This points to an additional, similar problem. It implies all black voices support the movement, and therefore, on this issue at least, they are all in agreement. Furthermore, it unfairly suggests those who oppose the removal of the statue are ignoring black people.
Indeed, this has become a regular feature of modern identitarian movements: the desire to simplify complex, nuanced debates into easily identifiable battlelines, often based on racial or gender distinctions. 'Believe women' was another such cry, made by supporters of the #MeToo movement. It presumed all women were supportive, even though many had their doubts, and cast anyone who raised questions as misogynistic or stuck in the past.
But perhaps the most striking part of this movement and of many like it is the way they engage with what has gone before us. 'Your "heritage" is theft', asserted one placard. Condemning the entire past of a nation and its people in one fell swoop is extraordinarily arrogant. It is this kind of attitude that has resulted in the depressing sight of a defaced Cenotaph in London. History is offending people, and activists are trying to attack it.
In imposing a particular understanding of history on us, today's anti-racist activists are doing precisely what they accuse their opponents of. No doubt, they will assert that theirs is the objective approach. But what they fail to acknowledge is that few actually defend the more horrific elements of our history. Hardly anybody denies Rhodes was a wicked man or that imperialism was nasty. That is not where the real battle lies, and to suggest otherwise is to misrepresent people's views.
The real battle lies in what we make history mean for today. And on that front, caution is a virtue. In caving to the demand to make towns, cities and entire countries into safe spaces where nobody can be offended, we take a dangerous path. History is full of unpleasant facts, but it does no good to remove them from the record.
The cry that Rhodes Must Fall shows us that even at the highest seats of learning, the acceptance of some degree of historical relativism, which is essential for a proper understanding of the past, is under threat. We should be worried.
Paddy Hannam is a writer.
Picture by: Getty.
To enquire about republishing spiked's content, a right to reply or to request a correction, please contact the managing editor, Viv Regan.