No, silence is not violence
Being compelled to say things you do not believe is a menace to liberty and equality.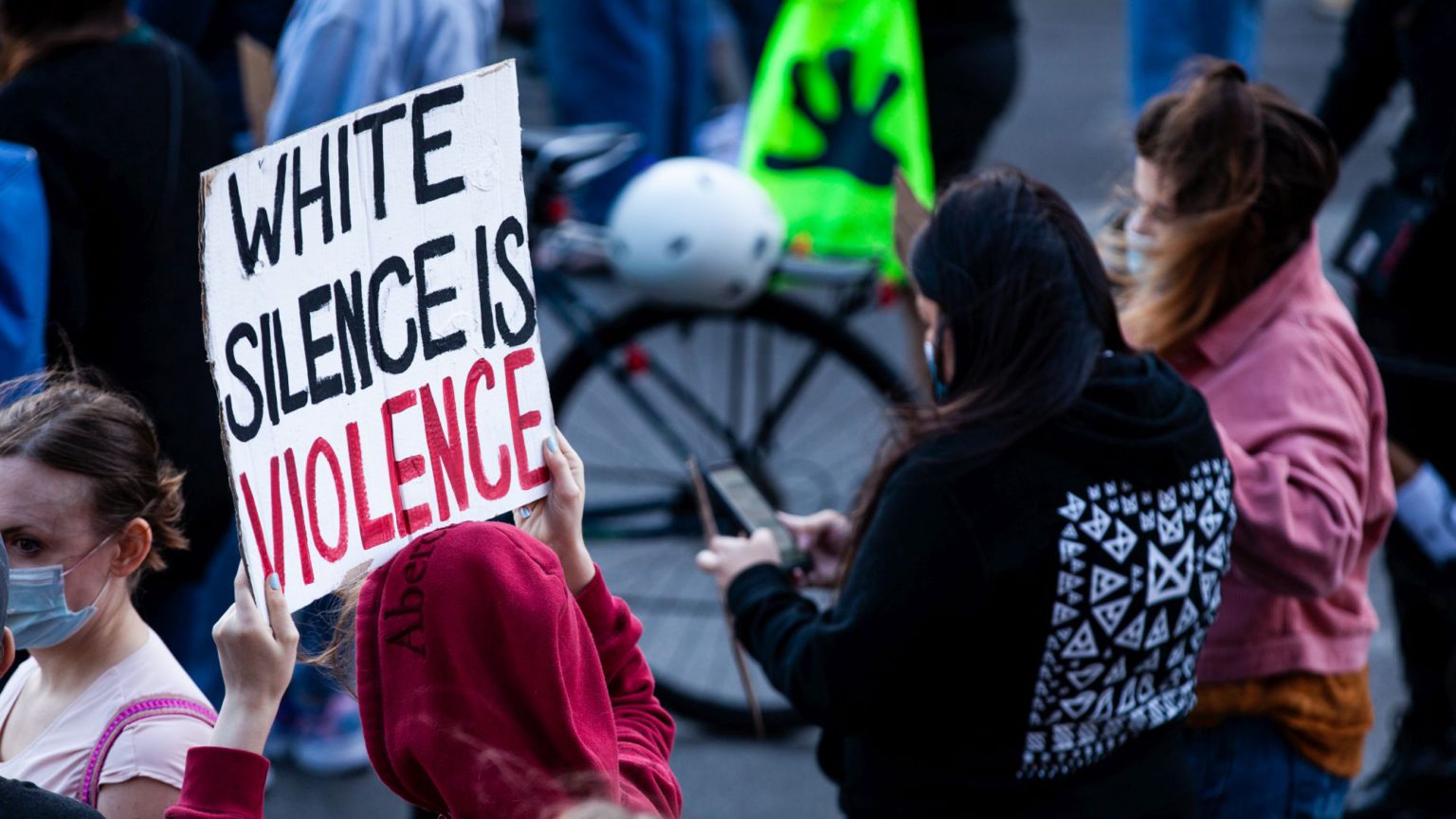 The slogan 'Silence is Violence', which has appeared in Black Lives Matters protests in the US, UK and around the world, is a powerful and emotive message. It is also, however, a danger to freedom of speech – the same freedom that has been central to struggles for liberty and against oppression.
In my book Trigger Warning: Is the Fear of Being Offensive Killing Free Speech?, published five years ago this month, I wrote about the powerful culture of 'You Can't Say THAT' in Western societies. Since then the war on any speech deemed offensive or hateful has become far more intense, as extensively criticised on spiked.
Now, in addition to 'You Can't Say That', we are faced with a new order: 'You Must Say THIS.' The slogan 'Silence is Violence' does not only mean that you must speak out, but that you must follow the correct script. You are free to say exactly what everybody else is saying, and say it loud.
Free speech must always involve the right to offend, to speak what you believe to be true regardless of what others think. The flip side of free speech is that you must have the right to be silent when you choose – particularly when somebody is trying to compel you to speak as instructed. What is called 'compelled speech' has long been opposed by civil-liberties campaigners, notably in the US. Now it is apparently embraced by woke activists.
How did we get here? It began with the increasingly influential but misplaced idea that words are at least as bad as physical violence and should be policed as strictly. In response, it has been important to remind ourselves that free speech is simply speech; no matter how harsh or forceful words might be, they are not bullets or knives. And that speech must be free for all or for none at all.
These days things have moved on. We are now told not only that speech is violence, but also that silence is violence. The message is that if you fail to toe the line in public and don't repeat the mantras of the Black Lives Matter movement, then you must be guilty of racism, or at least be complicit in the racist system. Young people have come under tremendous pressure to publish the approved messages and images on social media, something which has disturbed even some of those sympathetic to BLM. Even woke celebrities have come under fire for failing to use exactly the right words in their posts, as if they were expected to repeat a religious text.
(We might note in passing that, at the same time as speech is condemned as violence and silence is said to be violence, sometimes the actual violence of protesters is apparently not seen as violence, so long as you approve of what they're protesting for.)
There currently seems to be considerable interest in the history of oppression. One aspect worthy of further enquiry might be the history of 'compelled speech', of being forced to say what you are told rather than what you think. Compelled speech has a long association with intolerant and totalitarian regimes, as captured in the compulsory 'two-minute hate' for party members to scream at Big Brother's enemies in George Orwell's Nineteen Eighty-Four.
Even in democratic states, there is a history of seeking to impose conformism in thought and speech, both through informal measures and the law. In America, the First Amendment to the US Constitution enshrines the right to freedom of speech. Campaigners against compelled speech have previously succeeded in getting the Supreme Court to recognise that the First Amendment also upholds the freedom not to speak, by refusing to repeat government propaganda or to toe the line of any political group.
In the past, compelled speech was commonly associated with authoritarians and traditionalists. Now it is the woke activists who want to police speech through their 'Silence is Violence' campaign. People are faced with the prospect of being shunned and effectively 'cancelled' unless they conform and repeat the right messages in public. There is no choice about what you say or think, no questions tolerated. In a sign of changed times, the American Civil Liberties Union has all-but abandoned its campaigns for free speech for all and against compelled speech.
In the face of this outburst of radical intolerance, it is surely important to insist that it is possible to be entirely opposed to racism, and at the same time to be absolutely in favour of free speech – including freedom from compelled speech.
More than that, fighting for free speech has been key to every struggle for liberation and equality. As the former slave and campaigner against slavery in America, Frederick Douglass, put it in 1860, 'Liberty is meaningless where the right to utter one's thoughts and opinions has ceased to exist. That, of all rights, is the dread of tyrants. It is the right which they first of all strike down. They know its power… Slavery cannot tolerate free speech.'
Those who want to stand for liberty, equality and justice, on the other hand, should surely tolerate free speech — the liberty 'to utter one's thoughts and opinions', or to say nothing at all, rather than repeating what you are instructed to think and say – no matter who is giving the orders.
To enquire about republishing spiked's content, a right to reply or to request a correction, please contact the managing editor, Viv Regan.