We have failed the Class of 2020
When confronted with this crisis, we threw young people under the bus.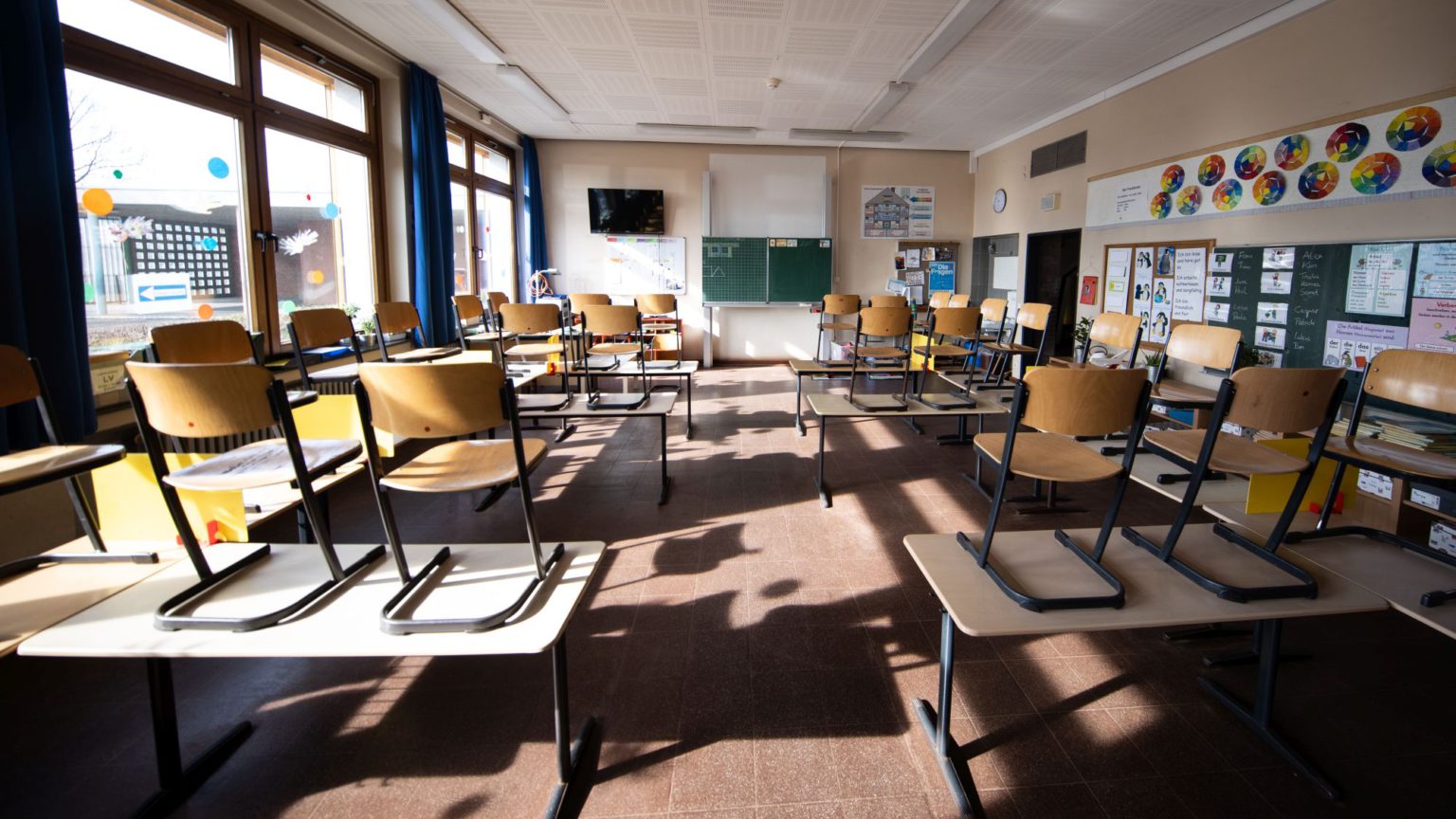 Let's hear it for the 'Class of 2020'. These are the young people who came into the year facing significant educational milestones – GCSE or A-level exams, or their national equivalents, and graduation from high school or university – only to find these rites of passage smashed by Covid-19 and lockdown.
As other students have struggled through months of endless 'homework' (which has hardly been pleasant or rewarding, either), young people on the cusp of finishing a particular stage of their educational journey were left in suspended animation. One day teachers were imploring them that their exams would determine the rest of their lives; the next, the government had decided that they didn't need to happen at all.
Now the exam cancellation tragedy has descended into predictable farce, with the Scottish and now the English governments competing to make the fastest U-turns on their systems of alternative assessment. Whatever comes out in this chaotic wash, we should be reflecting on the meaning of this experience for the Class of 2020: a group which our society has by turns abandoned, pathologised and berated. No amount of final-hour grade inflation and motivational speeches can make up for the way we have treated them during the Covid-19 crisis.
My daughter, Emma, is a Year 11 student who was due to sit her GCSE exams in May and June. In the early days of lockdown, we began working on a short book – The Corona Generation: Coming of Age in a Crisis – to try to make some sense of the experience of young people over this frightening and discombobulating time. As a sociologist of generations, it seemed clear to me from the start that what UK prime minister Boris Johnson described as 'the worst public-health crisis for a generation' would have a formative impact on young people on the cusp of adulthood.
And as teenagers were told that the best way they could help their country was to sit on their collective arse, Emma desperately needed something to do. Her life had suddenly transformed from strict revision timetables and weekend parties to, as she wrote back in April, 'a loose end':
'The work that had been put in seemed worthless and the activities which dominated my time cancelled. The last few days have been a new concept of time, as days are longer than before, it leaves us to wonder how long this particularly unstable structure will last and what the days ahead will be filled with – most likely to be tedious tasks and useless boredom.'
In our book, Emma's reflections, and those of her friends and acquaintances, give a brief, and partial, snapshot of their experience of early lockdown – on issues ranging from school closures and social media to their fears about the effects of the pandemic. In these accounts, we see the openness with which many young people accepted the need to (in Boris Johnson's words) 'do the right thing' – which stands in marked contrast to the way adult society has abdicated its responsibility towards its young.
The most striking expression of our symbolic abandonment of young people has been through the prolonged closure of schools, and the pathetic pantomime over the 'risks' of reopening them in September. The fact that this is even considered a choice – 'pubs or schools?' – shows just how badly we have lost our way.
The decision to close schools nationally was a bad one in the first place. But we can acknowledge that, back in March, with large numbers of people becoming seriously ill or self-isolating and without foreknowledge of how the epidemic would play out in the UK, closing schools a week or so before the Easter holidays was a pragmatic, panicked response to an emergency. Most young people, and their parents, understood that; and there was a sense of relief at having a clear decision among all the confusion.
The cancellation of exams was also a bad decision, with predictably disastrous consequences. But this, too, needs to be remembered in the context of the uncertainty of Spring. Nobody knew, then, that the epidemic would peak in early April, or how many families would be ill, bereaved, or isolating. Considerable organisational chaos and concessions would have been involved in running a 'normal' exam season; and when no other aspect of life was functioning as 'business as usual', it is hard to imagine how GCSEs and A-levels could simply go ahead as planned. As Becca, 16, put it, 'In this situation it wasn't fair to expect teenagers to revise as the world fell apart'.
Yet however understandable these decisions were at the time, there was little recognition of their significance for the young people involved, or the need to do something to fill the gap. Some teenagers, of course, were delighted to be let off the hook. 'It was the coolest thing ever. I was out with two of my friends and they were both ecstatic,' said Becca. But she quickly realised that not everybody felt that way:
'I called loads of others and no one else was excited. Lots of girls were upset, and realised it was bigger and more drastic.'
Others felt quite bitterly that they had been summarily cast out of the world they had known for over 10 years. Maria, 16, is going on to sixth-form college in September. She described the sense of uncertainty and confusion of her last school day:
'The school assembly was hastily thrown together with a few teachers getting mildly choked up during half-hearted speeches. Afterwards we were herded, like little sheep, to the basketball courts at the bottom of the school, and told that we had an allotted half hour to sign shirts and say our goodbyes. After that they basically evicted us from the school. After all, we weren't important to them anymore, we didn't have GCSEs to pass, we didn't have anything to learn from them. So we left.
'Sitting at home that night I don't think anything felt real – it didn't for anyone. When I said goodbye to people that day it was in the knowledge that I wouldn't see many of them, including my friends, for another five months and possibly never again.'
What should have happened next? Once it was clear that the UK epidemic had peaked, schools should have reopened to all pupils, and the exam years (11 and 13) should have been brought back – not for exams, or revision sessions, but for an education. As I argued on spiked in April, the role of school goes way beyond curriculum cramming and exam sitting. It provides, among other things, a crucial space in which young people can interact with each other and develop socially, and in which they can learn from adults about the world beyond their peers and their families – the precious knowledge and cultural heritage that our society has developed over millennia.
School also facilitates a crucial symbolic encounter between the adult world and the child world – and this is especially important in times of national crisis. School assemblies could have been a much-needed opportunity to explain to young people what was going on, to demystify the alarmist and misleading media coverage, and to discuss how they could play a role in supporting their friends, families and communities at this time.
Instead, what did our society do? It glued the school gates shut to most children, on the grounds that they posed too much of an infection risk. It abandoned the Class of 2020 to six months of formless, thoughtless limbo, as though all that mattered was that they would 'get their grades' without the bother of sitting their exams – and then, when the time came to release these grades, did everything in its power to ensure that they would be rendered both unfair and meaningless.
For children still 'at school' between May and July, the situation was scarcely better. Laura, a 15-year-old Year 10 student, recognised that she was lucky to go to a school that was 'providing lessons of sorts, with a certain level of structure'. However:
'Despite the online schooling provided, I am relying heavily on myself to make sure that I am still on track. It is difficult to know if I am teaching myself the right content, which is resulting in me spending more time on each subject than I normally would do at school. It also means that when we do go back to school, a lot of content will be rushed to ensure we can get through our courses on time, once again making the student responsible for a lot of their education. While it is good to become independent learners, these are not the ideal circumstances, as not only are GCSEs stressful enough but lots of the content cannot be taught from home.'
There is nothing wrong with independent learning. I work in a university, where developing undergraduate students to 'become independent learners' is an important focus of the first year. But those are young adults; secondary-school pupils are children, who need to be taught. The blasé way in which it has been accepted that children can and should teach themselves the curriculum, chivvied along by hassled parents who are unfamiliar with what is being taught, how it is being taught, and often have their own work to do as well, speaks volumes about our philistine approach to what education is and what teachers do.
While the paucity of work-setting and online learning among many state schools has been noted and criticised, the assumption has been that this could have been remedied with a bit more interactive Zooming – as though ersatz 'face to face' contact in any way reflects the meaning of school, or the purpose of education. Nowhere has there been a societal recognition of the moral responsibility of adults to educate the younger generation, and to guide them through these dark days.
And once the school holidays started, our society shouted at young people for going to the beach, and launched campaigns demanding that they 'don't kill granny' by having the temerity to go out. Having effectively de-socialised a generation, locking them in their bedrooms for weeks on end with nothing but social media and their own angst, we shriek about how reckless and anti-social young people are. Yet we have only ourselves to blame.
So what now? Rather than getting caught up in yet another distracting discussion about unfair exam grading, or pinning decisions about school reopening on speculations about whether teenagers transmit the virus 'like children' or 'like adults', we need to give ourselves a good shake and face up to what just happened. When confronted with this crisis, we ditched the kids. We locked them in their homes, deprived them of their education, trashed their employment opportunities, and saddled them with decades of public debt. Neither berating them, nor patting them on the head, is anywhere near good enough as a response.
It is our responsibility, as adults, to have open and honest discussions with young people about the dimensions of this crisis, and what it means for our society going forwards. To assume that kids will be forever traumatised by the past six months would trap them in that time forever. For that reason, more than any other, we need to encourage them to put all this behind them, and move on. But in doing so, we should acknowledge that the Class of 2020 has been through far more than a bad exam season. We should have done better.
Jennie Bristow is co-author of The Corona Generation: Coming of Age in a Crisis, written with Emma Gilland. It will be published by Zero Books in 2021.
Picture by: Getty Images.
To enquire about republishing spiked's content, a right to reply or to request a correction, please contact the managing editor, Viv Regan.