Rioting over a narrative
The carnage was sparked by an image of a racist America that is simply false.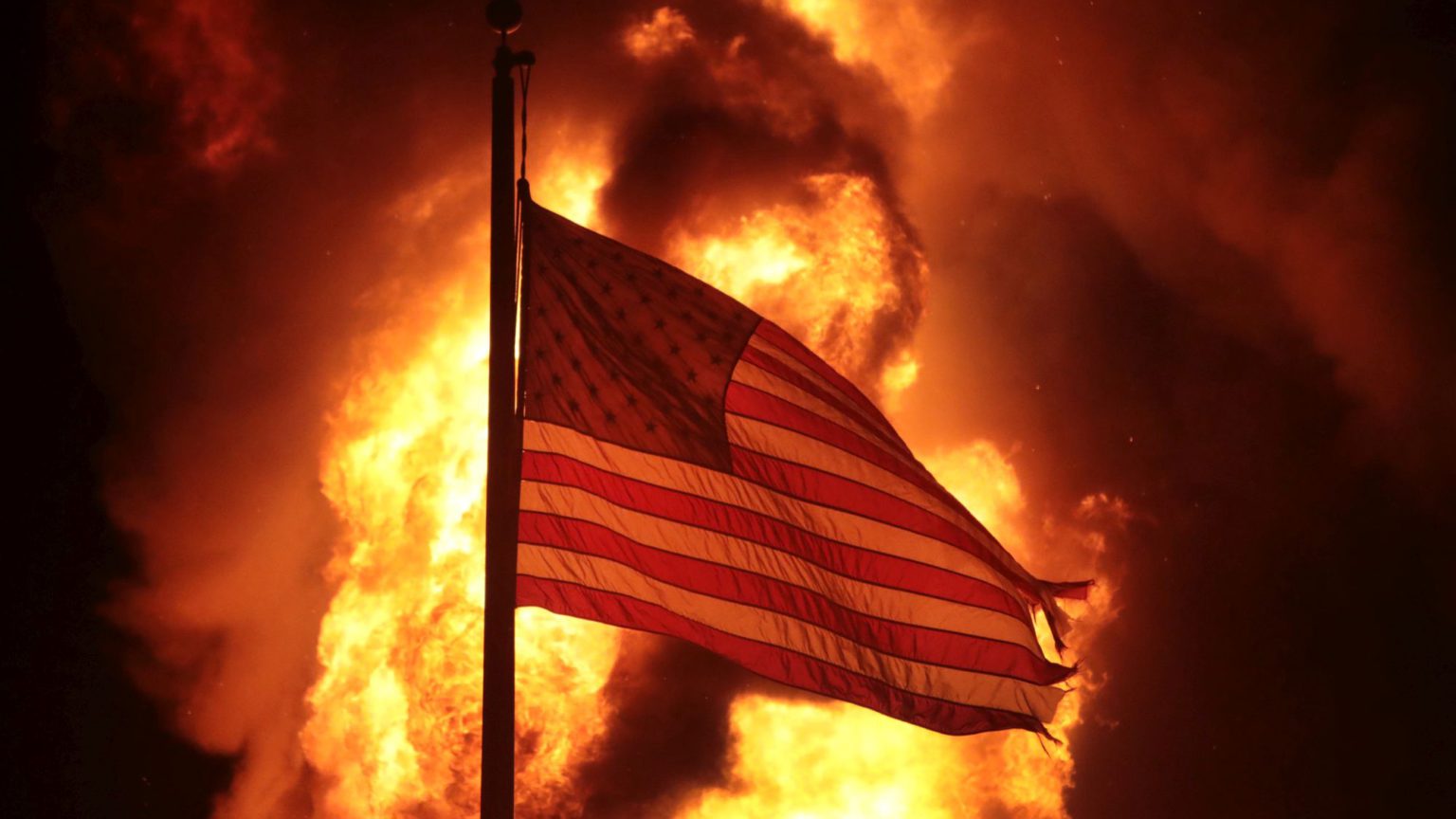 The Democrats didn't talk about the riots.
During the four-day Democratic National Convention, which ran from 17 to 20 August, virtually no prime-time speakers discussed the nationwide violence that followed the horrific death of George Floyd while restrained by Minneapolis police. Andrew Cuomo discussed his widely praised fight against the coronavirus epidemic – although New York led the nation in Covid-19 deaths – but not the street-fighting or looting. Bill Clinton praised Joe Biden and brought back memories of his own glory years, discussing how a proper president should use the Oval Office, while Hillary Clinton touched on why her own tenure in the Oval never occurred. Barack Obama harshly but non-specifically criticised the current lead occupant of the White House, while Uncle Joe himself told us that he was Jill Biden's husband. About Minneapolis or Atlanta or Portland – Kenosha hadn't happened yet – basically nada.
This was an astonishing omission, akin to the upper-executive team of General Motors not mentioning 'automobiles' during an annual meeting. Since the death of George Floyd, the US has been roiled by probably the most devastating series of widespread urban riots since 1968's 'Summer of Love / Rage'. According to the Wikipedia and online encyclopedia articles for the George Floyd Protests, at least 30 people have so far been killed during the violence, with 900 law-enforcement officers and an unknown number of rioters and protesters hospitalised, 14,000 people arrested, and billions of dollars in property damage done.
A list of the businesses so far damaged or destroyed in Minneapolis, where rioting began, runs into the hundreds – and includes all too many minority-owned and urban-chic establishments. In the same city, rioters literally burned an active police station, torching the sizable 3rd Precinct building as officers in uniform retreated in good order.
In addition to 'sympathetic' protests and riots in honour of Floyd in many cities, secondary waves of violence have followed the deaths of other black men at the hands of police. In Atlanta, the death of Rayshard Brooks led to the burning of a franchise fast-food restaurant, and several days of sharp violence between activists and police. In Chicago, the 'street report' that a 15-year-old male had been shot by police led to the looting of significant chunks of the legendary Magnificent Mile, and to Mayor Lori Lightfoot literally ordering the access bridges to the city centre raised, Batman Begins style. Similarly, if less dramatically, significant violence followed the Detroit shooting of Hakim Littleton. Riots began in Kenosha after a man named Jacob Blake was shot seven times in the back by police.
There are several interesting and empirically relevant characteristics of these riots. First, while the George Floyd video – for example – is genuinely upsetting to watch, the riots are based around a narrative that is simply not empirically true. There is no ongoing race war in the United States, and black people are not being murdered in large numbers by the police. Inter-racial violent crime involving blacks and whites is around five per cent of crime in a typical year, and black people generally commit roughly 80 per cent of it. This is not necessarily even surprising, given that there are more whites and they have more money, but it does not indicate a near-genocide. Statistics like these can be confirmed simply by taking a look at the annual BJS National Crime Report. In the arena specifically of police violence, the total number of unarmed black men shot by law-enforcement officers in the most recent year on record was 14.
Moving from broad generalities to specifics, many of the individual cases that prompted rioting collapse under serious analysis. The '15-year-old boy' whose death caused the Chicago riots turned out to be a 20-year-old man. He was shooting at police when he got shot. And he is still alive. The Detroit policing 'victim', Hakim Littleton, was also involved in a literal gun battle with police. Rayshard Brooks was also firing at cops, albeit with a police-strength taser rather than a pistol, when he died. More recently, the Jacob Blake situation also looks to be far more complex than we were originally told. While attorney Benjamin Crump presented Blake as a Good Samaritan, essentially shot at random while attempting to break up a fight between women, we now know that Blake had an active warrant for rape, the police were called specifically to respond to him by a woman who may have been his original victim, and he was shot after a fight and a taser failure – while quite probably going for a large knife.
A second notable fact about the riots is that they seem to be taking place almost entirely where saying what I just did is taboo – in cities run by left-wing Democratic politicians (Portland, Minneapolis, Seattle, Atlanta, DC, Chicago), generally also in states led by Democrats on the left side (Minnesota, Oregon, Washington, Illinois, with Georgia as a centre-right outlier). This is a rather remarkable finding. While working-class whites, blacks, Muslim Americans and so forth may (half) jokingly tease one another about crime rates, the actual fact is that most crime is an ecumenical business. There are exceptions like robbery, but the rolls of those arrested annually for fist-fighting or wife-beating or DUI often 'look like America' in racial and political terms. In contrast, it would be hard to think of a single large conservative city, including quite diverse towns – Oklahoma City, Colorado Springs, Arlington, Omaha, Anaheim – that experienced significant rioting or violence.
Life being multivariate, there are almost certainly many reasons for this. Liberals are much more likely to be critical of law-and-order policing, sometimes justly, than conservatives. However, another key factor variable seems to be efficacy of leadership. Following riots in Baltimore in 2015, mayor Stephanie Rawlings-Blake said the quiet part out loud, telling reporters, when asked about how police responded to the protests, that 'we also gave those who wished to destroy space to do that as well'. Since then Democratic leaders seeking votes have not infrequently responded to rioting or street-fighting by giving the participants 'room to destroy'.
Portland mayor Ted Wheeler recently responded to a suggestion from President Donald Trump, that National Guard troops be sent to Portland in response to over 90 consecutive days of rioting, by posting a page-long denial letter to his public Twitter account. The letter opened: 'On behalf of the city of Portland, no thanks.' It went on to praise the city's tens of thousands of 'peaceful' protesters and marchers, and closed by saying: 'Stay away, please.' In a horrific example of irony, the letter went live on 28 August — a day later a young man was killed during Portland face-offs between antifa-style protesters and the right-wing group Patriot Prayer.
This brings us to a final twist of the riot story: the frantic attempt by activists and some members of the mainstream media to paint these ugly incidents as somehow the work of Donald Trump, root of all evil, and his supporters. After weeks of quite mainstream pieces with titles like 'In defence of looting', journalists almost universally rediscovered the idea that street mayhem is bad when Kyle Rittenhouse arrived on the scene. A member of a motley crew of right-leaning men who arrived in Kenosha to 'protect property' from rioters and looters, the 17-year-old Rittenhouse shot three other men during what can quite fairly be described as an armed battle in the middle of a public road.
To give only one of literally tens of thousands of similar takes from Twitter and Facebook, Congresswoman Ayanna Pressley referred to Rittenhouse as a 'white-supremacist domestic terrorist' and the pursuers he shot as peaceful folk 'assembled to affirm the value, dignity, and worth of Black lives'. Meanwhile, Senator Chris Murphy called him a 'deranged white nationalist Trump supporter' who apparently decided at random to show up at a peaceful protest with a rifle 'and start shooting people'. The same tone pervaded Joe Biden's lengthy statement responding to the shooting of a Trump supporter by an antifa fighter: he used the occasion to criticise violence on left 'and right', and to note that 'all of us are less safe because Donald Trump can't do the job'.
While I personally doubt Americans will be persuaded that left-wing riots, in left-wing cities, targeting right-wing institutions are the fault of the right, it remains to be seen how we will react to them. Broadly speaking, there are three responses which I predict and largely support: we will vote, move, and arm up. While not personally stunned by the brilliance of either serious contender in the presidential race, I strongly encourage US citizens to punish all local officials who simply allowed chaos in the streets in the voting booth this fall, and I expect that many will.
A smaller but substantial number of countrymen, motivated both by the spreading violence and by state-wide Covid-19 orders banning such things as funerals with mourners in attendance, are likely to leave mega-cities for smaller towns and even for the more rural 'red' states. I myself moved from Chicago to Kentucky in 2015, and certainly have not regretted this decision during the past year or so. Finally, many, many people, including all six of the wokest urban leftists I know, are lining up to buy rifles and shotguns for home defence. While there is certainly a critical conversation to be had about gun culture in the US, the time to have it is not while discussing police defunding amid widespread chaos.
With all that said, a key point is that the ongoing violence not only has predictable responses we can logically expect, but also a predictable end date. While some fighting in the streets will likely continue, I would bet that we can predict to the day when mass media will tone down hysterical coverage of every incident of Trump-supporter-on-protester violence, and politicians on all sides will again begin to recognise a kid walking out of a department store with a flat-screen TV as a plain ol' criminal rather than a keen Foucaldian social critic. That day is 4 November 2020.
In the meantime, let's stick together, and hope everyone makes it until then. As a wise Britisher once said: keep calm and carry on.
Wilfred Reilly is a spiked columnist and the author of Taboo: 10 Facts You Can't Talk About, published by Regnery. Follow him on Twitter: @wil_da_beast630
To enquire about republishing spiked's content, a right to reply or to request a correction, please contact the managing editor, Viv Regan.