The purging of Jarvis Dupont
Andrew Doyle talks to Lisa Graves about Twitter's war on anti-woke satire.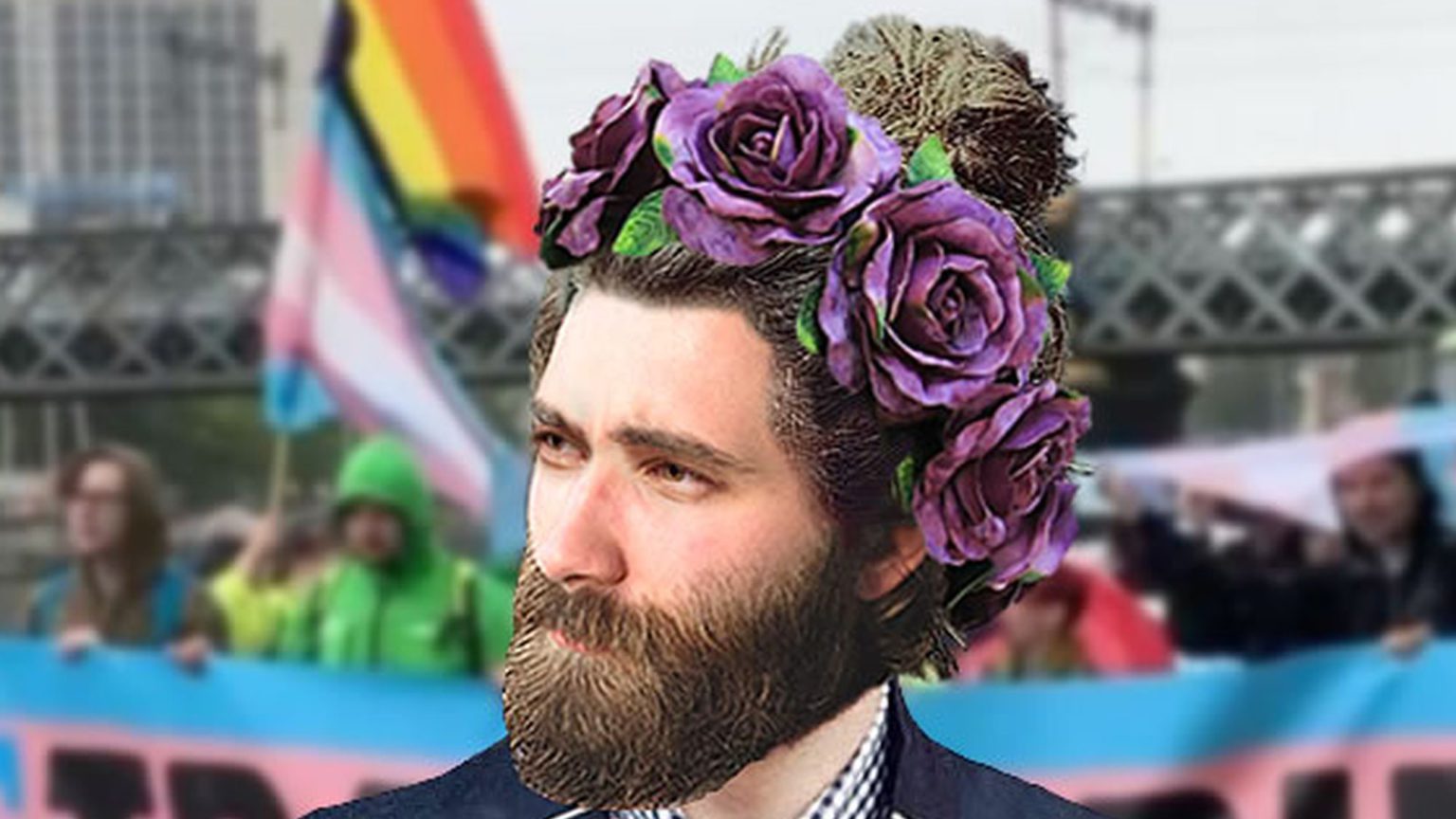 Lisa Graves is no stranger to the shadowy overlords of Twitter's 'Trust and Safety Council'. As the former co-writer of Godfrey Elfwick, the 'genderqueer Muslim atheist' who was permanently banned from the platform, she understands that such satirical incarnations are only ever temporary. Her latest character, Jarvis Dupont, was just one of many victims of Twitter's latest mass purging of comedic accounts that ridicule the tech giant's identity-obsessed ideological worldview. Hannah Arendt once noted that laughter is the most effective way to undermine authority, and Twitter's antics certainly seem to confirm her hypothesis.
Jarvis Dupont started life in 2018 as an upper-class university student who was crippled with white guilt. An early tweet from Jarvis displayed an image of the opulent Dupont estate that he would one day inherit. 'Taking a walk around my family's estate today', he tweeted, 'I am harshly reminded how privileged white people are. When I inherit this land, I will make damn sure I employ only people of colour to maintain it.' In another thread of tweets he told an anecdote about being suddenly overcome with white guilt in a Pret a Manger. 'I walked over to the nearest black family I could see and handed them my half-eaten muffin. "This is for slavery", I said, and quietly left.'
I ask Lisa about the background to Jarvis Dupont. 'Back in the day – around 2014 – the Godfrey Elfwick account was created by a friend of mine to troll people. He did it because he found it amusing when people mistook the character for a real person, and in the process he held a mirror up to the bizarre trend of social-justice warriors who had begun to populate social-media platforms. I took over the account when he became bored of it, up until the account got yeeted by the Twitter Wrongthink Division. We are now six years on from when Godfrey Elfwick was born, and while that account died a death (although [he is] still writing for the Spectator USA), the social-justice craze has not abated. It's not actual 'social justice' I'm aiming this at, by the way. It's the shallow, ego-fuelled, clickbait generation version of social justice.'
Jarvis was extremely popular, amassing 130,000 followers in his short lifespan. The justification for his banning is unclear, but given that Twitter's terms of service are deliberately nebulous, this means that the platform is never in the position of having to defend or explain its reasons. Lisa believes that her character was relatively safe in his early incarnation, but that once he transitioned to female she had jabbed the woke nest once too often. 'Jarvis gradually blossomed into a stunning and brave trans woman', she explains. 'Originally he was intended to take the piss out of ridiculous woke hipsters, the same ilk of sanctimonious cretins who run Twitter, but it's difficult to gain respect from your woke peers if you don't harbour some kind of woe-is-me victimhood complex. The trans-rights stuff has really taken off as a contender in the Victimbucks Olympics, so this encouraged him / her to become a woman.'
The extent of Jarvis's transition appeared to be to apply lipstick every now and then and to wear a garland of flowers around his man bun. His assumption that being a woman amounted to acquiring traditionally 'feminine' tastes gets to the heart of why so many feminists are concerned about gender self-identification, insofar as it reinscribes conservative and rigid notions of male and female. 'A war on women is being waged', Lisa tells me. 'We've gone from women fighting for their rights to women fighting for the right to be women. The Jarvis account highlighted a lot of this and thus, I suspect, became susceptible to mass reporting.'
She might have a point. Many of Twitter's algorithms pick up on accounts that are frequently reported by users, and there is little doubt that Jarvis had been in the firing line of activists ever since her transition. Often Jarvis's tweets were quoted approvingly by those who missed the satire and, even though the writers at Pink News were aware that the character was fake, they took Jarvis's side when he / she argued with the actor Laurence Fox. The day after Fox's apparently controversial appearance on Question Time, Jarvis tweeted: 'Laurence Fox is literally worse than a 50 ft Hitler made out of Donald Trump's dried semen being dragged along the street by black orphan children with gender dysphoria who are denied hormone blockers and have no access to Hannah Gadsby's latest Netflix special.' Fox replied in such a way as to signal that he was obviously in on the joke: 'What do you know about anything? You aren't even a real woman.' Pink News then ran an article criticising Fox for 'misgendering' a fictional character.
Ultimately, we can only speculate as to the real motives behind Twitter's decision to execute Jarvis. 'Who really knows what goes on at Woke HQ, also known as Silicon Valley?', Lisa says. 'Twitter is bollocks. They appear to be going out of their way to piss just about everyone off. I've lost count of how many accounts of mine have been nuked and the number of people I follow keeps dropping on a weekly basis, which tells me that my mutuals are also falling under the mighty ban hammer of tolerance. When I appealed the decision about Jarvis they gave me some vague bullshit excuse about manipulation and spam – something about fake accounts misleading people. If that were the case, they would have suspended 98 per cent of the accounts on their platform and the two per cent that would be left would consist of people that had died and Bobby Ball.'
As of this week, it would seem that Lisa has reached the end of the appeals process. 'They eventually got back to me confirming that the account would not be reinstated because they said it was potentially harmful towards the "healthy conversation" they prefer to encourage on Twitter. But really it was because Twitter is bollocks. They won't say it's because they are bollocks, but I firmly believe that that is the real issue here.'
With corporations and tech giants taking such a leading role in the culture wars, it's difficult to predict how this will all end. 'I don't really like to think about it', says Lisa. 'Over the past few months we've seen things escalating in a very real way. There's a silent majority out there that sooner or later needs to start making a noise. The popularity of the Titania McGrath account is a positive sign that many people are sick of the creatively stifling atmosphere and censorship that goes hand-in-hand with social justice activism.'
All is not lost for Jarvis, as he regularly contributes articles to the Spectator USA. But given that the culture warriors of the identitarian left show no sign of slowing down, does this mean that Lisa will still be creating characters in five years' time? 'I doubt it', she says. 'The woke parody stuff has near enough run its course for me. I enjoy writing the articles and hopefully there's a few months left of material swimming around in my head, and what with the US election looming over the horizon I think Godfrey and Jarvis might still have a few more things to say. We shall see.'
Andrew Doyle is a comedian and spiked columnist. His new book, My First Little Book of Intersectional Activism (written by his alter-ego Titania McGrath), is released this week. Order it on Amazon.
Listen to the latest episode of Culture Wars, Andrew's podcast, below:
To enquire about republishing spiked's content, a right to reply or to request a correction, please contact the managing editor, Viv Regan.