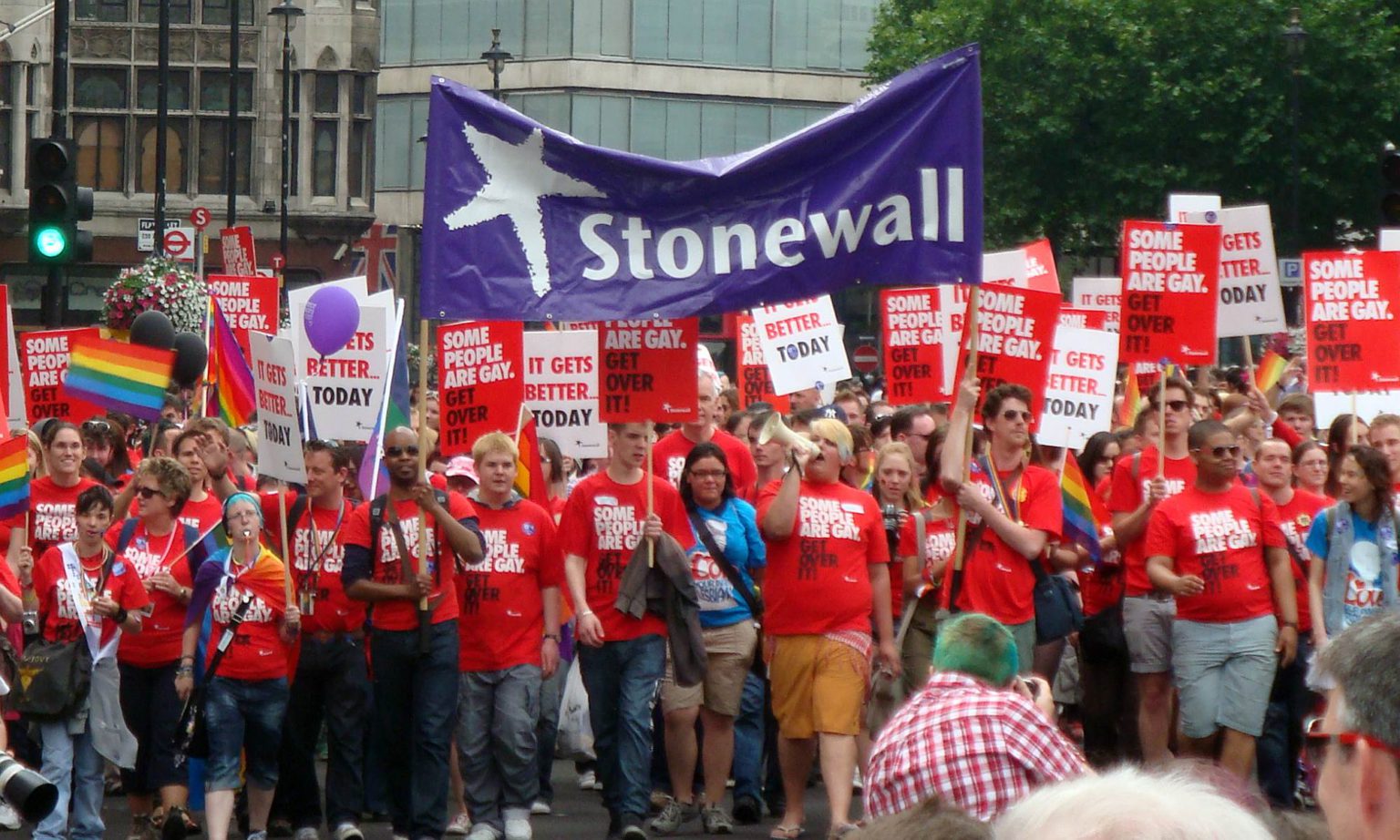 Long-read
The rise and fall of Stonewall
The charity's embrace of trans rights could well be its undoing.
In the 31 years since Stonewall, the UK's largest LGBT charity, was founded, it has led the charge on many campaigns for equality. It has fought for parity in the age of consent; for the right of same-sex couples to adopt; for civil partnerships; and for same-sex marriage. In many ways, it is thanks in large part to Stonewall's efforts that it is now far more socially acceptable to be a homosexual than it is to be a homophobe.
Indeed, life has never been better for same-sex couples. From Coronation Street to Strictly Come Dancing, we see ourselves represented in British popular culture as never before. Such are the positive connotations of being gay in 21st-century Britain that the corporate world is desperate to associate itself with LGBT Pride.
Given the progress made in gay and lesbian rights over the past three decades, it is easy to forget just how hostile the world used to be for lesbian and gay people. According to the British Social Attitudes survey, in 1989, the year Stonewall was founded, just 13.5 per cent of the public believed homosexuality was 'not wrong at all'. Anti-gay prejudice was rife. This was a time when self-styled moral crusaders like Mary Whitehouse were willing to call AIDS 'a judgment we have brought upon ourselves' for our permissiveness, and when to be a gay man was considered a risky, perverted lifestyle choice. Such was the level of anti-gay feeling that the then Conservative government was able to introduce Section 28 of the Local Government Act, which banned the 'promotion' of homosexuality in schools, with the support of 75 per cent of the British public. Many young people, struggling with their feelings, were left with nowhere to turn.
This was the political crucible in which Stonewall was forged. Indeed, the 14 volunteers – including Michael (now Lord) Cashman, Pam St Clement, Simon Fanshawe (OBE) and Ian (now Sir) McKellen – who founded it, did so as a response to Section 28. And it is fair to say that, for many years, everything Stonewall touched turned to rainbows. It may have been named after the Stonewall uprising in Greenwich Village in 1969, but its approach was sober, and its objectives logical and achievable, guided, as it was, by the ultimate principle of homosexuals' legal and social equality with heterosexuals.
How things have changed. Today, many lesbian, gay and bisexual people feel bitterly let down by the charity they once trusted. Stonewall stands accused of campaigning against women's rights as defined in the Equality Act, and of bullying those with whom it disagrees out of jobs. More troubling still, many homosexual and bisexual people feel that it has ceased to represent them; that, in the words of one columnist, it has 'lost its way'. After a proud history, standing strong against the wind and rain of discrimination, it seems this particular Stonewall is beginning to crumble.
The crumbling of Stonewall
The key moment in Stonewall's transformation arrived five years ago, when a 'T' was added to the 'LGB'. As Stonewall co-founder Simon Fanshawe told me, this embrace of trans rights was an error. Those who are same-sex attracted, he explains, have 'very, very different aims' to those who identify as transgender. 'What would have been far more productive', he suggests, 'was for Stonewall to support the range of trans voices to determine their own strategy and demands and build an organisation to achieve it'.
It is easy to see why Stonewall did opt to add the 'T' to 'LGB'. After the right to same-sex marriage was granted in 2013, Stonewall was plunged into an identity crisis. In an age of legal parity, what was the point of Stonewall? For the first time in its history, it lacked a clear raison d'être. That is why campaigning for trans rights appealed to Stonewall at that juncture – it provided it with a cause, and even a new enemy in the shape of 'transphobia'.
The appointment of Ruth Hunt as Stonewall's new CEO in August 2014 was to be decisive for Stonewall's change of approach. She immediately set about expanding Stonewall's remit to include trans rights, holding a meeting on 30 August 2014 with 'trans professionals, campaigners and activists to discuss the possibility of Stonewall becoming trans inclusive'. She stated elsewhere that 'we are very open to taking whatever direction will be in the best interests of that community'.
What followed was a consultation between Stonewall and 'over 700 trans people'. Those on whose behalf Stonewall was originally founded to advocate ̵ lesbians and gays – were not consulted. After the consultation, and subsequent report, Stonewall announced in February 2015 'that it would now be campaigning for all of the LGBT community and was beginning a path to trans inclusion', with Hunt later telling the Guardian that Stonewall had a 'moral responsibility' to include those who identify as transgender.
Why Hunt was so determined to turn Stonewall into an organisation fighting for trans inclusion is up for debate. Fanshawe believes she was politically naive and inexperienced, and 'enabled herself to be convinced by a group of activists that the trans issue was the next great battle, the next Section 28'. Hunt could well have been politically naive and inexperienced, given she had no real experience outside the third sector. She had taken a graduate role at the Equality Challenge Unit straight after studying at Oxford. And she then joined Stonewall at the age of 25, before becoming its CEO nine years later.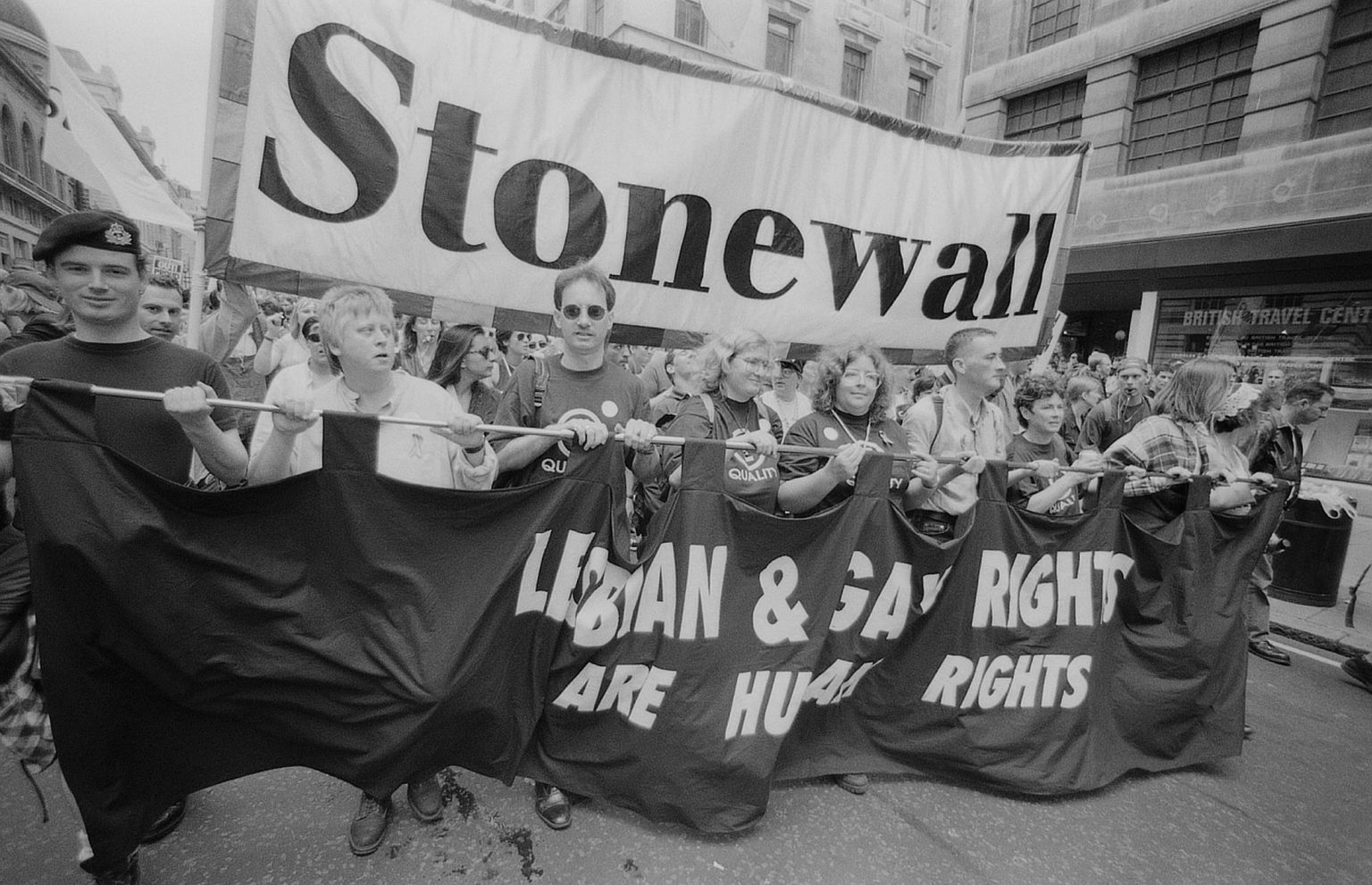 Protesters from Stonewall carry a banner reading 'Lesbian & Gay Rights are Human Rights' during the Gay Pride parade in London, 6 July 1996.
(It is worth noting that as narrow as Hunt's world is, it is certainly cosy. After leaving Stonewall in August 2019, having been made a peer, she set up Deeds and Words, a management consultancy, with Caroline Ellis. This is of no real significance, except for the fact that Ellis played the role of 'independent facilitator' in the initial meeting between trans activists and Stonewall in 2014.)
Nevertheless, Hunt's willingness to expand Stonewall's campaigning remit to trans rights still surprised some. As Julie Bindel wrote on Twitter last year: 'I'm not the only female journalist that Ruth Hunt invited out for a drink prior to her appointment as CEO of Stonewall, and told a different story about what she was going to do re the transgender issue if she got the job.'
Either way, under Hunt, Stonewall changed course dramatically. All staff received 'trans-inclusive training from Gendered Intelligence', and it 'established a Trans Advisory Group to steer Stonewall's integration of trans equality across all of the charity's campaigns and programmes'. Indeed, since 2015, it has created programmes for businesses and organisations, as part of its Stonewall Champions scheme, in a concerted effort to make them trans-inclusive.
And it has made Stonewall money, too. Between 2014 and 2018, its income rose from £5.4million to £8.7million – an increase of 61 per cent. Some donors, such as the Arcus Foundation, which gave Stonewall $100,000 in 2015, even insisted the money was used to 'integrate trans-specific work' into Stonewall's campaigns.
Yet, while Stonewall has financially profited from embracing trans rights, it has come at a significant political and moral cost.
A 'malign influence on British life'?
There is little doubting the reach and influence of Stonewall's trans-inclusive programmes, complete with guidance and toolkits. Indeed, there are 750 organisations and businesses, from the BBC to Adidas, that currently enjoy membership of Stonewall's Diversity Champions scheme. This means they are committed to 'ensuring all LGBT staff are accepted without exception in the workplace'. Which sounds fair enough, until one considers what such a commitment on the part of an increasing number of institutions, businesses and organisations actually means. It means bowing to trans advocacy, as channelled through Stonewall's toolkits and guidance, be it the prohibtion of any questioning of replacing sex with gender, or the removal of single-sex services.
Take the case of lawyer Allison Bailey. Until two years ago, Bailey, a long-time LGB activist, thought that anything that could 'make the lives of trans people easier… was a good thing'. But the more she began to look into and question the new trans activism, the more worried she became about the implications of replacing the concept of sex with the concept gender. She felt that it abolished the very basis of LGB rights — namely, same-sex attraction.
In 2019, as a result of her concerns, she co-founded the LGB Alliance, a group formed to advocate for the rights of lesbian, gay and bisexual people. On 22 October last year, she tweeted in support of the LGB Alliance. The problem for Bailey was that her employer, Garden Court Chambers, is a member of the Stonewall Diversity Champions programme. As a result, Bailey's support for a group that challenges 'current gender ideologies… [as] a threat to people whose sexual orientation is towards the same sex' fell foul of Stonewall's workplace guidance, prompting Garden Court Chambers to release a statement announcing that Bailey was now under investigation. Stonewall itself then submitted a complaint about Bailey to Garden Court Chambers, stating that unless her chambers took action against her, Stonewall's relationship with it would be damaged.
As Bailey herself puts it: 'This was an attempt by Stonewall to intimidate and silence me and others critical of what we see as its malign influence in British life.' So Bailey is now suing Stonewall – an organisation originally founded to advance the rights of same-sex-attracted people like Bailey – to 'stop them policing free speech'.
Bailey is not the only one to have engaged in legal action against Stonewall, thanks to its advocacy of trans rights. A 13-year-old girl took Oxfordshire County Council to the High Court over the Stonewall-backed transgender guidance it offered to schools. The council's trans-inclusion Toolkit said that children should be allowed to use the changing rooms and toilets of their preferred gender. The schoolgirl's legal challenge claimed the guidance was unfair and made her feel powerless, which prompted the council to withdraw the toolkit.
Another schoolgirl, aged 14, is taking on the Crown Prosecution Service over its LGBT hate-crime guidance for schools, which was drawn up in partnership with Stonewall, which is hardly a surprise given the CPS is an official Stonewall Champion. The schoolgirl claims that, under the CPS's LGBT guidance, children could be guilty of a hate crime merely for excluding someone from a friendship group, or 'not wanting to work with them'.
As John Ford, managing partner at law firm Sinclairslaw, which is representing the girl, explained:
'Not only does [Stonewall] advocate for legal change; it seeks to embed its values and views of what it thinks the law should be in organisations which subscribe to its Stonewall Champions programme. This enables biological males to access female-only spaces and disciplines those who refuse to accept a person's gender self-identification.'
While the ultimate outcome of such cases is still to be decided, it seems likely that many institutions, organisations and businesses, from the BBC to MI6, could soon be left wiping egg from their faces.
But perhaps it is the influence of Stonewall on the police and the judiciary that is most concerning. Indeed, many police forces are listed as Stonewall Diversity Champions, which has an actual impact on how they conduct investigations. For example, in June this year, as reported by Fair Cop, vital details about a serious sexual assault, including the fact that the perpetrator was a man dressed as a woman, were witheld by Hertfordshire constabulary to avoid 'a situation where members of the gay or trans communities in particular are being targeted by hurtful comments or actions as a result of this information being released'. In doing so, Hertfordshire constabulary, one of Stonewall's Diversity Champions, effectively compromised an investigation into a brutal sex attack on a young man.
'Stonewall has turned on its own'
It seems clear that the expansion of Stonewall's campaigning remit to include trans rights alongside lesbian, gay and bisexual rights has created a host of legal and practical problems.
At the root of these problems lies a fundamental conflict between LGB rights and trans rights, with the former grounded on a notion of sex and the latter on gender. This is why, to accommodate trans rights, Stonewall has had to redefine what it is to be homosexual (and by extension hetero- and bi-). So now, in Stonewall's eyes, a homosexual is not a 'same-sex attracted person', but rather someone 'who has a romantic and/or sexual orientation towards someone of the same gender'. The substitution of the word 'sex' for 'gender' is critical here. While in common parlance the two are used interchangeably, they have different meanings. 'Sex' refers to the biological reality of being male or female, whereas 'gender' is the somewhat spurious idea of an innate sense of knowing oneself to be male or female irrespective of one's actual genitalia. This has as much scientific validity as white academic Rachel Dolezal's claim to be black because she feels black.
Nevertheless, it means that Stonewall legally obliges people to refer to people as 'female' despite the physical evidence to the contrary. So, someone with a full bushy beard and a penis can call herself a 'lesbian' because of her preference for skirts and the use of 'she/her' pronouns. It seems that tired old joke from lecherous men in pubs that they are lesbians on the inside darlin' is now a proud expression of transgender identity.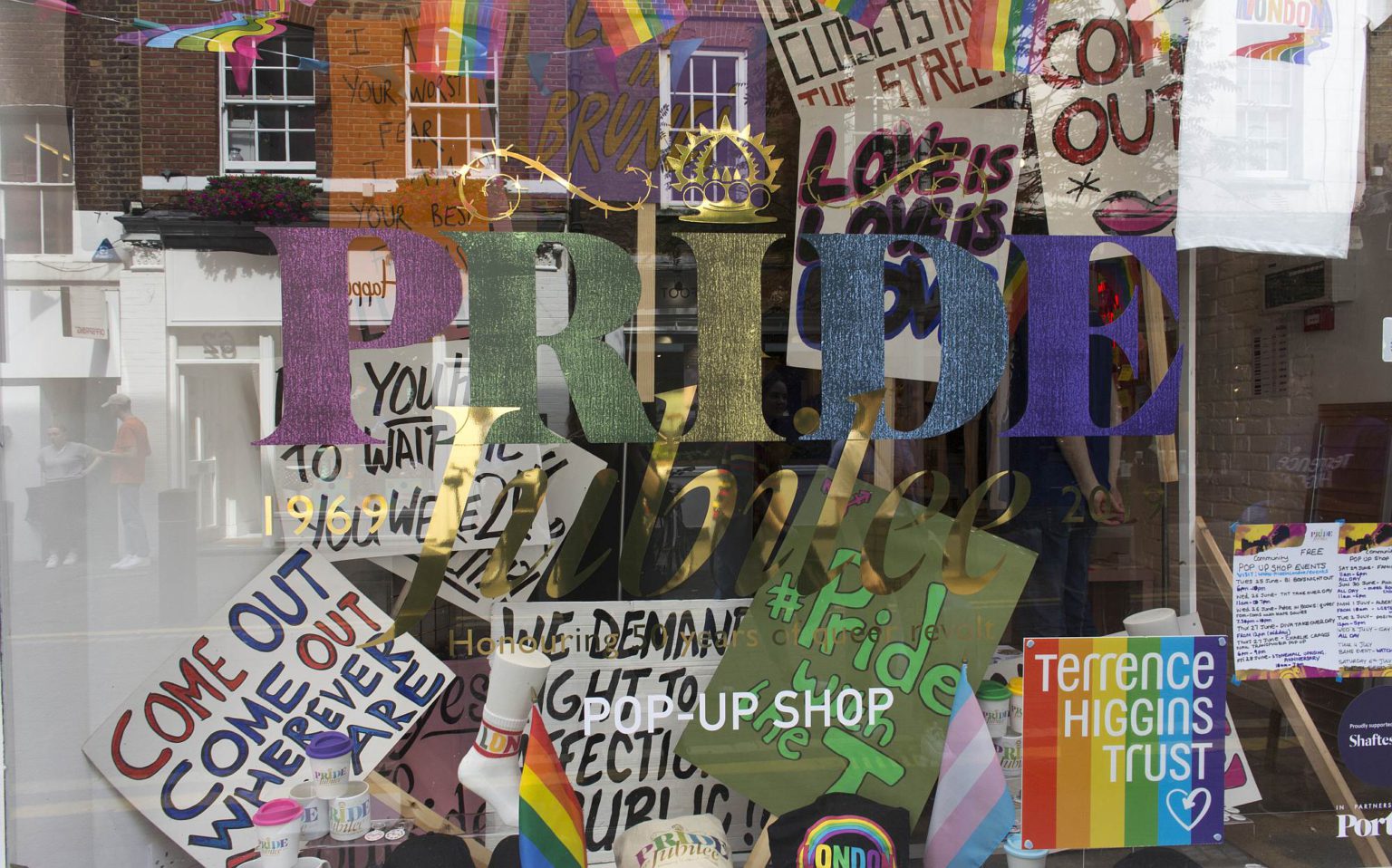 A pop-up store in London marks 50 years of activism since the 1969 Stonewall Riot, on 26 June 2019.
But this is no joke, of course. During the process of writing this piece I was approached by a woman who wanted to be known as Harriet. A lesbian who grew up when Section 28 was in place, she is now married to her long-standing female partner and is mother to a 12-year-old boy. She explained how 'conflicted' she now feels about Stonewall:
'Today it feels like there has been one step forward and two back. I know that homophobic bullying is no longer acceptable, at least in principle, at my son's school. But today the kids who might have grown up to be gay, lesbian or bisexual are all identifying as trans. There are three "trans" students in my son's year.'
Her frustration was palpable:
'I despair that Stonewall, an organisation that paved the way for me to come out, is now effectively pushing conversion therapy; teaching kids, who 10 years ago might come out as gay or lesbian, that they might be straight but "born in the wrong body". If it had a shred of decency and cared about anything other than funding, it would be asking why so many young lesbians find it easier to identify as straight men. That Stonewall is supported by government and schools sickens me.'
Harriet is not alone. Thanks to Stonewall's embrace of trans rights at the expense of the very people whose rights it once championed, many lesbian, gay and bisexual people have now started their own campaigning groups. These include the Lesbian Rights Alliance, Get the L Out, and the aforementioned LGB Alliance.
LGB Alliance co-founder Kate Harris explained to me her reasons for establishing an alternative to Stonewall:
'As of now, according to Stonewall, we are transphobic if we are only same-sex attracted. And we are supporters of Section 28 if we oppose telling children of five and up that they have a "gender identity" and may be "born in the wrong body". If we oppose the medicalisation of children who do not fit gender stereotypes, we "deny the existence of trans people". It is a world turned upside down.
'The most worrying thing of all is that Stonewall bans any discussion of issues of sex and gender. We tried for two years to have a dialogue with them. No luck. That is why we formed LGB Alliance.'
She adds:
'We helped create Stonewall. But Stonewall seems to have turned on its own. If Stonewall crumbles that will be a tragedy of its own making.'
In the face of this challenge to its monopoly of the cause of LGB rights, Stonewall has doubled down, issuing increasingly hyperbolic statements about the barriers faced by non-binary and trans people in the face of a hostile political landscape. It is hard not to pity new Stonewall CEO Nancy Kelley. She is charged with steering the UK's largest LGBT charity through lawsuits with no clear sense of direction. And it is all thanks to Stonewall's dramatic shift in focus over the past few years. One wonders how Stonewall can set any course right now given it has deemed the traditional definition of homosexual as same-sex attracted as trans-exclusionary.
Losing its grip
It does seem that Stonewall's grip on the debate over trans rights might be slipping, however. In recent weeks, it endured its first significant defeat on trans rights when Liz Truss, minister for women and equalities, announced that she would not allow gender-recognition certificates to be issued on the basis of 'self-declaration'. This decision was bemoaned by Kelley as a 'missed opportunity' and a 'failure in leadership.' To many observers, however, the failure in leadership was Stonewall's, given it has spent three years lobbying for this deeply unpopular legal change, which would have undermined safeguards and forced the public to accept the notion of 'lesbians with penises.'
Furthermore, it has emerged that Stonewall, alongside trans children's charity Mermaids, were barred from intervening in a legal case brought against the Tavistocks' Gender Identity Development Service (GIDS), Britain's only gender-identity clinic for children. The case asked the judiciary to review whether 'it is unlawful for children to be asked to give informed consent to potentially harmful experimental drug treatments'. Interestingly, Transgender Trend, a small organisation which has campaigned to raise awareness of the dangers of transgender ideology for children, was allowed to intervene. Clearly, the input of Transgender Trend was deemed more credible by the High Court judge presiding over the GIDS case than that of multimillion-pound advocacy groups.
It is quite the fall from grace.
In The Temper of Our Time (1967), social and moral philosopher Eric Hoffer wrote: 'What starts out here as a mass movement ends up as a racket, a cult, or a corporation.' It is an observation that fits the decline of Stonewall. Three decades ago, it represented a vital, relevant movement, battling a hostile establishment from the margins. Today Stonewall is the hostile establishment. Embedded across the UK's institutions, it has been using its power, in the name of trans rights, to silence the very lesbian, gay and bisexual people who once were its supporters.
Stonewall's is a cautionary tale – it shows how even the most worthy of causes can be corrupted in the quest for power and influence.
Jo Bartosch is a journalist campaigning for the rights of women and girls.
Main picture by Fae, published under a creative commons license.
In-article pictures by: Getty Images.
To enquire about republishing spiked's content, a right to reply or to request a correction, please contact the managing editor, Viv Regan.