Where's the solidarity with France?
Anti-French hatred is growing in the Muslim world and yet Britain's political leaders are silent.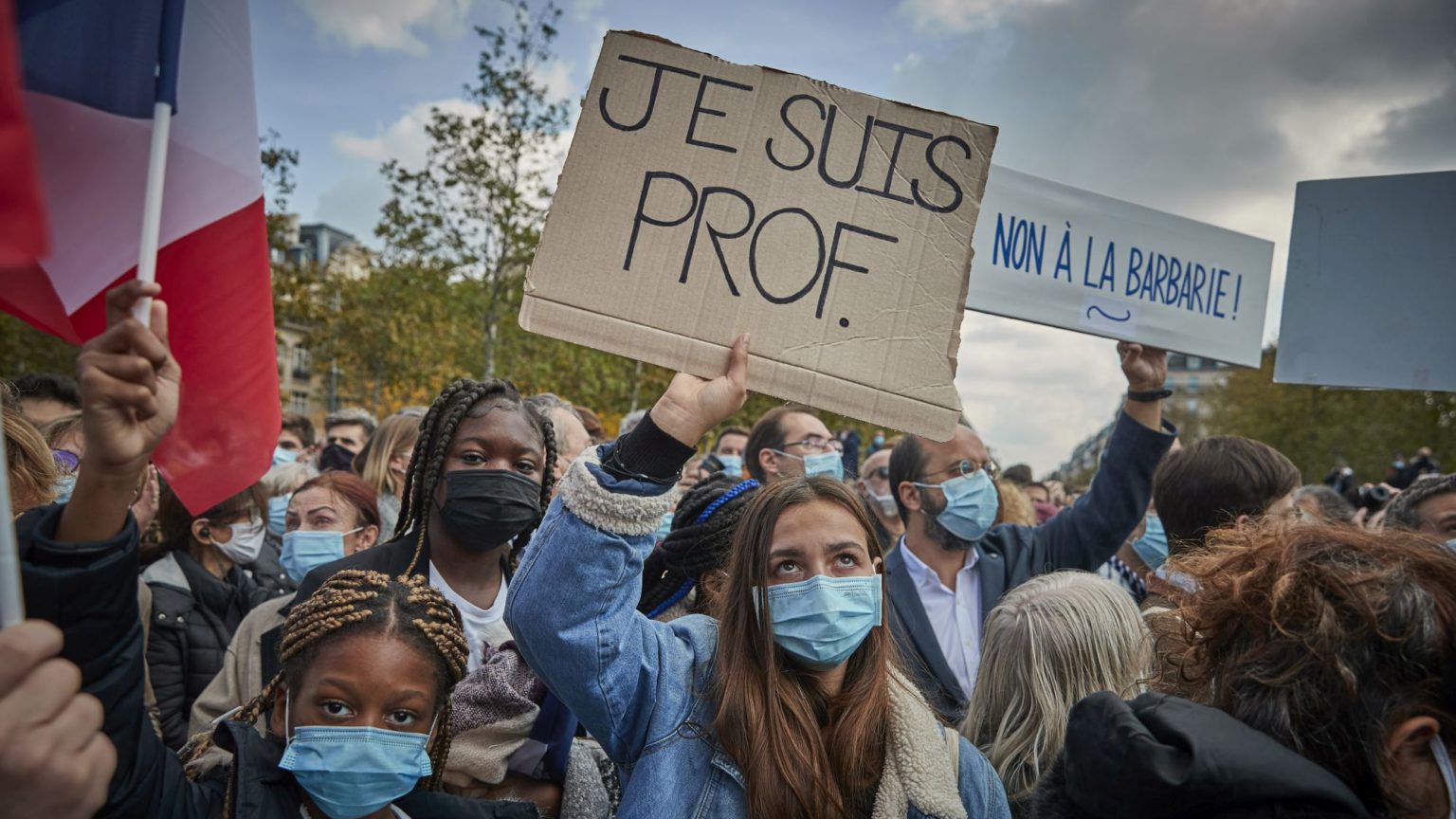 Now I know what the term 'victim blaming' means. In the fortnight since Parisian schoolteacher Samuel Paty was beheaded for the 'crime' of teaching children about freedom of speech, something extraordinary has happened. France has come under attack. Yes, the victim of this barbaric execution, the republic that lost one of its public servants to the bloody zealotry of a radical Islamist, is the one that is being criticised. France has been condemned and boycotted and branded 'Islamophobic'. This rage against the victim of terrorism, against a nation that has been in mourning for a schoolteacher whose only offence was to believe in liberty, confirms how warped the discussion about radical Islam has become.
From across the Muslim world in particular, France has been denounced and defamed relentlessly over the past week. Rather than offering solidarity with a nation that suffered a particularly gruesome attack – a medieval-style execution of one of its public educators – leading figures in Turkey, Pakistan and elsewhere have chosen to whip up hatred and fury against France. What kind of country allows satirists to mock Islam, they've asked? In what kind of nation is a schoolteacher permitted to show caricatures of Muhammad to his pupils, they've demanded to know? Why is President Macron saying that Islam in France needs reform, they've raged? Such behaviour creates 'further polarisation' which 'inevitably leads to radicalisation', said Pakistan's prime minister Imran Khan, skating perilously close to saying that France brought the Paty atrocity upon itself. The victim, not the perpetrator, is the problem.
In Turkey, President Recep Tayyip Erdogan chose the aftermath of the slaughter of Paty to chastise France for disrespecting Islam. In response to Macron's sensible, measured suggestion that Islam in France requires reform, and that any Islamic extremists who threaten 'the republic and its values' should be dealt with harshly, Erdogan asked: 'What is Macron's problem with Muslims?' Macron is pursuing an 'anti-Islam' agenda, he said. He even suggested that Macron requires 'mental treatment' – which is actually in keeping with the idea of 'Islamophobia', which likewise depicts any criticism of Islam as a form of mental instability, a 'phobia', an irrational fear. Erdogan called upon Turks to boycott French goods. That's right: mere days after France suffered an appalling atrocity, Erdogan was marshalling his population to punish France.
There has been talk of anti-French boycotts in Kuwait, Jordan and Qatar, too. In other parts of the Muslim world there have been street protests against France, many of them instigated by political leaders fuming that France is a hateful country. Their proof of France's 'Islamophobia' is that Macron responded to the murder of Mr Paty by clamping down on radical Islamist groups, even expelling some foreign-born extremists from France, and that some local authorities projected caricatures of Muhammad on to public buildings to express solidarity with Mr Paty. An official at the foreign ministry in Tehran says France is promoting hatred of Muslims under the 'guise of freedom of expression'. A hardline newspaper in Iran depicted Macron as Satan. Protesters in Karachi have burned pictures of Macron. Why are so few political figures in the West commenting on the perversion of France being demonised in this way after it was attacked by extremists?
Macron is surely right to raise the problem of 'Islamist separatism' in France. One can question the French state's post-Paty efforts to censor legal Islamist groups that merely express extremist ideas, but there is very little question that France has a genuine problem with radical Islam. Close to 250 people in France have been slaughtered by radical Islamists over the past five years. Jews, including Jewish children, have been murdered by extremists. Anti-Semitism and Holocaust denial are on the rise. These are serious challenges for the French Republic. It would be utterly remiss of the president not to address them. The idea that Macron's concern about Islamist separatism is 'Islamophobic' only proves how cynically that term is used to demonise and censure anyone who wants to have an open, honest discussion about radical Islam, the crisis of integration, and the separatism unleashed by both identitarian and Islamist narratives in recent years.
The protests and boycotts against France are openly calling into question the value of freedom of speech. Indeed, in September, prior to the murder of Mr Paty, Imran Khan slammed Charlie Hebdo for republishing the caricatures of Muhammad and called for a global ban on mockery of Islam. 'Wilful provocations and incitement to hate and violence must be universally outlawed', he said. These sentiments have been echoed on many of the anti-French protests in recent days. The Guardian's report on the Muslim world's 'rage against Macron' quotes a protester in Bangladesh as saying: 'I don't condone the killing of the teacher… but it's a two-way street. If no one makes hateful comments targeting the core beliefs of another religion, this kind of heinous violence will be reduced anyway.'
But. I don't condone the killing of Mr Paty, but… This is where we can see a deeply worrying interplay between the outlook of anti-Macron protesters in Karachi, Tehran and Bangladesh and the worldview of the cultural and intellectual elites here in the West. Here, too, there is a tendency to 'but' any commentary on the massacre at Charlie Hebdo or the beheading of Mr Paty. Of course these people shouldn't have been murdered, but they were being racist, they were punching down, they were promoting Islamophobia, etc etc. Victim-blaming has become par for the course in discussions of radical Islam. If only arrogant, liberty-obsessed Westerners would stop mocking Muhammad, then there wouldn't be extremist violence, we're told. You're as likely to read this sentiment in a politely worded editorial in the New York Times as you are to hear it expressed at a febrile protest in Karachi.
What this does, of course, is give Islamic extremists a veto over public debate. It says we must circumscribe public discussion of Islam in order to appease those who would murder us for criticising their religion. This implicit empowerment of terrorists to determine what is and isn't acceptable discourse is promoted as much in woke circles in the West as it is in Islamist circles in the East.
Where are our politicians in all of this? Why have they not expressed solidarity with France, both for losing a public servant in such a horrific way and for coming under unjust attack by intolerant political forces in the Muslim world? The German foreign minister Heiko Maas has condemned Erdogan and expressed solidarity with France in its battle against Islamist extremists. But British and other European politicians have been cravenly silent. Boris Johnson, France is one of our most important allies, and Britain still very much wants to be friends with European countries even after we leave the European Union – so why won't you publicly stand with France as its people and its values come under assault from regressive and reactionary forces?
To enquire about republishing spiked's content, a right to reply or to request a correction, please contact the managing editor, Viv Regan.