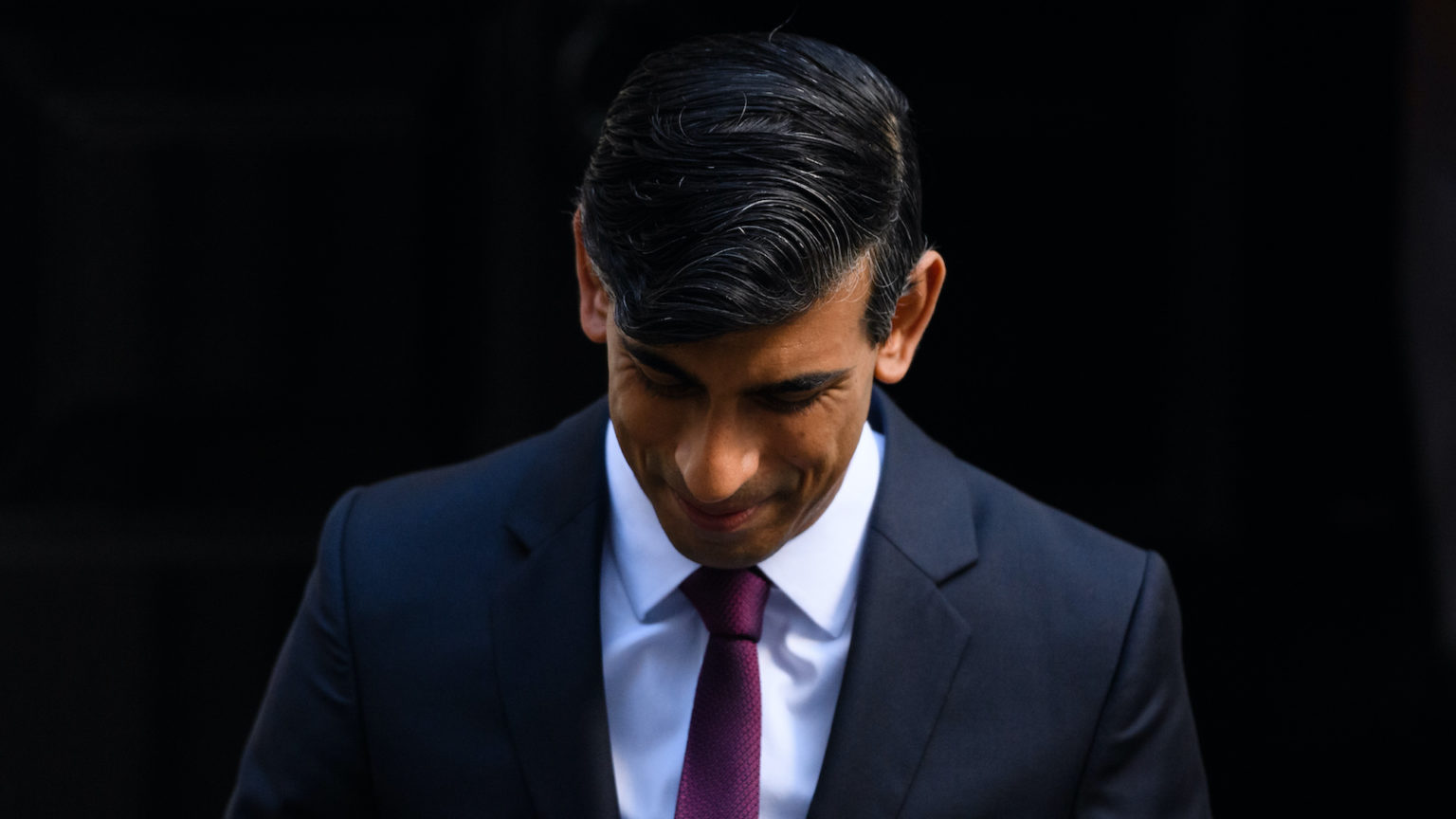 Another crisis wasted
Times like this demand bold economic thinking. Rishi Sunak has squandered that opportunity.
At El Alamein in 1942, British forces secured their first military victory. Winston Churchill assessed that Britain and its allies had 'perhaps' just reached the 'end of the beginning' of the war. But that didn't stop him and other Western leaders starting to plan for life after the war. In Britain the government's Beveridge Report was published in November that year, paving the way to the expanded welfare state that became a hallmark for the postwar domestic settlement. Less than two years later, with Allied armies only weeks into fighting their way across Europe and still heavily engaged in the Asia-Pacific theatre of war, their countries' representatives convened in New Hampshire's Bretton Woods. There they charted out what became the postwar international economic and monetary architecture that operated for the ensuing quarter century.
These ambitious initiatives remind us that huge crises, such as our coronavirus pandemic, used to be seized as opportunities to undertake radical longer-term planning. Judging by this week's UK Budget package, this is not the case anymore. Freeports, training grants, a replacement public investment bank, and a temporary two-year investment tax break, do not amount to a plan for the long-delayed structural overhaul of the economy.
At the margins the measures announced yesterday may trigger, or more likely bring forward, some business investment projects and hopefully generate some jobs. But together they fall far short of chancellor Rishi Sunak's declaration that he was laying the foundations for stronger innovation, growth and job creation. In fact, the official growth forecasts accompanying the Budget statement, which are based upon implementing his proposals, already debunk his claim.
Predicting a return to the pre-pandemic level of output by the middle of next year, and assuming the success of the temporary investment incentives, the Office for Budget Responsibility (OBR) still projects growth to average less than 1.7 per cent a year in the final three years of its forecast, 2023 to 2025. If this pans out, Sunak's promised growth revival would turn out even sicklier than Britain's sluggish decade since the end of the financial crisis. Over that time, between 2011 and 2019, economic growth averaged 1.8 per cent, which was itself only two-thirds the average in the previous decades since the Long Depression began in the 1970s. A continued decline in growth rates is not the conventional definition of 'building back better'.
The main reason for this anticipated failure to revive economic growth is that the types of 'pro-growth' initiatives proclaimed by Sunak do not address the deep-rooted barriers to business investment. These obstacles have been accumulating for decades. Today they are expressed as an economy congested with outdated capital stock, low-tech activities, and zombie businesses. The consequence is that the renewal of productive capability required to create new and better employment is going to be a disruptive process. The old will need to be swept away. This is the precondition for bringing about adequate levels of private investment in innovation.
But far from recognising and acting upon this legacy, successive governments have been perpetuating it. A combination of fiscal, monetary and regulatory measures has for decades been acting to preserve this atrophy. What is required from government is a realisation of what has been happening. Then it needs to put an end to these debilitating state support measures.
If not now, when? Never since the 1930s Great Depression have the fragilities of capitalism in crisis been so apparent. This is the worst recession for 300 years. The productivity growth in output per hour of work that underpins people's livelihoods has been trending lower for half a century, culminating in its near stagnation for almost two decades. As a result, incomes have been flat or falling for many households, while the average quality of jobs has been eroding. Such a dire protracted collapse in productivity growth is the worst since the Industrial Revolution. Yet in the Budget, the state-prolonged undermining of the country's collective prosperity has been evaded again. A commitment to rebuild has to start with a consideration of how we got into this desperate condition.
The inevitable post-lockdown 'bounce back' in growth, anticipated by the OBR, alongside many other economists, should not be used to camouflage the continuation of the pre-existing features of decay. In particular, it is foreseeable that post-shutdown too many people will still be either unemployed or underemployed in low-paying and precarious jobs such as capital-impaired factory roles, warehousing workers and delivery drivers. A record pace of recovery in gross domestic product this year – likely as the mirror response to 2020's government-imposed record recession – won't change the qualitative deterioration.
Although a lot of people and businesses will soon be spending much more than they were in 2020, this won't apply to all of them. Many people will remain in or go into hardship. There's an old pattern that more firms go bust during the recovery than in the recession. This could be as or more valid than ever when the emergency support measures are wound down.
This adds to the case for Whitehall to act now on the economic basics. Government should today be establishing the framework for the only thing that will rejuvenate productive performance and provide good jobs: investment in innovation and in creating new sectors and businesses. Enabling this entails the disruptive shake-up of what is malfunctioning, starting with an end to the state subsidisation and to the easy monetary and credit systems that have been propping up failing parts of the economy.
Unsurprisingly, Sunak's initial budget task this week was to perform his habitual catch-up act that has been his familiar mode during the pandemic. Weeks after it was clear to everyone that his government had no intention of quickly ending its lockdown measures, he belatedly extended the expiring financial-support measures to people and businesses that have been ravaged by the economy's semi-closure. A relief to many, but late as usual.
What's more, with the massive rise in government borrowing brought on by the shutdowns, and with the requirement for extending proper public funding to health and social care underscored, any chancellor would be expected to say something about the implications for the public budget. In this part of his statement, we heard Sunak's attachment to what he calls 'fiscal responsibility'. Hence the Treasury announcements of tax increases on workers and businesses later in this parliament in order to contain the public debt and pursue a goal of zero borrowing for non-investment spending. Sunak appears to be on the 'book balancing' end of the new sentiment in many Western economic circles for 'acting big'. The Treasury plans spending more in the short term and recouping it with higher taxes a bit later.
But neither of these two parts of the statement justify the overarching failure to address the enduring impediments to durable growth and prosperity. In fact, it is because of the huge emergency borrowing that this is an excellent time for government to work out how to promote growth in order to help pay back the debt. Following those Second World War examples, the government should already be setting out its long-term strategy for overhauling Britain's productive capacities, even as its damaging lockdown continues.
The chancellor made a big point in his speech about the government being 'honest' on the need to fix the public finances. But that task was not something anyone was oblivious to. What would have been bolder, as well as much more constructive, would have been honesty about having to fix the economic fundamentals. In particular, he should have expressed an awareness of the structural problems, and recognised that long before Covid-19 arrived a host of state support measures have been making them worse.
One of the trends amplified by the pandemic has been a surge in declarations to 'refresh' capitalism. So far it seems a huge chasm separates these words from the practices that could seek this objective. Maybe the gap is indicative that this rhetoric has always been somewhat illusory. Or maybe the British government is especially lacking in imagination. Or maybe both. The upshot is that this Budget has been another wasted opportunity, highlighting the intellectual short-termism of our times.
The published statement's title, 'Protecting the jobs and livelihoods of the British people', was telling. For this British government, seeking to protect what exists, thereby preserving a failing economy, is still crowding out the transformative possibilities that would open up if we finally got rid of what has long been broken.
Phil Mullan's Beyond Confrontation: Globalists, Nationalists and Their Discontents is published by Emerald Publishing. Order it from Emerald or Amazon (UK).
Picture by: Getty.
To enquire about republishing spiked's content, a right to reply or to request a correction, please contact the managing editor, Viv Regan.