The unbearable annoyingness of Pride
The rainbow flag has become the ultimate symbol of our me, me, me society.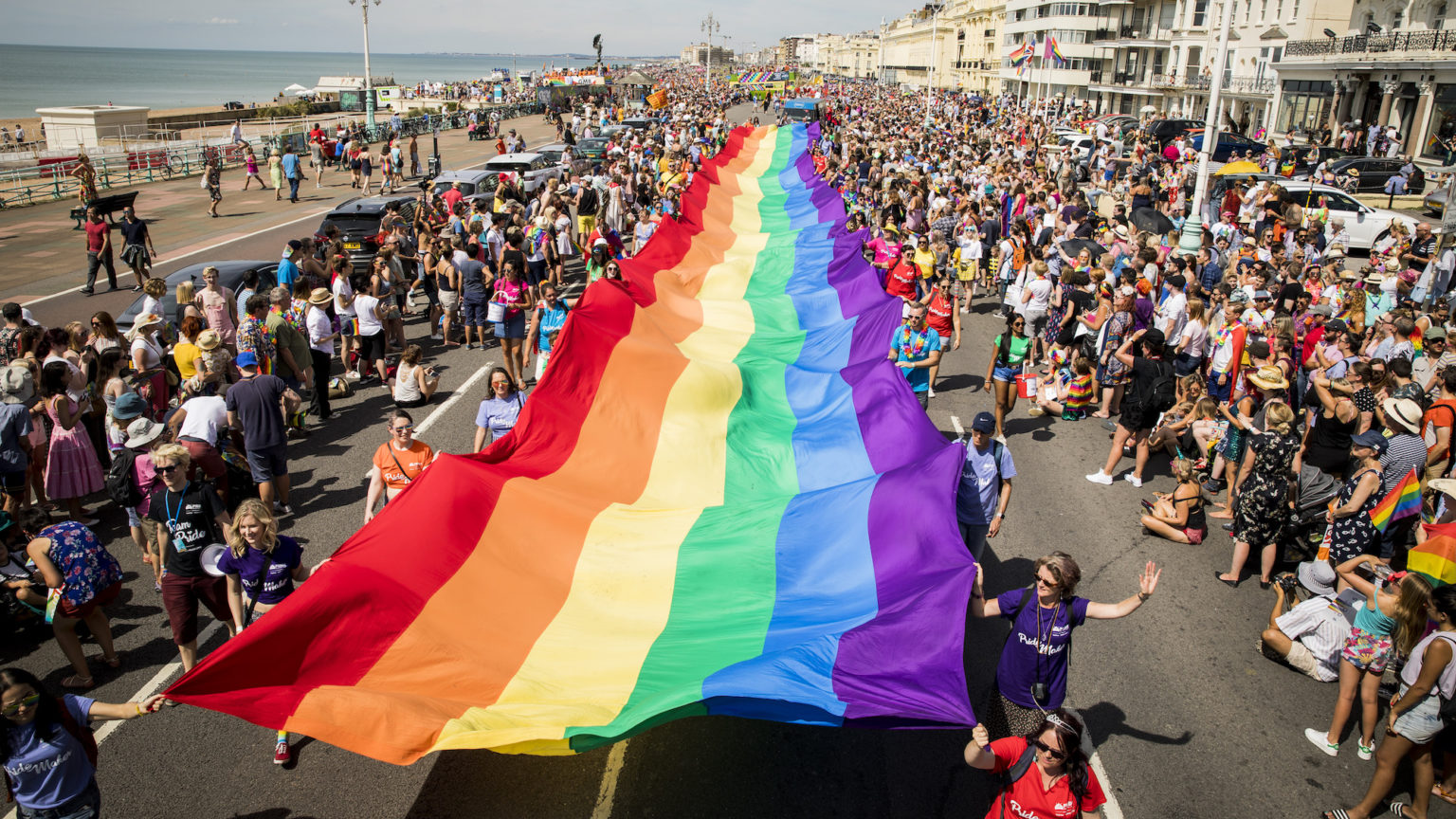 I see the flag-shaggers are out in force. No, not working-class people who hang the Union flag from their living-room window as an expression of pride in their nation. I'm talking about the Pride flag. That omnipresent rainbow eyesore. A virtue-signal made cloth. The flag no one can escape. Yep, it's Pride Month, which means that everywhere you go for the next four weeks – the bank, the supermarket, Maccy D's – you'll have this flag waved in your face to remind you not to be such a horrible, homophobic piece of shit. Happy Pride Month!
God, Pride has become annoying. It's so gratingly ubiquitous. I haven't seen this much smug flag-waving since 100,000 Guardian readers wrapped in the EU colours, tears streaking their blue-painted faces, descended on Whitehall to demand the cancellation of stupid northern people's votes. And yet the people who cry 'flag-shagger!' every time Keir Starmer stands stiffly next to the Union flag, or when Robert Jenrick goes on TV with a backdrop of showy British memorabilia, are curiously silent about the adorning of every building in the land with the bloody Pride flag.
You can't move for rainbows right now. The Pride flag will flutter from town halls across the country. Some schools in Scotland will fly the flag for the whole month. I can't be the only person who found the photo of school pupils wearing Pride face masks beneath a vast Pride flag somewhat chilling. It's borderline cultish. Go to a cashpoint machine and you'll be told about Pride. Coutts Bank on The Strand in London once painted its entire facade in the Pride colours. That was a very expensive way of saying: 'We're nice, I swear.'
Cops will wear Pride-coloured badges. They'll do dad-dancing at Pride marches and everyone will go wild for it (except the Daily Mail probably). The army is getting in on the act. It is using Pride Month to showcase its British Army LGBT+ Network. If this doesn't become a meme featuring someone in the Middle East saying 'They say the next bombs will be dropped by people who believe in gay rights! Don't you love progress!', I will lose all faith in the internet. Even the Beano is flag-shagging. It posted a comic strip featuring Dennis the Menace in a Pride-coloured jumper. I preferred him when he was bullying Walter the Softy.
Snacks are propaganda now, too. Who can forget M&S's Pride sandwich, which was basically a club sandwich with added guacamole ('Gays like guacamole, right?'). McDonald's has created Rainbow-coloured boxes for its French fries, which was definitely one of the key demands of the radicals who took part in the Stonewall riot of 1969 that Pride is meant to commemorate. Skittles surely caused even Pride aficionados' eyes to roll when they released limited-edition white versions of their sweets, because 'we are giving up our rainbow to show support for the LGBTQ+ community'. (It is testament to the insanity of intersectionalism that the only complaint about this conceited act of corporate virtue-signalling was that the sweets were white.)
The most virtuous signallers don't only wave the Pride flag – they wear it. Remember Justin Trudeau's Pride socks? The New York Times gushed over his 'socks diplomacy'. Channel 4's Jon Snow has worn Pride socks and a Pride tie and possibly Pride underwear for all we know. This is the man who made a big deal of refusing to wear a poppy and complaining about 'a rather unpleasant breed of poppy fascism'. And yet he happily bows to the political, corporate and even military pressure to cover oneself in rainbows – head to toe in his case – every June.
Pride flag-shagging is now virtually mandatory. If you fail to wave the flag you'll be looked upon as suspect. You might even be cancelled. For the second year running Ockbrook and Borrowash Parish Council in Derbyshire has voted against flying the Pride flag and people are going mental. 'Anger as Pride Month flag snubbed by Derbyshire council again', said an actual BBC News headline. One Borrowash resident said the absence of a Pride flag would mean that some people would not 'feel safe to come to the village'. There you have it. The Pride flag is a statement of virtue and civilisation. Fail to fly it and you risk being considered prejudiced, hateful, unsafe.
What is this all about? Every now and then radical leftists will venture mild criticisms of Pride's increasingly cosy relationship with capitalism and even with Empire. These corporations and military machines are 'pink-washing', they claim, the idea being that they use the rainbow flag to distract attention from their normal immoral antics. This is only a tiny part of the story. The bigger truth about Pride and its annual orgy of flag-shagging is that it confirms the almost unstoppable ascendancy of identity politics, and that the ruling classes of the West are perfectly at ease with this politics. They love it, in fact.
Waving the Union flag is national chauvinism, the woke left says. And sometimes it is, yes. But what we have in the omnipresence of Pride flags is something worse: identitarian chauvinism. The Pride flag is the perfect hollow symbol for our hollow times. It speaks to the dominance of individual identity. The national flag terrifies the woke elites because it's a statement of collectivity, of connection, of a yearning for social solidarity. The Pride flag thrills them because it's a statement merely about the self. Pride in oneself is the highest virtue in the identitarian era – very odd to those of us who were taught that pride is a sin – and this poses zero threat to the ruling class. On the contrary, they celebrate it, they fund it, they cultivate it, because a hyper-individuated populace that spends more time marvelling over their own navels than they do making political connections with their colleagues or neighbours is a very desirable thing to the rulers of society.
This all feels a million miles from the Stonewall riots in New York City in 1969. The winning of gay equality was one of humankind's greatest leaps forward of the past 50 years, and it was made possible by the pissed-off gays and lesbians who fought riotous battles with the NYPD in June 52 years ago. Yet where that was a collective blow for freedom, Pride in the 21st century is conformist, censorious and dull. It's me, me, me. It demands validation rather than liberation, recognition rather than rights, conformism rather than choice. Pride has become a needy, therapeutic festival, a lonely crowd demanding constant approval in order to salve the psychic uncertainties citizens experience in the identitarian era. Stonewall wasn't for this.
Consider Stonewall in the UK. It's actually a disgrace that such an elitist, cancel-happy organisation names itself after a riot for liberty. Stonewall has gone from fighting for equal treatment for gay men and lesbians to demonising women who believe biological sex is real and raging against lesbians who think it is batshit crazy to say men can be lesbians if they 'feel' that really they are women. Stonewall has spun so far into the vortex of identitarian gibberish that it now actively undermines gay people's interests. Its embrace of the regressive, post-truth idea that sex is a spectrum, and that people with penises can be lesbians, and that a woman who gives birth should have the right to be registered as her children's father, grates against the very foundation of gay rights – namely that this is a same-sex attraction, and that the people who experience this attraction ought to enjoy full freedom in society.
Pride is a weird thing to celebrate. Humility and a willingness to discover new ideas and to understand different ways of living and thinking are far better tools for building social connections and social solidarity. I'm with St Augustine on this. 'Pride', he said, 'hates a fellowship of equality under God, and wishes to impose its own dominion upon its equals, in place of God's rule'. That's what I see in the sea of Pride flags – a bristling against the ideals of fellowship and equality and a submission to the deadening cult of hyper-individuation. Take the flags down.
Brendan O'Neill is editor of spiked and host of the spiked podcast, The Brendan O'Neill Show. Subscribe to the podcast here. And find Brendan on Instagram: @burntoakboy
To enquire about republishing spiked's content, a right to reply or to request a correction, please contact the managing editor, Viv Regan.