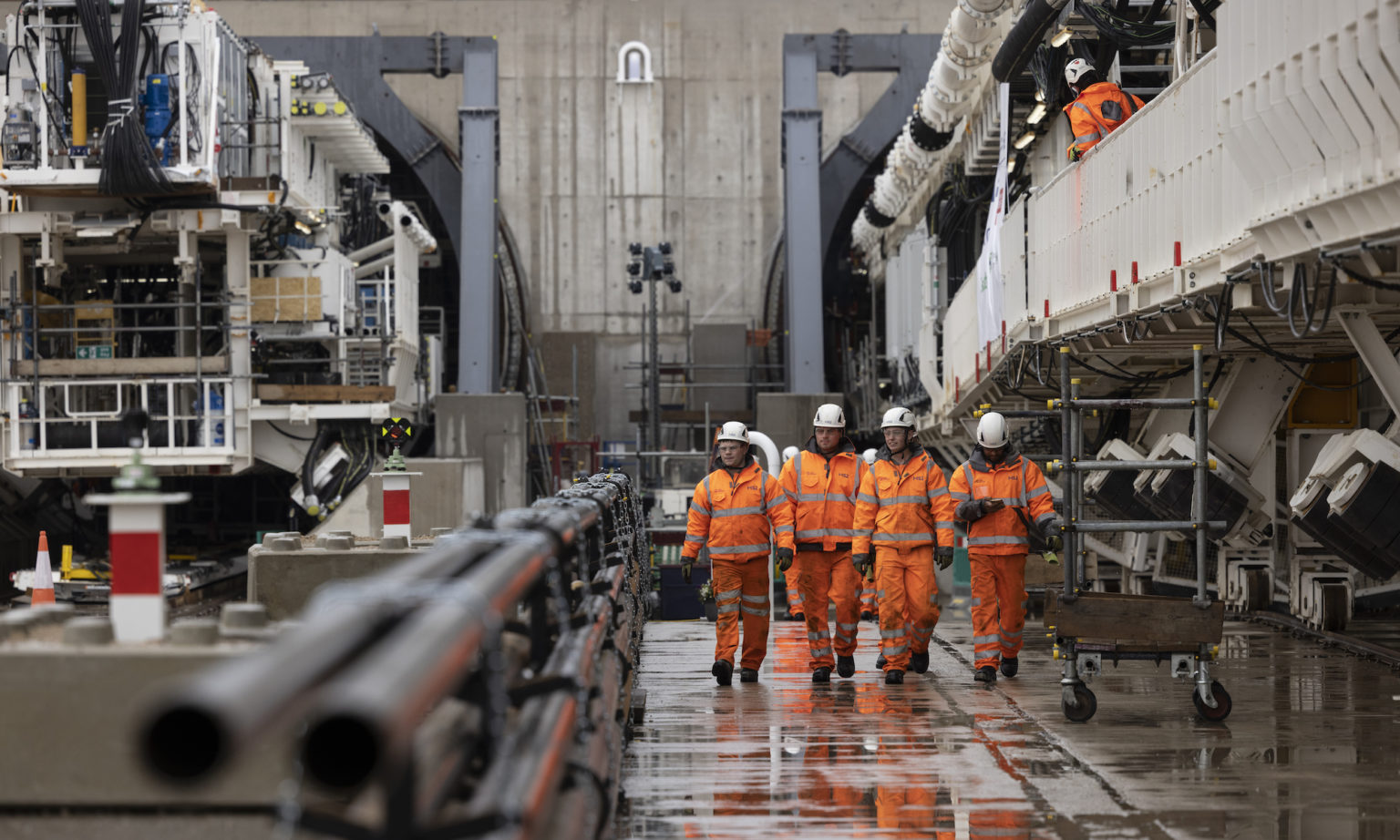 Long-read
How to bring about a high-wage economy
After the pandemic we need a radical break with decades of stagnation.
Seventies revivalism is not a new thing, of course. But over the past few weeks it has spread from the usual areas of music and clothes into economic commentary.
According to some pundits, the empty petrol stations and gaps on supermarket shelves are a forewarning of another 'winter of discontent' – a reference to 1978-9, when widespread strike action brought the UK to a standstill.
In the energy crisis, some see a return to the oil crisis of 1973-4, when OPEC imposed an oil embargo on the likes of the UK and the US because of their support for Israel during the Yom Kippur War.
And, as prices rise across the board, there is a great deal of speculation about a return of 1970s-style 'stagflation', when economic stagnation co-existed with sharply rising prices, precipitating a cost-of-living crisis.
As evocative as these trips down economic memory lane are, they do not help us understand what is going on today. The general fashion for reaching for old labels, such as new New Deals or new Cold Wars, to describe the present often obscures what is distinctive about the contemporary moment – and this certainly applies to our current economic situation.
That is not to say that everything happening economically right now is due solely to today's circumstances. On the contrary, amid so much post-lockdown economic 'noise' it is important to work out which economic noise expresses new post-lockdown problems and which is symptomatic of long-term, endemic issues.
Take, for example, global gas shortages and higher energy prices. Although there are several contingent factors exacerbating gas-supply and energy shortages in Britain and elsewhere, these are also long-term problems. They derive from the global transition away from fossil fuels, and the absence of reliable alternative energy sources. The exceptional spike in global-energy demand after the pandemic lockdowns, especially from Asia, has simply exposed existing supply constraints. This provides a forewarning of the costs and disruptions of the headlong rush towards Net Zero – especially in the absence of stronger economic growth in the advanced industrial countries, and in the absence of a robust modern energy sector. Without these, the hit to people's living standards from Net Zero could be huge.
But what of the supply-chain disruptions, transport blockages and recruitment difficulties? Are these indicative of a long-term, endemic problem? No, not exactly. They are likely to be 'transitory' problems. While locking down could be done pretty quickly, unlocking was always going to be a protracted and disjointed undertaking. Supply-chain problems and transport blockages are born of the difficulties of opening up. There is no economic-reboot button that can quickly restore things to the way they were in January 2020.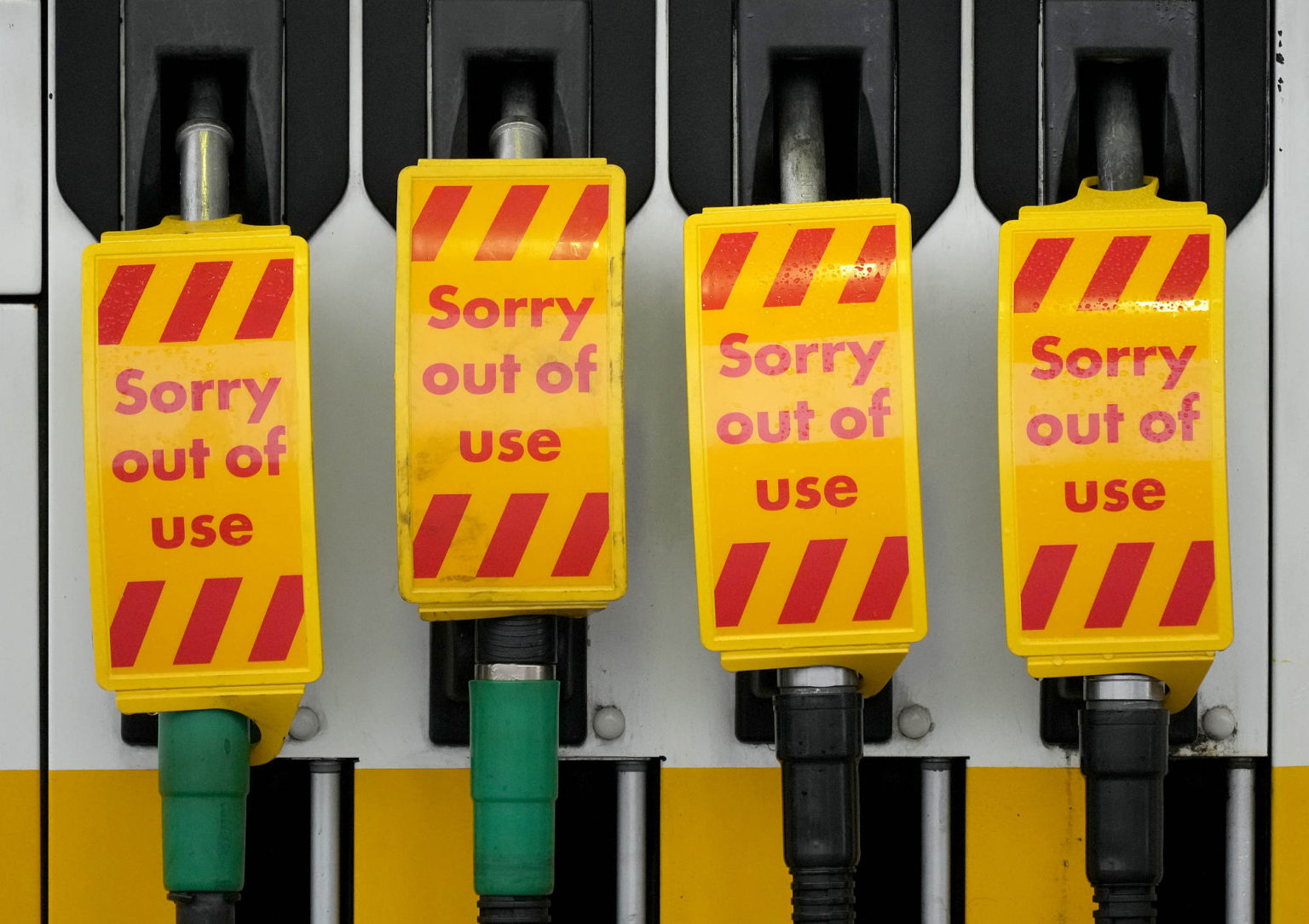 Fuel pumps at a Shell petrol station on 27 September 2021, in Northwich, UK.
But calling these problems 'transitory' does not mean they are fleeting. Many of these problems could continue well into next year. They serve as a reminder of how uneven and uncoordinated national and global economic relationships can be under capitalism.
This transitory part of today's economic noise – the supply-chain and transport issues – poses serious and urgent problems. It is already hitting many poorer and middle-income people hard, including through price rises. And it could well get worse. It is therefore wrong for UK prime minister Boris Johnson to try to wash his government's hands of it all and say that the 'market' will sort these issues out.
It is also wrong to say that today's disruption is inevitable as we adjust to a 'high-wage, high-skill' economy. The usual Boris boosterism, on full display during his Tory Party conference speech, will not transform anything in the economy on its own. And he should not abdicate responsibility for helping to manage the reopening of an economy his government closed down.
The 2020-21 recessions are unusual. Unlike previous recessions, they are not endogenous – that is, they are not generated by pressures and tensions within the economy, and which therefore might have been mitigated by the economic contraction itself. Instead, they were triggered by an external, exogenous event – namely, the decision to lock down.
It is a basic function of government to ensure that the essential needs of its populace are being met. This obligation is even greater when the government itself created the exogenous circumstances from which society is now trying to recover.
As the government started imposing the lockdown in March 2020, it said it would do everything possible to protect people's jobs and livelihoods. That was the right approach to take, even if it fell short in some important areas, such as in failing to financially compensate many self-employed people. Overall, however, for most employed people the furlough scheme was successful in keeping people linked to their jobs. And it provided a basic level of income to tide people over during the lockdowns.
However, it is wrong to now declare that the government's job is done because the lockdowns are over. The disruptions and havoc from reopening the economy will hit many people for a long time yet. Some particularly exposed sectors, such as tourism and anything dependent on international travel, really do deserve high levels of state support – especially while so many border restrictions remain in place around the world. The government should be proactive in mitigating the impact of opening up on businesses and households, at least until the turbulence of re-opening settles down.
But some of the current economic noise is being generated by entrenched pre-pandemic problems. Reopening is not only revealing these pre-existing economic weaknesses, it is also, in some cases, showing how the lockdowns have exacerbated them.
As a way of identifying where resolute action should be taken and understanding what would indicate real post-pandemic progress, it is worth looking at three long-term endemic problems: employment, low productivity and government policymaking.
Let's start with the labour market. Before the pandemic, employment was characterised, above all, by the long-term decline in its calibre and worth, with lower-value, lower-quality jobs becoming increasingly prevalent. This trend goes beyond the infamous 'gig economy' and precarious zero-hours contracts. There has been a broader shift away from secure, well-paying jobs with adequate working conditions towards lower-paying, more insecure jobs. This deterioration in job quality has dragged down people's living standards across the UK.
It is telling that, when today's one-million-plus job vacancies are broken down by sector, the shortages do not lie in higher-value employment, such as engineering or creative and design work. They lie much more in lower-value work, including labour-intensive roles in warehousing, transport, delivery, retail, waiting and cleaning. These are the areas of employment that are 'bouncing back', when what people really need is a huge expansion in better-quality work opportunities.
This takes us to the second crucial problem we face today – the flatlining of British productivity since the start of this century (a process that began even before the financial crisis). Reviving productivity growth, with people producing more output over the same or less time, is the vital precondition for the 'high-wage, high-skill' economy the Tories promoted at their recent party conference. A high-wage economy is only durable if it is based on higher productivity. And the only way to enhance productivity and create good jobs is through reversing the protracted decay of business investment (both in innovation and in new business activity). Productivity usually grows not just through existing businesses equipping themselves with better technologies and processes, but also through shifting people and resources out of older businesses and sectors into higher-productivity ones. This requires a disruptive process of reallocation and transformation across the economy.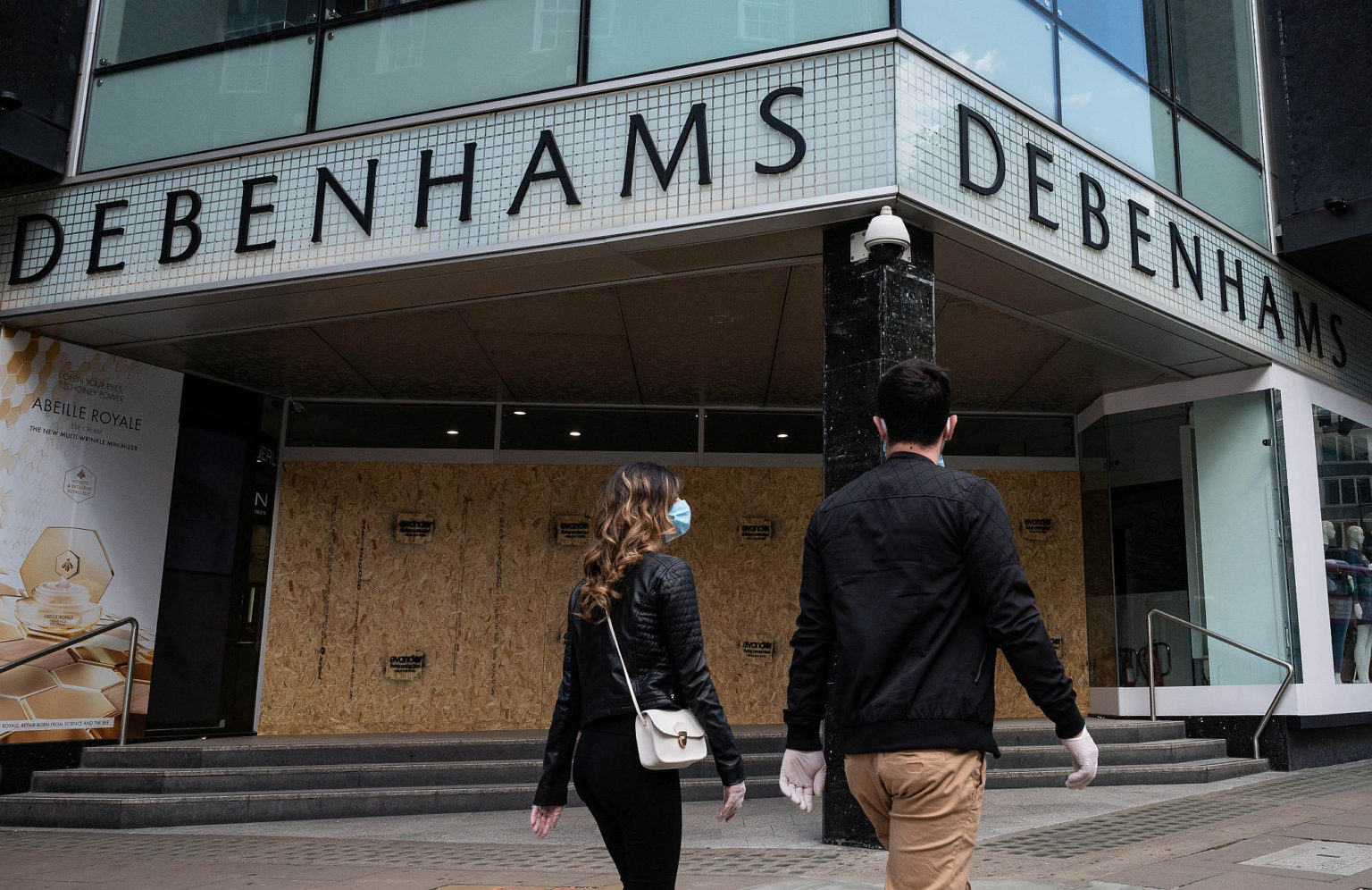 A boarded-up Oxford Street branch of the department store Debenhams, on 6 April 2020.
So far, the official figures for the second quarter of 2021 show that business investment in technology remains flat. Few commentators anticipate a substantial increase in investment for the foreseeable future. For example, the British Chambers of Commerce reports that business investment is still falling at the moment and might remain more than five per cent lower than its pre-pandemic level, even by the end of 2023.
Languid productivity is linked to the third critical pre-pandemic problem we face: the ultra-conservative disposition of economic policymaking. Far from disrupting and transforming the economic status quo, most government policies merely want to conserve and perpetuate it. Their overwhelming objective is to maintain economic stability. This has been going on for several decades now, under both Tory- and Labour-led governments. Fiscal policies, monetary policies, procurement policies and regulatory measures have all had this tendency. This has shielded not just strong businesses, but also weaker businesses, and bolstered the phenomenon of zombification.
Zombification means that barely profitable enterprises, which are unable to invest or pay their workers much, stagger on. Moreover, by clogging up the economy, these zombie businesses also impede the much-needed process of capital reallocation and hold back the expansion of stronger firms. Together, these two factors restrain productivity growth and suppress wages.
Some commentators thought that lockdowns might finally finish off these zombie businesses. But the opposite has been true. Easier state-backed credit has enabled even more struggling companies to keep going. This state support was entirely justified while the lockdowns continued – businesses and their employees should not be expected to pay the price for the government's response to the pandemic. But this state support has also conserved businesses which were on life-support even before the pandemic.
Moreover, much pre-Covid government policy was already stalling the creative-destructive process that is necessary for economic progress. In other words, government policy stood in the way of the destruction of inferior, outdated productive practices and therefore prevented the creation of newer, superior ones.
When Boris Johnson berates British businesses for low productivity, he is obscuring the role played by the government's own policies. There is nothing 'courageous', as some commentators have suggested, in blaming others for the economic zombification that government actions have helped to create and perpetuate. In fact, it is spineless.
And as for Johnson's claims about the negative economic impact of migrants, many more anaemic, low-productivity businesses have survived as a result of years of ultra-easy monetary policies, rather than years of utilising cheap European Union labour. The 'high-wage' economy everyone would like to see is never going to happen spontaneously. And it will take more from the government to help achieve this than trying to keep out migrants.
Indeed, it shows just how sluggish the economy is when employers can get away with paying such low wages. This is happening across the board, from 'high-tech' IT companies, profiting from cheaper software coders recruited from India, to high-street cafés, paying less for baristas recruited from eastern and southern Europe.
But this tendency to reduce wage costs is not the cause of low productivity growth. It is the consequence of low productivity growth. It is the consequence of not investing in the equipment and processes that raise productivity. This means that businesses paying higher wages, whether because of labour shortages or the enforcement of labour regulations, will not automatically raise higher productivity. This was clear from the recent Resolution Foundation report, which found that the pay of the lowest earners has improved significantly since the introduction of the National Living Wage in 2016 – yet, during the same period, Britain's productivity growth has remained flat.
Unless the persistent problems of economic atrophy are addressed through much more radical policies and actions, the post-pandemic recovery is likely to represent what some are calling a 'New Mediocre' – that is, a period of high debt and slow growth. This means that when the inevitable bounce-back following the reopenings settles down, the economic future will remain primarily dependent on whether there is a governmental desire to transform production. This would require an end to zombification, and the government working with existing and new businesses to increase investment in innovation.
Amid all the overblown boosterism in his party-conference address, Johnson's description of 'decades of drift and dither' was an apt characterisation of the approach of successive governments, including his own. It is now decision time for the government – is it going to help or hinder the transformation to a 'high-wage, high-productivity' economy?
This piece is an extended version of a speech given at the Battle of Ideas festival at Church House, London on 9 October 2021.
Phil Mullan's Beyond Confrontation: Globalists, Nationalists and Their Discontents is published by Emerald Publishing. Order it from Emerald or Amazon (UK).
All pictures by: Getty.
To enquire about republishing spiked's content, a right to reply or to request a correction, please contact the managing editor, Viv Regan.