A year to live freely again
In 2022, we need to regain our faith in freedom – and in one another.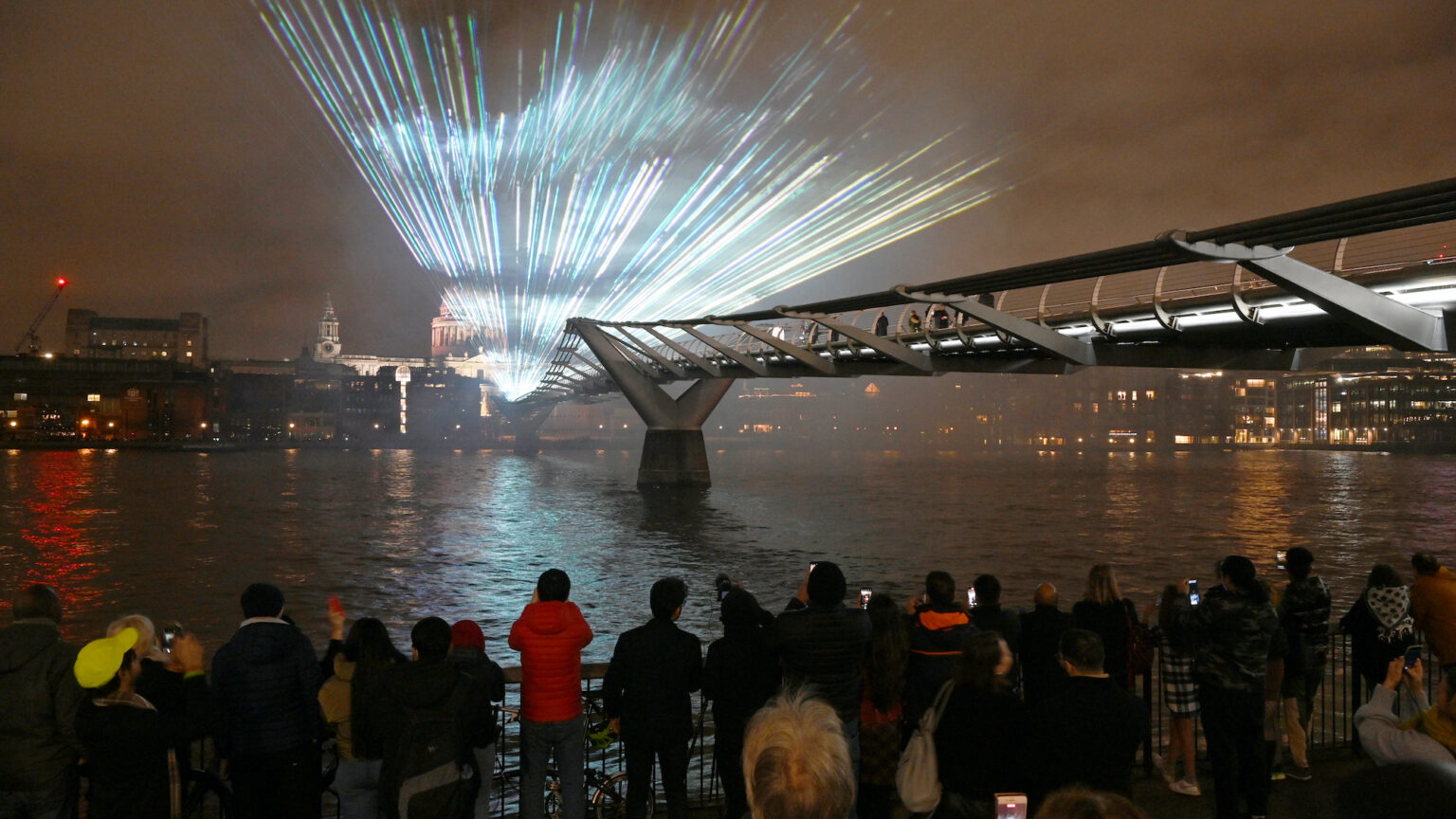 Happy New Year! What a difference not spending New Year's Eve under house arrest makes. This time last year, 78 per cent of people in England were under a 'Tier 4' lockdown. Pubs and clubs were closed. Having a house party could cost you a £10,000 fine. Only on the tiny Isles of Scilly was indoor mixing legal. London's fireworks were banned, topping off the utter misery of it all. But last night the bars and streets were transformed – and there's a new sense of ease and cautious optimism in the air.
The Omicron variant has defied the doom-laden predictions. Our vaccine defences are holding up. New antivirals are being added to the armoury. Hospitals are under strain, but NHS leaders aren't calling for new curbs. People are daring to ask themselves if the misery of the Covid era might be coming to an end. If we can begin to make plans more than a few weeks or months in advance. If we can go about our business without that nagging sense that liberties enjoyed today may not be there tomorrow. If we can pry our eyes away from those grisly charts and leave dealing with Covid to healthcare workers and experts.
You can see the mood changing. In opinion polls majorities now oppose closing pubs and restaurants and banning indoor household mixing. (Although curbs on the unvaccinated remain alarmingly popular.) Scottish and Welsh citizens poured over the border after Christmas to dodge Nicola Sturgeon's and Mark Drakeford's miserable post-Christmas restrictions – which were too late to affect the Omicron wave but just in time to ruin people's New Year's plans.
Meanwhile, those seemingly longing for lockdown look increasingly mad. Twitter's lockdown fanatics are now demanding we rebrand Covid restrictions as 'protections'. Another favourite talking point at the moment is that England is doing 'nothing' to tackle Covid in comparison to Wales, Scotland and the rest of Europe – as if more than 100million vaccine doses and more testing than almost anywhere else in the world counts for naught. These people don't want us to 'learn to live with the virus' – they want us to learn to live with restrictions. Sorry, 'protections'.
A free society simply cannot coexist with this Covid safetyism. If you put these lunatics in charge, the precautionary principle would rule forever and freedom as we know it would essentially cease to exist. What were sold to us as emergency measures, required at a time of extreme peril, would become almost mundane – instruments to be deployed to manage pressure on hospitals. Your right to do as you please would become a benefit that could be rescinded at any point. And yet so drunk are these people on lockdown moralism that they don't seem to get this or particularly care.
Still, we shouldn't let such people become a kind of useful foil for the government. When Boris Johnson brought in Plan B measures last month after the emergence of the Omicron variant, he did so not as a last resort, but just to be on the safe side. This was despite the fact that leading South African medics were telling anyone who would listen (including spiked) that cases were milder and we were overreacting. Such kneejerk authoritarianism cannot go on.
So as we begin a new year, we need to draw a line. Restrictions must become a matter of guidance, vaccine passports must go, social life must no longer be upended at a moment's notice, compulsory vaccination must be condemned. It is time for us to be in control of our own lives again, to look to the future again, to be trusted to make our own decisions again. We need to start living freely, and to stop Covid from colonising absolutely everything.
But this isn't just about throwing off the restrictions. Rights on paper mean little if people are fearful of exercising them – and if we are fearful of one another. For all the clapping on doorsteps and talk of lockdown as some great expression of social solidarity, the truth is that it kept us apart, exacerbated already fraying social bonds, and bred a sense of mutual suspicion. Polls consistently showed that people trusted themselves to behave responsibly, but didn't trust others to do the same. Thousands of people happily snitched on their neighbours because they suspected they were breaking Covid rules.
Lockdown was built on all this. When we do not trust one another to do the right thing, the force of the state becomes an increasingly attractive option. And the more we outsource our decision-making to the state, the more uneasy we become in exercising our own judgement. So let's make 2022 the year we rediscover our faith in freedom – and in one another. Only then can we truly turn the page on the pandemic, and ensure the New Year spells the end of the New Normal.
Tom Slater is editor of spiked.
To enquire about republishing spiked's content, a right to reply or to request a correction, please contact the managing editor, Viv Regan.