Marjorie Taylor Greene and the tyranny of Big Tech
Silicon Valley must not be the arbiter of what is true and false.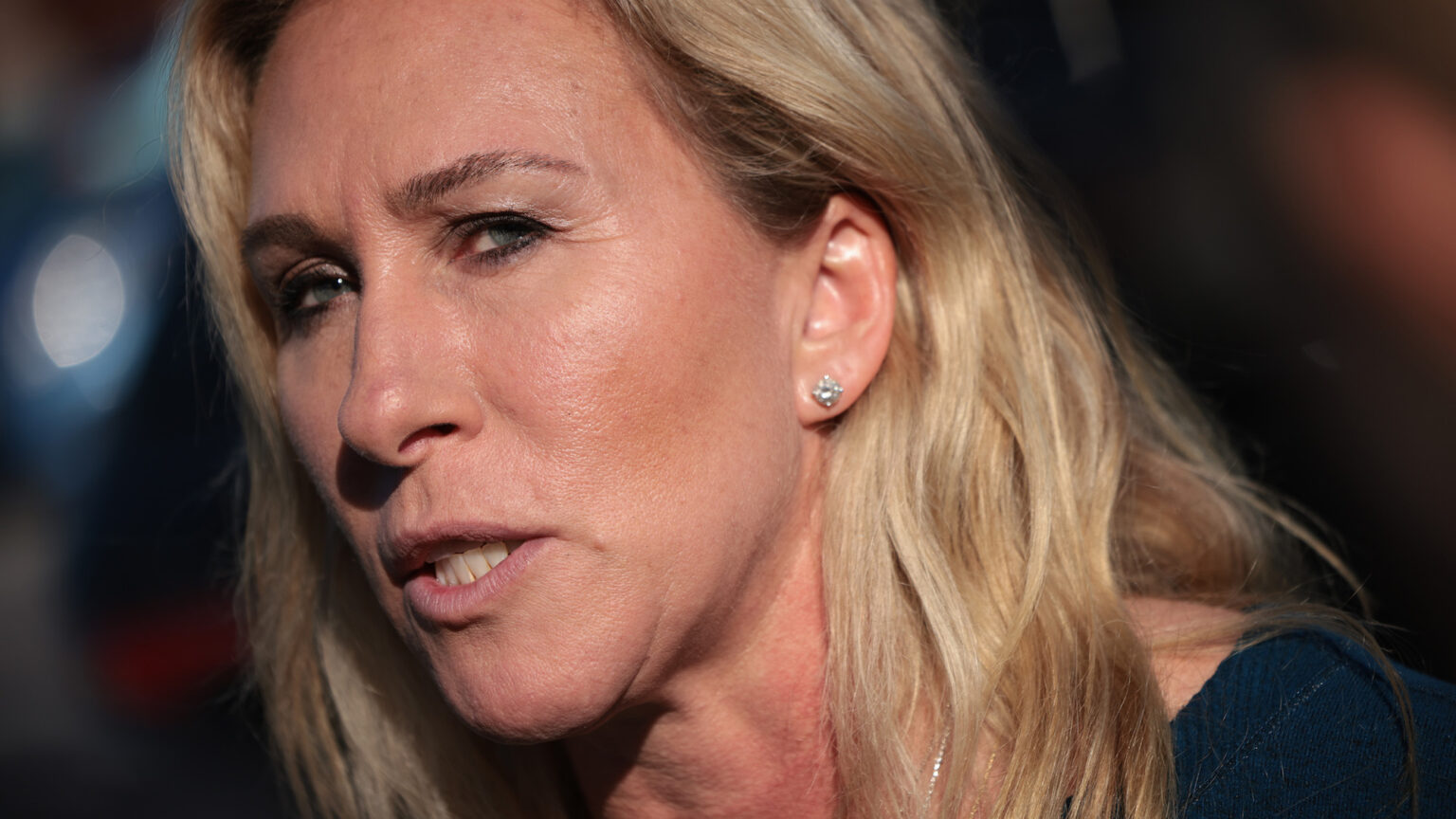 If you were worried that 2022 was going to be much less dystopian than the two years that preceded it, Silicon Valley has already come through for you. With the permanent suspension of hard-right Republican Marjorie Taylor Greene from Twitter, and now her temporary suspension from Facebook, we see that Big Tech is really growing into its newfound role as grand referee of politics and pronouncer on what is and isn't true. One year after these firms deplatformed Donald Trump, stories such as this don't even shock us any more. But they really, really should. Because what is at stake here is far more important than one congresswoman spreading nonsense on social media.
Greene, a Trumpist Republican from Georgia, has had her personal account permanently suspended by Twitter over 'repeated violations' of its Covid-19 misinformation policy. While it isn't clear what tweet finally did it for her, Greene had been tweeting in the run-up to her ban about what she called 'extremely high amounts of Covid vaccine deaths' in the US. Reportedly, she was tweeting data from the Vaccine Adverse Event Reporting System (VAERS) database, the US's national vaccine-safety monitoring system. This is made up of unverified, voluntary reports from members of the public, and so the data have been used and abused by anti-vaxxers desperate to suggest that there has been some tidal wave of vaccine-related death that has somehow passed the sheeple by. A day after Twitter's ban, Facebook suspended her for 24 hours.
Greene is not some silenced truth-teller, going to war with the evil forces she accuses of mounting '​​a Communist revolution'. If anything, her anti-vax claims are at the less kooky end of the stuff she has peddled over the years. She was an early pusher of the QAnon conspiracy theory, which suggested a cabal of Satan-worshipping paedophiles were out to get then president Donald Trump. She's also dabbled in a bit of 9/11 trutherism, once suggesting there is no evidence a plane crashed into the Pentagon. And in 2018 she speculated that wildfires in California may have been caused by a space laser, with the backing of the Rothschilds. While Greene has tried to distance herself from many of these views since her political career took off in 2019, it's safe to say she isn't the most reliable source on vaccines – or anything else for that matter.
But all that is beside the point. This is a matter of principle. Should Big Tech oligarchs really be permitted to act as a kind of corporate Ministry of Truth? Should we be relaxed about all this purely because unaccountable companies are making these decisions rather than the state? Why are so many people, particularly those on the left, okay with this? Billionaires aren't exactly cherished as morally unimpeachable people in our society. And yet here we entrust them with presiding over the flow of information and ruling on what is and isn't true. This setup is far more dangerous than allowing the likes of Greene to spread her nonsense and trusting ordinary people not to be blindly taken in by it.
It is not as if Big Tech's track record on policing the Covid debate is particularly encouraging. These firms suppressed the Covid lab-leak theory, until it dawned on Joe Biden and US officials that there might actually be something in it. This combination of censorship and haplessness is a gift to the Covid conspiracy theorists. The more Big Tech puts its thumb on the scale, the more those people think they're on to something. If you happen to believe that the pandemic is some dastardly plot, hatched by politicians and huge corporations, then each and every deplatforming is taken as a vindication. Meanwhile, winning over the vaccine hesitant is hardly going to be helped by suppressing public debate about vaccines.
The truth is not something that can be delivered to you from on high. Rather, truth is arrived at through free inquiry, debate and discussion – through people making claims and presenting data and letting others have at them in public. Without getting too grand about it, this process is kind of what civilisation is built upon. And yet our new clerisy – of which Big Tech is essentially the muscle – seems to believe itself to be so obviously correct, and ordinary people so obviously stupid, that it thinks it can bypass this process altogether.
Big Tech is not qualified to pronounce on what is or isn't true because no one is qualified to pronounce on what is or isn't true. That's why we have free speech. For now, at least. Marjorie Taylor Greene might have been the first big deplatforming of 2022, but she almost certainly won't be the last. If free speech is going to survive the social-media age, we desperately need to take on the tyranny of Big Tech.
Tom Slater is editor of spiked.
To enquire about republishing spiked's content, a right to reply or to request a correction, please contact the managing editor, Viv Regan.