Why they hate Joe Rogan
The elites are terrified that someone, somewhere, may be thinking for themselves.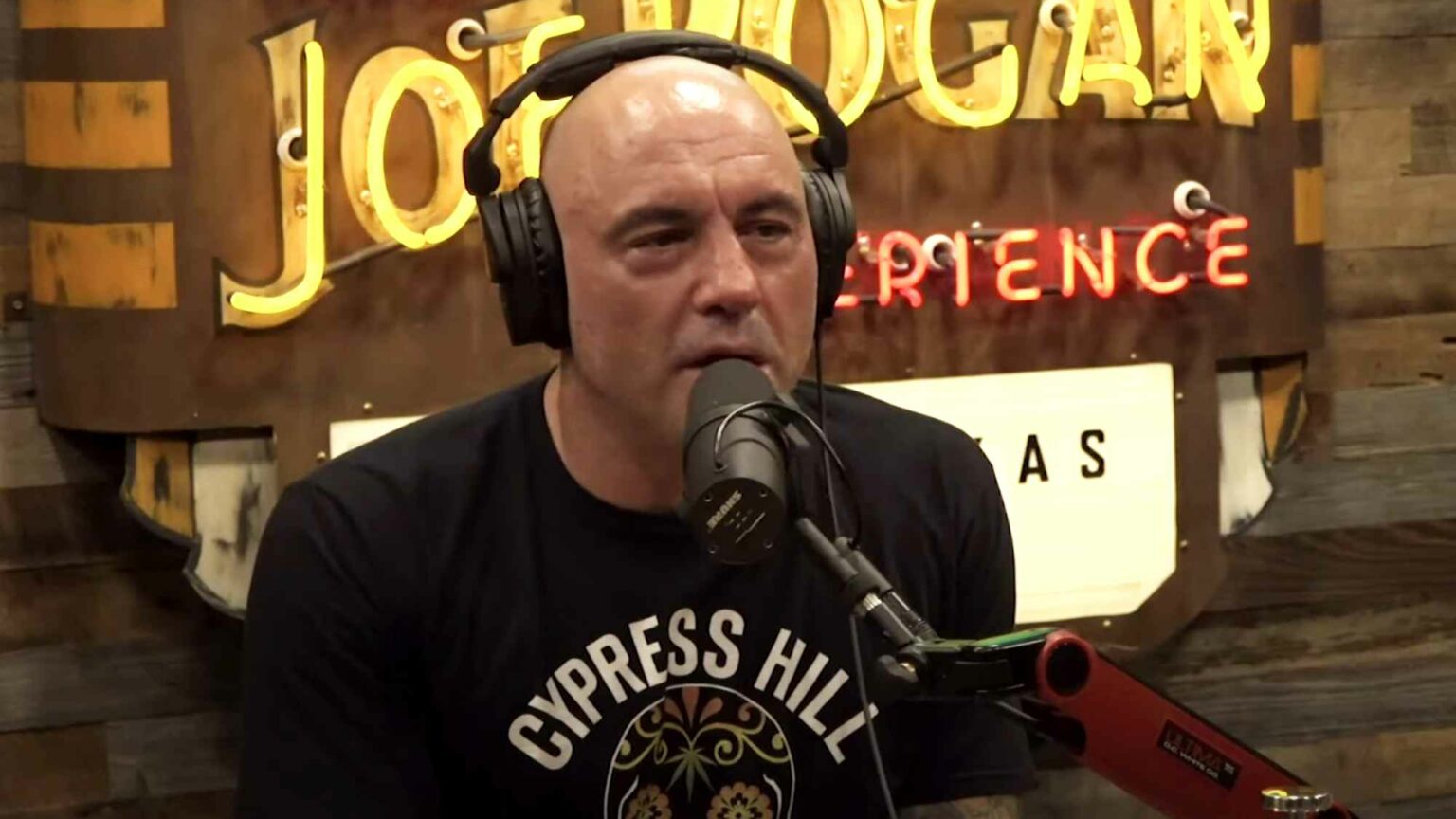 HL Mencken famously said that Puritanism is the haunting fear that someone, somewhere, may be happy. Well, if one particular fear haunts America's elites today, it is surely that someone, somewhere, may be thinking for themselves. That, at its core, is what motors the ongoing witch-hunt against one affable comedian and his improbably massive podcast.
If you didn't already know who Joe Rogan was before last week, you certainly will now. The controversy over his podcast, The Joe Rogan Experience, has become an international news story. Rogan, an American stand-up and cage-fighting commentator, has over the past 12 years quietly carved out for himself one of the biggest platforms in the world. And corporate media, politicians and all the usual suspects aren't best pleased with what he's been doing with it lately.
His recent interviews with vaccine-sceptical medics and scientists sparked a boycott of Spotify. The streaming service signed a $100million deal with Rogan last year, keen to pick up his estimated 11million regular listeners. Neil Young and Joni Mitchell led a boycott of Spotify at the end of last month, withdrawing their music from the platform over Rogan's alleged spreading of 'misinformation'. (Young encouraged listeners to opt instead for that paragon of corporate virtue, Amazon Music.)
The prospect of Spotify canning its biggest podcast star at the behest of two septuagenarian songwriters was always remote – I, for one, was glad to hear they were still alive – but the campaign against Rogan doesn't end with them. Medics have signed open letters condemning his Covid coverage. In January, President Biden called on media outlets and platforms to 'deal with' corona misinformation, as controversy swirled about an interview Rogan had done with anti-vax physician and biochemist Robert Malone.
After Spotify responded to the boycott threats by introducing labels for Covid-related content, directing listeners towards more mainstream sources of information, White House press secretary Jen Psaki said, 'It's a positive step, but there's more that can be done'. Call me old-fashioned, but I think the US government putting pressure on a corporation to censor dissenting podcasters might just be the real scandal here. But few in the media seem to agree.
Rogan, for his part, put out a video on Instagram responding to the Covid controversy. He welcomed the new warning labels and said he would work harder to bring on more mainstream voices immediately after he interviewed someone more 'controversial'. He also nodded to the range of people he has interviewed about Covid, pushing back against the caricature of him as some ideologue or conspiracy theorist. But this of course wasn't the end of it. More than a hundred of his old episodes have since been quietly removed from Spotify and the campaign to cancel him rumbles on.
When getting Rogan on Covid didn't work out, the next step was obvious: call him a racist. Clips of various times he had said the n-word on his show resurfaced – entirely of their own volition, I'm sure. He put out another Instagram video – this one a fulsome, sincere-seeming apology, saying that while he only ever used the word when quoting others, or discussing the word itself, he hasn't done so for years and would never do so again. He also apologised for another clip, from 11 years ago, in which he made what sounds like a racist joke – something he claims was unintentional. For those who've seen the offending clip, it is a toe-curling moment, but one Rogan clearly deeply regrets.
No one is suggesting that Rogan is a saint. Nor that we should look to him for scientific or moral guidance. But the campaign against him is increasingly unhinged, as this scandal heads into another week and his critics continue to trawl through his more than 1,700 episodes looking for something else to stick him with. Even a casual glance at his output shows he is, in the main, an open-minded, curious character. If he is a raging racist or sinister misinfo merchant he has done a pretty good job of hiding it. And yet the outrage machine continues to whir.
Much of this is about the never-ending panic about misinformation. Ever since the election of Trump in 2016, US corporate media and Democratic politicians have been gripped by the conviction that the Orange One's presidency was the inevitable consequence of allowing the uneducated masses to read and listen and think for themselves. Social-media firms have come under huge pressure to censor content, culminating in the deplatforming of Trump himself. A new app was chided last year by the New York Times for hosting – *shudder* – 'unfettered conversations'. And podcasts have been accused of providing extremists with a 'loophole', due to a relative lack of moderation compared with other mediums.
The size of Rogan's audience, plus his willingness to talk to people deemed 'problematic', has marked him out. His episodes stretch to two or three hours at a time, touching on everything from fitness to wokeness to UFC and Covid. Guests range from comedians to fighters to public intellectuals to full-on conspiracy theorists. He's wrong about lots of things, as are his guests. The point, as he put it in his first apology video of the past week, is the conversation. But this is apparently too dangerous a thing in the eyes of America's panicked establishment.
The irony in all this is that the self-same politicians and pontificators accusing Rogan of spreading bullshit and stirring division have made doing both an art in recent years. Rogan has become a particular target of liberal cable-news networks, with CNN and MSNBC anchors piously intoning about his misinformation. These are the very same liberal cable-news networks that pushed the Russiagate conspiracy theory, smeared Kyle Rittenhouse and backed the 'mostly peaceful' riots of 2020. At least Rogan doesn't claim to be an objective journalist, and is willing to admit when he's wrong.
The rage against Joe Rogan says far more about them than it does about him. The US establishment has suffered profound blows to its authority in recent years. Trust in the US media has hit an all-time low and the size of Rogan's audience leaves cable news in the dust. Meanwhile, it is convenient for a US administration that has struggled to get a grip on Covid and overcome vaccine hesitancy to blame its problems on one popular podcaster.
Joe Rogan has become a punching bag for political and media elites that think ordinary people are idiots, and yet cannot fathom why ordinary people don't trust them.
Tom Slater is editor of spiked. Follow him on Twitter: @Tom_Slater_
To enquire about republishing spiked's content, a right to reply or to request a correction, please contact the managing editor, Viv Regan.