Is journalism really having a 'good war'?
Or has too much reporting from Ukraine emphasised emotionalism over analysis?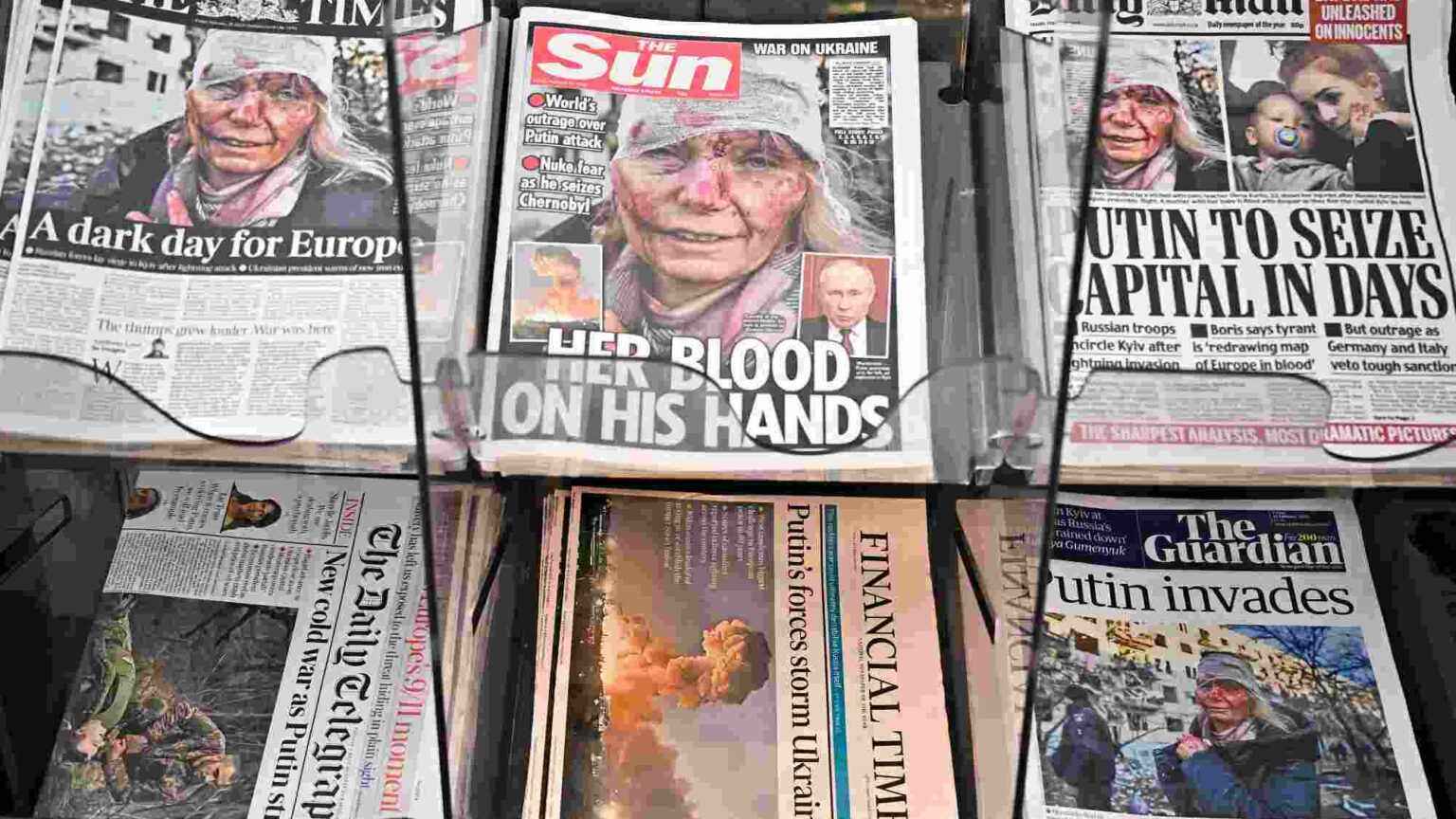 The Russian invasion of Ukraine is an historic international crisis that demands serious reporting of what's happening and sober analysis of why. But is the war always getting the war journalism it deserves?
British and Western journalists covering the conflict have been widely praised. There is an apparent consensus that journalism is, as the old saying goes, 'having a good war'.
Scottish first minister Nicola Sturgeon spoke for many when she declared that 'Journalists like [the BBC's Clive Myrie] and so many others who report from war zones really are unsung heroes'. Although whether you can really be considered 'unsung' while having your praises sung across social media by heads of government and countless others might seem a moot point.
Along with the widely recognised bravery and professionalism of many war reporters, however, we have also been facing some rather less laudable habits of modern journalism. Particularly among the big-name journos and presenters, the emphasis too often appears to be on emotionalism rather than evidence-based reporting and detached analysis – a focus on the terrible suffering of the Ukrainian people without enough wider context to explain what is happening and why.
At worst, it can sometimes seem as if what the journalists personally feel about the war they are witnessing is more of the story than the facts they know about it. The risk is that they then become not observers but actors in the drama, cast as central 'heroes' of the story, against the traditional principles of objective war reporting (or at least, war reporting that tries to be objective).
For all the resources that Western news organisations have thrown at the crisis, there has often appeared to be a shortage of reliable hard facts about what is happening on the ground. The inevitable fog of war lies thick and heavy over the Russian invasion. Some have filled the gap with a kind of performative reportage. There are no longer only dedicated international correspondents in the war zone. In addition, the media big boys have unnecessarily sent celebrity news anchors to host shows from Kyiv, as if it were some sort of outside sporting event.
As with many retrograde trends in journalism today, the BBC has set the standard. The aforementioned Clive Myrie was all over the media and social media after opening the main BBC TV news bulletin apparently with a tear rolling down his cheek. For BBC Radio 4, Nick Robinson was also presenting the flagship Today programme in Kyiv (or 'Keev' as he insists on calling it), filling the airwaves with breathily portentous tones and informing us that 'This is Europe in 2022 not 1942', as if the real and bloody invasion needed a shoehorned Second World War reference to add a bit of melodrama. After Robinson left Ukraine as the Russians advanced on Kyiv, he wrote a diary for the Spectator, expressing his feelings of guilt at using his BBC press pass to queue-jump at the Polish border. It concludes: 'How lucky I am. How impotent I feel.'
Meanwhile, top BBC war reporters Orla Guerin and Fergal Keane have been operating in familiar prophets-of-doom fashion, reporting on people's pain and suffering with little in the way of real explanation, almost without any active verbs to explain what is happening. These human-interest stories appear less about informing an audience than about making an emotional connection with one, showing the reporters' feelings and in the process, telling us how we should feel.
At one point Keane, a reporter with a history of putting himself and his emotions in somebody else's war story, was filmed standing in a frantic crowd at Kiev railway station, trying to push their way past him and on to a train bound for Poland. 'Desperate' was the word he earnestly used to describe their plight. Might they also have been desperate for him to get out of their way?
Those presenters left back in the studios have also appeared keen to show us how much they care about the tragedy in Ukraine. Channel 4 News presenter Matt Frei shouting at an unapologetic Moscow professor sounded more like a stroppy student than a seasoned correspondent. Back on BBC TV, Victoria Derbyshire repeatedly demanded that junior armed-forces minister James Heappey tell her how many desperate Ukrainian refugees England would welcome. When the hapless Heappey tried to say that this was not his area of responsibility, she demanded to know his 'personal' opinion of the issue. The government minister had to point out that he was not meant to be appearing on the BBC in a personal capacity – and neither, he could have added, was she.
Of course there is terrible suffering in Ukraine, as in all wars. But an emotional focus on human pain does not help anybody to understand why this is happening or what the wider consequences might be. Far from it, in fact. Substituting feelings for facts and emotionalism for analysis helps to feed overly simplistic and histrionic explanations, such as 'Putin is a madman!'. We should expect more than such emotional spasms masquerading as analysis.
There is a real danger in the tendency for the mainstream media to reduce Russia's invasion of Ukraine to a morality play in this way. We in Britain and the West do not generally suffer the sort of state censorship practised in Russia and elsewhere. As George Orwell observed during the Second World War, it is not necessary when most media appreciate what not to say. We are, however, experiencing a sort of moral and political correctness across the media, demanding conformism in how we think and feel.
To which you might say, so what? After all, right-thinking people are unanimously on the side of the Ukrainians and their fight for national self-determination. And rightly so. Critical journalism, however, is supposed to be something more than an exercise in cheerleading, even when the 'right' side is clear. Alarmingly, the laptop-bombardier wing of the media seems intent on encouraging the West to escalate the conflict. When the BBC News website publishes an article entitled 'No-fly zone: what it means and why the West won't act', it is hard not to read it as siding with those who feel the West should 'act' to impose such a zone which, as explained elsewhere on spiked, would lead to a catastrophic war between NATO and Russia.
Like everything else about the Ukrainian war, these trends in journalism did not come out of nowhere or appear overnight. It is nearly 25 years since Martin Bell, the veteran BBC war correspondent, called for a new 'Journalism of Attachment'. He wanted to see 'a journalism that cares as well as knows', practised by reporters who are 'no longer spectators, but participants' in conflicts, with the moral responsibility to ensure that good prevails over evil.
In response to Bell I wrote a little pamphlet, Whose War is it Anyway?, identifying the dangers that a self-righteous, crusading Journalism of Attachment could pose to both journalistic standards and the fight against war. 'In the process, the war reporter emerges not as journalist but as combatant, not as news broadcaster but as the news itself, a singularly moral figure on a self-appointed mission to save the world'. A quarter century later, nobody talks about the 'Journalism of Attachment'. But it has become the unspoken, acceptable face of far too much war reporting.
To enquire about republishing spiked's content, a right to reply or to request a correction, please contact the managing editor, Viv Regan.