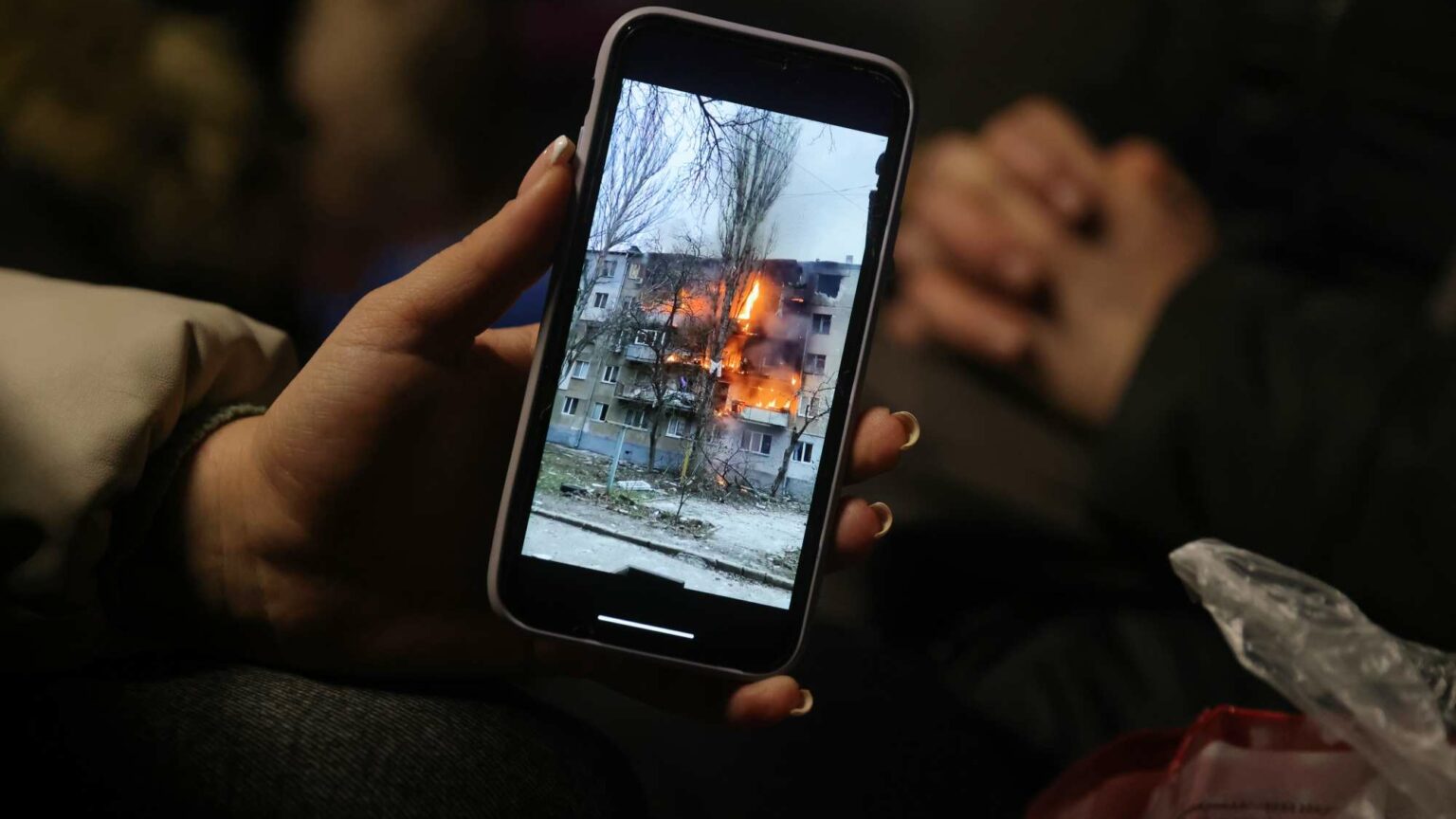 The fight for free speech in wartime
In a crisis such as the war in Ukraine, standing for principles at home is more important than ever.
War, as the Prussian general and military theorist Claus von Clausewitz famously observed two centuries ago, is always 'a continuation of politics by other means'. In that sense, the war in Ukraine has also become a focus for continuing the fashionable politics of censorship and 'cancel culture' in the UK and the West.
As another familiar old adage has it, truth is the first casualty of war. Which means free speech is a frequent war casualty, too. The fog of war lies typically thick over Russia's bloody invasion of Ukraine, with claim and counterclaim about what is happening in the battle zones. To get their version of events across, all sides will suppress critical voices.
In Putin's Russia, the media and public have been subjected to naked state censorship. In Ukraine, President Zelensky has decreed that all TV news must obey a 'unified information policy' under martial law. He has also suspended 11 opposition parties accused of colluding with Russia, banning them from making political statements.
Over here in the UK and West, away from the frontline, we do things a little differently. But those in power are still keen to control public discussion and ensure a conformist line.
In Britain last week, broadcasting regulator Ofcom revoked the licence that allowed RT (formerly Russia Today) to broadcast, ruling that the Moscow-backed news channel is not a 'fit and proper' or 'responsible broadcaster'. RT had already been banned in the EU. Elsewhere, Tory education minister Nadhim Zahawi has warned parliament that the government will 'crack down' on academics who question the mainstream narrative on the war in Ukraine, accusing them of acting as 'useful idiots for President Putin's atrocities'.
Across social media, meanwhile, the Big Tech billionaires of Twitter, Facebook and YouTube have appointed themselves as truth police and taken arbitrary steps to censor whatever they consider 'misinformation' about the war in Ukraine. As if to prove that they're not all about the bans, however, Facebook and Instagram have also changed their rules to allow those living near Ukraine to use 'forms of political expression that would normally violate our rules, like violent speech such as "death to the Russian invaders"'. So, 'Kill Putin' is now okay. But just be sure to use the correct pronouns. On top of all this we have witnessed crazed attempts to 'cancel' the classics of Russian literature and music in Western universities and cultural institutions.
Free speech is of course always a fraught issue in wartime. But while we side with the Ukrainian people, Britain and the West are not actually at war in Ukraine. We are, however, engaged in an ongoing culture war over values, what our societies stand for, and what we are prepared to fight for. The Ukrainian crisis has brought those questions into sharp focus. We need the freedom to debate everything, question what we are being told and discuss the consequences.
This is why, far from being a disposable luxury in times of trouble, free speech is even more important in an historic crisis like that caused by Russia's invasion of Ukraine.
We all expect authoritarian regimes to control the media and suppress freedom of expression at home, especially in times of war. But it doesn't take a Hitler, a Stalin or a Putin to practise wartime censorship. Governments of every stripe have sought to banish opposition voices during critical conflicts, from the Paris Commune of 1871 and the Bolshevik regime in Russia post-1917 to democratically elected US governments during the American Civil War, the First World War and just about every war since then – often with the support of the Supreme Court, notwithstanding the formal commitment to free speech enshrined in the US First Amendment.
The British authorities, too, have always had an armoury of official and informal wartime weapons to attack freedom of speech and of the press when deemed necessary. Early in the Second World War, when the Soviet Union was still wedded to the Hitler-Stalin Pact, the British government banned the Communist Party newspaper, the Daily Worker.
Yet George Orwell, author of Nineteen Eighty-Four and Animal Farm, admitted in 1945 that, for much of the war, state censorship in the UK had not been 'particularly irksome'. Why not? Because it wasn't needed – the media and cultural elites had censored themselves, particularly by rejecting criticism of the main UK-US ally, Stalin's Soviet Union. Big war stories had thus been kept out of the British press altogether, 'not because the government intervened but because of a general tacit agreement that it "wouldn't do" to mention that particular fact'. A useful reminder in these troubled times that it does not always need state censorship to enforce conformism and suppress critical questions.
So, what attitude to take to free speech in the West over the war in the Ukraine? No doubt it would be hard, if not downright perverse, for anybody to try to defend the right of the enemy to spread its propaganda behind your lines during a life-and-death struggle. But, it is important we remind our would-be wartime censors, the UK is not currently at war with Russia.
And even during the cataclysmic world wars of the 20th century, there were those in the West who rightly stood up for the freedom to question the official version of events. The famous 1919 US Supreme Court case, which led to the widespread but misguided assumption that free speech should be restricted because 'there is no right to shout "fire!" in a theatre', concerned the conviction of Charles Schenk, general secretary of the US Socialist Party, for distributing anti-conscription leaflets during the war. (There is a chapter critiquing this historic case and its consequences in my free-speech book, Trigger Warning.)
Even during the Second World War against Nazism, principled journalists and their supporters took a stand against the British coalition government's attempts to bully the press into outright submission. In 1942 the mass-circulation tabloid, the Daily Mirror, published perhaps the most famous British cartoon of the war – Philip Zec's image of a torpedoed merchant seaman clinging to a raft on stormy seas, captioned 'The price of petrol has been increased by one penny – Official'. The accompanying editorial was headed 'Weed Them Out'. It lambasted the 'brass-buttoned boneheads' commanding the British Army and 'socially prejudiced, arrogant and fussy' snobs in power who 'aspire to mislead others in war'.
An enraged Herbert Morrison, the Labour home secretary in Tory Winston Churchill's coalition government, summoned the Mirror's editors to Whitehall and threatened to use his emergency powers to close the newspaper without warning. The campaign in response to these threats was fronted by Michael Foot, then the 28-year-old editor of the London Evening Standard, and much later the left-wing leader of the Labour Party. In a remarkable speech to a protest rally, that can still be viewed online, Foot insisted that, even in wartime, 'The freedom of the press in this country can only be maintained by the vigilance of the people and the vigilance of parliament and the courage of the newspapers themselves… Therefore we must fight, fight, fight to retain those liberties.' Foot even compared fellow Labourite Morrison's insistence that it was only the Mirror he was after, not wider press freedom, to Hitler's claim to have 'no more territorial demands' after Munich. The Mirror was duly saved from closure.
We are not in the depths of the Second (or Third) World War today. But we are in the midst of a culture war over the past, present and future of our societies, which is shaping our view of Ukraine. That makes it all the more important to stand up for free speech and freedom of the press as fundamental values of our civilisation, which we must refuse to surrender.
There are practical and principled reasons to stand against the tide of censorship and enforced conformism on Ukraine. In practical terms, banning RT and other such measures might only have a marginal impact in the UK, where there is little appetite for Russian propaganda. But like all censorship, it hands a moral victory to the other side, allowing Putin to claim that he has been proved right about the 'fascist' truth behind the façade of Western democracy. There are many people around the world who, contrary to what we are told, do not simply swallow as truth whatever the BBC says. They need to be won over by defeating Putin's arguments, but are unlikely to be persuaded by Ofcom's not-in-front-of-the-children censorship.
Even more importantly in principled terms, as spiked has always maintained, free speech remains our most important value and the lifeblood of a democratic society. It is what we must fight for in all circumstances. That means insisting on the right to question everything and freedom of expression for all, even including those academics dubbed 'Putin's useful idiots'. Otherwise, how can we decide what we really believe to be true? And how can Western society make any claim to the moral high ground?
Once you abandon that principle, and decide that a new line must be drawn restricting free speech, the question always arises: who do you trust to draw it? Grandstanding government ministers? Unelected judges? Unaccountable Ofcom technocrats? Or Big Tech billionaires and their pet 'fact checkers', soon to be wielding the even-greater new powers to police the truth handed to them by the Tories' Online Safety Bill? No thanks.
To enquire about republishing spiked's content, a right to reply or to request a correction, please contact the managing editor, Viv Regan.