The parental revolt against woke indoctrination
Mums and dads are rising up against the politicisation of education.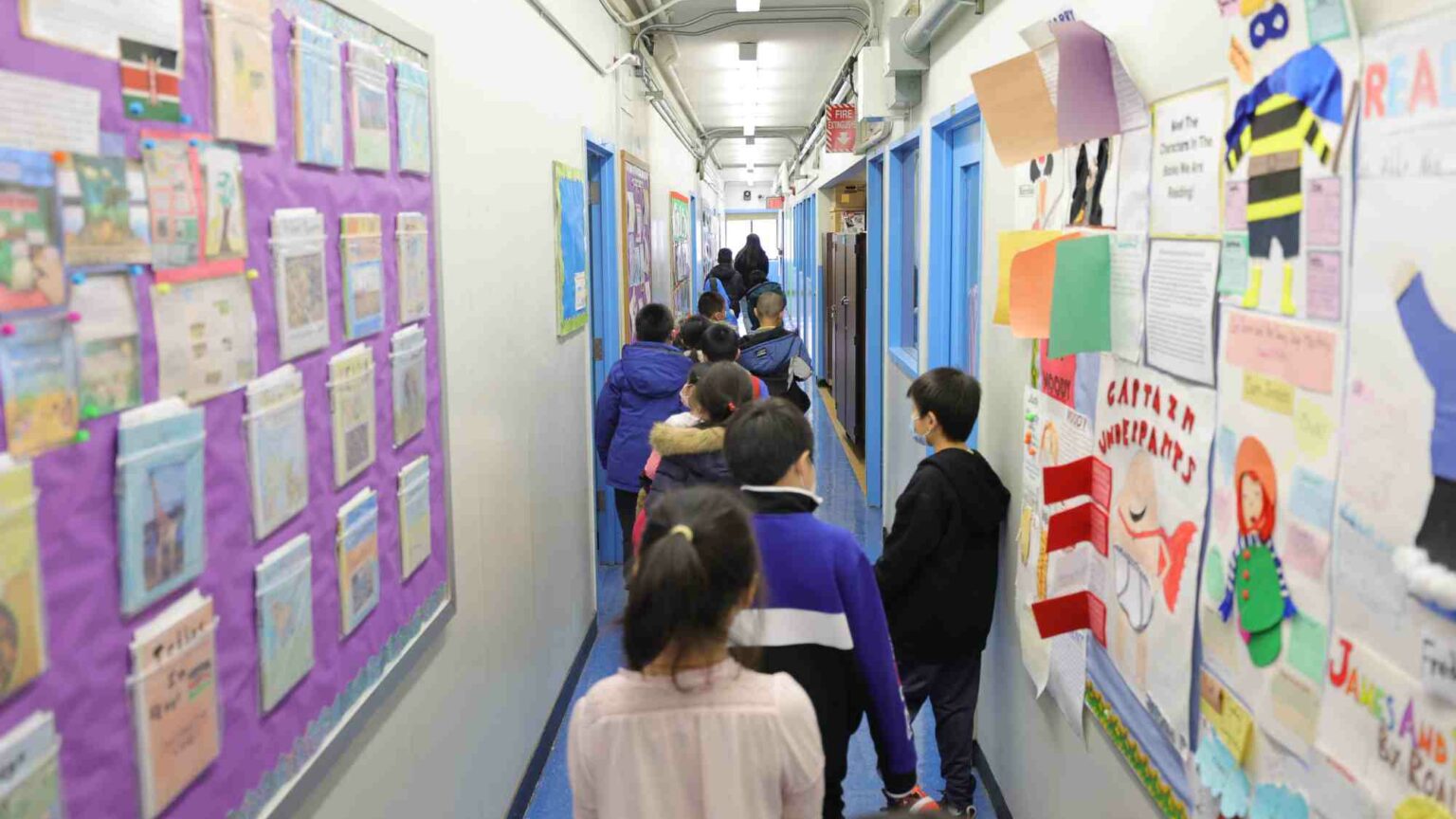 There is something very wrong in our schools. Each new day brings reports of some ideological madness being foisted on children. In the past week alone we've heard about Welsh plans to teach kids as young as three about sexual attraction and gender identity. We've heard that the education department in the Northern Territory in Australia is wondering out loud if schools should drop apparently oppressive phrases like 'boys and girls' in order not to offend kids who may be 'questioning their gender identity'. We've heard about a school in South Carolina that planned to separate kids by race so that they could be counselled by an external speaker on 'how to cope with being a student in a predominantly white school'. Oh good, racial segregation is back.
Across the Anglosphere, schools have become hotbeds of woke indoctrination. It's no longer just 'the three Rs' kids are exposed to – that is, reading, writing and 'rithmetic – but the entire alphabet soup of identity politics, gender ideology and neo-racial thinking. There's the school in Denver that wants to teach kindergarteners and first graders – five- and six-year-olds – about race and sex. It held a 'Black Lives Matter at School Week of Action', in which, among other things, the children were taught about 'trans-antagonistic violence'. Do they even know what 'antagonistic' means? There's Nonsuch High School in Surrey in England, whose sixth-formers, apparently with teacher approval, offered advice to gender-confused girls as young as 11 on how to bind their breasts, for that 'flatter, more masculine appearance'. What next, foot-binding in PE? It's little wonder that at one top secondary school in the UK, one in 15 pupils now identifies as trans or non-binary.
First graders in New Jersey have been given 30-minute lessons titled 'Pink, Blue and Purple', in which they're taught about 'gender, gender identity and gender role stereotypes'. Teaching about 'white privilege', as if it were an uncontested fact, is reportedly 'rife' in British schools. One UK school handed out 'A kid-friendly guide to social-justice terms'. Another reportedly told its white pupils that they are 'privileged by virtue of being white'. And ignore the protestations of the US liberal elite who insist that critical race theory is not being taught in American schools. They protest far too much. Sure, the intricate academic theory of CRT isn't being taught, but its basic precepts are. As one report says, it is now pretty common for American schools to teach about 'systemic racism, white privilege, white fragility and the predatory white imagination'. White people bad, black people victims – such simple-minded, hyper-politicised education is a recipe for social strife among those who have not even reached adulthood yet.
A new form of indoctrination is clearly sweeping through school systems. It has become most visible – and most unsettling – in those TikTok vids of mostly American teachers boasting about how they educate their charges about non-binaryism, about why it's iffy to make the Pledge of Allegiance, about the problem of doctors 'guessing' the gender of newborn kids from their mere genitals when what we should be doing is waiting until people are old enough to pick a gender for themselves from the 72 – is it more now? – in the gender catalogue. The exposure of these TikTok videos of teachers revelling in their power to push highly eccentric ideological beliefs on to the next generation has caused a storm in the establishment media, which would no doubt prefer that the woking of education remained their own little secret.
The targeting of kids with highly inappropriate, supposedly woke beliefs has reached its nadir in some extracurricular 'education' that has been exposed in recent weeks. In the US, there's Sexy Summer Camp, for teens, which reportedly teaches about sex liberation, gender exploration, BDSM, being a sex worker (!) and 'self-managed abortions'. Sign your 16-year-old up! In the UK there's been a huge storm over the Family Sex Show, a supposedly educational theatrical thing that was due to take place at the Norfolk and Norwich Festival in May. Its aim was to teach kids as young as five about 'bodies, sex and relationships' and it said it would feature full-frontal nudity. Its website encouraged kids to Google masturbating animals, so that they might see how natural masturbation is. Searching for 'wanking animals'? What could go wrong?
Adults getting naked in front of children and talking about dogs bashing one out is clearly at the extreme end of the bending of education to 'sex-positive' and other gender ideologies. And yet it also feels like a grimly logical conclusion. If it's okay to teach young children that gender is fluid, and that sexual attraction is cool, and that pubescent girls who think they might actually be boys should painfully wrap their breasts in metres of restrictive cloth, then why not have some naked bloke on stage telling an audience of littl'uns about bodies and feelings? It's all gone too far, hasn't it? Many people now have a very strong sense that children are being exposed to things they probably shouldn't be exposed to, from age-inappropriate information about sex to flat-out confusing commentary on genderfluidity to dangerously divisive ideas about white privilege, black victimhood and general racial tension. Which is why – at last – there's a brewing parental revolt against all this woke indoctrination.
From Florida to Wales, South Carolina to Northern Australia, parents are clubbing together to say: 'Enough.' The recent news about the Welsh government's plans to teach kids as young as five about sex and gender has got many parents up in arms. Parents have complained that they cannot 'request information' about what is being taught or 'ask that their child sit [the classes] out'. So parents are launching legal action, suing the Welsh government over its plans for mandatory sex'n'gender classes. In the US, a group called Parents Defending Education, a grassroots, non-profit outfit, aims to reclaim education from 'activists promoting harmful agendas'. It campaigns for a 'non-political education for our kids', an entirely reasonable demand. And of course the Virginia election late last year, won by Republican Glenn Youngkin, was fuelled to a large extent by parental fury with woke social engineering in schools. Youngkin attracted the votes of many mums and dads with his declaration that 'political indoctrination has no place in our classrooms'.
Perhaps the politician who has most expertly given voice to parental disgruntlement with woke indoctrination is Ron DeSantis, the Republican governor of Florida. His House Bill 1557 – melodramatically christened the 'Don't Say Gay' bill by his opponents – stipulates that in Florida's schools there should be no 'classroom instruction' on issues of 'sexual orientation or gender identity' for kids under the age of 10. DeSantis's latest move is to sign into law a 'Stop Woke Act' (officially House Bill 7), which limits how race-related issues are taught in public universities and colleges. At its launch he was surrounded by supporters holding placards saying 'Freedom From Indoctrination' and 'Stop Woke'. Whatever you think of DeSantis, there is no question that he has sussed, quite rightly, that education, and its transformation into a tool of moral and social re-engineering by the woke elites, will shortly become one of the issues of American public life. Who would be surprised to see DeSantis running for the presidency in 2024 on a ticket of saving schools, and America more broadly, from the new indoctrinators?
The revolt against the woking of education is not without its problems. Legally banning the teaching of CRT in schools and colleges, for example, comes off like an authoritarian solution. And while we can all agree that teaching five-year-olds that they can choose their gender or encouraging them to Google masturbating animals is wrong, surely we should acknowledge that at a certain age – 11 onwards – sex education can play an important role in a young person's learning. So let's not crush everything that might seem 'woke'. And yet the parental anger over the politicisation of education is real and apt and it could become a very dynamic force in the political life of the Anglosphere. Parents know what is going on here – the elites are overriding the sovereignty of the family and are coaxing kids into eccentric and damaging ways of thinking that most ordinary people, including their folks, disapprove of. That is anti-democratic, authoritarian and against the spirit of education, which should be about learning and understanding, not cynical social engineering. More power to the parents' revolution.
To enquire about republishing spiked's content, a right to reply or to request a correction, please contact the managing editor, Viv Regan.