Sasha Johnson and the black lives that don't matter
A year ago she was shot in the head. The silence from BLM has been deafening.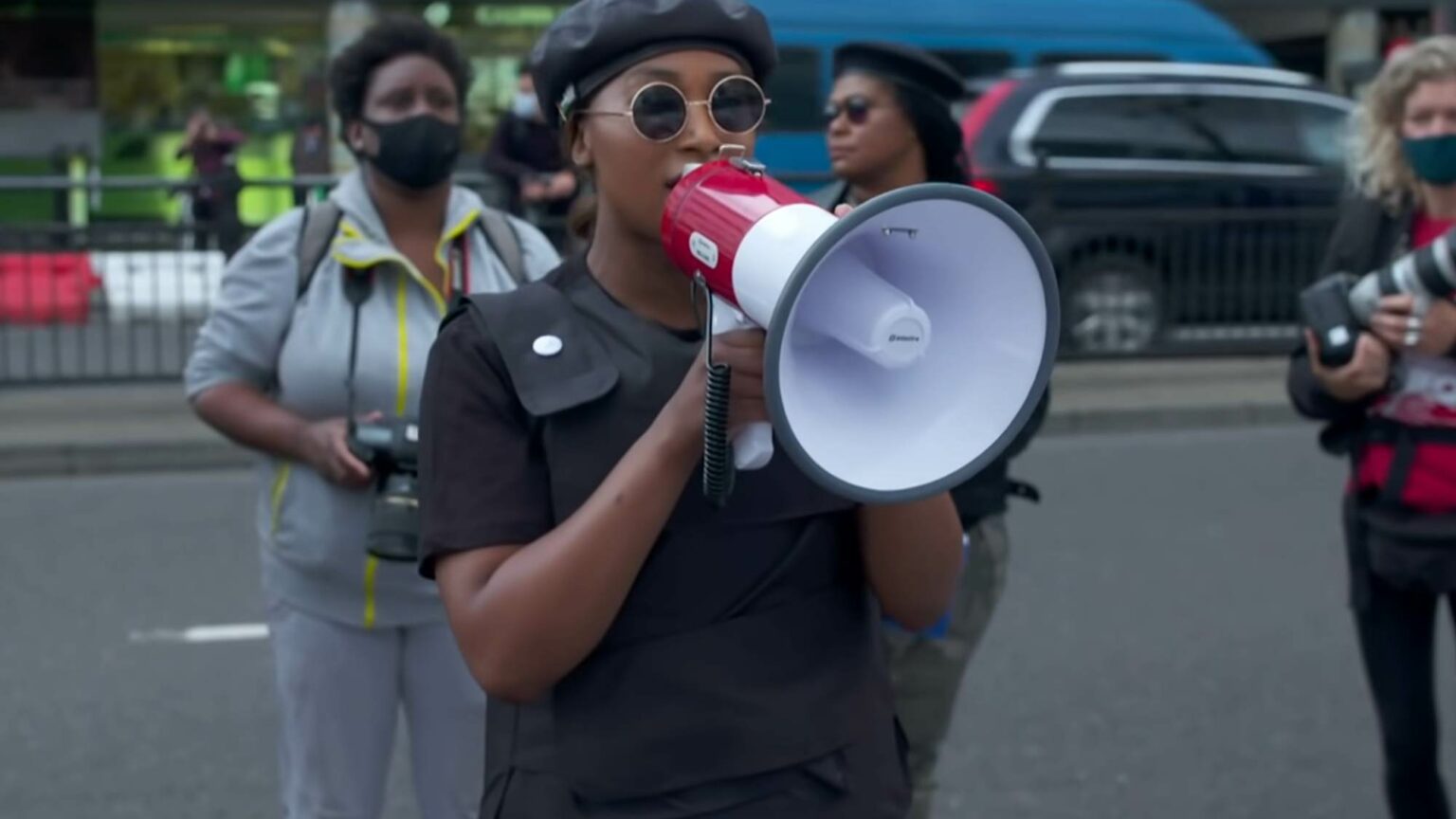 'There's been a wall of silence', said one local campaigner I spoke to at a vigil dedicated to 28-year-old anti-racism campaigner Sasha Johnson. A year ago, on 23 May 2021, Johnson was brutally shot in the head. The vigil was held earlier this week in London's Denmark Hill, a short walk from the hospital where Johnson continues to lie in a critical condition, with what have been described as 'catastrophic and permanent' injuries to the head. She has two children under the age of 13.
The vigil was small, attended by about 30 people, mainly old-school black-power and black-nationalist groups, such as the Nation of Islam. One group was notably absent: Black Lives Matter.
Sasha Johnson is a black-rights campaigner, who rose to prominence in 2020 amid the eruption of the Black Lives Matter movement, following the murder of George Floyd in the US by a police officer. Johnson drew a great deal of attention for her Black Panther Party-inspired outfits, her passionately black-centric rhetoric, her sometimes strange political bedfellows and her willingness to debate her adversaries, including former English Defence League leader Tommy Robinson.
Johnson spoke out against what she regarded as the unequal treatment and representation of black people in Britain. She joined and organised with a range of groups, including Black Lives Matter, Kill the Bill and Rhodes Must Fall. Just before the tragic incident, Johnson was actively involved in the Taking the Initiative Party, which notably gained more than 4,000 votes in the recent local elections in Croydon, south London. Despite her alignment with Black Lives Matter, with its identitarian demands for recognition and insistence on black racial victimhood, Johnson advocated for more traditional notions of black self-reliance and 'black power'.
On 23 May 2021, Johnson was shot in the head at a party in Peckham in the early hours of the morning. Days after the shooting, five men under 30 were arrested on suspicion of attempted murder. They were due to stand trial in March this year, but the case collapsed in February as the prosecutor said it could only offer 'circumstantial evidence' to the court.
Following the collapse of the trial, both the police and Johnson's family noted the unwillingness of witnesses to cooperate with the police. Deputy chief inspector Nigel Penney, who is leading the ongoing investigation into the shooting, has said that, 'there were plenty of people there, yet many have not been willing to speak to us'.
There is a grim and tragic irony to what transpired after Johnson's shooting. Immediately after the attack, there was a great deal of speculation about the motivation, and many were quick to assume it was racially or politically motivated. Labour MP Diane Abbott went as far as to say: 'Nobody should have to potentially pay with their life because they stood up for racial justice.' The day after the shooting, while much still remained unknown, Black Lives Matter UK organised a vigil.
However, as more information came out about the circumstances of the shooting, as we learnt that the suspects were not white and that it was unlikely to have been a white-supremacist attack, the commentary started to dissipate.
Even after Johnson's family shared gruesome images of Johnson in hospital earlier this year, showing parts of her head missing, many of those who initially spoke out against the shooting had nothing more to say. There have been no black squares, no hashtags, no mass demonstrations of civil disobedience. Even the crowdfunder that was set up to support Johnson and her family after the shooting has only just surpassed half of its modest fundraising goal of £20,000.
There seems to be a double standard in society's response to black victims of violence. Police killings and police brutality, while relatively rare in the UK, draw enormous attention. Whereas there seems to be far less concern about the fact that black people are disproportionately impacted by violent crime. Young black men in Britain are 24 times more likely to die of homicide than their white counterparts. In London, violent knife and gun attacks are only becoming more common. This, I would argue, is the most potent example of how black lives are disregarded.
This indifference towards the nihilistic violence that plagues significant sections of Britain's ethnic-minority communities is poisonous. It is a devastating indictment of our society. Whether we condemn or take action against such grotesque violence should not be contingent on whether it suits a particular political agenda.
We must not let the shooting of Sasha Johnson fade from public memory. We cannot let it become just another story of violent crime in inner-city London. If lives matter, black or otherwise, her shooting should implore us to grapple with the scourge of violence in our society.
Inaya Folarin Iman is a GB News presenter and founder of the Equiano Project.
To enquire about republishing spiked's content, a right to reply or to request a correction, please contact the managing editor, Viv Regan.