Why the woke can't stand meritocracy
There is no one trustafarians hate more than working-class people done good.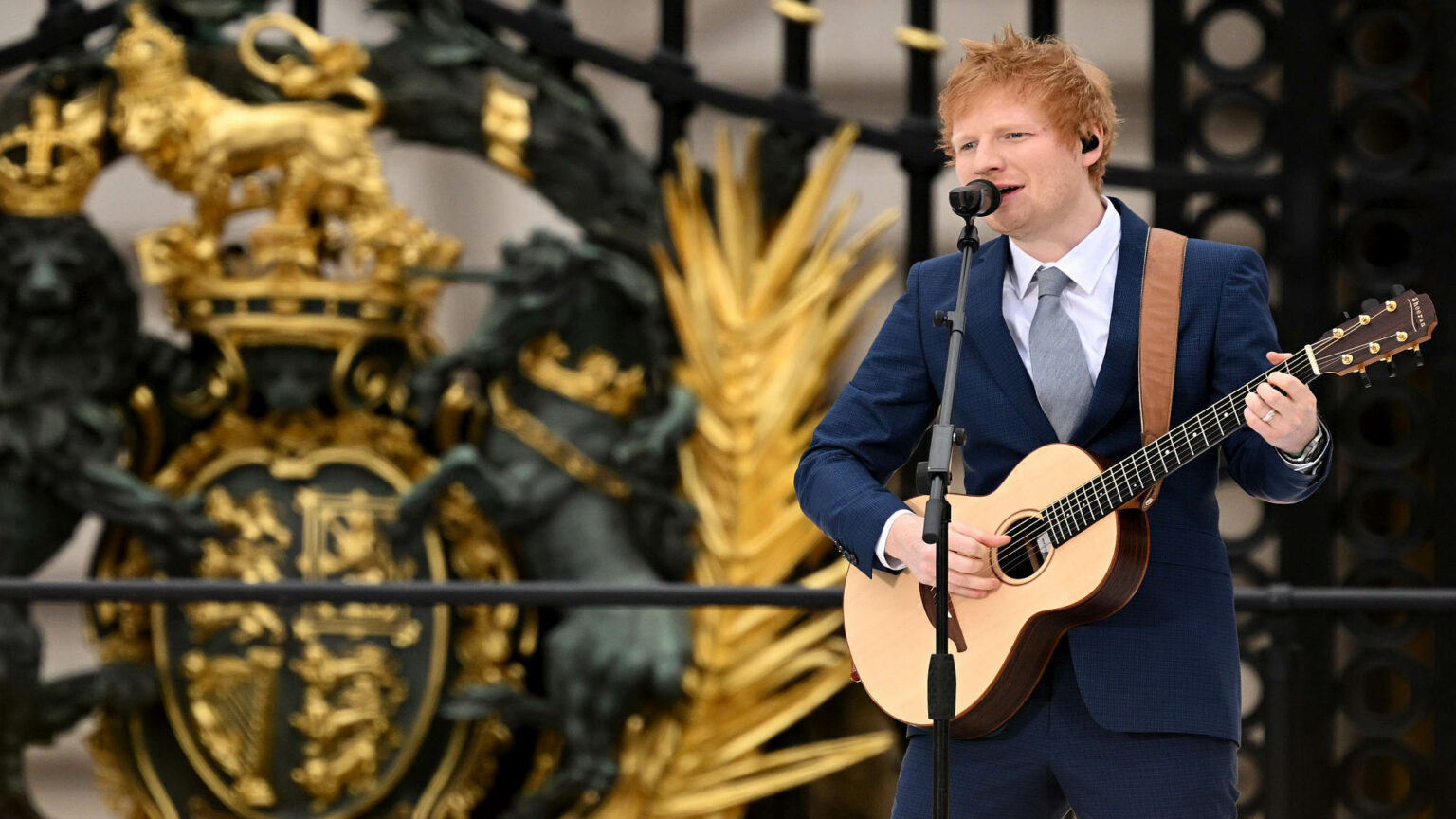 Watching last weekend's royal command performance, I was struck by how it's now completely accepted that any decent person of every political persuasion supports the monarchy. The dictionary defines 'Mom and apple pie' as 'a core principle, value, belief, characteristic, aspect, etc, of the United States of America or its citizens. Sometimes used sarcastically or ironically.' We have instead 'Ma'am and humble pie'. I'm not sure it's an improvement, surveying the cultural cringe it entails.
Of course, politicians will creep to the crown; they know the top job will mean meetings with the monarch. There's a touch of childish baiting Labour does to the Tories when the issue arises, along the lines of 'Ooo, Mr Wilson was the queen's favourite prime minister – she didn't like your Mrs Thatcher much!'. Perhaps it's because they have a future royal rendezvous in mind – after Boris finally gets the heave-ho for giving Dilyn the dog a bowl of water and saying 'Fill your boots!' or some equally pleasure-seeking socialising. 'Sir' Keir Starmer (he identifies as a knight) is already reprimanding rogue republican members of the People's Party, urging the public last week to celebrate the queen's Platinum Jubilee as their 'patriotic duty'.
People in showbusiness tugging their forelocks is also understandable; for a lot of them, being royal must seem like just another branch of entertainment – you turn up and people cheer. (It's highly likely that Meghan Markle thought that marrying into royalty would simply mean moving from being a D-list celebrity to an A-list one – not knowing enough to factor in all that handshaking in a ballbearings factory in Bradford on a wet Wednesday morning.) Entertainers of working-class origin will often think highly of the queen, having grown up in households where all politicians being crooks is a rule of thumb, while Her Maj is believed to be above it all. When Roger Taylor of Duran Duran was interviewed before the show last weekend, he said he had a 'humble upbringing in Birmingham so to be here tonight is incredible'. It was funny to hear him speak of being a Brummie as being some sort of obstacle to success – and even funnier that he didn't seem to understand that lowly born musicians have always been called upon to entertain monarchs. That's not progress – that's being one step up from the official court fool.
Of course, the Durannies were poncing about in their pomp way back when Diana was the People's Pop Princess. Her genuine love of pop music combined with the Band Aid phenomenon to create an environment where pop stars were genuinely able to exhort us to part with yet more money without seeming to be smug, lecturing hypocrites. And if they got an honour for their troubles, all the better. We don't expect hoofers and crooners generally to have the integrity of a David Bowie, who turned down a CBE and a knighthood. Entertainers from that era never pretended to be left-wing; Rod Stewart was very open about moving to the US to avoid the top rate of tax in the 1970s (an eye-watering 83 pence in the pound), though he returned after 40 years offering to pay more to fund the NHS (those hip replacements don't come cheap). According to Stewart, when his friend Elton John heard about his economic migration, 'He called me a traitor and put on Elgar's "Pomp and Circumstance" marches at a volume so high that we couldn't talk'. Obviously over-excited prior to his performance before the queen, Stewart gushed: 'It's pride in being British, it's the pageantry, the romance… I've grown up with this woman, I was seven when she came to the throne, so she's always been part of my life… almost like a sister.' Nurse – the screens!
But there's no paradox in a prancing popinjay interested in the elaborate trappings of wealth being a royalist. It makes sense. In fact, the only people who shouldn't have anything to do with royals unless they want to appear stinking hypocrites are people who think of themselves as left-wing. The most interesting (and I never thought I'd use that word about him) example of a confused crooner is surely Ed Sheeran, who both performed a virtuoso brown-nosing at the Jubilee celebrations and was a cheerleader for Jeremy Corbyn. In 2017 he opined, 'I love Corbyn… I love everything Corbyn is about… he cares about all classes, races and generations', shortly after receiving an MBE from Prince Charles.
Once we had Rock Against Racism – now we have Rock for Monarchy, which of course is the most racist institution ever, giving a tiny percentage of people extreme privilege simply because of who their ancestors were. It's strange to see someone like Lenny Henry complain of the racism in British society and then become a Commander of the Order of the British Empire. Similarly, during the summer of statue-toppling, the hundreds of royal monuments went more or less undisturbed. Though I personally would never put myself between an angry rioter and a stone replica of a slave trader, it's odd how the role of monarchs in this historic atrocity is largely overlooked (an exception being the statue of Queen Victoria in a Leeds park, which was covered in graffiti such as 'SLAVE OWNER', 'RACIST' and – scratch a woke bro and find an incel – 'SLAG').
It's hard not to conclude that the woke are far more comfortable with inherited wealth than with self-made financial success. After all, so many of them are in line to inherit a tidy little sum themselves – get on and die, Boomer dad, and let me have my money! These people are terrified of meritocracy as it reveals their own mediocrity. They flourish most of all, paradoxically, in the arts and education, which were once gateways to the opening of the mind but are now firmly in favour of the closing of it. They are the Lady Mucks and Nervous Nellies who infest publishing, with their 'sensitivity readers' sucking the fun from everything.
These people flourished during the pandemic. As Brendan O'Neill wrote at the time: 'Britain feels so alien to me right now. Woke spoilt brats have the free run of the streets while working people are prevented by law from going to their jobs.' It is these people who decry the use of the word 'chav' while happily practising social racism by dismissing those beneath them on the socioeconomic scale as 'gammons' and 'Karens'. They're the Extinction Rebellion halfwits who have the power to stop people getting to work because the majority of them are – lovely, old-fashioned, judgemental word coming up – layabouts.
Luckily, these people contain the seeds of their own destruction. Their luxury beliefs may be yet another way to queen it over the peasants now, but there is an economic tsunami on the way which will not favour the deserving rich (as they unconsciously think of themselves) over the undeserving rich (those horrid self-made oiks like Alan Sugar and JK Rowling). The economic migrants they make such a show of welcoming may well be their downfall. Just as those previously pitied immigrant groups the Jews and the Indians are now 'bad' because they are successful, new arrivals will eventually disappoint the woke, too.
The footfall of migration is always towards capitalist countries, as whatever their faults they give the biggest chance of freedom and ease to the largest number. So if privileged SJWs don't want to work, they can always waste their lives – they'll just be overtaken by newcomers to this country, who do not believe that ambition is a dirty word. It will be a bittersweet victory to see the wealth-deploring woke have the Royal Axminster pulled out from under them by the very people they once patronised.
Julie Burchill is a spiked columnist. Her book, Welcome To The Woke Trials: How #Identity Killed Progressive Politics, is published by Academica Press.
To enquire about republishing spiked's content, a right to reply or to request a correction, please contact the managing editor, Viv Regan.