It's time to take down the Pride flag
With this eyesore flag flying on every street, London feels like a city under occupation.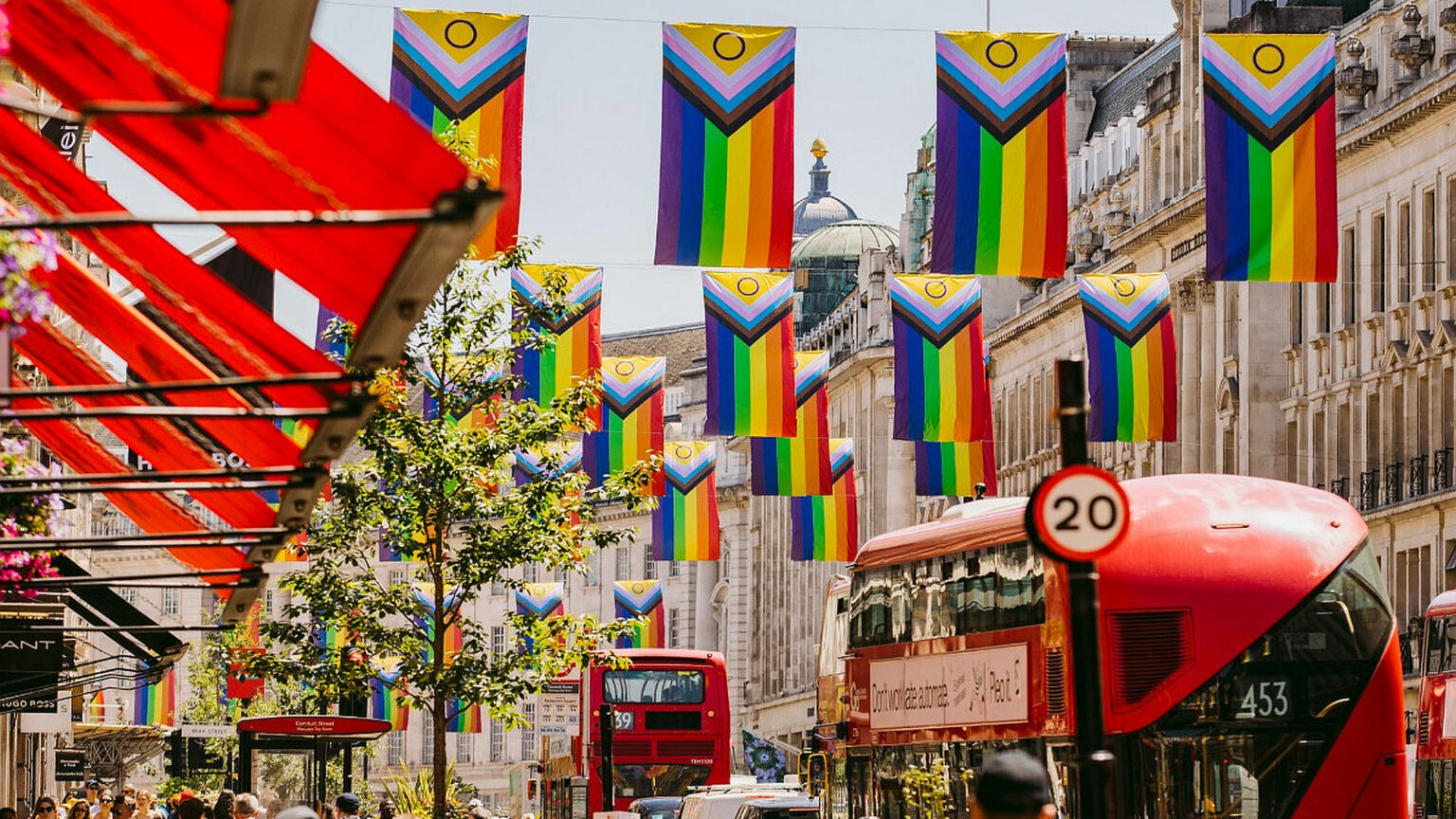 London feels like a city under occupation. Cycling through town yesterday I saw a foreign flag fluttering from every major building. There it was on top of Drummonds on Charing Cross Road, the poshest bank in the land. It flew from the tallest building in Trafalgar Square, too. That structure, peering down on poor Nelson, had five flags in total: four Union flags and, in the middle of them, taking pride of place, seeming to assert its political primacy over the flapping Union Jacks, this new flag, this strange flag. I parked at Foyles to browse the new books section and there it was again, a vast banner draped over the entrance, reminding all who entered that there was a new power in town. Then there was Regent Street. Honestly, I have never seen anything like it. The entire boulevard was festooned with the new standard. Scores of them hung above the street, from building to building, in perfect militaristic formation, as far as the eye could see. It felt chilling.
It was, of course, the Pride flag. Or the Progress Pride flag, as it is now known, following the addition of new strips of colour to represent queer black and indingeous people, trans people and intersex people. Yes, the 0.02 per cent of the population who have indeterminate genitals now have a flag. Quite why I must be reminded with every corner I take that a few unfortunate babies are born each year with malformed testes or ovaries is a mystery to me. The Pride flag has become an eyesore. Not only because of the addition of yet more garish shades and now a triangle and a circle too – it's a wonder I didn't come off my bike gawping at this kaleidoscopic monstrosity – but also because it is so clearly an ideological flag. It might not be the flag of a conquering foreign army, but it is the flag of a conquering elite. It's the flag of a new identitarian establishment that is determined to let the little people know whose ideas rule in the 21st century.
I'm old enough to remember when the Pride flag was just a gay symbol that you'd see at gay events and gay establishments. Gay pubs had it in their windows. Marching homosexuals would wrap themselves in it as they hollered: 'We're here, we're queer, get used to it!' Aside from a few blue-rinse traditionalists, no one really had a problem with the rainbow stuff back then. Tolerance of homosexuality has sky-rocketed in the UK in recent decades. A 2019 Pew poll found that 86 per cent of Brits think homosexuality should be accepted by society. A few years ago the International Lesbian, Gay, Bisexual, Trans and Intersex Association gave the UK the highest score of any country in Europe for achievements in gay equality. This is great. Britain is a very safe, nice place for homosexuals to live. And that is in large part down to tireless campaigners who marched behind the Pride flag. Nice one! Now, though, the Pride flag means something else entirely.
The rainbow standard is no longer the flag of choice of a voluntaristic movement for equality. Rather, it has become the prime emblem of our intolerant woke rulers. There is a palpable compulsion now to wave the Pride flag. Pity the business, bank or government building that fails to display this symbol, especially during Pride month. Indeed, Ockbrook and Borrowash Parish Council in Derbyshire landed itself in hot water when it refused to fly the flag. 'Anger as Pride Month flag snubbed by Derbyshire council', said a BBC News report last year. That's right – these days you'll make the news if you fail to raise the rainbow. One observer said the absence of a Pride flag in Ockbrook and Borrowash meant some people would not 'feel safe to come to the village'. In short, Pride-less towns are suspect. They're heathen territory. Venture there at your peril.
Clearly the Pride flag means something more than 'I support gay equality'. It has now become the means through which individuals and institutions advertise their virtue. More importantly, it's how they demonstrate their devotion to the politics of identity, to the woke worldview. Fundamentally, waving the Pride flag is an oath of allegiance to the new ideologies of the ruling class. Raising this flag at your workplace, your school, your bank or your business lets the world know that you harbour no heretical thought. That you accept, fully and faithfully, the neoliberal creeds of identitarianism, genderfluidity and recognition, and that you too welcome the cancellation of anyone who raises so much as a whisper of doubt about these ideas. Keen to avoid the Ockbrook and Borrowash fate – where you'll be branded 'unsafe', unfit and basically morally unhygienic if you do not fly the rainbow – every political and capitalist institution now adorns itself in Pride paraphernalia. 'Look, I am righteous! I am a believer too! Cancel me not!', they're essentially crying.
However, it is not just about 'pinkwashing', not just about deflecting criticism of one's practices using the shield of Pride. 'Pinkwashing' is the go-to explanation offered by some in the leftish camp for why even organisations like Coutts now paint their entire shopfronts in the Pride colours, for why even Western armies will take a break from invading foreign lands to vigorously wave the rainbow every Pride month. Clearly rattled that 'their' flag has been so feverishly embraced by the boss class and the military industrial complex, woke leftists say: 'They're only doing it to distract attention from how awful they are!' No, that's not it. Rather, the Pride flag really has become the rallying symbol of the new elites. This strange, fragmentary and globalist flag really does represent their post-national, hyper-individuated belief system. It's their flag now, whether you like it or not.
The hectoring, ideological element of the Pride flag is even clearer in this current Pride month. For now, the trans colours have been added. And the trans ideology is something that many people feel uncomfortable with. Many women do not accept the idea that a man can become a woman, or that these 'female-identifying' men should have access to women's spaces and sports. Many homosexuals also disdain the replacement of the biological reality of sex with the swirling subjective feeling of 'gender', and they worry about what impact this will all have on the rights of same-sex-attracted people and on the very idea of same-sex attraction. After all, if someone with a dick can claim to be a lesbian – that is, if a straight man can claim to be a gay woman – doesn't that make lesbianism ridiculous, and virtually obsolete? Perhaps it is fitting that the trans colours in the new Progress Pride flag seem to stab angrily at the gay colours of the old Pride flag.
And yet people's discomfort with the trans ideology – or with the identitarian ideology more broadly – counts for nought in the eyes of the new elites. And in this sense, the Pride flag really has become a hostile flag. It is an elite-designed flag that is hostile to us and our apparently old-fashioned preference for sex over gender, science over feeling, and solidarity over the Balkanising dynamic of identity politics. This is why traversing London under the watchful glare of this arrogant new standard feels so discomfiting – because I just know, as many others also know, that this omnipresent flag really represents the new ruling class throwing its political weight around and reprimanding the ignorant hordes. They call us flag-shaggers if we wave the national flag or the English flag, because in their eyes the only flag that matters today is the one that emphasises our differences and which elevates personal identity over national identity. This is now an arrogant, divisive and fundamentally foreign flag – take it down.
Brendan O'Neill is spiked's chief political writer and host of the spiked podcast, The Brendan O'Neill Show. Subscribe to the podcast here. And find Brendan on Instagram: @burntoakboy
Picture by: Twitter/Regent Street.
To enquire about republishing spiked's content, a right to reply or to request a correction, please contact the managing editor, Viv Regan.