Trans people are not an oppressed minority
They enjoy exactly the same rights as the rest of us.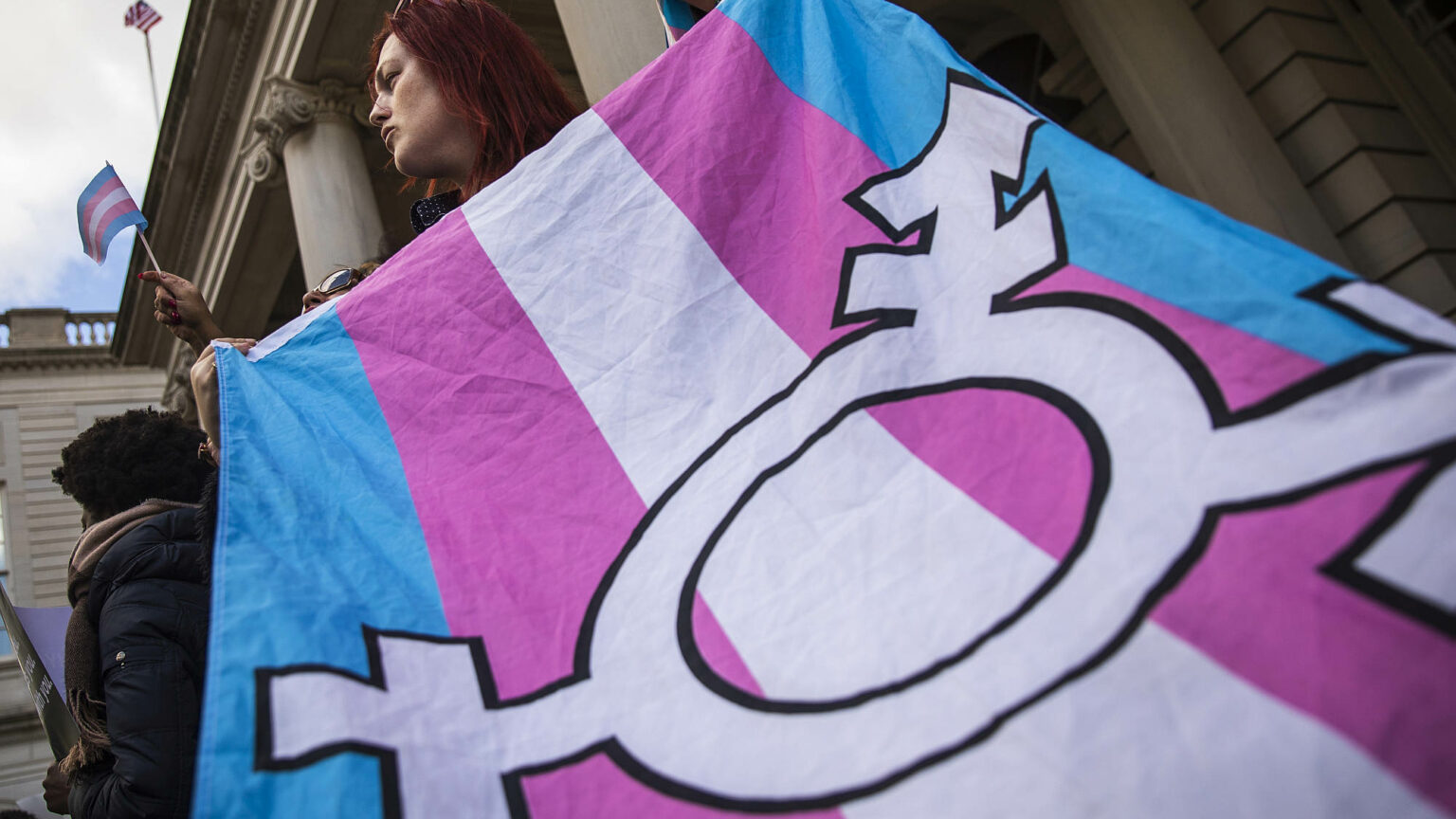 Hundreds of delusional trans activists gathered outside Downing Street this week to wave flags and demand 'trans rights'.
They were attending a demonstration organised by a group called Trans Activism UK. No doubt it was a fun day out – an opportunity for activists to take a break from trolling JK Rowling and step out from behind their gaming avatars. But while they may have enjoyed chanting 'Boris Johnson is a fascist', the protesters largely failed to articulate what rights they lack. Arguably, this is because Britain remains a liberal democracy where every citizen enjoys equal rights, regardless of whether they identify as a woman or a wombat.
The demonstration was called to coincide with what would have been the start of the government's international 'Safe To Be Me' LGBT+ conference. This flagship event was cancelled following the government's decision to exclude transgenderism from its proposed ban on conversion therapy. In response, trans lobby groups withdrew support for the conference, prompting the government to abandon it and write off the £600,000 bill.
Ahead of its demonstration, Trans Activism UK listed charges against the government, including the conversion-therapy decision, the scrapping of gender self-identification plans, and an apparent failure to 'depathologise trans medical care'. Activists also complained of a 'negative and violent anti-trans environment being fostered by senior government officials'.
But the reason the government ditched these controversial policies is not because it opposes so-called trans rights. It is because these policies clash with the rights of wider society. Take, for example, trans activists' calls for the right to gender self-identification – this would undermine women's rights, including their right to single-sex spaces, which is vital for their safety and privacy.
There is a saying within social-justice circles that 'to those who are used to privilege, equality can feel like oppression'. This is arguably what trans activists themselves are now experiencing. In 2021, after nearly a decade of LGBT+ lobby groups like Stonewall enjoying privileged access to government and Whitehall, equalities minister Liz Truss revoked their privileges, and even urged government departments to withdraw from the Stonewall diversity scheme. This is what Trans Activism UK is referring to when it talks of a 'negative and violent anti-trans environment'. Activists are furious that they are now on the other side of the Downing Street railings.
Ultimately, mewling about misgendering and making demands for access to hormones on the NHS are not the actions of an oppressed minority. Who has time to contemplate their gender identity? It is never middle-aged mums who discover their inner 'Clive' after slipping on a pair of their husbands' boxers. Pretending to be the opposite sex is a pursuit of the privileged – a fantasy of pervy middle-aged male computer programmers and an identity for confused students to try on.
Acknowledging the fact that however we identify we all have the same rights would deprive trans-activist groups of purpose and funds. So these groups confect complaints, cultivate victimhood and stoke fear in an attempt to justify their demands for 'trans rights'. Yet trans people are no more victimised than anyone else. This inconvenient truth has left trans lobby groups scrambling around for evidence of trans people's special victimisation. For example, Stonewall, unable to find any evidence of trans people being routinely discriminated against, has now taken to sharing stories from nameless people who claim to have been attacked. In want of facts, it is now peddling fear and anecdote in their place.
Online trans activists inhabit a 'soft play' world of trigger warnings and safe spaces, wrapped up in the infantilising powder blue and baby pink of the trans flag. Indeed, Felix Fern of Trans Activism UK reminded those attending Wednesday's Downing Street protest to 'make sure you have eaten, bring snacks' and to 'stay hydrated'. Fern sounded more like a primary-school teacher than a political campaigner.
But while trans activists expect to be mollycoddled themselves, they are happy to behave hatefully and aggressively towards those who challenge their worldview. Think of Stonewall head Nancy Kelley comparing gender-critical views to anti-Semitism, or the death and rape threats dished out by activists to anyone who dissents.
There are many reasons why those who identify as trans should be hopeful right now. They are not at any particular risk of violence, they are protected from unlawful discrimination and they enjoy the same rights as everybody else. So let's be honest – trans activists are not demanding 'rights'. They are demanding privileges and obedience.
Jo Bartosch is a journalist campaigning for the rights of women and girls.
To enquire about republishing spiked's content, a right to reply or to request a correction, please contact the managing editor, Viv Regan.