Your sexuality doesn't make you special
Gays once fought for the right to be ignored. Now the LGBT lobby demands our constant attention.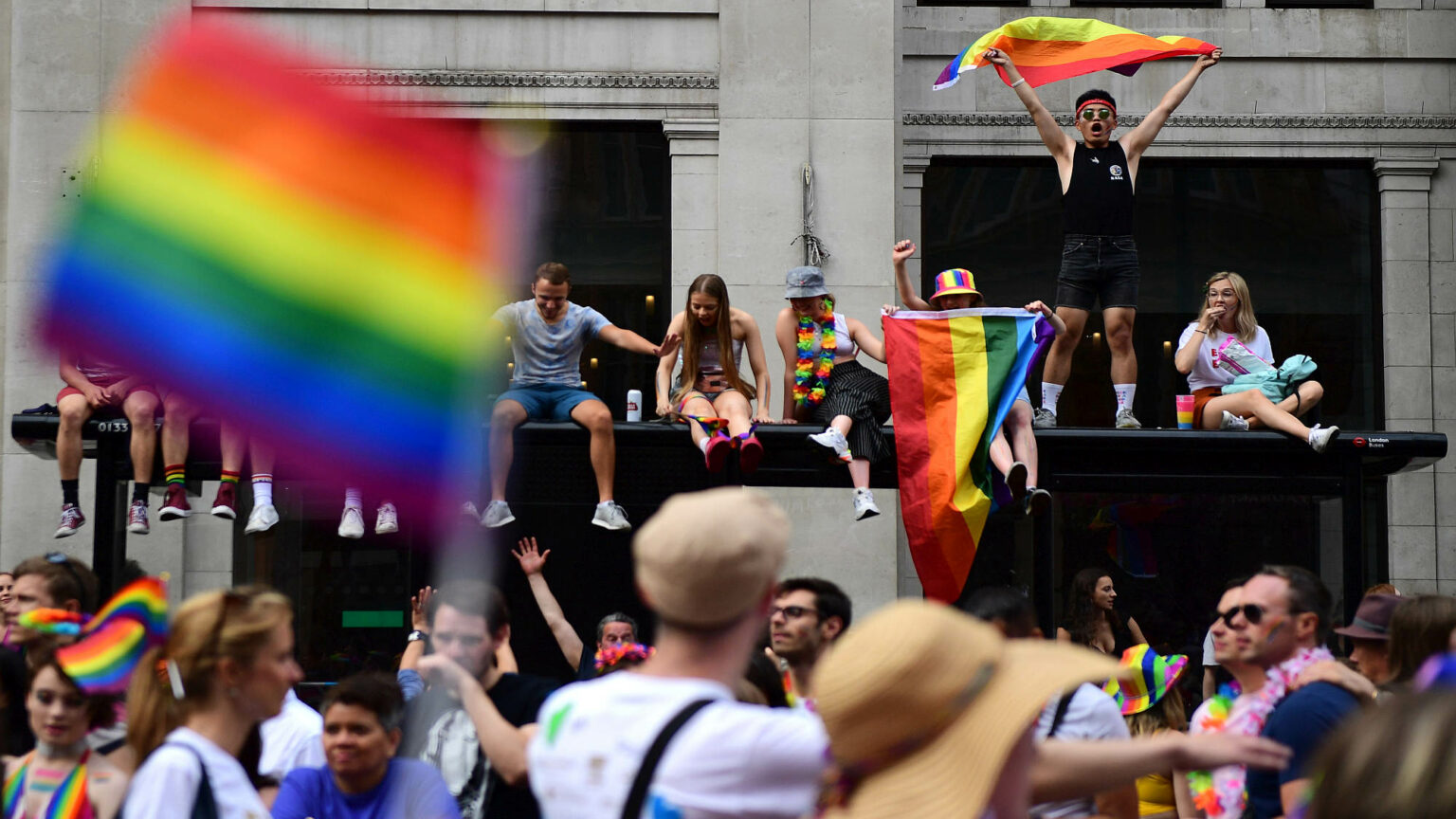 The holy month of Pride may technically be over, but the beatitudes and the homilies keep coming. Appropriately, one such 'Thought For The Day' came to us through the medium of radio, as LBC host and tireless campaigner Natasha Devon MBE sermonised to her listeners on the subject of bisexuality, or rather on the subject of other people's indifference to it.
'I want to exist as a bisexual person', she told the public on the day of London Pride at the weekend. 'The most hurtful response I get when I speak about my sexuality is "I don't care".'
I think this address tells us a lot more than was likely intended. There is, of course, admirable chutzpah in objecting to other people not finding you wildly fascinating, as if that is somehow their problem. And even more in anointing yourself, as Devon did a little later, to the position of that most exalted of secular sinecures, the 'role model'.
I can't begin to imagine the grandiloquence of setting yourself up as an ambassador for an unexceptional characteristic shared by millions of wildly differing people. And the slightly creepy faux-humility of the lecture certainly bolstered one of my own long-held beliefs – when a person feels a need to tell you how caring and empathetic they are, run like hell.
But it was the central plank of Devon's thesis – that lack of interest in other people's sexuality is somehow ignorant and a thing to be resisted, that it stops her existing – that really stood out for me.
Because for me – and, I suspect, many others among the group formerly known as the gay community – people not giving a toss was always the glittering prize. The big issue was that other people were excessively, obsessively interested. Their interest ran the gamut from raising their eyebrows in disapprobation to beating you to a bloody pulp. Forgive me, Natasha, but I'll take 'I don't care' over any of that, and very happily. To move through life without the encumbrance of people treating you as notably strange was, I always thought, the goal of the gay-rights movement.
Such disinterest seemed an unreachable fantasy in the 1980s and 90s. And now that, to a large extent at least, we have it in the UK, to reject it seems churlish, at best.
It's interesting that, like many younger progressives, Devon talks of growing up 'under the shadow of Section 28'. (Though to be fair, unlike some of the most vociferous of those ranting about it, she's old enough to have actually done so.) This nasty, ludicrous piece of legislation – which we must remember was never actually enforced, not once – has taken on a dark glamour in the past few years, probably because it still has the power to make Tories squirm. What's been forgotten and rewritten, like so much of gay history, is that after its initial passing into law, it was of limited active concern to the gay community.
The novelist Simon Edge, relying on actual research rather than folk memory, compiled a fascinating Twitter thread about the real concerns in the gay press of that time. We forget that it was illegal to employ LGB people in the forces, that there was no legal provision for same-sex couples if one partner died intestate, and that there were ridiculous 'indecency' laws – laws that certainly were enforced – around a different age of consent, group sex, etc. And there was so much 'queer bashing' that it went unremarked. This certainly puts the 'hurt' of being ignored into context.
For a movement supposedly dedicated to History with an H, the effects of Section 28 – as if prior to 1988, British schools had been awash with positivity and free discussion about homosexuality, which I can assure the younger generation they were not – have been exaggerated ludicrously.
A little later in her exhortation, Devon talks – using one of the most gruesome words in the progressive lexicon – of 'representing' bisexuality to the world. I think that she is representative, but not representative of the thing she thinks she is.
I think she is representative of a dismal, narrow, narcissistic ideology that has come to smother the discourse around sexuality, along with much else. An utterly conventional movement, specifically Western and decadent, embedded across all public life, which is dedicated to pointlessly play-acting a fight with an extinct establishment that was conked out decades ago. A movement that – disastrously – imported the fantastic claims of 'gender identity' to give itself purpose.
For many adherents of the Pride religion of LGBTQ, to accept the glorious nonchalance of other people would mean having to accept yourself as nothing very special, which in Devon's world means not to exist. And the dread of that would be too much to confront.
Gareth Roberts is a screenwriter and novelist, best known for his work on Doctor Who.
To enquire about republishing spiked's content, a right to reply or to request a correction, please contact the managing editor, Viv Regan.