Liz Truss: the tin lady
Her Thatcher tribute act is painfully out-of-touch with the times.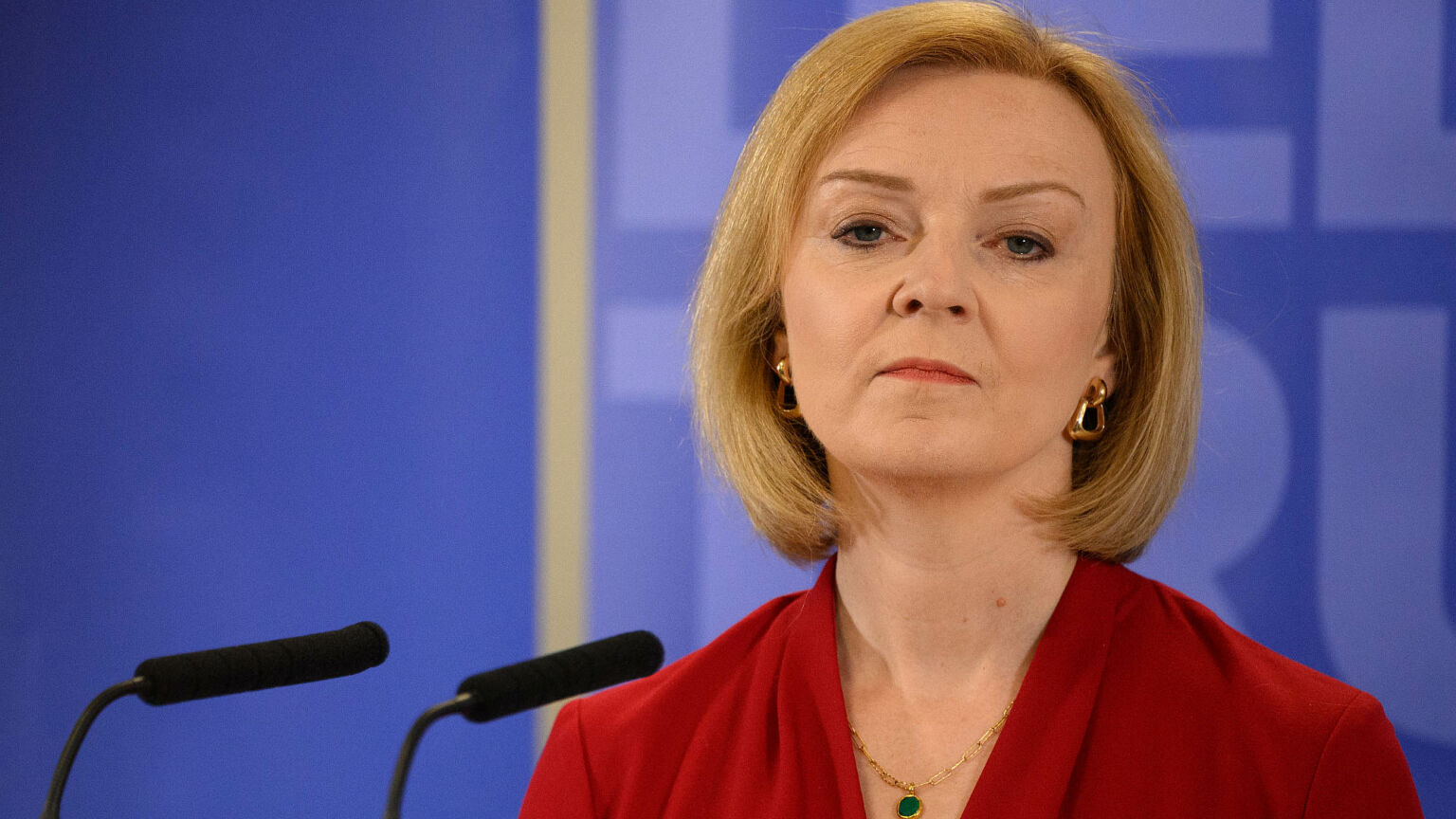 A concerted effort is now underway to turn Liz Truss into the candidate of the right in the Tory leadership contest. In the past day or so, Truss has won high-profile endorsements from defeated candidate Suella Braverman, ex-Brexit negotiator Lord Frost and chair of the European Research Group Mark Francois.
For her backers, Truss has the top-flight experience, having served in cabinet since 2014. She's a born-again Brexiteer who, as foreign secretary, has talked a good game on the Northern Ireland Protocol. And in her equalities brief she has on occasion taken aim at woke activists. But the positives end there.
Truss pitches herself essentially as a poor man's Mrs Thatcher – in style and in substance. Truss has posed in a fur hat in Moscow's Red Square and posed standing in a tank in Estonia, 'emulat[ing] Maggie to a T', as Guido Fawkes put it.
And if those photo-op hints were too subtle, she also launched her leadership bid in the offices of the Telegraph, promising 'tax cuts from day one' and to 'bring down the size of the state' as prime minister.
Yet few beyond SW1 are buying the act. Iron lady 2.0? More like C-3PO, according to a recent focus group. Red Wall voters in Wolverhampton said this week that Truss seems robotic like Theresa May and with all the charisma of John Major's 'Spitting Image puppet'.
They have a point. Truss is hardly the most compelling of politicians. When she does attempt to show passion, it feels strained – and sometimes very odd. An infamous low point was the conference speech she gave as environment minister in 2014, in which her mood swung like a teenager from giddy excitement about opening new pork markets to near-rage at Britain's dependence on imported cheddar. 'We import two-thirds of our cheese. That. Is. A. Disgrace', she memorably said.
Outside of Tory-right circles, it is hard to see what it is about Truss that voters could actually get excited about. Yes, she is unafraid to fight the culture wars. And this matters. We can't have a PM who will dismiss woke issues as froth. But on this front she is clearly bested by Kemi Badenoch, who is by far the more incisive critic of identitarianism in this leadership race.
The Truss backers who talk up her competence ignore her many gaffes. As foreign secretary, she has continually displayed a poor grasp of geography, embarrassing Britain on the world stage in the process.
In the build-up to the war in Ukraine, Truss was humiliated when Russian foreign minister Sergei Lavrov asked her if she recognised 'Russia's sovereignty over the Rostov and Voronezh regions'. Truss, trying to hang tough, hit back: 'The UK will never recognise Russia's sovereignty over these regions.' She had to be discreetly informed by the UK ambassador to Moscow that these regions are in fact in Russia. Presumably, Truss had mistaken them for the 'breakaway' Donetsk and Luhansk regions in Ukraine, just as she is alleged to have confused the Baltic Sea and the Black Sea.
But the key problem with Truss is less her personality and pratfalls than her policies. Her weird Thatcher tribute act shows that she doesn't understand the Red Wall and is devoid of new ideas for the looming challenges of today.
Her vision of Brexit Britain as a low-tax, low-regulation 'Singapore-on-Thames' is equally uninspiring. It might well turn on the Tory higher-ups, and even some in the Tory selectorate. But it will leave the Tories' newer voters – those Red Wall, working-class Brexit supporters – feeling cold.
In fact, all this shows that Truss doesn't get Brexit at all. Brexit is above all else a question of democracy. It is about ordinary people taking back control over their lives and their communities. And where economics are concerned, Red Wall Brexit voters want to renew and restore those parts of Britain that were abandoned by Liz's hero. Those Tories who are still looking back to Thatcher have clearly misunderstood the Brexit vote and the populist moment that has thrust them into power.
So, please, spare us this Thatcherite tribute act. Britain deserves far better than tin lady Liz Truss.
Fraser Myers is deputy editor at spiked and host of the spiked podcast. Follow him on Twitter: @FraserMyers.
To enquire about republishing spiked's content, a right to reply or to request a correction, please contact the managing editor, Viv Regan.