Who's really threatening American democracy?
Joe Biden has helped usher in a terrifying new era of 'respectable' authoritarianism.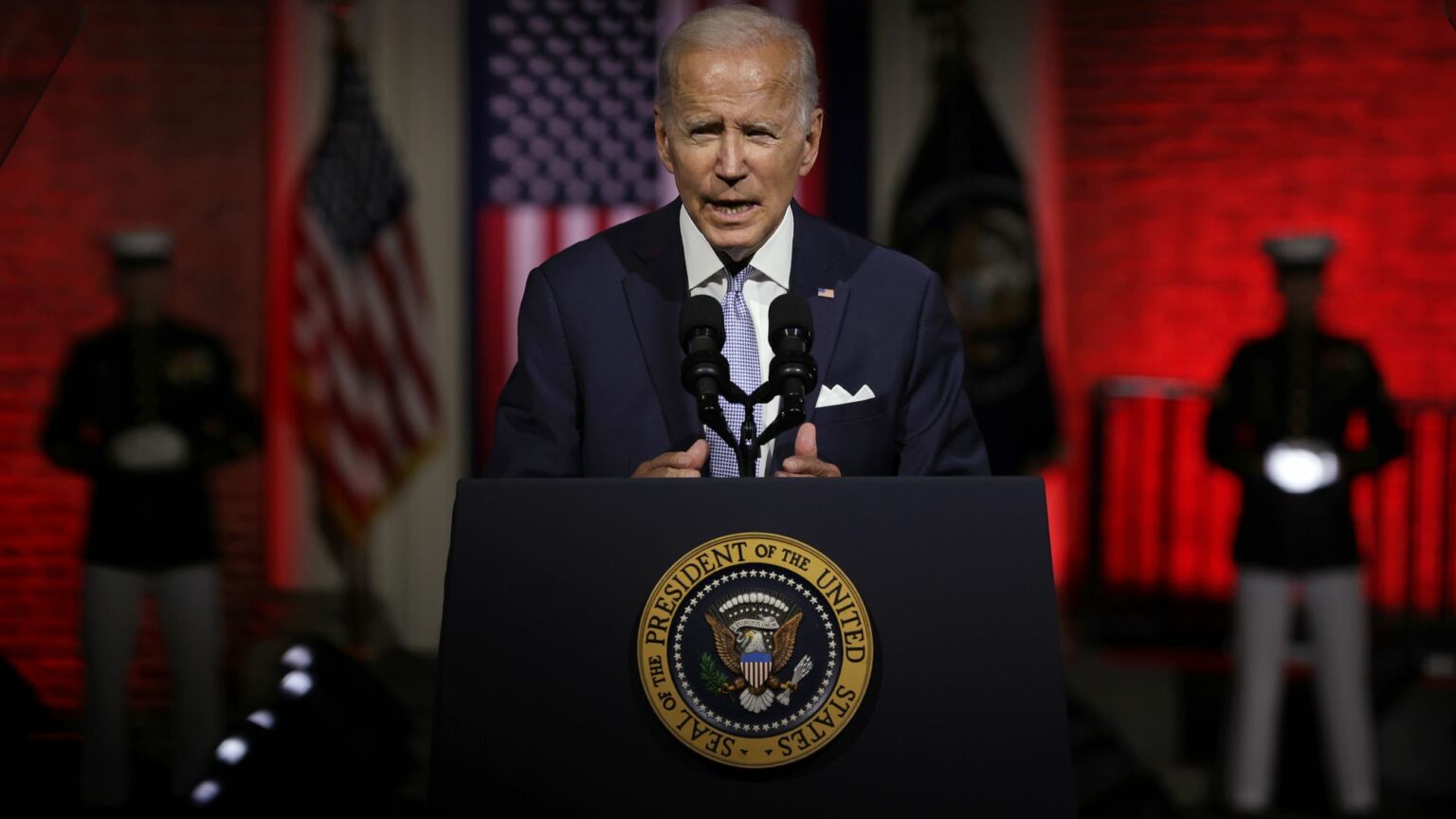 There were many striking things about that weird Joe Biden speech the other night. First and foremost, it was a spectacular failure of optics, something the political class from which Biden hails is supposedly so brilliant at. For some reason, Biden and his team decided he should address the American people in front of an Independence Hall in Philadelphia – birthplace of the Declaration of Independence and the Constitution – illuminated in blood-red lighting: a peculiarly Nuremberg-esque aesthetic given his subject – as we'll come on to – was the supposedly proto-fascistic threat posed by Trumpist right-wingers. But the speech was also a spectacular display of brassneck – a tirade against authoritarianism that only underlined the 'respectable' authoritarianism that Biden himself has helped usher in.
Building on his recent shameful comments about the supposed 'semi-fascism' of former president Trump and his supporters, Biden cast the modern Republican Party in his speech as a threat to America itself. 'Donald Trump and the MAGA Republicans represent an extremism that threatens the very foundations of our republic', he thundered. 'Not every Republican, not even the majority of Republicans, are MAGA Republicans', he kindly conceded. 'But there is no question that the Republican Party today is dominated, driven and intimidated by Donald Trump and the MAGA Republicans, and that is a threat to this country.' Given 74million people voted for Trump in 2020 – the second-highest number of Americans to ever vote for a presidential candidate, just behind Biden in that same election – one wonders who does or does not count as a MAGA Republican. Still, the effect was to make Hillary Clinton's infamous 'basket of deplorables' comment look cute by comparison. Biden essentially cast vast swathes of the American public as domestic terrorists.
He reeled off a laundry list of the usual scare stories about Trumpism, ditching what might be legitimate criticisms of Trump and his more crazed supporters in favour of painting an image of a lurid fascistic hellscape. '[H]istory tells us that blind loyalty to a single leader and a willingness to engage in political violence is fatal to democracy', Biden said, in a not-so-subtle nod to the 1930s. 'January 6', the storming of the US Capitol in January 2021, came up a lot. But while the Capitol riot was an unhinged and anti-democratic display, fed by Trump's conspiratorial nonsense about the election being 'stolen' from him, it was not an 'insurrection', as Biden put it in his speech on Thursday night. It was a strangely carnivalesque riot that got seriously out of hand. Most of the Trumpists just wandered around the Capitol aimlessly, posing for self-incriminating selfies.
Of course, this hasn't stopped 'January 6' being turned into a new 9/11 – a comparison vice-president Kamala Harris has explicitly made – and the justification for a new wave of authoritarianism. Which is where the cheek of Biden's speech comes in. Since he came to power he has made tackling 'domestic terrorism' a priority. In June 2021, his administration published the first-ever national strategy for tackling domestic terrorism, pledging new resources to fight this ill-defined threat. When you hear officials and FBI agents speak about domestic terrorism, it seems to encompass both racist mass murderers and a much broader, vaguer category of 'those who ascribe to extremist anti-government and anti-authority ideologies'. Nevertheless, it seems to be the latter – with 'January 6' in mind – that particularly preoccupies the administration. Indeed, it is striking that this Democratic-led clampdown on extremism was sparked not by, say, the racist Charleston church shooting at the tailend of the Obama years, but by a big, dumb riot at which the only person shot was a Trump supporter.
Naturally, there are those who think this unprecedented new focus on so-called domestic terror – this marshalling of state resources to target the activities of broadly defined groups of American citizens – doesn't go nearly far enough. Some have criticised Biden for not introducing a full-blown domestic-terror law, an idea he floated at the beginning of his presidency. Perhaps in response to these criticisms, a new Justice Department unit to counter domestic terrorism was announced in January. Still, the atmosphere this has all created has had a chilling effect – not just on the activities of certifiable extremists, but also on dissenters more broadly. Contrary to various denials by attorney general Merrick Garland, FBI agents were reportedly even sent to investigate parents who were protesting against school boards over critical race theory and mask mandates being pushed on their kids.
The shock of Trump's election, and with it the revelation that millions of Americans don't agree with or much like the DC set, seems to have legitimised censorship in the minds of the Democratic elites. And I'm not just talking here about the short-lived Disinformation Governance Board, an Orwellian initiative of the Biden administration that collapsed earlier this year after a month – no doubt after officials remembered that this thing called the First Amendment still exists. Even before Biden came to power, the spurned elites were pushing for Trumpist voices to be silenced, often piling pressure on private actors to do their bidding. The prime example was Trump himself, who was kicked off the main social-media platforms after 'January 6'. While the Capitol riot was the excuse, the mass deplatforming of Trump followed years of the Democratic elites demanding he be censored. And of course there was the Hunter Biden laptop story, an explosive New York Post scoop published in the run-up to the 2020 election, alleging corruption on the part of both Joe Biden and his crack-smoking son, Hunter. Twitter and Facebook suppressed the story as 'intelligence experts' reflexively dubbed it Russian misinformation. Meta CEO Mark Zuckerberg revealed last week that Facebook's suppression of the story followed a visit from FBI officers, who warned the company that a dump of Russian misinfo was on its way. When it arrived, the Hunter laptop story seemed to fit the bill, Zuckerberg said.
This revelation is worth dwelling on for a moment, particularly in light of Biden's latest comments about the MAGA threat to freedom and democracy. Here we had agents of the American security state essentially leaning on Big Tech firms to censor certain content. As a consequence, a story that could well have influenced the 2020 election result was expunged from much of the digital public square, while Democratic politicians and former intelligence chiefs egged Big Tech on. If that's not an authoritarian threat to democracy, I don't know what is. In Twitter's case, users were banned from sharing the link at all and the Post, America's oldest daily newspaper, was locked out of its account. All of this utterly explodes the old deflection about Big Tech censorship – that it is just private companies doing as they please – and shows us how destructive this fusion of the security state, sections of the political class and big business is in American life today. Dissent can be crushed with incredible speed and efficiency, while the feds and the politicians can keep their hands clean.
The electoral demise of Trump has not sated this appetite for censorship one bit. Democrats continue to use the power of their offices and allied corporate media to try to limit the scope of debate. Tech CEOs continue to be hauled before Congress every year or so to be berated by Democrats, upset at the slow progress in silencing people they dislike. Leading House Democrats have even taken to writing to cable providers, demanding to know why they are still carrying right-wing channels like Fox News, Newsmax, and OANN – a move condemned by Brendan Carr, commissioner of the Federal Communications Commission, as 'legislating by letterhead'.
This is a recurring story of the Trump years. The Donald says or does something authoritarian or anti-democratic and then his infuriated opponents show him how it's really done. Where he is showy and incompetent, they are brutally effective. And while he might have some bands of conspiratorial protesters on his side, his opponents have broad swathes of Big Tech, the corporate media and the US security state. They also have the White House, which makes Joe Biden's fearmongering the other night about the threat posed to the republic by the MAGA-hatted hordes even more paranoid and ridiculous. America feels like it is caught between competing authoritarianisms. But right now, one is infinitely more threatening than the other.
Tom Slater is editor of spiked. Follow him on Twitter: @Tom_Slater_
To enquire about republishing spiked's content, a right to reply or to request a correction, please contact the managing editor, Viv Regan.