Rishi Sunak and the myth of the racist Tories
There is zero evidence that he lost because of bigoted party members.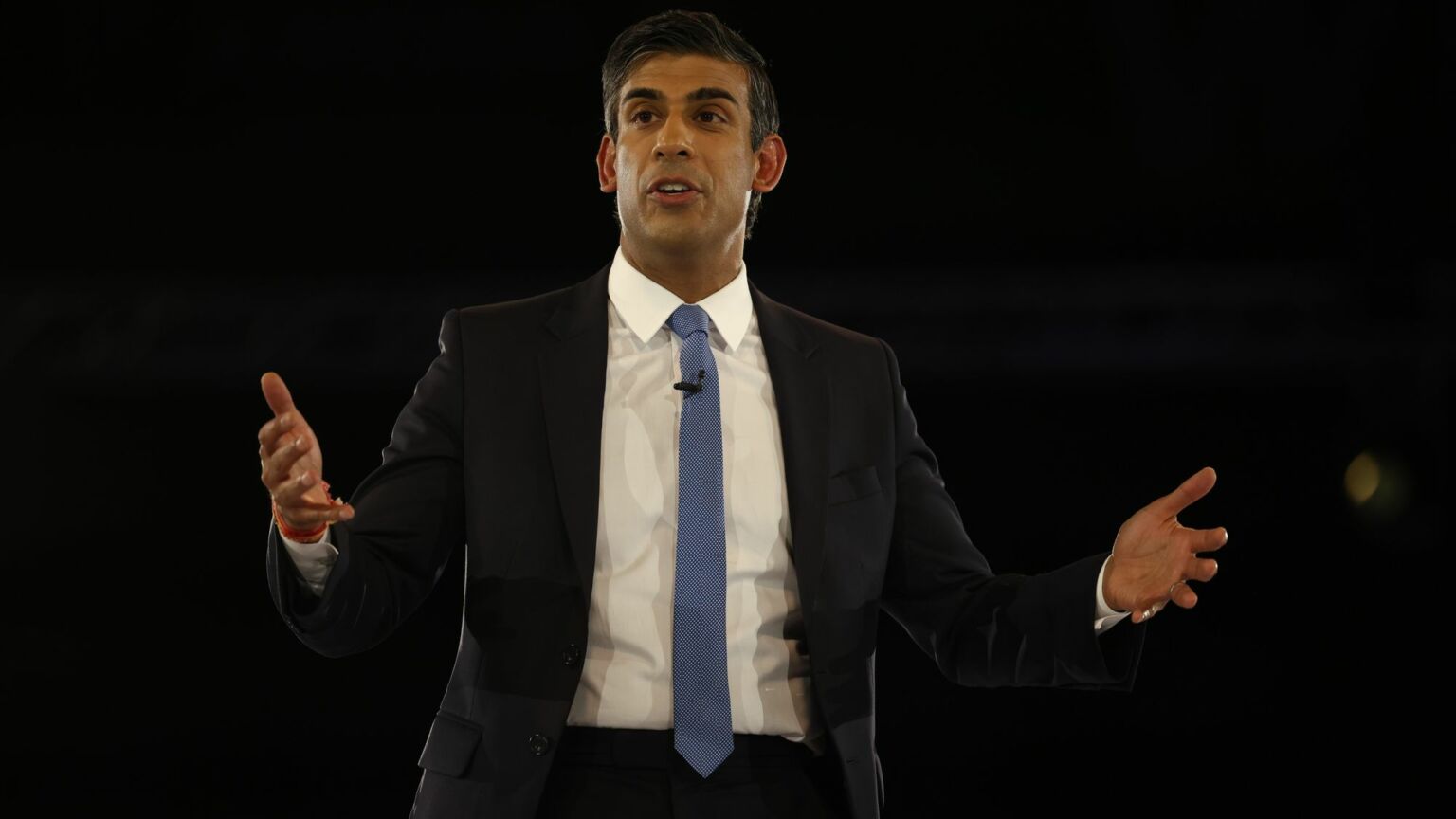 Where did it all go wrong for Rishi Sunak? Not that long ago, the former chancellor was the most popular politician in Britain. Only two years ago, Rishimania was sweeping the nation. His budget-busting pandemic packages were seemingly lapped up by both the liberal elites and the grassroots, right-wing Tory membership.
Yet, as had long been expected, Sunak has just suffered a crushing defeat to Liz Truss in the race to become Tory leader and the UK's next prime minister. And for our one-note identitarian commentariat, there is one simple explanation. It's the same one it gave for Brexit and for the landslide election of Boris Johnson – essentially, the same one it gives on every occasion that voters make the 'wrong' choice. You guessed it: it's all down to racism, apparently. In this telling, the racist Tory Party and its swivel-eyed, hard-right members could never contemplate the prospect of a non-white leader. And so that's why they plumped for tin lady Liz Truss over smooth and sensible Rishi Sunak.
As LBC presenter Sangita Mysta put it on Friday, the 'Tory Party membership is not quite ready to elect someone who looked so vastly different to them'. Mysta then heard from several callers, including pro-Sunak Tory members, who agreed with the racism explanation. The Tory membership 'can't get over his brown colour', said one. Nadine White, race correspondent at the Independent, tweeted a video of the conversation. 'It's purely racism', she said in agreement. When some on Twitter suggested there might be other factors at work, White retorted that 'the heartbeat of racism is denial'.
Concerns that Rishi's race could be a barrier to him becoming PM have been raised since the start of the Tory leadership contest. But these concerns have, without exception, come from his supporters in the Conservative Party or from woke liberals.
While Sunak has himself been keen to insist that racism has not played any role in his fortunes in the Tory leadership race, his backers have been happy to play the race card on his behalf. Back in July, Lord Ranger, a leading Tory donor, essentially tried to guilt-trip Tory members into voting for Sunak, warning that Britain would be seen as 'racist' if Truss were to win.
Meanwhile, opponents of the Tories accused the membership of racism even as MPs were still deciding their final two. For instance, back in early July, fox-clubbing lawyer Jolyon Maugham QC tweeted at the former chancellor to ask: 'Do you think the members of your party are ready to select a brown man, Rishi?' Proof, if it were needed, that the obsession with Rishi's race is overwhelmingly coming from 'concerned' onlookers rather than 'racist' Tory members (who have been conspicuous by their absence).
It is an odd fixation. After all, Sunak's Indian heritage and Hindu faith were no barrier to his initial popularity. Only last year, Sunak was both the public's favourite politician and the Tory membership's favourite to replace Boris Johnson. Sunak's shine only really started to wear off back in the spring, following the exposure of his wife's non-dom status and his own US green card (green-card holders are expected to make the US their 'permanent home' – a commitment that many feel is at odds with serving in high office in the UK). For all his talk of 'standards in public life' during the leadership contest, Sunak has had his own serious scandals to reckon with.
Since the tax scandals, Sunak has also been credited / blamed for Johnson's downfall – a bonus in the eyes of our media elites, but a big drawback among the Tory faithful.
More importantly, as the UK economy edges ever closer to the brink, his economic management over the past few years as chancellor has rightly come under scrutiny. Many are starting to ask whether his famed Covid rescue packages actually stirred up the current inflationary storm. Meanwhile, Tory members seem especially aggrieved by the high tax burden of the Sunak years.
To blame 'racism' for the outcome of the Tory leadership race is also to rewrite very recent history. Half of the eight candidates who got through the first round of the Tory leadership race back in July came from ethnic-minority backgrounds. And by far and away the most popular candidate among the grassroots members was Kemi Badenoch. In other words, those alleged swivel-eyed loons were keenest on the candidate born in Wimbledon to Nigerian parents.
These days, the Conservative Party as a whole can hardly be called a racist institution, either. In recent years, Tory prime ministers have entrusted nearly all the great offices of state to ethnic-minority politicians. Sunak was the second ethnic-minority chancellor in a row, following Sajid Javid, whose parents came from Pakistan. And if rumours are to be believed, Kwasi Kwarteng, whose parents are from Ghana, will become our fourth ethnic-minority chancellor in a row, following Iraq-born Nadhim Zahawi. Indian-origin Suella Braverman is expected to replace Indian-origin Priti Patel at the Home Office. And mixed-heritage James Cleverly (his mother is from Sierra Leone) is expected to replace Truss as foreign secretary.
Identitarian critics of the Tories will say that these ethnic-minority politicians are just window dressing – that they are 'turncoats of colour' or 'brown executioners… of white supremacy', as some woke race obsessives have put it. A writer on CNN, for instance, slams Sunak for acquiescing to what he calls the Tories' 'keep Britain white' agenda. This is a feverish fantasy, of course. Back in the real world, Britain as a nation has become more diverse under the Tory government, thanks largely to a liberalised post-Brexit immigration regime. Yet knee-jerk and groundless accusations of racism are now all too common in public life.
There is simply no evidence that the Conservative Party is 'too racist' to elect an ethnic-minority leader. To put race at the heart of Rishi Sunak's downfall is to deliberately obscure all the very obvious reasons why Conservative members did not warm to him. The brutal truth is that Sunak squandered his chances all by himself.
To enquire about republishing spiked's content, a right to reply or to request a correction, please contact the managing editor, Viv Regan.