Nicola Sturgeon's crusade for gender self-ID
The more Scots learn about trans ideology, the more they are opposed to it.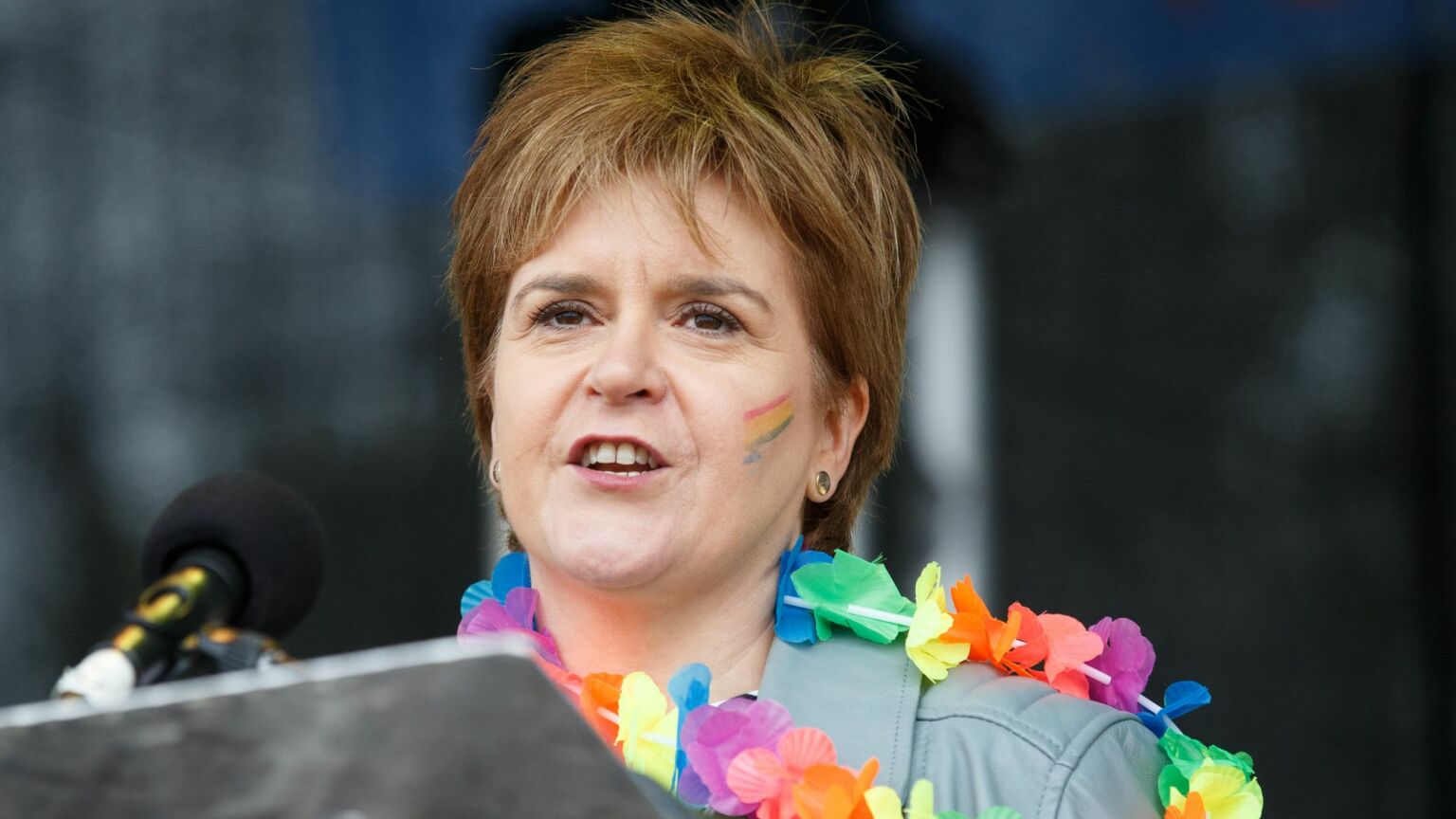 Rarely has a piece of Nicola Sturgeon-era legislation been as divisive or as unpopular as the Scottish government's Gender Recognition Reform Bill, which is to be debated at Holyrood this Thursday.
Under present UK-wide law, Scots seeking to change their 'legal gender' must be over 18, have a medical diagnosis of gender dysphoria and be able to show that they have lived in 'their acquired gender for two years'. After that, a panel decides whether to grant a gender recognition certificate (GRC). The SNP wants to reduce the age at which one can change gender to 16, remove the need for a medical diagnosis of gender dysphoria and reduce the period during which applicants live in their acquired gender to three months (plus a three-month reflection period). Then, applicants can make a declaration to Scotland's registrar general, which will then grant a GRC, no questions asked. In other words, the Scottish government is intent on turning the question of whether one is man or a woman into a matter of personal choice or 'self-identification'.
The bill is generating considerable disquiet among a minority of SNP MSPs. According to The Sunday Times, dissenting MSPs want the vote on the bill to be a free vote, allowing them to vote according to their conscience as opposed to the party line. Whether the SNP leadership will allow that is another matter. Sturgeon is not known for her tolerance of dissent.
Sturgeon would do well to listen to her restive MSPs, however unlikely this may be, given her wee-Napoleon tendencies. The limited opposition to gender-recognition reform within Holyrood belies widespread opposition to it among voters.
A Panelbase survey earlier this month revealed the Scottish public's aversion to all aspects of the bill. Over 60 per cent oppose reducing the age at which people can change gender, with just 19 per cent in favour. Even among SNP voters, 52 per cent oppose the age reduction, with just 26 per cent backing Sturgeon. Likewise, the vast majority of those polled oppose both speeding up the certification process and removing the need for a medical diagnosis. As one SNP MSP tells The Sunday Times: 'The voters will not look kindly on those parties who promote this, working-class families are against it and they don't understand why this is a priority for us.'
As another MSP explains, 'It is clear that the more the voters hear about [gender-recognition reform], the more they don't like it'. There is a lot of truth to this. When Sturgeon first pledged to reform gender-recognition laws way back in 2016, barely anyone paid the proposal too much attention. She clearly saw it, as with so many other policy postures, as just another way for the SNP to burnish its progressive credentials – to, as she put it at the time, bring devolved legislation 'in line with international best practice'. And few among Britain's equally right-on elites disagreed with her anyway. David Cameron's Tory government was also pushing gender-recognition reform at the time, in its own attempt to curry favour with the new elites.
But over the past six years, public awareness and criticism of these proposals, especially for self-identification, has grown and intensified. Prominent figures and politicians, from JK Rowling to SNP MP Joanna Cherry, have drawn attention to the dangers posed by self-identification to women's rights. Campaigners have highlighted the effects of gender ideology on children. And the Tory government of Boris Johnson eventually ditched the proposed gender-recognition reforms of the Cameron era.
Yet, if anything, the increasing opposition to gender-recognition reform, especially from south of the border, has actually fortified the SNP leadership. It has prompted Sturgeon and her acolytes to see so-called trans rights as yet another issue on which they can demonstrate just how much more caring and compassionate they are than their cruel, backwards counterparts in Westminster. Another chance to distinguish Scotland as a nation apart from England, with better, more progressive values.
So over the past couple of years, the Scottish government has doubled down on gender-recognition reform. It hasn't engaged with its opponents. It has dismissed them. We have seen Sturgeon, equalities secretary Shona Robison or some other SNP minion regularly and robotically dismiss all objections to the bill, often using the same phraseology while doing so. It will just 'simplify' or 'streamline' the process, they say. It's just a way to help 'one of the most stigmatised minorities', they claim. Feminists' concerns are 'not valid', they declare.
Yet gender-recognition reform is not a mere red-tape-cutting measure, a sensible 'simplification' of an overly bureaucratic process. And feminists and others' concerns are valid.
Making it easy to change legal gender has profoundly damaging social and cultural implications. As a piece of legislation, the bill directly threatens women's rights. It also raises legal and constitutional issues – a 'woman' with a penis in one part of the UK would still be recognised as a bloke in another. And as an endorsement of gender ideology, it will pile yet more confusion on to the young people who feel alienated from their bodies, as it gives legal grounding to the fiction that you can be born in the 'wrong' body.
The Scottish people are clearly coming round to the idea that gender-recognition reform and trans ideology do not represent progress. And they are doing so not because they are becoming more bigoted, as some SNP high-ups undoubtedly think. They are doing so, as the rest of Britain is doing, because they are becoming more aware of just what is at stake.
Yet the Scottish government is blind to all the criticism. This is no great surprise. Over the past decade, the SNP has effectively turned Scotland into a one-party state. While there are plenty of Scots outside and some inside Holyrood who dissent, the SNP leadership can't and won't hear them. The government exists within an ideological hall of mirrors, listening to government-funded charities and NGOs that reflect its own woke prejudices back at it. It is a party sustained by its own dogma.
Sturgeon and pals might well get their gender-recognition reforms through a largely compliant Holyrood. They might even believe their own specious conceit that they are on the right side of history. But they cannot escape the fact that they are on the wrong side of the people.
Tim Black is a spiked columnist.
To enquire about republishing spiked's content, a right to reply or to request a correction, please contact the managing editor, Viv Regan.