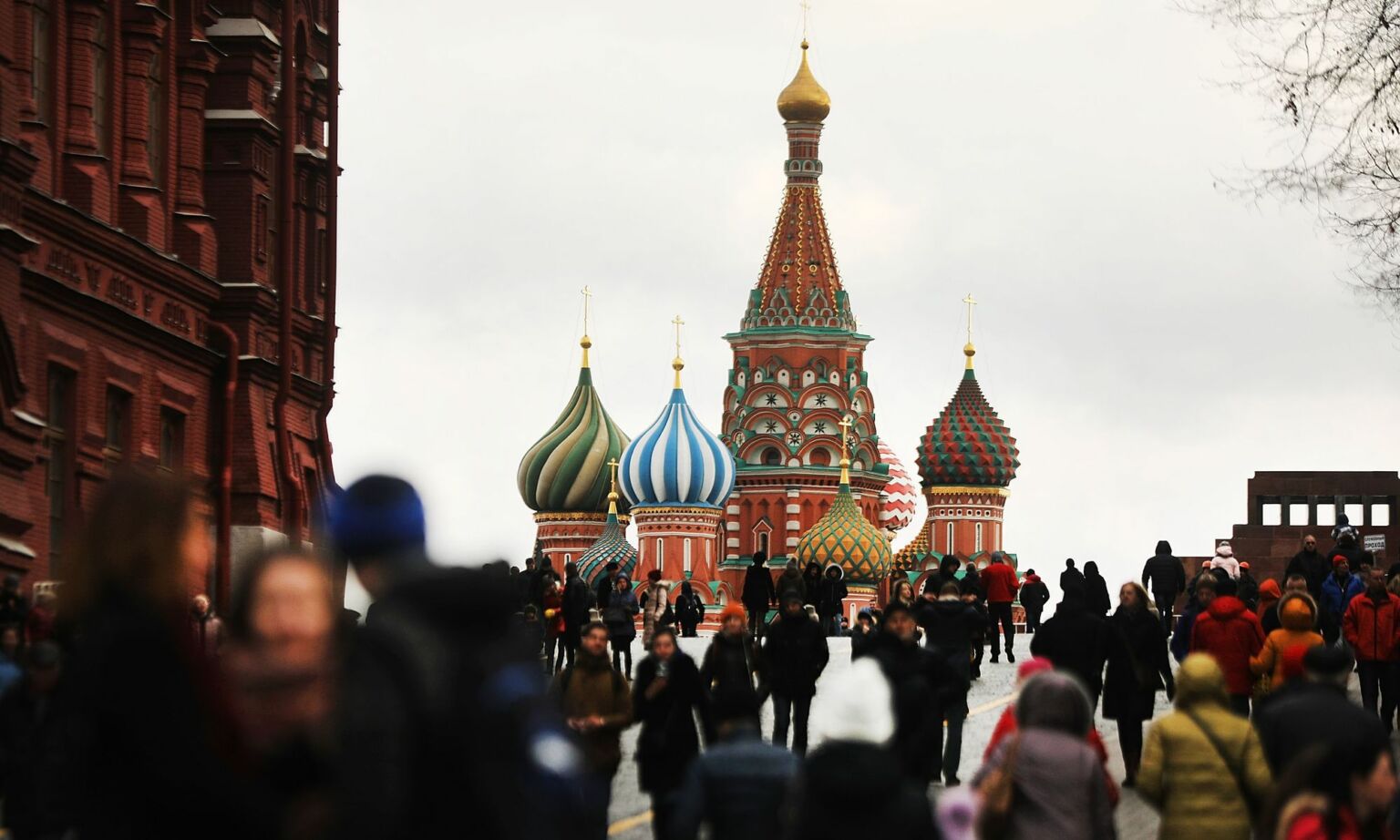 Long-read
The tragedy of Russia
Russia was not always destined to be so bitterly opposed to the West.
Russia draws little sympathy these days, and quite right, too. It launched a misguided and ill-prepared war, which has already devastated many Ukrainian cities and cost tens of thousands of Ukrainian lives.
Russia, too, is paying a price, though perhaps not yet as high a price as Ukraine and its Western allies might hope. It has likely suffered more casualties than Ukraine. It has lost many of its best-educated young people to exile, and seen its post-imperial weakness mercilessly exposed. But there is another dimension to Russia's tragedy that is less obvious, but which may become clearer over time.
There is a view, held by as many Russians as outsiders, that Russia is unique not just in its culture, but also in its resistance to the West's supposedly decadent ways. History, geography and religion are all advanced to support the idea that Russia was not, is not and never can be one of us. To believe this, however, is to ignore recent history. Because up until recently, there has been much to suggest that Russia might not really be so different after all.
I have been visiting Russia for more than 40 years. I lived there for a year on the British-Soviet student exchange in the era of Brezhnev's 'stagnation'. And I spent three years there, up to and including the Soviet collapse, as Moscow correspondent for The Times. I have travelled its vast length and its vast breadth.
I took a road trip from Moscow to Rostov in the early summer of 1991, and witnessed the rebirth of this fertile part of the Russian countryside. The church domes were being regilded. The cows were sleeker than I had ever seen in Russia; the geese were getting fat. Families were topping their wooden houses with shiny corrugated metal roofs and fitting newly carved shutters on their windows.
The renewal of Russia's cities and towns took longer. It had to wait for the Soviet collapse, only to be threatened by the economic and social chaos of the 1990s. Outside the black-earth zone, tracts of rural Russia were simply abandoned and will probably remain so for good.
For all its difficulties and strangeness, I never bought into the idea that Russia could never be 'like us' or that it could never be, as Russians would sometimes say wistfully, a 'normal' country. The pro-democracy protests of the late Soviet years, when Russia followed its European neighbours in throwing off Communism, showed that Russians too could aspire to representative democracy. Their persistence with the free market, even after the oligarchs looted so much of their wealth through the 1990s, demonstrated that Russians wanted a lot of what we want: decent housing, well-stocked supermarkets and shops, attractive and safe cities, efficient transport, including private cars, and a holiday from time to time.
In those years, there was the small picture of people's everyday lives and the big picture of international politics, and they rarely came into the same frame. Collectively, the West had invested high hopes in Boris Yeltsin's democratic instincts, only to become disillusioned. His decline into drink and buffoonery was as dangerous as it was sad to see.
Although we did not quite know it, Europe was being divided again. In post-Soviet Russia, Western leaders seemed to see something of a return to pre-1917, even as they sent advisers to secure its nuclear weapons and paid nuclear scientists to keep their secrets. Queen Elizabeth II made a state visit in 1994, and there was briefly talk in Russia of restoring a tsar. Meanwhile, the Eastern and Central European states were busy turning back to the West, and the Germans were preoccupied with unification.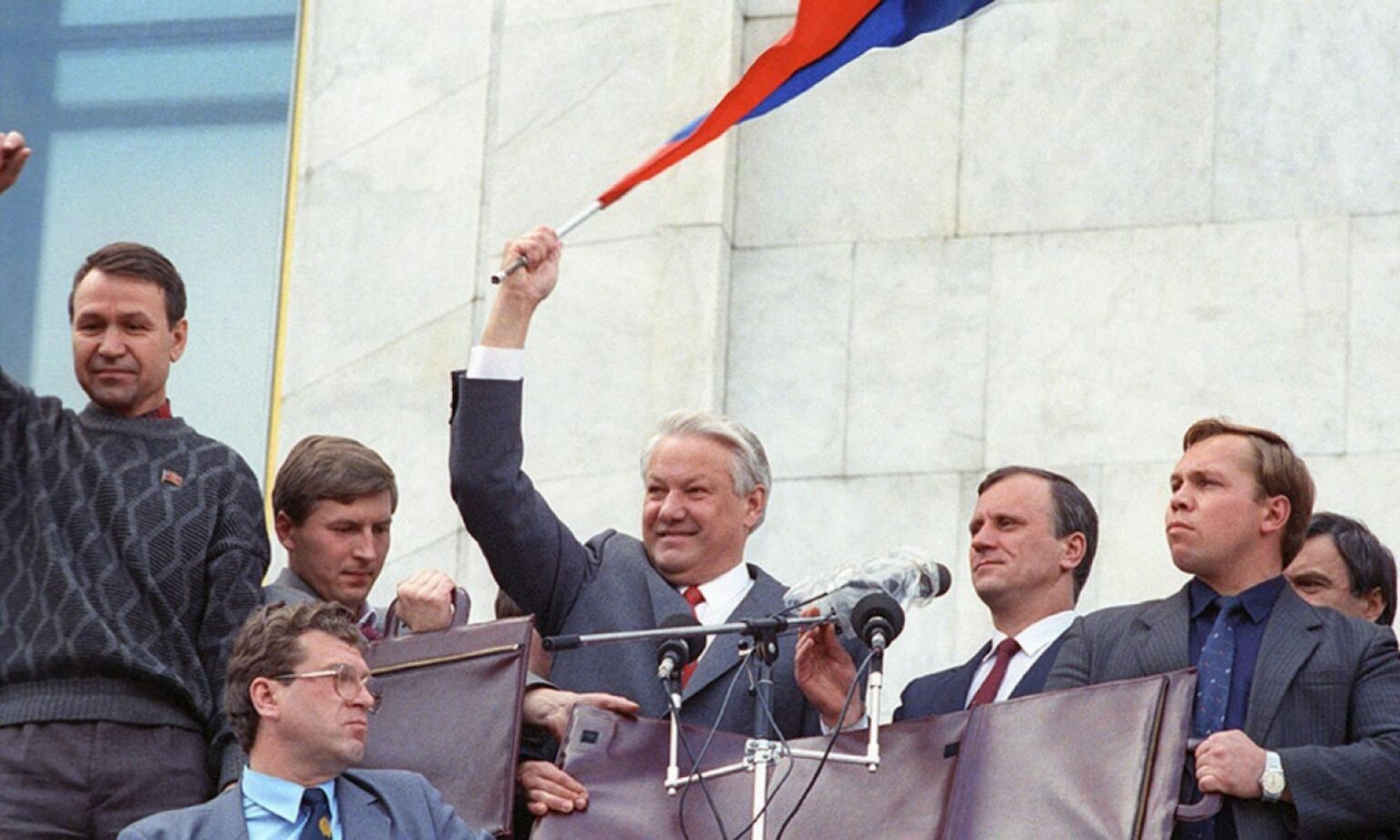 Boris Yeltsin waves the Russian flag in Moscow, 22 August 1991.
Trouble began to brew, it could be said, when the former Soviet and Warsaw Pact states started to look up from their internal concerns and saw that their old enemy in the east was still there. They saw the EU, and especially NATO, as guarantors of their protection and membership as validation that they belonged in the West. Poland, the Czech Republic and Hungary were admitted to NATO in 1999. The Baltic States, along with Bulgaria, Romania, Slovakia and Slovenia, followed in 2004.
My own view is that NATO should have been disbanded when the Soviet Union collapsed, as it now had no reason to exist. In this, I follow many foreign-policy realists in regarding the failure to disband NATO as a historic mistake.
Had NATO been dissolved, or had the prospect at very least been broached, there might then have been the diplomatic space to negotiate new security arrangements that could and should have accommodated all of Europe, Russia included. To this day, that remains Russia's demand – set out most recently and in most detail in the draft agreements Russia presented to the United States and NATO last December, just a few weeks before it invaded Ukraine.
That NATO lived to fight another day has been variously ascribed to the US boast that it had 'won' the Cold War, to the speed with which Communism collapsed, and to the centrality, as it then seemed, of the 'German question'. It can also be argued that the day-to-day changes and needs were so pressing at every national level, that there was no time for anyone in power to think internationally or for the longer term.
As to whether there was any formal Western undertaking to Gorbachev or Yeltsin that NATO would not be enlarged to the east, any answer remains lost in the confusion of the time. According to the most authoritative account to date (in Mary Elise Sarotte's 2022 book, Not One Inch: America, Russia and the post-Cold War Stalemate), there was, and there wasn't. Russia, for its part, sincerely believes that there was – and perception, it hardly needs to be said, can be at least as potent as truth.
The arrival of Vladimir Putin in the Kremlin in 2000 was hailed by Western leaders as the chance for a new start. If the West sensed any threat emanating from Russia, the fear was less of any cross-border aggression than of internal disorder resulting from poverty and gang violence, and from moves by Chechnya and potentially other parts of Russia to secede.
Putin's popularity in Russia rests to this day on his success in restoring a semblance of order, ruthlessly if required. Chechnya was subdued, the oligarchs were reined in, factories started working again and pensions were paid. Putin's project also had a foreign-policy aspect – to explore better relations with the West and restore Russia's dignity on the world stage.
The speed with which Putin offered the US his condolences and help after the attacks of 9/11 was an early overture and it invited a response. But the shock from 9/11 in the US was so great that Washington seemed to forget about reciprocating. The US then rushed into two foreign wars, in Afghanistan and then Iraq. By 2007, Putin was losing patience and made his infamous démarche at the Munich Security Conference, where he laid into NATO enlargement, defended Russian national interests and seemed to give up on better relations.
That was not quite the end, however. The NATO summit in Bucharest the following year threw up a sharp split between France and Germany and the rest on whether NATO should welcome countries even closer to Russia's borders. A Delphic decision allowed Moldova, Georgia and Ukraine (and their backers) to believe that the door was open, while others understood that it was, in practice, shut.
The intentions of both sides were tested only months later, when in August 2008 Russia invaded Georgia in response to Tbilisi-sponsored attacks on pro-Russian enclaves. At one point, Russian forces and the US Navy were within metres of each other off the Georgian coast, but the US backed off and the Russians withdrew to positions negotiated through French mediation.
Only months before the war, Dmitry Medvedev had just taken over as Russia's president, with Putin now prime minister. Medvedev tried to set a friendlier tone. Two years later, he made a new effort to drum up interest in a pan-European security plan. But he too was rebuffed. Putin returned to the presidency in 2012, with a harsher agenda towards NATO – which he clearly saw as a growing threat to Russia. Donald Trump's 2016 election briefly raised hopes of the longed-for security deal, but these were quickly dashed, as Trump lacked support in Washington.
Ukraine, meanwhile, had suddenly leapt on to the agenda for both sides. A decade before, Russia had turned something of a blind eye to Ukraine's pro-Western Orange Revolution of 2004-05. By 2013, EU efforts to court Ukraine with an economic agreement had gone dramatically wrong, when Ukraine's president refused to sign under Russian pressure. In 2014, Ukraine's young pro-EU elite ousted the elected president in a street revolution, at which point Russia snatched the Crimean peninsula, in part to secure its naval base at Sevastopol. It also sent help to separatist leaders in Ukraine's east, who feared the new government in Kyiv would sever the region's links with Russia.
Thus were the seeds sown of the war launched by Russia on 24 February this year. In the intervening eight years, the West and NATO became ever more deeply embedded in Ukraine's security provision, creating the risk, as Moscow saw it, that Ukraine would not only shift irrevocably into the Western camp, but also become the next military platform for NATO.
All the ups and downs in Russia's relations with the West, however, obscured other processes happening inside Russia. The general neglect was exacerbated by the tendency of Western economists and Russia-watchers to focus almost exclusively on what counts in international markets: in other words, on energy and other commodities.
It is true that a boom in energy prices in Putin's first years in office helped raise living standards for many Russians. But this was accompanied by another process – what seemed a gradual, but accelerating, convergence between Russia and the wider developed world, in terms of quality of life and outlook.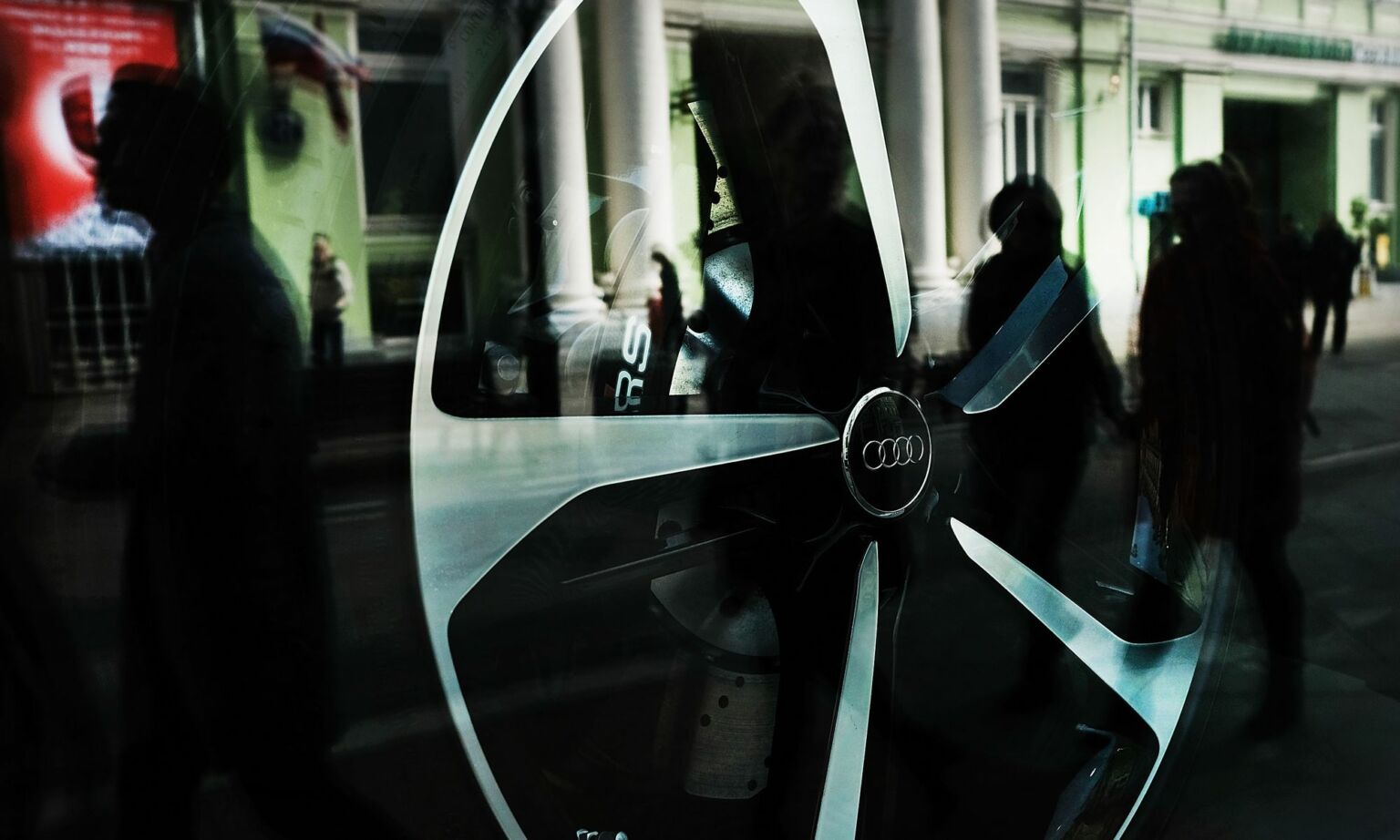 A shop window in Moscow displays an Audi car, 7 March 2017.
The city of Moscow had naturally been in the vanguard of change. Its boom was rooted in the chaos of the 1990s. Surprisingly, perhaps, the renaissance of St Petersburg had to wait until preparations for the 300th anniversary of its founding in 2003, in which Putin, as a city native, took a direct interest. St Petersburg is now a judicial centre, and people have been moving there as a quieter, greener and cheaper alternative to Moscow.
For Russia's second- and third-tier cities, the revival from their late Soviet decay took much longer. I was one of the British students who spent their exchange year in Voronezh – an industrial city of around a million people, half-way between Moscow and the Black Sea.
Through the early 2000s, I would return to Voronezh for elections, as it was considered a conservative heartland – as indeed it had been in Soviet times – and so a reasonably reliable bellwether of wider trends. The visual changes in those years seemed modest. There were new cafés and restaurants and a cleaner, more colourful market, with vans, rather than horse-drawn carts, lined up outside.
After 2010 and especially after 2015, however, the changes were dramatic. There were hotels, better roads, the university had expanded. The houses of erstwhile aristocrats had been restored, as had the churches, with the biggest rebuilt from the ground up. Lenin remained on his pedestal, but the main street was now called Gentry Street. The original city plan had been restored, with the riverside now a pleasant walkway, and the city rebranded as the city where Peter the Great had built his first ships. Its claim to fame in the old days was as 'the last front before Stalingrad', a 'hero city' that had been 'totally destroyed in the war'.
It was as though everything had suddenly become 'normal'. There was decent private housing and new private cars driven on respectable roads; leisure and cultural facilities; excellent supermarkets with a wide range of fresh produce that people, as I could see from their baskets, could afford. European chain stores had proliferated, too.
Some of the most conspicuous changes were demographic. Young people thronged the streets, engrossed in their mobiles and tablets, chatting about their dates or their holidays abroad, just like their peers elsewhere in Europe. There was also a 'young old' generation – people in their 60s and 70s – clearly enjoying life. In the past, you saw almost no one of that age, let alone in good health. Young professionals and families were now moving to a city that had not been a prime place to live.
As in its politics, Voronezh exemplified trends to be seen across Russia, in Perm, Novosibirsk, Yekaterinburg, Tomsk and Yaroslavl. Namely, a recognisably middle-class standard of living, a rediscovery of heritage, a concern for the environment. Thanks to mobile phones, the internet and satellite TV, there was also a sense of having joined the world. It may not be by chance that several of these cities were centres of support for the anti-corruption blogger and now imprisoned oppositionist, Alexei Navalny, suggesting a quorum of young, socially conscious citizens.
Now you might object that these changes are more about appearance than substance. But I don't think that is true. The convergence came across also in talking to students, academics and mid-career professionals who seemed increasingly to be familiar with the same references and speaking in the same categories as everyone else. It seems to me that, even as the Kremlin was preparing to invade Ukraine, ordinary Russians were starting to live more than ever before in the same world as other Europeans – indeed, that Russians were more connected to the outside world than they had been at any time since the Bolshevik Revolution.
Alas, the near-convergence turns out to have been disappointingly short-lived. It remains to be seen how the mass exodus of Western companies will affect Russian consumerism, with some brands, such as McDonald's, replaced by Russian replicas, and others, such as fashion retailer Zara, simply gone. The sanctions imposed by the West in 2014 in fact had the perverse effect of boosting Russian agriculture, especially market gardening, with domestically grown produce appearing in city supermarkets. Could the same now happen with manufacturing?
Outlook and thinking are another matter. Of those professionals (the vast majority) who have not left the country, it is striking how quickly and apparently easily so many have reverted to the habits of their parents and grandparents in separating the public and private domains, resorting to euphemisms or silence to obviate new constraints on public discourse.
This is the less obvious tragedy for Russia left by the war. For the best part of the three decades following the Soviet collapse, Russia seemed to be on a general trajectory towards taking its place in the world as a European power, not just geographically, but strategically and philosophically. The path was not smooth. The West failed to grasp opportunities. And Russia too quickly reverted to its old, prickly self. But this was the general direction. That convergence will now take much longer, although I cannot join those once again insisting that Russia's supposedly unique otherness means it cannot happen at all.
Mary Dejevsky is a writer and broadcaster. She was Moscow correspondent for The Times between 1988 and 1992. She has also been a correspondent from Paris, Washington and China.
Pictures by Getty and by TASS, published under a creative-commons licence.
To enquire about republishing spiked's content, a right to reply or to request a correction, please contact the managing editor, Viv Regan.