Justin Trudeau's Drag Race
His upcoming appearance on the hit show is another milestone in Canada's descent into clown world.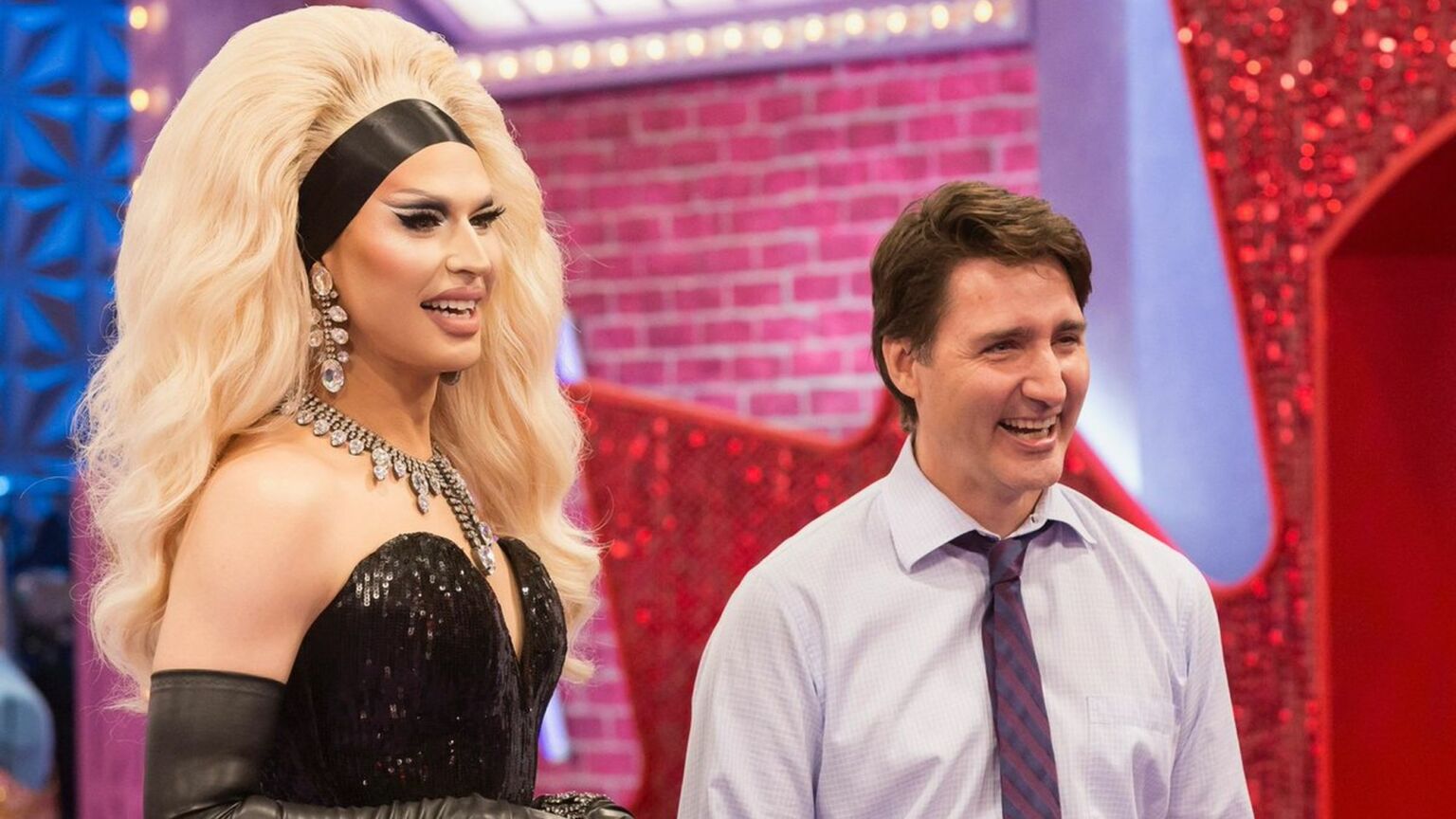 Canada's top feminist, Justin Trudeau, has put his blackface days behind him in order to promote a more progressive insult – womanface. Earlier this month, the new trailer for TV drag competition Canada's Drag Race: Canada vs the World teased a special appearance from Canada's prime minister. Although without make-up, Trudeau was perhaps the biggest clown of them all.
I have never watched Drag Race, because I have no interest in watching mostly untalented men dress up like fat, gaudy strippers and parody women in hypersexualised, cartoonish ways. The franchise has apparently been around internationally for over a decade, but the timing of Trudeau's appearance on the Canadian spin-off is significant. This is happening under immense pressure from 'progressive' institutions that are keen to normalise drag shows and 'queer culture', particularly for children. It is part of the wider push for acceptance of gender-identity ideology.
It was Trudeau's Liberal Party, you will recall, that pushed through Bill C-16 without any public debate back in 2017. This legislation introduced 'gender identity' as a protected category under the Canadian Human Rights Act and opened the door to classifying 'transphobic' acts (such as using the wrong pronouns) as hate crimes. Not only can men become women under Canadian law, but Canadians who challenge this are also branded as bigots and criminals.
Trudeau also gained global notoriety over the past two years when he ran his citizens through a beta test of China 2.0. During the pandemic, he forced millions of Canadians into isolation, froze the bank accounts of political dissidents, introduced mandatory vaccines and created unprecedented levels of social division. Now, in a move that is unlikely to convince anyone that he actually cares about what matters to average Canadians, Trudeau is set to become the first world leader to appear in the Drag Race franchise.
Drag has long been enjoyed in gay culture and by its hipster hangers-on, but it has only recently become controversial among normies. The advent of Drag Queen Story Hour – the supposedly necessary practice of grown men in miniskirts reading books to kids and teaching them 'how to live queerly' – has struck many parents as inappropriate and grotesque.
A key figure in the movement to make drag family friendly is Harris Kornstein, a 'genderqueer' professor who sits on the board of Drag Queen Story Hour and goes by the drag name Lil Miss Hot Mess. In his manifesto for the movement, 'Drag Pedagogy: The Playful Practice of Queer Imagination in Early Childhood', Kornstein explains his aims – namely, to confuse concepts of gender and sex, to break down the 'boundaries between reality and fantasy', to 'destigmatise shame' and to teach children that 'ideas of appropriateness are subject to change'.
While I am not of the mind that these story-reading adult men in dresses are all paedophiles, I am of the mind that sexualised practices should be kept among adults. This includes using academic jargon to make private lifestyles into some kind of noble intellectual cause, and then imposing it on kids.
This seems like a dangerous project to me. Destabilising reality, obfuscating biological categories and breaking down kids' boundaries before they are old enough to establish those boundaries themselves… surely this could lead to some devastating consequences. But who am I to say? Unlike Trudeau, I am not tasked with the responsibility of leading an entire country. Though I am still not convinced that this man, who promised to place men in female prisons, will make wise decisions about which practices should be normalised in Canadian society.
I wish the prime minister all the best in his history-making appearance on Drag Race. Opportunities to track Canada's descent into clown world are appearing faster than ever, and at least our leader is making accessibility a priority.
Meghan Murphy is a Canadian writer exiled in Mexico. You can follow her writing and podcast on Substack.
Picture by: Twitter / Canada's Drag Race
To enquire about republishing spiked's content, a right to reply or to request a correction, please contact the managing editor, Viv Regan.