The age of competitive virtue
From higher education to football, purity spirals are ripping through all areas of life.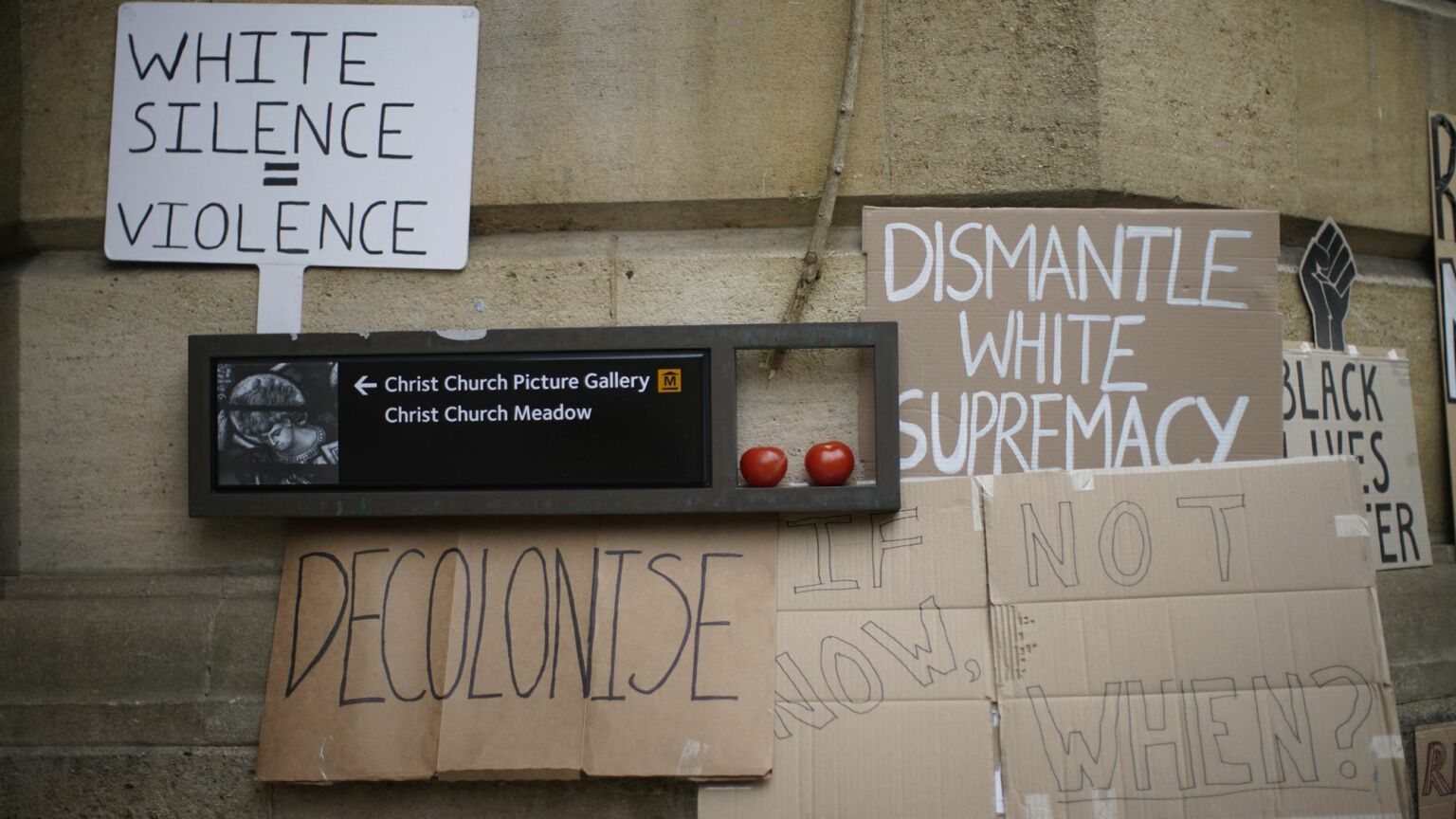 Let's discuss two of the most ostensibly baffling phenomena of our times.
One is the mania for 'decolonising' university courses throughout the land, a trend that is now even bizarrely impinging on mathematics and computer courses. The other is the England football team's persistence in 'taking the knee', long after the summer of madness of 2020 when this gesture first took hold in Britain. England are so far the only World Cup side performing this ludicrous American import.
Both phenomena are signs of the times, both symptoms of the same insincere malaise. The 'decolonising' cult and the taking of the knee represent not so much an endorsement of a liberal, progressive creed, but rather a robotic, shallow fear of not being seen to endorse that creed.
The giveaway is the mechanical, subservient obedience of our footballers, and a similar, mindless repetition of clichés among the 'decolonisers'. For instance, with regards to decolonising geography, the Quality Assurance Agency for Higher Education recently spoke of 'racism, classism, ableism, homophobia and patriarchy'. What, no transphobia? It's almost as if these bureaucrats were ticking off a check-list of modern-day transgressions. Also telling is the ignorance and historical illiteracy of our anti-Enlightenment, anti-Eurocentric decolonisers. The Ancient Egyptian and Arab mathematicians, chemists and astronomers of yore might be surprised to learn that science and logic are inherently European inventions.
The 'decolonising' delusion has spread with such virulence because there's an unspoken competition between universities as to who can prove themselves more radical and more conscience-purging. This is how ideologies, religions and cults work: they drift to extremes, with each vainglorious member driven by the impulse to prove themselves ever more dogmatically pure and ever more righteous. We have seen this mirrored in the radical trans movement, which now struggles with the word 'woman'. We have seen it replicated in the environmental movement, with the emergence of Extinction Rebellion and Just Stop Oil, with their increasingly shrill and apocalyptic rhetoric.
Never mind that purity spirals result in doctrines that are ever more detached from reality. That's not really the point. It's about surface, one-upmanship, the self-salvation of one's soul and securing one's superior social standing. It's an amplified, more sinister version of that custom in recent decades of people wearing ever larger Remembrance Day poppies and ever earlier in the year, or how corporations now cynically fly the Pride flag with greater proliferation and for a longer duration every summer that passes.
Concomitantly, there is the fear of failing to keep up, of being regarded as less pure, less caring and less progressive. Or worse: not joining in at all. What university would dare not embark on a decolonising programme today? What footballer would dare refuse to take the knee? Better and safer, conversely, to exaggerate, feign or loudly boast one's belief in the new woke creed. This explains the ostentatious clamour of footballers to wear 'OneLove' rainbow armbands at the World Cup. It also explains the sermonising of Gareth Southgate and Gary Lineker.
The England team have for so long committed themselves to the knee-taking gesture, albeit sporadically, that they dare not cease doing it on a global stage now. To stop at this moment would raise awkward questions and arouse inevitable accusations of systemic, institutional and unconscious racism.
The taking of the knee is too entrenched. This is why crowds no longer jeer the gesture: they have been cowed into conformity and acquiescence.
This is how wokery works: the doctrine spreads by stealth, fear and tacit threat, its tenets and verbiage parroted until they become internalised, and until we all surrender and submit.
---
Tim Minchin is right about free speech
In what can only be described as a highly unusual outburst, this week the Australian comedian, actor and musician Tim Minchin, when asked what angered him these days, replied 'lefties spouting morally certain bullshit'. He is especially irate at the left's failure to defend freedom of speech. 'That's what I'm angry about now', he said, in an interview about the film adaptation of his Matilda the Musical.
It was an unusual outburst because Minchin previously has had a reputation as a bit of a leftie himself. Indeed, his employment of the archaic word 'leftie' is surprising in itself, as even most right-wing people shy away from uttering this cliché in public now, for fear of appearing a reactionary caricature.
Minchin's eruption was also strange because we don't expect figures from the world of the arts to be so frank and counter-conformist. We expect from them #BeKind liberal-left platitudes, or snide quips directed at 'the Tories'.
We only expect unfashionable views on free speech from the likes of JK Rowling or John Cleese, those who are either fantastically rich or retired – and for whom cancellation poses no material threat. Minchin, who is aged only 47, and who has spoken candidly about his crushing career disappointments, surely must know the stakes for flouting conventional luvvie codes of acceptability.
Minchin's outburst was provoked, he maintains, by 'the loss of value for freedom of speech on the left'. 'I feel like that's my side being dumb', he said. Good for him. As well as being courageous in putting his reputation on the line, Minchin seemingly still abides by the noble, traditional liberal values as once espoused by JS Mill.
Free speech has never been a 'right-wing' preserve.
---
In praise of Countdown
Channel 4 has come in for much criticism in recent years. And rightly so. Its seemingly relentless diet of inane or decadent programmes, coupled with its politically skewed news coverage, has made the state-owned network a deserved target of ire. No wonder it was recently threatened with privatisation.
Yet as Channel 4 celebrates its 40th anniversary this month, it is worth keeping in mind the decent and entertaining shows the network has bequeathed to us over the years. The list might include Whose Line Is It Anyway?, Father Ted, Gogglebox, Derry Girls, and those two US imports of legend: Cheers and Frasier.
Above all, let's pay tribute to its very first programme, Countdown – that simple, unglamorous test of numeracy and literacy. No gimmicks, no flashy prizes, no promise of filthy lucre, no people showing off their genitals. No wonder the unpretentious brainteasing show, adapted from a French format, has endured, appealing to schoolkids and to the aged alike – the latter category traditionally and still now chronically deprived of stimulating televisual company.
Seemingly timeless, Countdown is also ageless. What a blessing it is.
Patrick West is a spiked columnist. His latest book, Get Over Yourself: Nietzsche For Our Times, is published by Societas.
To enquire about republishing spiked's content, a right to reply or to request a correction, please contact the managing editor, Viv Regan.