The rise of the eco-cult
Extreme environmentalists plumbed new depths of madness in 2022.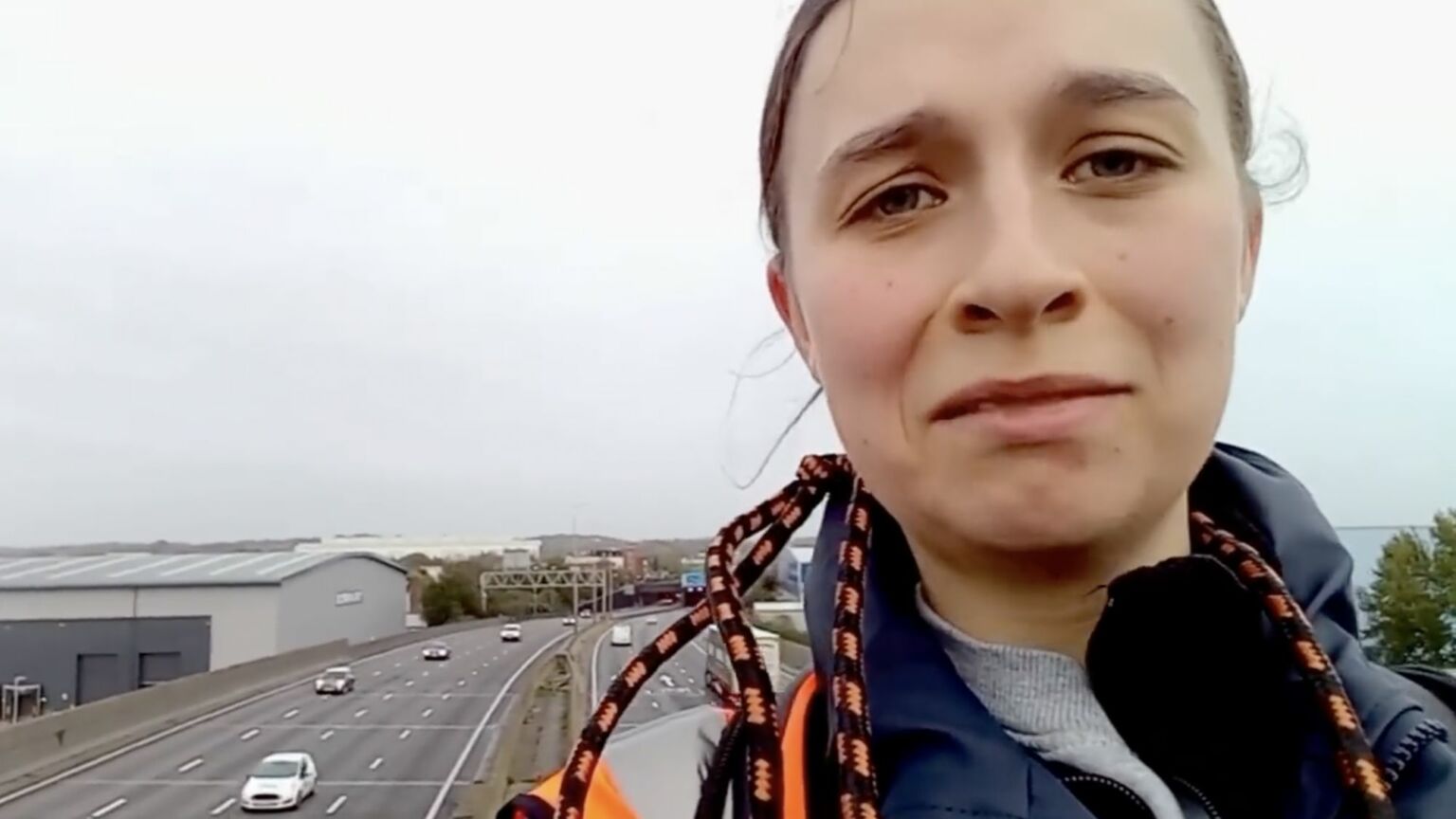 Donate to spiked this Christmas, and help keep us free, fearless and independent.
It's often remarked that we live in an era of moral puritanism and political extremism. This year, we have seen transgender ideology become ever more outlandish, racial identity politics become ever more militant and, most notably, the environmental movement become increasingly hysterical.
This spirit of belligerent righteousness has been evident in the green movement since the middle of the past decade. But it was turbo-charged in 2020 when the first lockdowns drove millions indoors. A mixture of outrage, frustration, boredom and rising wokery online resulted in a summer of riotous madness. This year, the shock of the economic upheaval has fostered both a simmering spirit of revolution and a mood of impending doom.
You could see this shift towards extremism in the green movement's increasingly eccentric tactics. 2022 was the year activists threw soup at works of art, glued themselves to roads and climbed motorway gantries. It was the year that a girl poured excrement on a Captain Tom statue and set fire to her arm. All these acts were performed, as the activists tearfully explained, because if we don't act now the world will end. Literally.
The environmental movement was always likely to drift toward cult-like fanaticism, because the worldview of eco-activists is itself apocalyptic. For instance, Just Stop Oil, which emerged this year as an offshoot of Extinction Rebellion, describes the issuing of new oil and gas licences as a 'genocidal death project'.
Fringe environmentalism has long contained elements that are, in essence, hostile to civilisation itself. This was highlighted in October, when Just Stop Oil shocked the world by attacking an icon of Western culture – Sunflowers by Vincent van Gogh, in London's National Gallery. Many assumed this was a one-off. But like the statue-toppling of the summer of 2020, the iconoclasm spread to other art galleries throughout Europe. These attacks on humanity's artistic inheritance are a reflection of the way environmentalists view civilisation with suspicion, and modernity with outright malice.
Similarly, it was perhaps unsurprising that, in 2022, doyen of environmentalism George Monbiot argued in his book, Regenesis, that 'farming is the most destructive human activity ever'. That's right: for green doom-mongers, even farming – the very foundation of civilisation itself, the very thing we depend on to keep billions of people alive – is now considered a blight on nature.
At times this year, Just Stop Oil started to resemble a weird religious cult. Footage of its more emotive and delirious protesters, with their wide eyes, soft tears and iron-clad certitudes, was genuinely chilling. One of the most telling video clips of 2022 was of that bewildered girl up on the gantry on the M25, howling and sobbing that she doesn't 'have a future'.
Such apocalyptic rhetoric is now commonplace. It stems from the end-times oratory of Just Stop Oil's guru figure, Roger Hallam, who last year released a YouTube video giving 'advice to young people as they face annihilation'. As Extinction Rebellion co-founder, he really believes we are 'heading for extinction'. Ostensibly, Hallam's crusade is to save us from that fate – but Hallam's past remarks betray his anti-human tendencies. In 2019, he said the Holocaust was 'almost a normal event… just another fuckery in human history'.
In comparison to the outright misanthropy of Hallam, the anti-social behaviour of young, callow Just Stop Oil activists might seem merely naive or misguided. But that is exactly why it is so concerning. Weird movements capture the minds of the impressionable and the vulnerable.
Indeed, in 2022 eco-radicals have shown their ideology to be beyond the realms of civilised discourse and reason. They have a wanton disregard for the lives and livelihoods of their fellow human beings. Their road-blocking tactics, which have hindered people from getting to work and even to hospital, demonstrate their detached mindset.
Those beholden to extreme ideologies always care about 'the cause' first, and other people last. Environmentalists don't seem especially bothered by the public's growing anger with them. This year, many Britons showed their righteous disapproval by berating the road-blocking activists and dragging them on to the pavement. That Just Stop Oil protesters were recently heckled in Islington, north London, usually a bastion of liberal-left progressivism, reveals the extent to which they have alienated people. Yet, for ideologues, the ends always justify the means. Other people are only 'sheeple'.
The misanthropic, bitter, ersatz Old Testament invective of Just Stop Oil would be annoying at any time. It has been positively infuriating during this global energy crisis, when shortages of energy are threatening to cause power cuts. It seems the doom-mongers want to take us out of the light and back to the Dark Ages.
We should not be neurotically obsessing over the environment, turning this issue into a morbid melodrama or dismal morality play. We should seek instead to better ourselves and to look for humanist solutions to environmental problems – humans are nature's finest problem-solvers, after all. We should look at ways of further advancing carbon-capture technology, and of harvesting, extracting and using energy more efficiently – using it better, rather than using it less.
Indeed, it was thrilling to learn earlier this month that scientists in California have made a major breakthrough in nuclear fusion. For the first time ever, they produced more energy from a fusion experiment than was put in to start the reaction. This could put us on the path to limitless clean power.
Breakthroughs like these give us reason to look forward to the future instead of fearing it. They are a reminder that our humanity is something to celebrate – not something to look down on with suspicion and self-loathing.
Patrick West is a spiked columnist. His latest book, Get Over Yourself: Nietzsche For Our Times, is published by Societas.
Picture by: Twitter / Just Stop Oil.
To enquire about republishing spiked's content, a right to reply or to request a correction, please contact the managing editor, Viv Regan.