Sturgeon's prisons u-turn is too little, too late
Scotland's 'trans inclusive' prison policy placed the delusions of violent men above women's safety.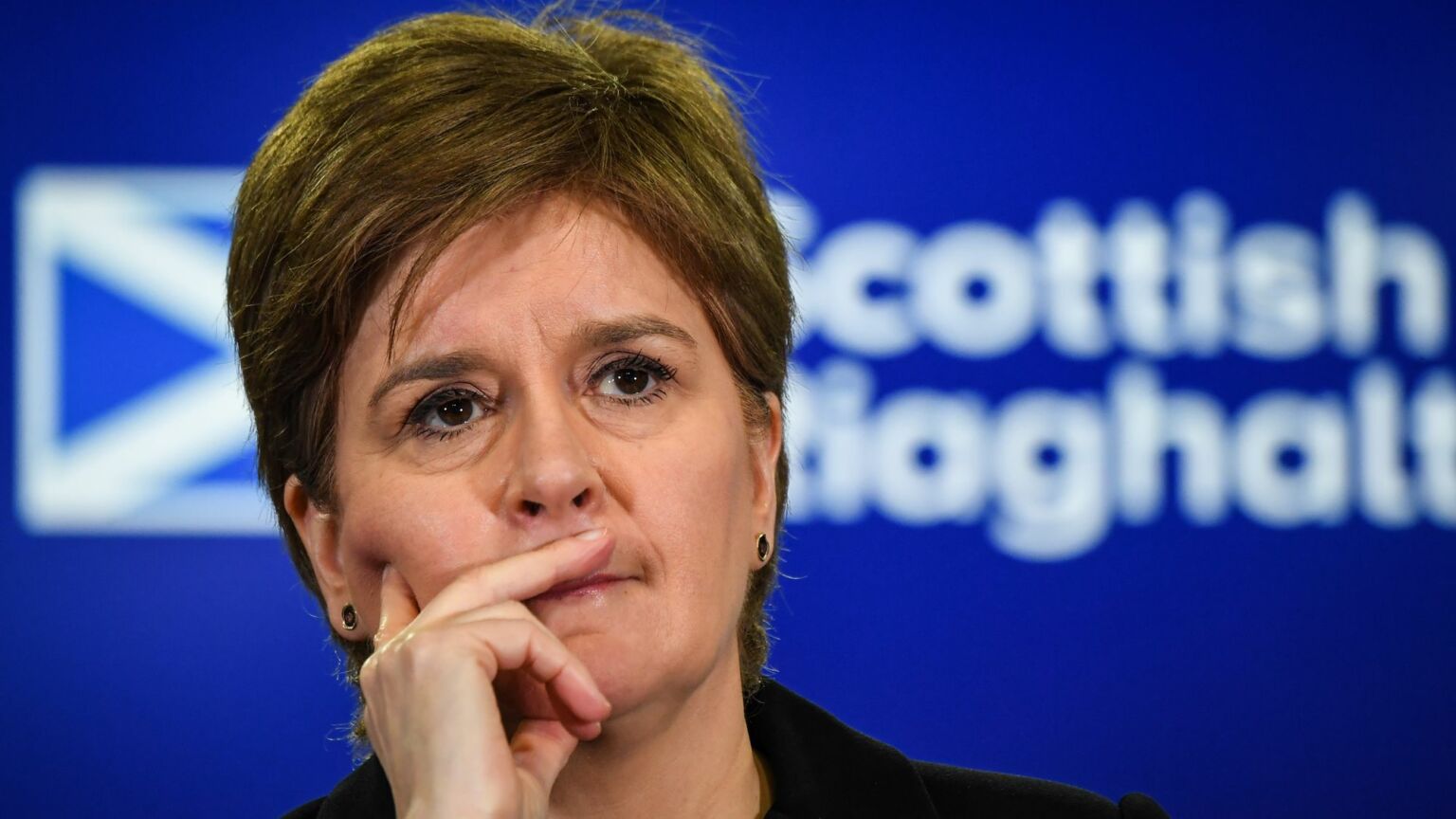 Andrew Burns, the man dubbed one of 'Scotland's most dangerous prisoners', looks like the sort who might lurch out of his own photo in a newspaper to give the reader a 'Glasgow kiss'. Until a panicked government u-turn on Sunday afternoon, Burns was due to become the latest lag to be allowed to 'do bird' with the birds. Last week, prison chiefs approved his request to be moved to an all-female prison. Having apparently embraced his feminine side, this violent thug has demanded to be known as 'Tiffany Scott' since 2016.
Mercifully, following last week's outcry over the transfer of double rapist Adam Graham (aka 'Isla Bryson') to a women's prison, the Scottish Prison Service (SPS) has now promised to pause 'the movement of all transgender individuals' to women's units, until a review has been undertaken. Still, the fact that the demands of these violent men were ever prioritised reveals the total disregard those at the top have for the women forced to live at the sharp end of their 'trans inclusive' policies. It should not take a review to know that locking up violent men with vulnerable women is wrong. And Burns is an extremely violent man.
Burns has a string of convictions for multiple assaults, vandalism, resisting arrests and for stalking a 13-year-old girl. Some of his offences date back to 2010. According to Reduxx, prior to adopting a trans identity, Burns insisted on being referred to by prison staff as 'Mighty Almighty'. They agreed, calling him 'Mr Mighty Almighty'. No doubt they were terrified not to. It took 11 officers and guards to hold Burns down when he kicked off in a hospital in 2017. He has form for smearing faeces on the walls of his cell and for biting his own veins to spray blood at anyone who tries to restrain him.
Burns has attacked prison officers and medical professionals on multiple occasions. After one such incident, he was due to stand trial, but the case was initially dropped, as Burns was deemed 'too dangerous for the dock'. The risk he poses to the public is so extreme he is one of a small number of Scottish prisoners subject to an Order for Lifelong Restriction (OLR). So why on Earth was he not considered a risk to female prisoners?
Dr Kate Coleman, director of pressure group Keep Prisons Single Sex, says the prospect of his transfer was 'terrifying'. She has little doubt that the announcement of a review is an 'arse-covering' exercise by politicians who are terrified that the 'house of cards' of trans inclusivity 'is going to come crashing down'.
Burns' case and the SPS announcement arrived just days after Scottish first minister Nicola Sturgeon was forced to reverse the decision to house rapist Adam Graham in a women's prison. Speaking in Holyrood last week, the SNP leader claimed she agreed 'with the chief executive of Rape Crisis Scotland when she said "I don't see how it's possible to have a rapist within a female prison"'. For Sturgeon, it seems, 'transwomen are women', apart from when it's politically inconvenient.
For all Sturgeon's protestations, the imprisonment of male rapists in women's prisons should not have come as a surprise to her. It has been allowed to happen because trans ideology has taken over Scottish institutions – with the help of Sturgeon and the SNP.
In 2014, the SPS introduced its 'Gender Identity and Gender Reassignment Policy'. Developed in partnership with the Scottish Trans Alliance (STA) and Stonewall, the policy allowed male prisoners who identify as women to be accommodated in the female estate on a case-by-case basis, subject to risk assessment. Notably, both Stonewall and STA have received funding from the Scottish government for their campaigning. No matter how much the first minister purses her lips, whether by carelessness or design, she carries some of the responsibility for the placement of dangerous men in women's prisons.
Sturgeon has been repeatedly warned about this by gender-critical feminists. The problem is that Sturgeon and her allies live in a rainbow fantasy world, where all trans people are saintly, while those who dare to point out the pitfalls of gender self-identification are cruel and bigoted. Last week, even after the Adam Graham case had come to light, Sturgeon denounced critics of trans ideology as 'deeply misogynist, often homophobic' and possibly 'racist', too.
Such pigheadedness and ignorance was clear throughout the debates last year on Sturgeon's Gender Recognition Reform (Scotland) Bill. SNP and Scottish Green politicians repeatedly denied that men would ever identify as women either to access victims or to get an easier time in prison. Indeed, an amendment proposed by Conservative MSP Russell Findlay, which was designed specifically to prevent men charged with sexual offences from applying for a gender-recognition certificate, was voted down by the SNP and the Greens.
When women first began to speak out about the dangers of self-identification, we were dismissed as hysterical. Meanwhile, our leaders were prepared to virtue-signal away the rights of some of the most vulnerable women in society. It should not have taken the imminent threat posed by deviant and dangerous men like Adam Graham and Andrew Burns to wake politicians up.
Sturgeon will surely come to regret taking this path.
Jo Bartosch is a journalist campaigning for the rights of women and girls.
To enquire about republishing spiked's content, a right to reply or to request a correction, please contact the managing editor, Viv Regan.