Ilhan Omar's Empire of Censorship
The accusation of 'Islamophobia' is cynically being used to silence critics of woke.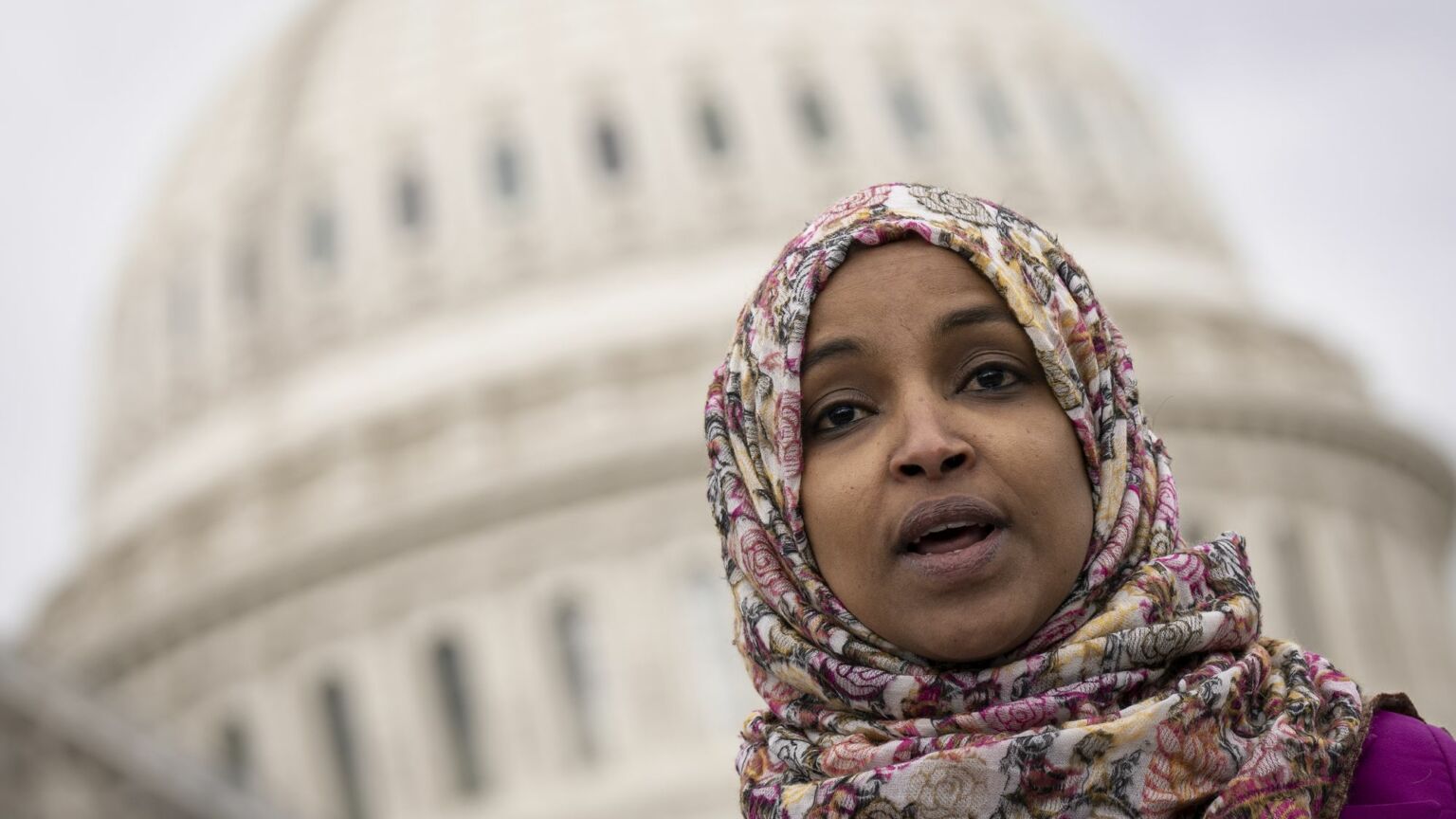 It is now Islamophobic to talk about anti-Semitism. Dare to comment on anti-Jewish racism and you risk being called a racist yourself. Witness the media meltdown that followed Republicans' ousting of Democrat congresswoman and Squad kween, Ilhan Omar, from the House Foreign Affairs Committee. It is not really Omar's past dabbling in anti-Semitic tropes that Republicans are concerned about, the woke set say. No, the real reason they booted her out is because they hate Muslims. As Omar herself said, they just don't want Muslims to 'have a voice on that committee'. These people are 'okay with Islamophobia', she said.
You couldn't have asked for a better, grimmer illustration of the social poison in identity politics. It's like racial Top Trumps. Anyone who says they're worried about Omar's singular hostility to the Jewish state, and the possibility that it's motored more by prejudice than principle, will swiftly be accused of prejudice themselves. We should give a 'hearty eye-roll' to the Republican handwringing over Omar's past comments, says a writer for the Guardian. Apparently the real reason these people 'vilify' Omar is because she's 'outspoken, principled, black, a refugee, African, female and a hijab-wearing Muslim'. Count the points on that Top Trump card! Every identitarian victim category is marshalled to the task of rubbishing the right's concerns about Squad anti-Semitism.
It all adds up to a sinister silencing tactic. There's a constant search for 'the real reason' people criticise Omar. As a headline in Mother Jones put it, 'The real reason House Republicans kicked Ilhan Omar off the Foreign Affairs Committee'. You can guess the real reason, right? It's because 'she is a black, Muslim woman'. This claim that a nefarious motive lurks behind every calling out of Omar is chilling. It casts aspersions on efforts to raise the issue of anti-Semitism. 'Why are people really talking about anti-Semitism?', the woke are encouraged to wonder. Opposition to anti-Jewish racism comes to be seen as a disguise worn by Islamophobes. Drip by drip, concern about anti-Semitism comes to be seen as something fraudulent.
In truth, there are many good reasons, 'real reasons', to be unsettled by Omar's views on Israel. She once said Israel had 'hypnotised the world', playing into the trope about Jews, or in this case the Jewish state, being the shady manipulators of world affairs. She also said that American politicians' support for Israel is all about 'the Benjamins, baby', hinting that the filthy-rich Jewish state is buying people off. Then there's the sheer intensity of her Israel obsession. United With Israel reports that in 2021, 79 per cent of her tweets on foreign affairs were about Israel. In 2022, 48 per cent were about Israel. In contrast, 17.9 per cent were about Saudi Arabia and 3.8 per cent were about China.
Look, I'm no fan of American foreign policy, but it seems legitimate to me that America's Foreign Affairs Committee would feel uncomfortable with one of its members obsessively singling out an American ally as an evil state that God Himself probably hates. I'm not making that last part up. '[May] Allah awaken the people and help them see the evil doings of Israel', Omar once said. It is not Islamophobic to be concerned about a public figure's invocation of the fury of the Almighty against an allegedly unholy little country; it's reasonable.
The media elites' fury over the ousting of Omar confirms that accusations of Islamophobia play a key role in the control of public discussion. It isn't only those who criticise or mock Islam who run the risk of being branded 'Islamophobic' – so do those who oppose politicians who happen to be Muslim. The ideology of 'Islamophobia' is about enforcing correct-think. And here's the thing: if Omar has her way, this identitarian intolerance of free, rigorous discussion will be globalised. The prohibition on any thought judged by our betters to be 'Islamophobic' would be spread round the world by mighty America.
This is the great irony of Ilhan Omar: she longs to use American power to pursue her political goals as much as any Republican hawk does. She has an imperial dream of her own – to colonise the globe with the soft power of political correctness. Consider the bill she introduced in 2021: the Combatting International Islamophobia Act. It calls on the Department of State to 'monitor and combat' instances of 'Islamophobia and Islamophobic incitement in foreign countries'. The State Department should keep an eye out for any anti-Muslim 'propaganda' in both 'government and non-government media [outlets]' overseas, the bill says. And it should consider all this 'Islamophobia' when making judgements about a nation's human-rights standing. In short, when giving the imperial thumbs up or thumbs down to a country, America should bear in mind whether it has committed the sin of Islamophobic thought.
This is a call to internationalise woke intolerance, to deliver the creed of correct-think to the masses of the Earth. If Omar's bill were to be passed, America would become the global monitor of criticism of a religion. Despite its own First Amendment guarantee of freedom of speech and freedom of the press, it would turn itself into the policeman of global discourse. And what would count as anti-Islam 'propaganda'? Islamophobia is a notoriously flabby term. Everything from hostility to the hijab to jokes about Muhammad has been branded 'Islamophobic' in recent years. Under Omar's Empire of Censorship, might Iran's brave warriors against hijab-wearing or France's satirical piss-takers of Muhammad be judged by Woke America to have committed the transgression of phobia, and their nations be black-marked as punishment?
The valiant Iranian journalist Masih Alinejad raised this possibility when she explained 'why I'm opposed to Ilhan Omar's bill against Islamophobia'. She argued that if America creates for itself a globe-trotting duty to combat Islamophobia, it will 'play into the hands of those who wish to curtail free debate and criticism'. Like the Iranian regime, which is adept at accusing its critics, both internal and external, of being hostile to Islam. Omar's office haughtily dismissed Alinejad's concerns as a 'rehashing' of 'bigoted Republican talking points'. And yet over the past week we've seen Omar and her allies slam criticism of her as 'Islamophobic'. If Omar can use the 'phobia' accusation to sideline her critics, what's to stop foreign political actors from doing likewise, especially if America were to make it its global mission to crush such 'phobic' thinking?
Far from an anti-imperialist, Omar seems devoted to the moral rearmament of America's imperial power. Like other Dems, she wants the US to switch from military ventures to woke ones, where it would colonise the world with correct thought. Omar is a missionary of woke, the 21st-century equivalent of those oceangoing Victorians who brought the Word of God to benighted peoples. In her dream of globalised censure, she echoes the ambitions of Iran's ayatollahs. Iran has called on the world to treat Islamophobia as a 'social / cultural malady' and to take tougher 'legislative measures' against it. I'm sorry, but having political ideas that are not dissimilar to Iran's is possibly another good reason why someone should not be on the House Foreign Affairs Committee.
Brendan O'Neill is spiked's chief political writer and host of the spiked podcast, The Brendan O'Neill Show. Subscribe to the podcast here. And find Brendan on Instagram: @burntoakboy
To enquire about republishing spiked's content, a right to reply or to request a correction, please contact the managing editor, Viv Regan.