A trans 'January 6'?
When Trans Lives Matter activists occupied the Oklahoma State Capitol, the media cheered them on.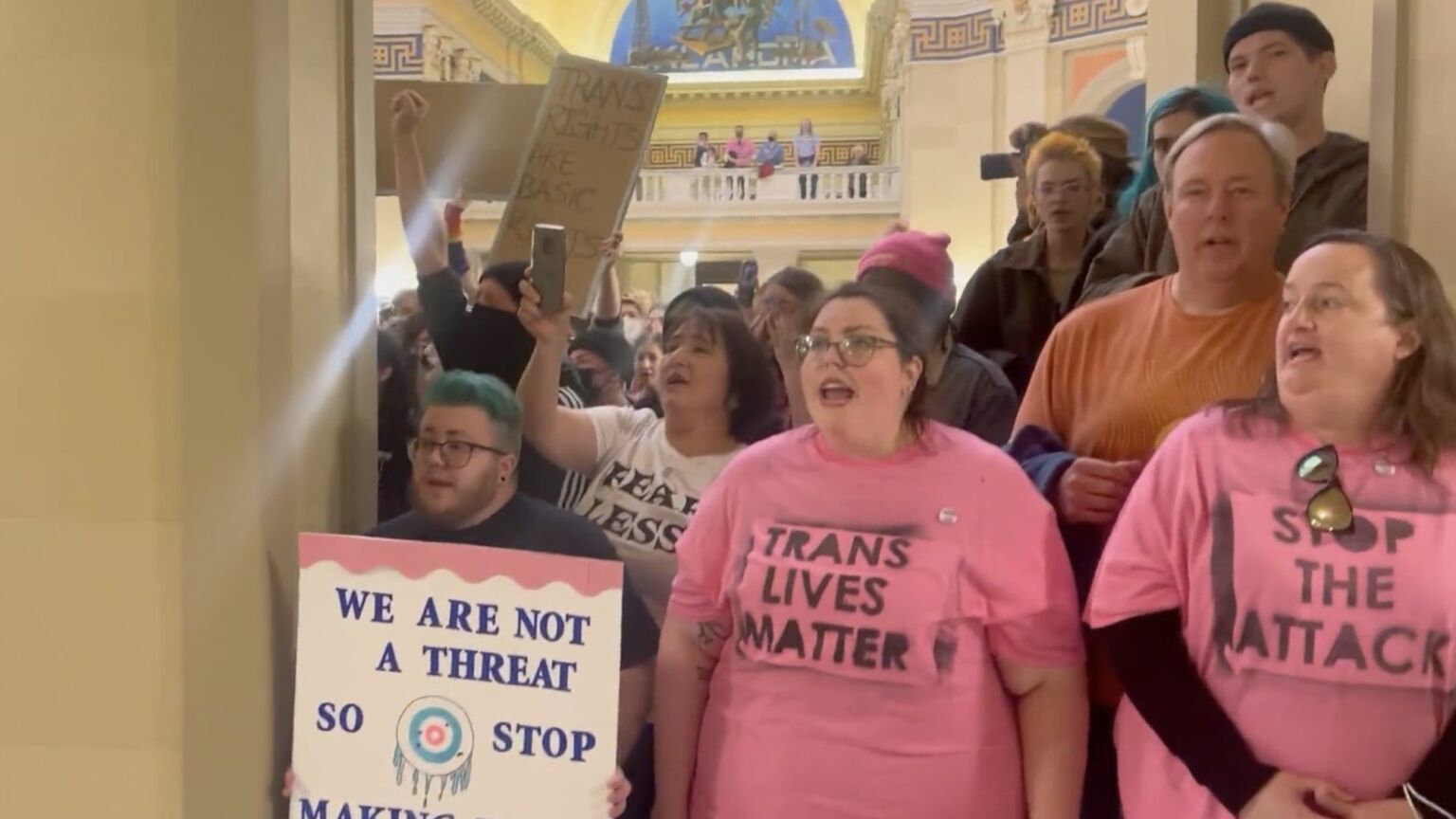 It has been over two years since the 'January 6' riot at the US Capitol in Washington, DC. For the Democratic elites and their allies in the media, these events live in infamy. By trespassing in the Capitol building, and by obstructing elected representatives from carrying out their roles, the Trumpist mob is said to have brought US democracy to the brink of destruction.
Fast forward to last week, when a different mob of activists tried to storm their state legislature, and the reaction could not have been more different. Around 150 Trans Lives Matter protesters occupied the Oklahoma State Capitol in opposition to a series of Republican bills. Among other things, these bills would ban gender-transition surgery for minors.
By all accounts, the protesters remained peaceful, and an official has said that none of them broke the law. Nevertheless, at some points, the trans activists disrupted the legislature. And there can be no doubt that they were occupying a government building in an effort to prevent elected lawmakers from pursuing their policy agenda. This agenda has a solid democratic mandate, too. Governor Kevin Stitt pledged a statewide ban on minors accessing gender transitioning ahead of November's Midterms, where he and other Oklahoma Republicans won each race handily.
Despite this, the protest has enjoyed overwhelmingly favourable coverage in the US media. Most liberal outlets adopted the protesters' framing of the events, claiming that what is at stake is 'healthcare' for trans people. Harpers Bazaar, for instance, explains that the protesters occupied the capitol to 'stand up' against bills it describes as '[banning] gender-affirming surgery and care for young people'. BuzzFeed describes the bills as preventing 'access to healthcare'. Others claim that the protest was against laws that are 'anti-trans'. What you won't find in any mainstream outlet is any criticism or even questioning of the disruption caused to Oklahoma's state legislature. The message this sends is clear: disrupting the business of elected legislators is absolutely fine, as long as you are on the 'correct' side of the argument.
But are they really on the side of the angels here? What trans activists and their media allies call 'trans healthcare' is in fact an irreversible and harmful process.
Last week, an American whistleblower made the grim realities of this process clear. Jamie Reed was a case manager at the Washington University Transgender Centre at a children's hospital in St Louis, from 2018 until she resigned last November. 'By the time I departed, I was certain that the way the American medical system is treating these patients is the opposite of the promise we make to "do no harm"', she wrote on the Free Press. Instead, she believes that the practitioners were 'permanently harming the vulnerable patients in our care'.
From the beginning, Reed was 'struck by the lack of formal protocols for treatment'. Few of the doctors seemed concerned by the rapid rise in young girls presenting with gender dysphoria. Nor did they take any interest in the growing numbers who say they regret transitioning and later decide to 'detransition'. Her harrowing testimony details the side-effects of sex-change hormones, many of which the patients scarcely understood. One boy experienced liver toxicity from the feminising agent, bicalutamide. One girl's vaginal canal ripped open, as a result of the tissue having been weakened by testosterone.
Reed describes a teenage girl 'who, like so many of our patients, came from an unstable family, was in an uncertain living situation and had a history of drug use'. At 16, this girl was put on cross-sex hormones. At 18, she had a double mastectomy. Then, just three months later, she decided to return to her birth name, telling a nurse, 'I want my breasts back'. But there was nothing the surgeon's office could do. Following these revelations, the clinic is now under investigation by the Missouri attorney general's office. Needless to say, none of this has been picked up in the trans-activist liberal press.
Back in Oklahoma, the desire of legislators to protect young people from these harmful practices is surely understandable. 'After all, minors can't vote, can't purchase alcohol [and] can't purchase cigarettes', as governor Kevin Stitt said last Monday in his 'State of the State' address. Yet they are allowed to get 'a permanent gender-altering surgery'. This makes no sense.
The events at the Oklahoma State Capitol have revealed the US liberal media's cynicism towards democracy. They are happy for activists to disrupt the democratic process if they agree with the cause. The media have also shown themselves to be in thrall to trans ideology. Instead of exposing the harms this ideology poses to young people, they will demonise anyone who speaks out against it.
Laurie Wastell is an editorial assistant at spiked.
Picture by: Twitter / nickcamper
To enquire about republishing spiked's content, a right to reply or to request a correction, please contact the managing editor, Viv Regan.